BLOG » Top 7 Reasons Why TeleCMI is the Best Cloud Telephony Service Provider for Businesses in India
Top 7 Reasons Why TeleCMI is the Best Cloud Telephony Service Provider for Businesses in India
In the Indian market, cloud telephony services have gained significant popularity among businesses. They offer both cost-effective and flexible solutions for managing calls and messages. Whether you're a startup or a well-established corporation, cloud telephony in India caters to all your communication needs. It's not just about making and receiving calls; it's about streamlining your operations, providing exceptional customer service, and staying competitive in today's fast-paced business world.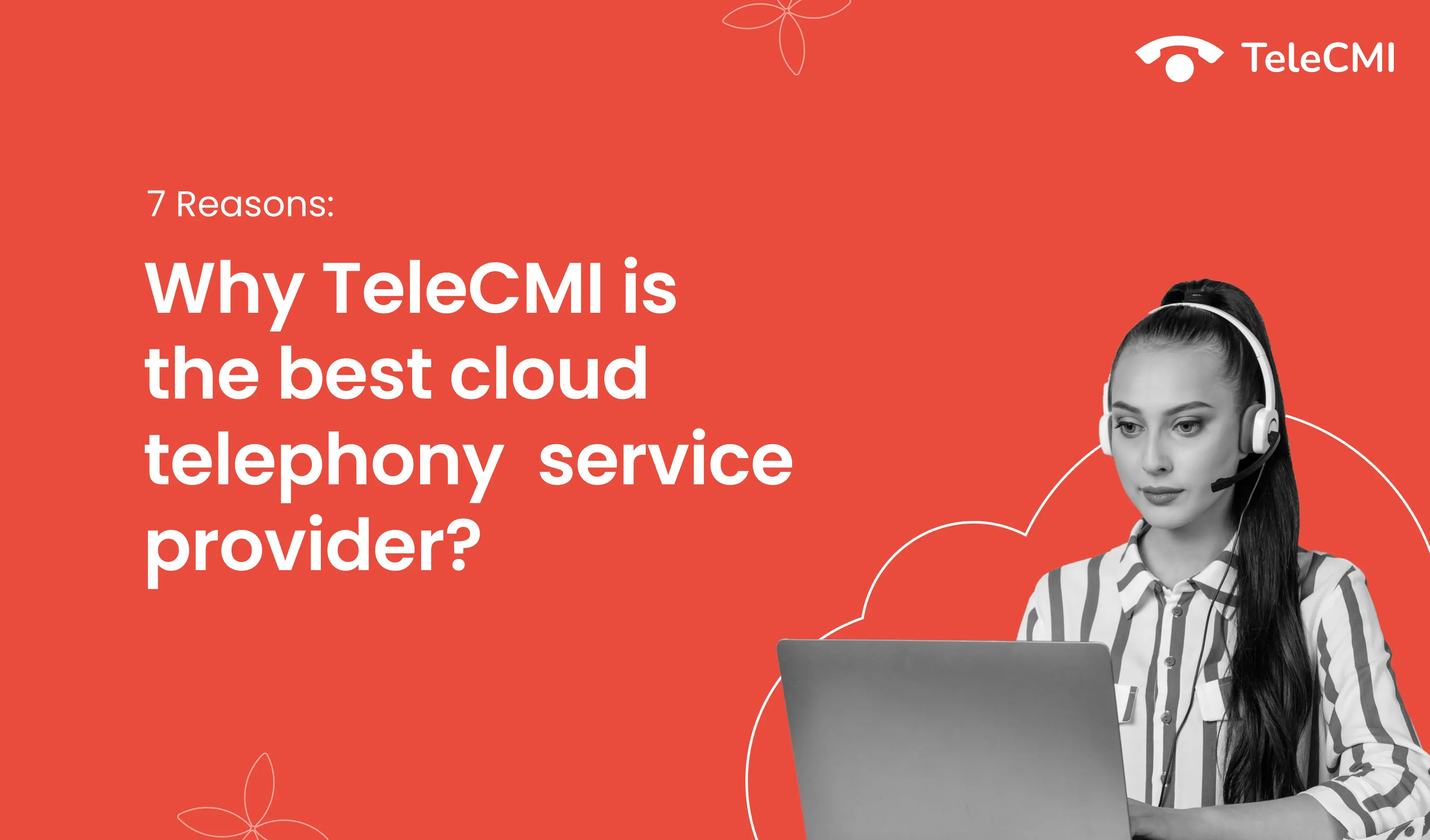 Businesses are drawn to cloud telephony for its scalability and flexibility. You can easily adapt to your changing communication requirements without the hassle of physical infrastructure. Additionally, cloud telephony services offer features like virtual phone numbers, interactive voice response (IVR) systems, call recording, and much more. These tools empower businesses to deliver superior customer experiences and boost their productivity.
With plenty of cloud telephony providers in India, choosing the one that aligns with your business goals is crucial. A dependable service partner can help you unlock the full potential of cloud telephony, providing you with the technology and support to revolutionize your communication strategies. As we embark on this journey into cloud telephony in India, we'll explore the top providers and the myriad ways this innovative solution can elevate your business communication. So, let's dive in and discover the future of Indian business communication through cloud telephony.
Introduction to Cloud Telephony:
Cloud telephony is a revolutionary communication technology transforming how businesses in India connect with their customers and partners. This innovative system operates through the cloud, eliminating the need for traditional landline phones and complex hardware setups. Instead, all communication processes are streamlined and managed over the Internet, offering businesses unparalleled flexibility, cost savings, and advanced features.
Thanks to the robust infrastructure and expanding internet penetration, cloud telephony in India is making significant strides. It's not limited to just phone calls; it encompasses a range of services like IVR (Interactive Voice Response), virtual phone numbers, and call tracking. Businesses across India are adopting this technology to enhance their customer service, marketing efforts, and overall communication efficiency.
With cloud telephony, you're not just making calls; you're unlocking new possibilities to engage customers, streamline operations, and grow your business. It's no surprise that cloud telephony is quickly becoming an essential aspect for businesses of all sizes in India.
Significance of Cloud Telephony in India:
Cloud telephony revolutionizes how businesses communicate. It's a technology that enables companies to handle their communication needs via the Internet. It means no traditional phone lines, bulky hardware, or maintenance hassles.
In India, where businesses constantly seek cost-effective and efficient solutions, cloud telephony has gained immense significance. The reasons are straightforward: it offers a streamlined and scalable communication system without heavy infrastructure. It's like moving from clunky landlines to a sleek, cloud-based communication solution that can be customized for various business needs.
One of the key advantages of cloud telephony in India is its scalability. Businesses can easily adjust their communication infrastructure to accommodate fluctuations in call volumes. This level of flexibility is essential in a dynamic market like India, where the size and demands of businesses can vary significantly.
Furthermore, cloud telephony offers cost savings that traditional telephony systems can't match. Businesses doesn't need to invest in expensive hardware, maintenance, or physical infrastructure. This financial relief is particularly beneficial for small and medium-sized enterprises (SMEs) in India, enabling them to compete on a level playing field with larger corporations.
Another crucial aspect of cloud telephony's significance in India is its ability to improve customer service and accessibility. Features like IVR systems, call routing, and recording help businesses cater to customers more effectively. Additionally, cloud telephony ensures that businesses remain accessible around the clock, which is particularly important in a country as diverse and dynamic as India.
In essence, cloud telephony is leveling the playing field for businesses in India, providing access to advanced communication technology without the need for large investments. As more companies in India embrace this technology, the significance of cloud telephony in the Indian business landscape continues to grow. It's a technology that promises to redefine how businesses communicate and serve their customers in this digital age.
Top 7 Reasons to Choose TeleCMI as Your Cloud Telephony Provider: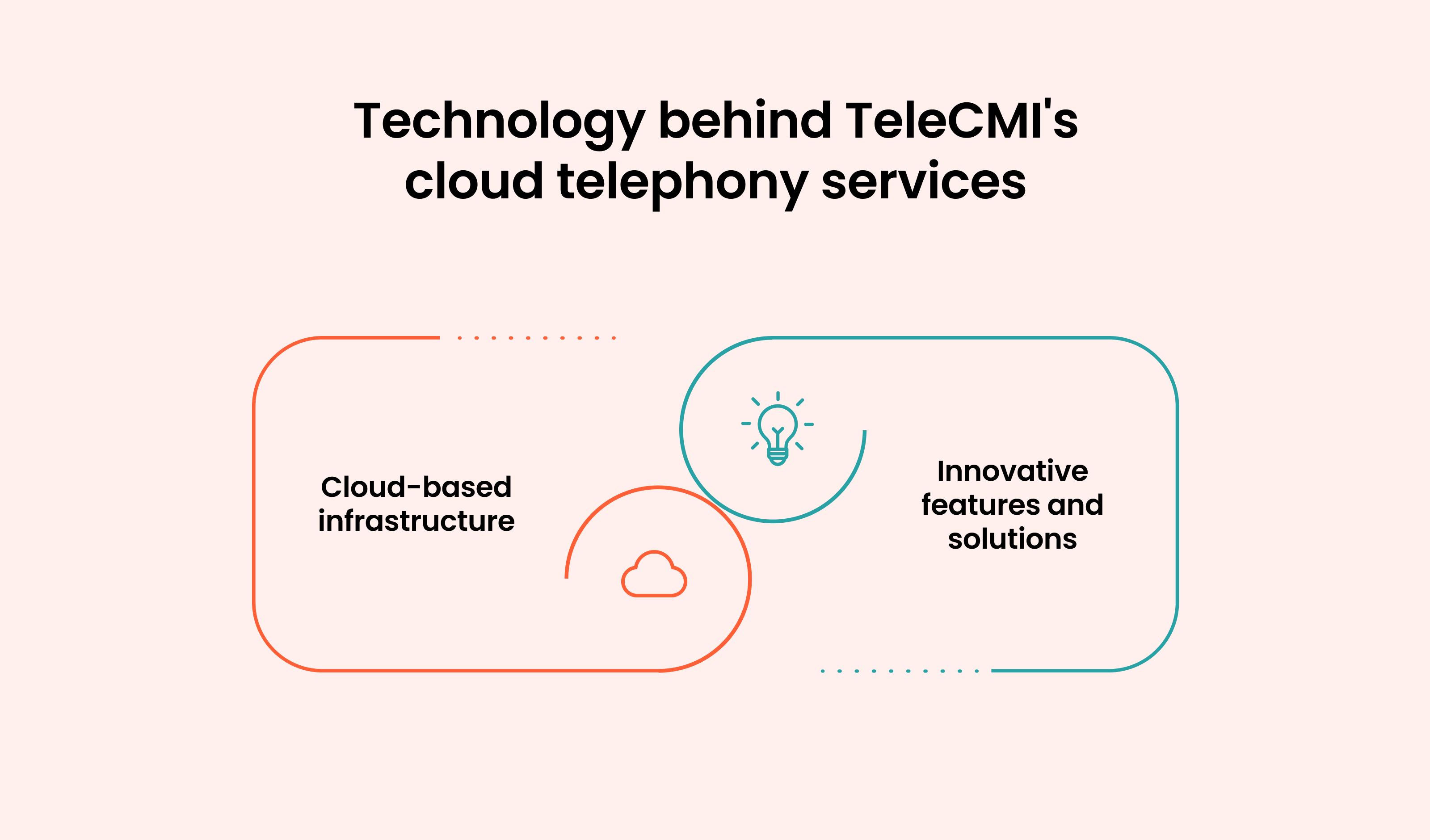 TeleCMI is the preferred cloud telephony provider in India for many compelling reasons. Here are seven distinct factors that set TeleCMI apart and make it the top choice for businesses:
1. Cost-Effective Solutions:
TeleCMI is committed to delivering cost-effective cloud telephony solutions, significantly reducing communication expenses. By leveraging the power of the cloud, TeleCMI eliminates the need for costly infrastructure and hardware. It minimizes upfront investments and slashes ongoing maintenance and operational costs. Whether a small startup or a large enterprise, TeleCMI's pricing models are flexible and affordable, enabling you to optimize your communication budget while still enjoying premium services.
2. Scalability and Flexibility:
Flexibility is a crucial aspect of communication services in the dynamic business world. TeleCMI offers cloud telephony solutions that are highly scalable, ensuring that your communication infrastructure can grow as your business expands. This adaptability means you don't have to worry about outgrowing your existing systems or investing in substantial upgrades. With TeleCMI, you can seamlessly adjust your services to meet the needs of your organization. Whether you need to add more phone lines, extensions, or services, TeleCMI provides the flexibility to accommodate your changing requirements. This scalability ensures you are always equipped to handle increased call volumes and deliver exceptional customer service.
3. Robust Feature Set:
TeleCMI's cloud telephony solutions come equipped with a rich set of features designed to enhance your business communication. From interactive voice response (IVR) systems and virtual phone numbers to call routing, call recording, and more, you'll have access to the tools you need to streamline your operations and deliver a superior customer experience. With TeleCMI, you can tailor your communication system to match your business requirements, whether you need advanced call analytics, automated call distribution, or seamless integration with your existing tools and software.
4. Dedicated Customer Support:
TeleCMI stands out by providing dedicated customer support to ensure your experience with their cloud telephony services is smooth and hassle-free. Whenever you encounter issues, have questions, or need assistance, TeleCMI's support team is readily available to help. You can count on prompt responses and expert guidance to resolve any concerns, allowing you to focus on your core business activities.
5. Secure and Reliable Services:
Security and reliability are paramount when it comes to cloud telephony. TeleCMI strongly emphasizes ensuring the security and reliability of its services. With redundant data centers, robust data encryption, and regular backups, your business communications remain safe and accessible, even in the face of unforeseen challenges. This commitment to security and reliability instills confidence in your operations, ensuring your communication channels are always available when needed.
6. Customized Solutions:
TeleCMI understands that every business has unique requirements, and one-size-fits-all solutions sometimes work. TeleCMI offers customized cloud telephony solutions tailored to your specific needs. Whether in healthcare, e-commerce, or any other industry, TeleCMI collaborates with you to develop a communication strategy that aligns with your business objectives. Customization ensures you get the features and capabilities necessary to optimize your communication infrastructure.
7. Success Stories and Case Studies:
When choosing a cloud telephony provider, knowing that their services have made a difference for other businesses is essential. TeleCMI shares its success stories and case studies to illustrate how its solutions have helped clients achieve their communication goals. By examining these real-world examples, you can gain insights into the practical benefits of TeleCMI's cloud telephony services, making it easier to determine how they can benefit your business.
These seven compelling reasons demonstrate why TeleCMI is a top choice for businesses who are seeking to enhance their communication systems with cloud telephony solutions. Whether you prioritize cost savings, scalability, feature-rich services, customer support, security, customization, or evidence of real success, TeleCMI offers a comprehensive package to meet your requirements and elevate your business communication.
Case Studies: TeleCMI's Success Stories with Indian Businesses
At TeleCMI, we understand the importance of real-world results and the positive impact that our cloud telephony solutions can have on businesses across India. We are proud to share success stories and case studies highlighting how our services have helped Indian businesses achieve their communication goals and grow their operations. These stories are powerful testaments to the value we bring to our clients and the difference our cloud telephony services make in their everyday operations.
1. Real-World Examples of TeleCMI's Impact:
Our case studies present real-world examples of how TeleCMI's cloud telephony solutions have been instrumental in addressing the unique challenges faced by Indian businesses. Whether it's enhancing customer support, improving call management, or streamlining communication processes, our success stories demonstrate the practical application of our services. By exploring these examples, you can gain valuable insights into how TeleCMI's solutions meets the specific needs of businesses across various industries.
2. How TeleCMI Helped Businesses Achieve Success:
TeleCMI takes pride in contributing to the success of our clients. Through these case studies, we highlight the collaborative approach we take to understand the individual requirements of each business and implement tailored solutions. From startups to established enterprises, our success stories showcase how TeleCMI has helped businesses of all sizes achieve their communication objectives, cut costs, boost efficiency, and ultimately enhance customer experiences.
These case studies testify to TeleCMI's commitment to excellence in cloud telephony services. They underline our dedication to providing Indian businesses with the tools they need to thrive in the competitive marketplace. We invite you to explore these stories and discover how TeleCMI can help your business achieve its communication goals and drive success in your industry.
Understanding the Technology Behind TeleCMI's Cloud Telephony Services: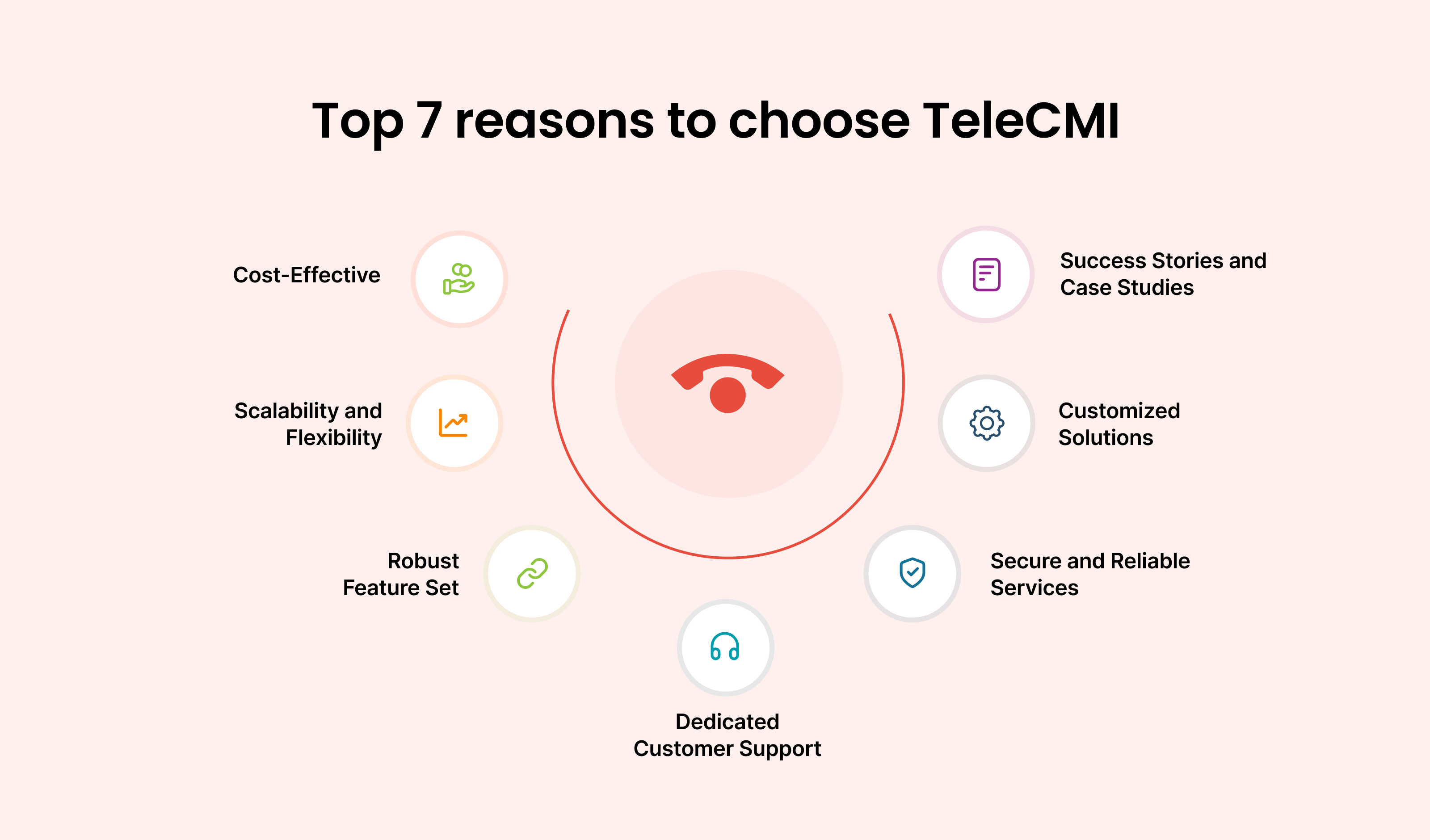 At TeleCMI, we believe in delivering cutting-edge technology that empowers businesses to enhance their communication capabilities. Our cloud telephony services are built on innovation and reliability, ensuring our clients can access the latest technological advancements.
1. Cloud-Based Infrastructure:
A robust cloud-based infrastructure underpins TeleCMI's cloud telephony services. Your communication systems are hosted in secure, off-site data centers, allowing greater flexibility, scalability, and redundancy. With our cloud-based approach, you can eliminate the need for on-premises hardware, reduce operational costs, and achieve superior reliability. The cloud infrastructure enables businesses to easily handle call routing, voicemail, and other telephony features, all while ensuring high availability and minimal downtime.
2. Innovative Features and Solutions:
In today's fast-paced business landscape, having access to innovative features is crucial for maintaining a competitive edge. TeleCMI's cloud telephony solutions come equipped with diverse features designed to streamline your communication processes. Whether it's intelligent call routing, virtual phone numbers, or interactive voice response (IVR), we provide the tools to elevate customer interactions. Our services cater to various industries, and our innovative approach allows businesses to customize their communication solutions to meet their specific needs.
By understanding the technology that drives TeleCMI's cloud telephony services, you can appreciate the significance of our commitment to staying at the forefront of the industry. We continuously invest in cutting-edge solutions to ensure that your business benefits from state-of-the-art technology that boosts efficiency and fosters growth. Whether you're a small startup or a large enterprise, our innovative cloud telephony services offer the technological backbone you need for successful communication.
Customer Testimonials: The Voice of Satisfied TeleCMI Clients
In our journey to become India's premier cloud telephony service provider, customer satisfaction has always been at the heart of our operations. Hearing directly from our clients about their TeleCMI experiences is humbling and inspiring. The voice of satisfied TeleCMI clients is a testament to the effectiveness and reliability of our services.
1. Insights from TeleCMI Customers:
Our clients represent diverse industries, from startups to established enterprises. Their testimonials offer valuable insights into how TeleCMI's cloud telephony services have impacted their businesses. By sharing their first-hand experiences, our customers provide an authentic perspective on the benefits of partnering with TeleCMI. From increased efficiency to better customer interactions, our clients' insights highlight our services' tangible advantages.
2. First-Hand Experiences with TeleCMI's Services:
These testimonials are more than just words on a page; they reflect our clients' trust in TeleCMI. Their stories capture what we stand for – delivering reliable, innovative, and customer-centric cloud telephony solutions. By sharing their first-hand experiences, they shed light on how TeleCMI has helped them achieve their communication goals, overcome challenges, and thrive in their respective industries.
As you explore the success stories and experiences of our satisfied clients, you'll gain a deeper understanding of the impact that TeleCMI's cloud telephony services can have on your own business. These testimonials are not just a showcase of our accomplishments; they invite us to join our ever-growing community of happy and successful clients.
Cloud Telephony Trends in India for 2023:
As we step into the promising landscape of 2023, the realm of cloud telephony in India is poised for exciting developments. Several key trends are set to shape the future of cloud telephony services in the country, and understanding these shifts is crucial for businesses looking to stay ahead in the communication game.
Emerging Technologies: One of the defining characteristics of cloud telephony in 2023 is the integration of emerging technologies. Artificial Intelligence (AI), Machine Learning (ML), and automation are becoming integral to cloud telephony systems. These technologies empower businesses to streamline their operations, offer personalized customer experiences, and gain deeper insights into their communications, whether predictive analytics for call routing or AI-powered chatbots for enhanced customer support, 2023 promises to be a transformative period for cloud telephony technology.
Making the Decision: Selecting TeleCMI for Your Cloud Telephony Needs
When making a crucial decision like choosing a cloud telephony service provider, it's essential to understand the steps involved and how to get started clearly. TeleCMI simplifies this process, making it accessible and efficient for businesses of all sizes. Steps to Get Started:
Selecting TeleCMI as your cloud telephony provider begins with a few straightforward steps. Firstly, you'll need to contact our dedicated team, who are always ready to assist you. They will guide you through the process, discuss your specific communication requirements, and provide a customized solution that aligns with your business goals. We understand that no two businesses are the same, and our tailored approach ensures you receive the exact services you need.
Next, you'll set up your cloud telephony system. Our team will work closely with you to seamlessly integrate the system into your existing infrastructure. You'll gain access to a robust feature set designed to enhance your communication capabilities, ensuring your business can interact with customers efficiently and professionally.
TeleCMI's Commitment to Excellence and Continuous Innovation:
At TeleCMI, we are guided by a clear vision and mission that shape our commitment to delivering exceptional cloud telephony services in India and beyond.
1. TeleCMI's Vision and Mission:
Our vision is to empower businesses through innovative cloud telephony solutions that enhance communication, improve customer interactions, and drive success. We aim to be at the forefront of technological advancements in the field, consistently exceeding customer expectations.
Our mission is to provide businesses with cloud telephony services that are cost-effective, scalable, and feature-rich, ensuring they have the tools necessary to thrive in the modern business landscape. We are dedicated to delivering personalized solutions tailored to each client's unique needs.
In our quest to remain a leader in the cloud telephony industry, we are continually working on upcoming features and enhancements that will further elevate your business communication capabilities.
2. Upcoming Features and Enhancements:
TeleCMI is committed to staying ahead of the curve by implementing cutting-edge features and enhancements. Our team of experts is always hard at work, researching, developing, and testing new features that will improve your cloud telephony experience.
Technology is dynamic, and what's cutting-edge today might be standard tomorrow. We regularly release updates introducing exciting new features and enhancements to ensure our clients can access the latest innovations. From improved call routing options to enhanced security measures and seamless integrations with your existing systems, we aim to provide you with a comprehensive cloud telephony solution.
TeleCMI is not just a service provider; we're your partner in success. Our dedication to excellence and continuous innovation is what sets us apart. With us, you can trust that your cloud telephony services will always be at the forefront of technology, helping you achieve your business objectives efficiently and effectively.
The Role of TeleCMI in Shaping the Future:
In this evolving landscape, TeleCMI is at the forefront of shaping the future of cloud telephony in India. With a commitment to innovation and a customer-centric approach, we're driving the adoption of cutting-edge technologies to enhance our services. As businesses across India seek reliable and scalable cloud telephony solutions, TeleCMI is positioned to lead the way by offering state-of-the-art services and helping businesses unlock their full communication potential.
FAQ's:
Cloud telephony services refer to a technology that enables businesses to manage their phone systems and communication through the Internet or the cloud. It provides a flexible, cost-effective solution for handling calls, messages, and other communication needs. With cloud telephony, you can avoid the complexities of traditional phone systems and enjoy features like virtual phone numbers, call routing, voicemail, and more.
---
In India, cloud telephony utilizes cloud-based infrastructure to manage calls and messages. When a call is made to your business number, it is routed through the cloud to reach the desired destination. Cloud telephony providers in India offer various services, including interactive voice response (IVR), call tracking, and virtual call centers, all managed online. This technology transforms how businesses communicate by making it more efficient and cost-effective.
---
India's best cloud telephony service provider may vary depending on your business needs. However, TeleCMI is recognized as a leading provider in the industry, offering a wide range of services tailored to Indian businesses. They are known for their cost-effective solutions, reliable services, and innovative features. To determine the right provider for you, evaluating your unique requirements and exploring the options available is essential.
---
Getting a cloud telephony solution for your business is a straightforward process. You can start by researching reputable cloud telephony service providers in India, such as TeleCMI. Contact them to discuss your specific needs and objectives. They will guide you through the setup process, helping you choose the right services and features for your business. The installation and configuration are typically hassle-free, and you can begin using cloud telephony to streamline your communication.
---
The cost of cloud telephony services in India can vary based on factors like the number of users, features required, and the provider you choose. It's known for cost-effectiveness, often eliminating the need for significant upfront investments. Typically, you pay for the services you use on a subscription basis. The exact pricing can be obtained by contacting cloud telephony service providers like TeleCMI, who will provide you with a customized quote based on your business requirements.