BLOG » Cherry-pick the Best Cloud IVR Solution Provider in Chennai with these simple steps
Cherry-pick the Best Cloud IVR Solution Provider in Chennai with these simple steps
Interactive Voice Response (IVR) is the future of the communication industry. As customers are the pillars of any industry, it is crucial that we retain existing customers and bring in new ones by adopting certain technologies.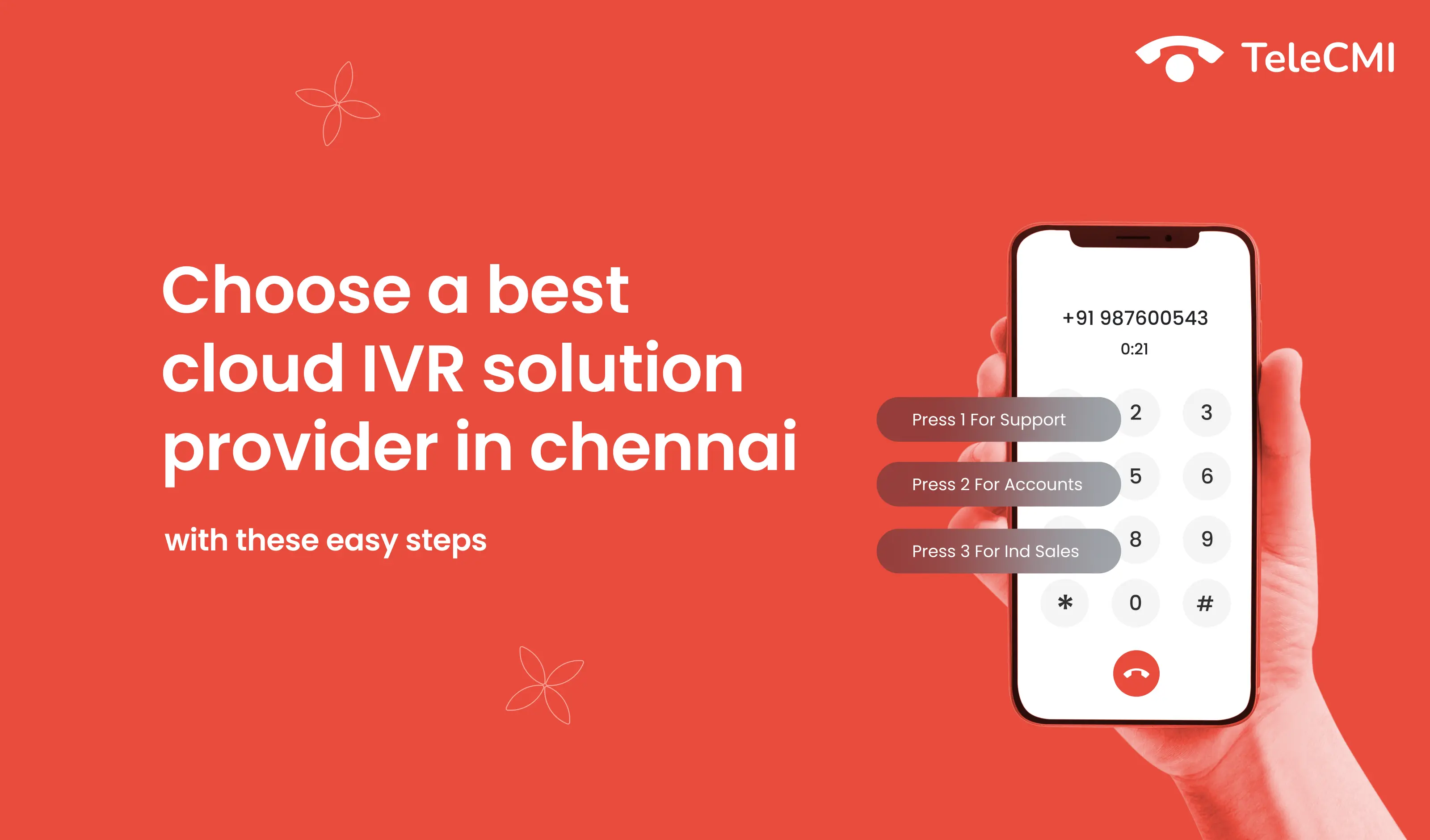 Small businesses utilize cloud-based technologies as they come cost-effectively yet provide dozens of benefits. This IVR solution uses Internet and cloud technology to handle customer calls effectively.
Let's quickly dive into the blog to learn more about IVR and how to select the best Cloud IVR Solution Provider in Chennai.
What is an IVR, and how does it work?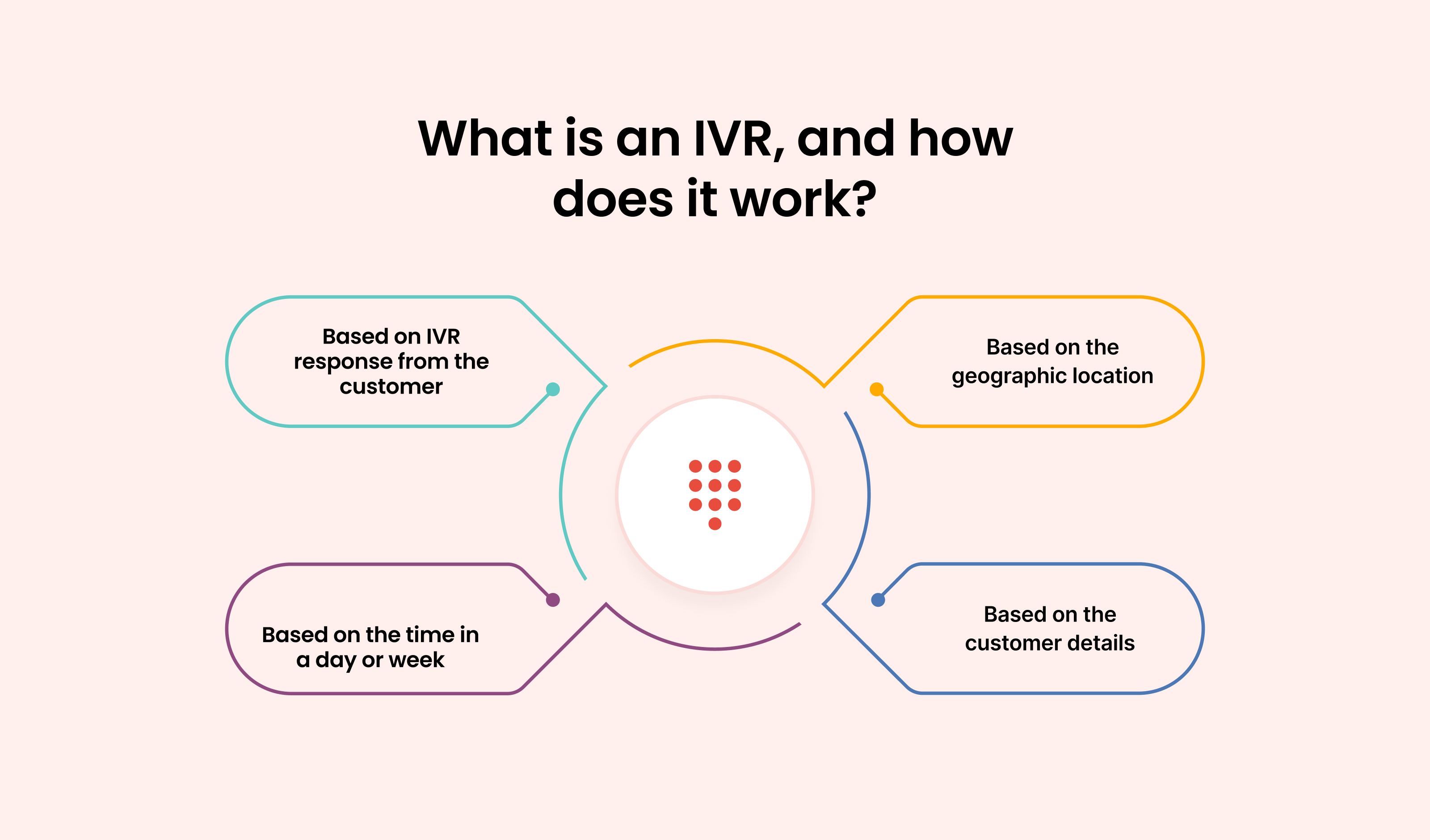 IVR is an automated telephone system that helps callers interact with a computer system or a pre-recorded voice where customers can choose the desired options on their keypad without speaking with the agent. This is done with skilled call routing through ACD (Automatic Call Distribution). Depending on the customer's option choice, the call is directed to the respective team or agent to resolve the query.
For instance, consider a customer with a query to resolve and dial the business number. On the other hand, a pre-recorded voice will offer different options. Say, press 1 to speak in English, press 2 to talk in German, and press 3 to speak in Chinese. The IVR is responsible for connecting with the respective person based on the choice.
A tailor-made IVR software system will help businesses enhance customer satisfaction and streamline business operations. IVR can handle higher call volumes effectively by providing answers and performing simple tasks if your business takes higher call volumes.  On the other hand, if the customer wants to speak with an agent, IVR technology will route the call quickly to the desired team, depending on the query.
Call routing can happen based on different factors to help callers reach their destination efficiently. Here are those:
Based on IVR response from the customer: Call routing will be done based on the customer response.
Based on the time in a day or week: The routing happens based on the time of the day or week already set up. For instance, a business may have off-hours and holidays where agents are unavailable. Call routing plays its role effectively.
Based on the geographic location: Calls are routed based on the area codes or the customer's geographic location.
Based on the customer details: Call Routing is performed based on the general information of the customers, such as the product, previous call status, etc.
Real-time IVR Use Cases: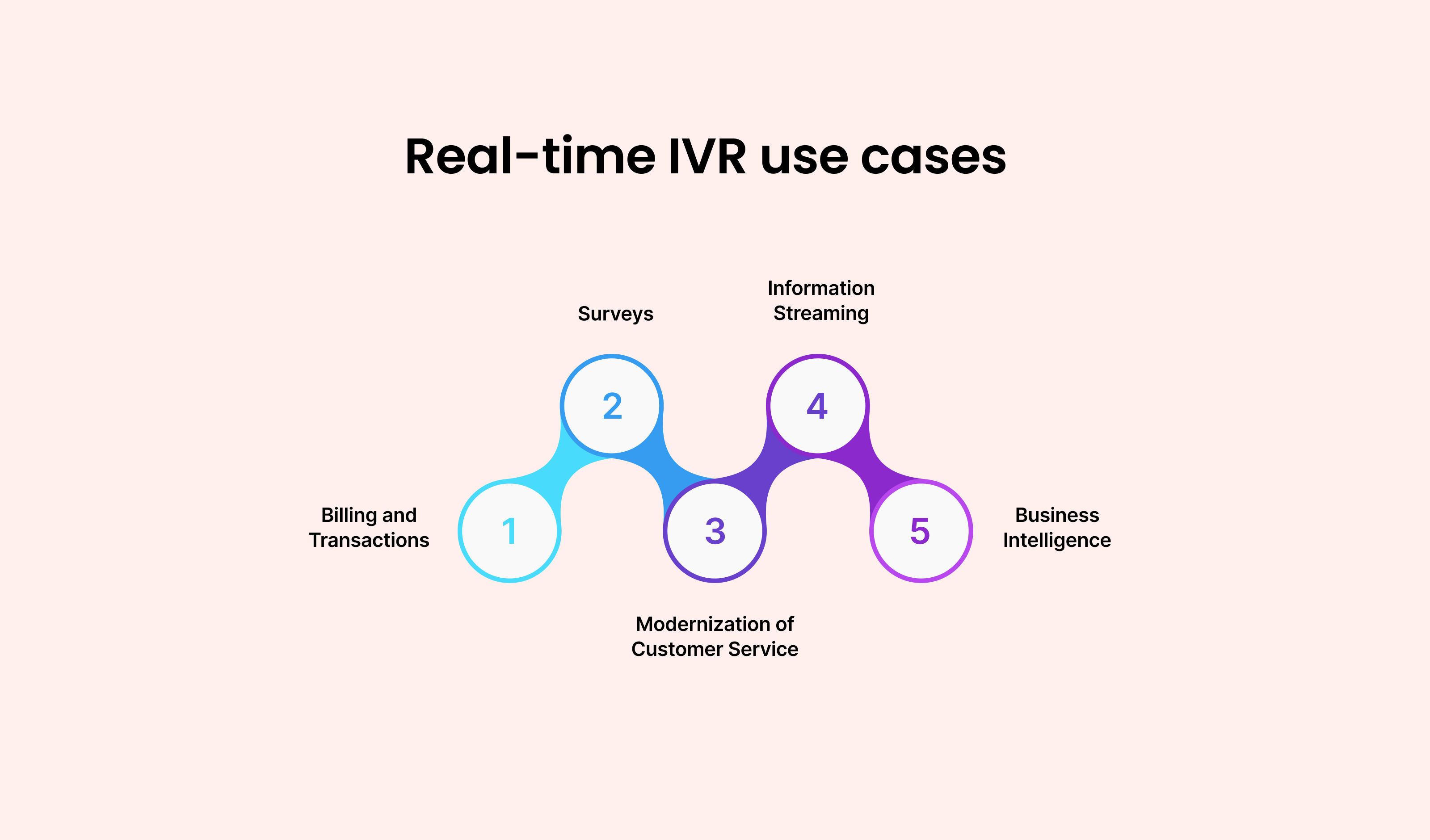 As IVR is widely used across various industries, here are a few use cases of how IVR plays a significant role:
1. Modernization of Customer Service
Customer service automation is the most common use case of IVR, which has been happening for decades. It works on the Know Your Customers (KYC) factor quickly. This identification happens based on the Caller ID and the connection to the customer database.
Here are the use cases of IVR in the customer service industry:
Resuming previous calls: IVR will provide the following steps if the caller comes back and is working on troubleshooting a problem.
Order status: IVR will offer information about the product orders and their status.
Financial details: Customers will know their financial information, such as account balances, remaining credit, payment dates, etc.
Product information: IVR provides details regarding the product instructions, updates, upgrades, etc.
Reporting service issues: It helps users to report service issues such as Internet, cable, electricity, etc to the business.
Troubleshoot the problem: In addition to reporting, it helps customers troubleshoot the problems by providing the solution.
2. Call Surveys
IVR systems are known for their rapid feedback collection from their customers. All these responses will get into the intuitive dashboard for analysis. Post the call, IVR immediately captures the customer feedback and receives some honest data quickly. Survey results appear in the dashboard directly.
Here are the use cases of IVR in the call surveys:
Customer Pulse Surveys: IVR captures customer input at critical moments, such as during product upgrades, adding new features, etc.
HR Surveys: It helps HRs by providing call-in surveys to qualify employees for medical, family, emergency time/day-off requests, etc.
Market research surveys: Grabs the customer perspective and feedback on new products, technologies, or trends in the market.
3. Billing and Transactions
IVR offers an exceptional solution for accessing bills and payments 24/7. Moreover, this is an essential source of electronic payment revenue for e-billing solutions. It works combined with the payment gateway to fetch the results instantly.
Here are a few use cases of IVR in the Billing and Transactions:
Paying bills: IVR helps customers pay different bills such as utility bills, electricity bills, recharge bills, EMIs, rents, and others.
Save and Manage the payment information: Customers can authorize storing payment information quickly.
Making recurring payment options: Callers can also authorize regular payment options.
4. Information Streaming
Outbound IVRs are saviors for the majority of businesses. They can dial customer numbers or send out emails or messages to customers as a part of an outbound IVR solution.
Here are the use cases of IVR in the Information Streaming:
Service alerts during critical times: IVR notifies the customers of electricity outages, unplanned outages, water breaks, utility outages, etc.
Payment reminders: It sends out notifications to customers regarding the payment dues or regularly reminds them about upcoming payments.
Weather warnings: Customers will receive notifications about weather warnings, if any.
5. Business Intelligence
With AI and Automation everywhere, businesses will now deal with vast amounts of data that can be used for future purposes.
Here are a few use cases of Business Intelligence:
Transaction Volume: Businesses can get real-time reports on the quantity and amount of customer transactions.
Determine problem patterns: With the help of big data visualization tools, IVR can quickly identify high-end present and future trends.
Call Volume patterns: Businesses can get hold of call volume and sources to capture potential areas that need improvement.
How do I set up IVR for my business?
To set up an IVR, you need help from the best cloud IVR Solution Provider who provides you with feature-rich IVR software. Once you have the right solution provider, you can access the dashboard by setting up the area in the IVR settings.
Now, you can decide the call flow to configure the calls. Most IVRs will greet the customers with a welcome message, provide them with the required menu options, wait for the input options from the customer, and proceed further depending on it. Some IVRs allow you to record a message or provide text converted with text-to-speech AI.
Post this, you can program the options based on the customer's input or your business needs. Here are the most common options: An IVR submenu, an extension, a call queue, a voicemail, or another IVR process such as sharing customer details or verifying the caller's identity.
How to choose the Best Cloud IVR Solution Provider in Chennai and What to look for?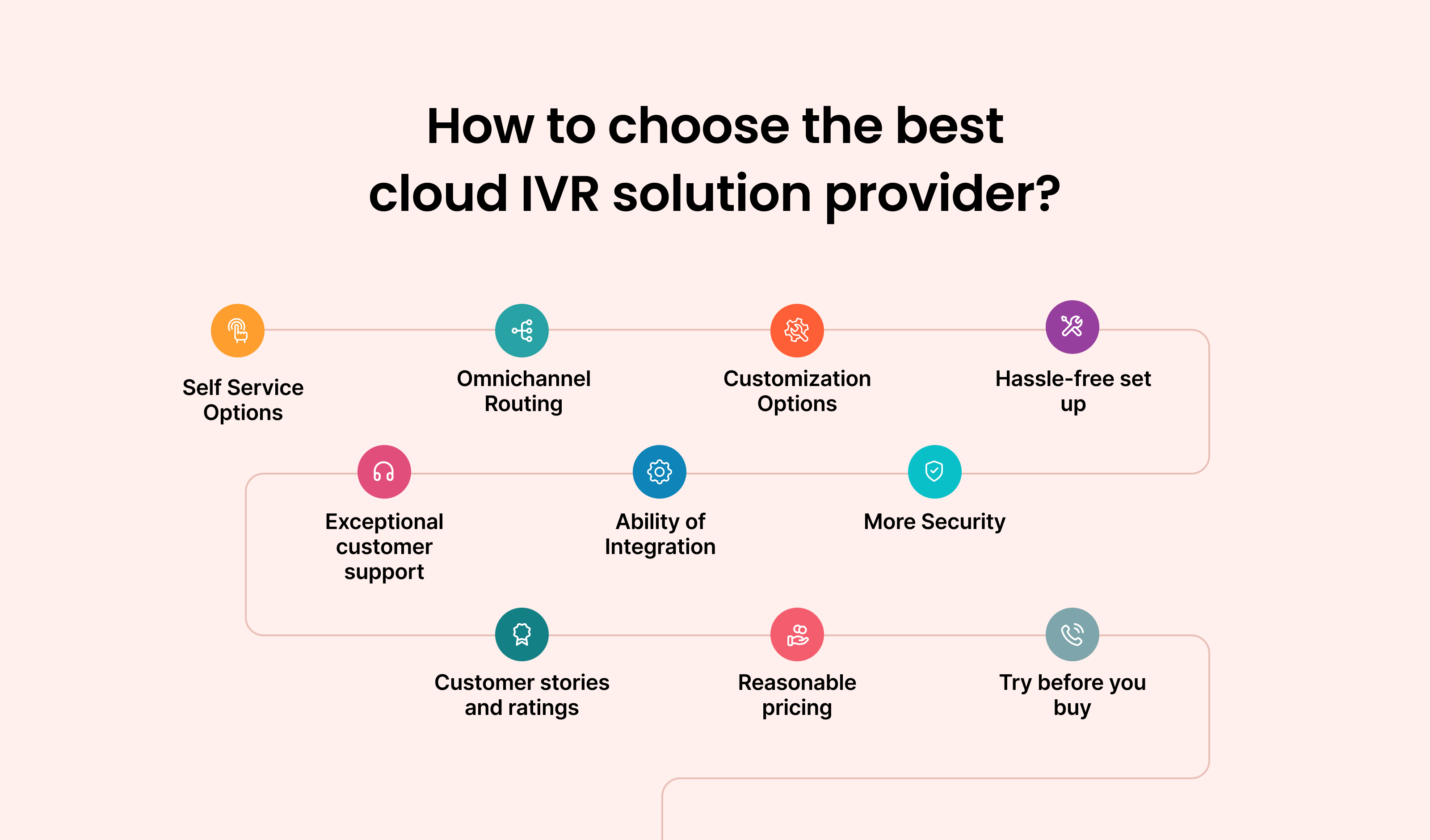 1. Self Service Options
As most customers love to have self-service options, it is crucial to check if your solution provider can offer you this option. With the service option, customers can resolve their queries instantly without waiting for an agent to perform this activity. For instance, the customer can press the required option on their keypad to know the order status.
2. Omnichannel Routing
When call routing is done, it is essential to route the calls of different platforms, such as chats, emails, social media requests, and phones, in a single omnichannel platform. This will enable companies to remain connected with their industries and stay current.
3. Customization Options
As multiple businesses have multiple needs and demands, one should check for the customization feature. It can be regarding features, contact center location, alerts, and notifications, handling bulk call volumes, etc.
4. Hassle-free set up
Although IVR can be set up instantly, unlike traditional systems, the solution provider should be a great support for setting up the IVR. You can check if they have sufficient expert consultants to help you with IVR setup.
5. Exceptional customer support
In addition to the setup process, it is also important to have round-the-clock customer support. We at TeleCMI have an exceptional team to offer you world-class support when you face issues you cannot handle.
6. Ability of Integration
Third-party integration is necessary as companies depend on other applications to track and work on everyday processes. When transitioning to an IVR system, it should have the capability to integrate with different applications to prevent switching to the apps between customer queries. TeleCMI enables businesses to integrate with multiple apps such as Hubspot, Salesforce, Zoho CRM, Freshdesk, Zendesk, etc.
7. More Security
You should remember the security factor when dealing with data-driven decisions. Since the IVR platform deals with more sensitive information of customers and businesses, the software should come with high-end security. TeleCMI is aware of this, and we are an ISO-certified platform with multiple layers of encryption.
8. Customer stories and ratings
Undoubtedly, previous customers can provide honest opinions about the solution provider. Check for customer reviews and ratings to get a clear picture. You can also know about previous requirements and how quickly & efficiently they have resolved them.
9. Reasonable pricing
Check for the price and make sure it meets your budget. TeleCMI provides you with the IVR software at a budget-friendly cost with no compromise on the quality.
10. Try before you buy
Remember, give a try on the IVR platform from the solution provider before you buy it. You can explore different features and learn more about them. With TeleCMI, you can Sign Up Free Trial here or Get A Demo. where you can get to know about the additional features we offer and how they fit your business requirements.
FAQs
IVR comes with cutting-edge features such as:
Omni channel platform
Callback
Call flow configuration
Voice Recognition
Call Queuing
Call Filtering
---
Here are a few benefits:
Enhanced customer satisfaction
Faster and accurate call routing
Easy to set up and use
Personalized options
Compatible across devices
---
Regardless of size, any business considering customers a priority can use the IVR solution. Industries such as Real Estate, Education, and Healthcare tops the list in using the IVR platform.
---
We have rich industry experience and help businesses stand out from the crowd. Our worldwide client support has made us reach a higher level and enhance ourselves.