BLOG » 10 Benefits of the IVR System That Will Blow Your Mind
10 Benefits of the IVR System That Will Blow Your Mind
Communication is a critical tool for any business. It is crucial to engage with the customers and know their queries. These suggestions can enhance your brand. By implementing those suggestions, you can retain and bring in new customers.
In recent days, companies have made use of VoIP technology to collaborate with customers comfortably. This strategy has multiple benefits as it uses Internet-based communication. One such thing is IVR (Interactive Voice Response).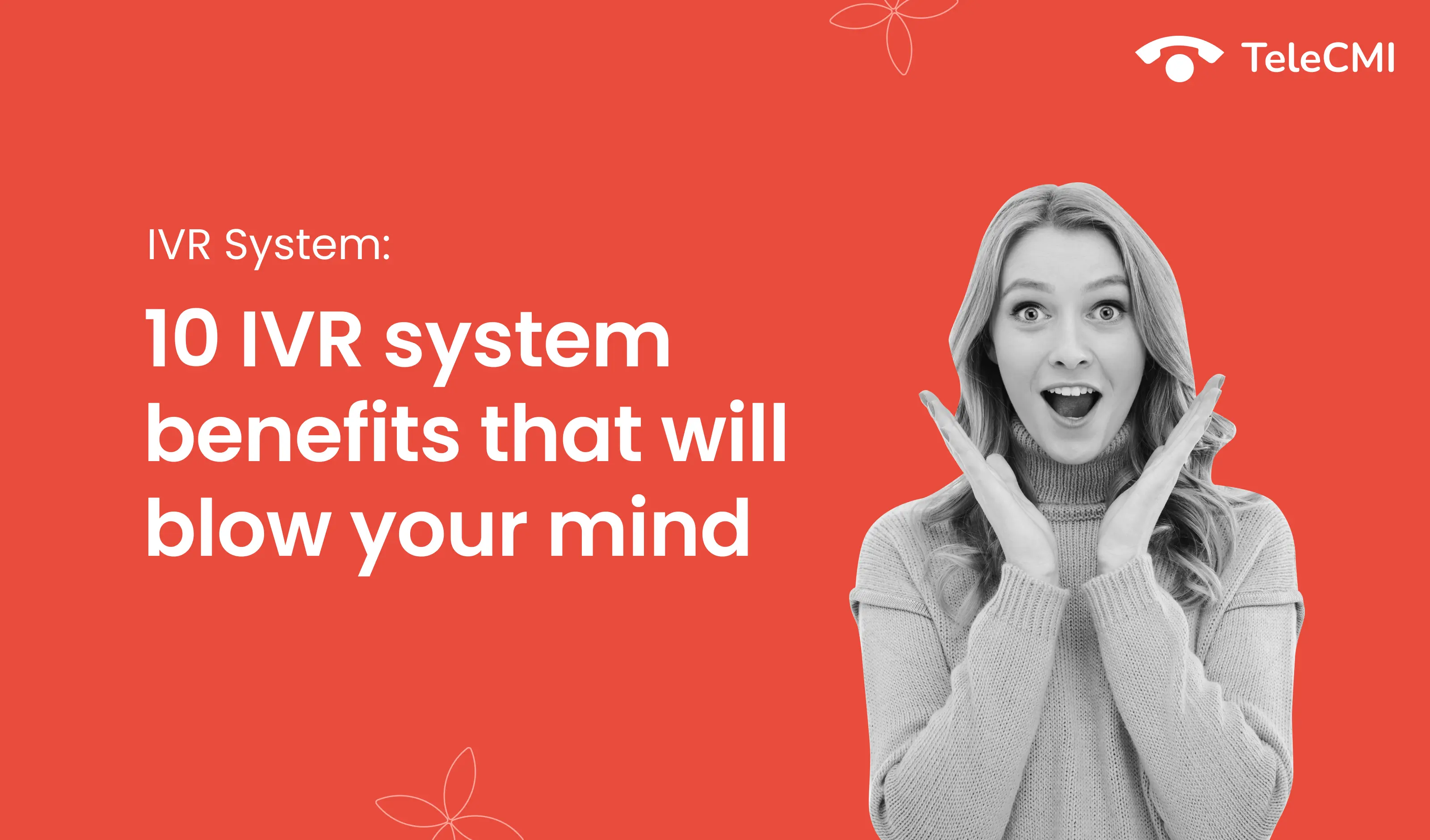 What is an IVR?
IVR, or Interactive Voice Response, is the automated telephone system for callers using Voice and Touch Tones (DMTF). IVR is also called a Phone Tree. It uses voice recognition and a touch-tone keypad selection to help callers navigate the menus.
IVR helps companies manage the inbound calls efficiently by routing them to the respective teams to make sure customer queries are engaged ideally. It also provides customers with information and helps them complete tasks without needing a human representative.
DO YOU KNOW?
Moviefone, an American-based moving picture and listing information service brand, was the most famous and successful use case of IVR technology. As the Internet was different from the present, the callers would make a call to know the list of available theaters near them along with the movie names and show timings.
With the Natural Language Processing (NLP) trend, users can interact with the agents through devices from anywhere at any time. The speech recognition technique lets the IVR system grasp and respond to the queries accordingly.
These IVR Systems also enhance the customer experience by providing a self-service method for users to access the required information without needing an agent. These systems can lower the waiting time, reduce the loss of customers, and minimize the operational cost.
How does IVR work?
IVR is the initial thing customers will encounter when they call a call to a call center. The IVR System will greet them with pre-recorded music or a message and provide the required menu options. For instance, if users want to renew their service, they can press '1'. If they're going to speak with an agent, they can press '2'. If they want to add a new service, they can press '3' and so on.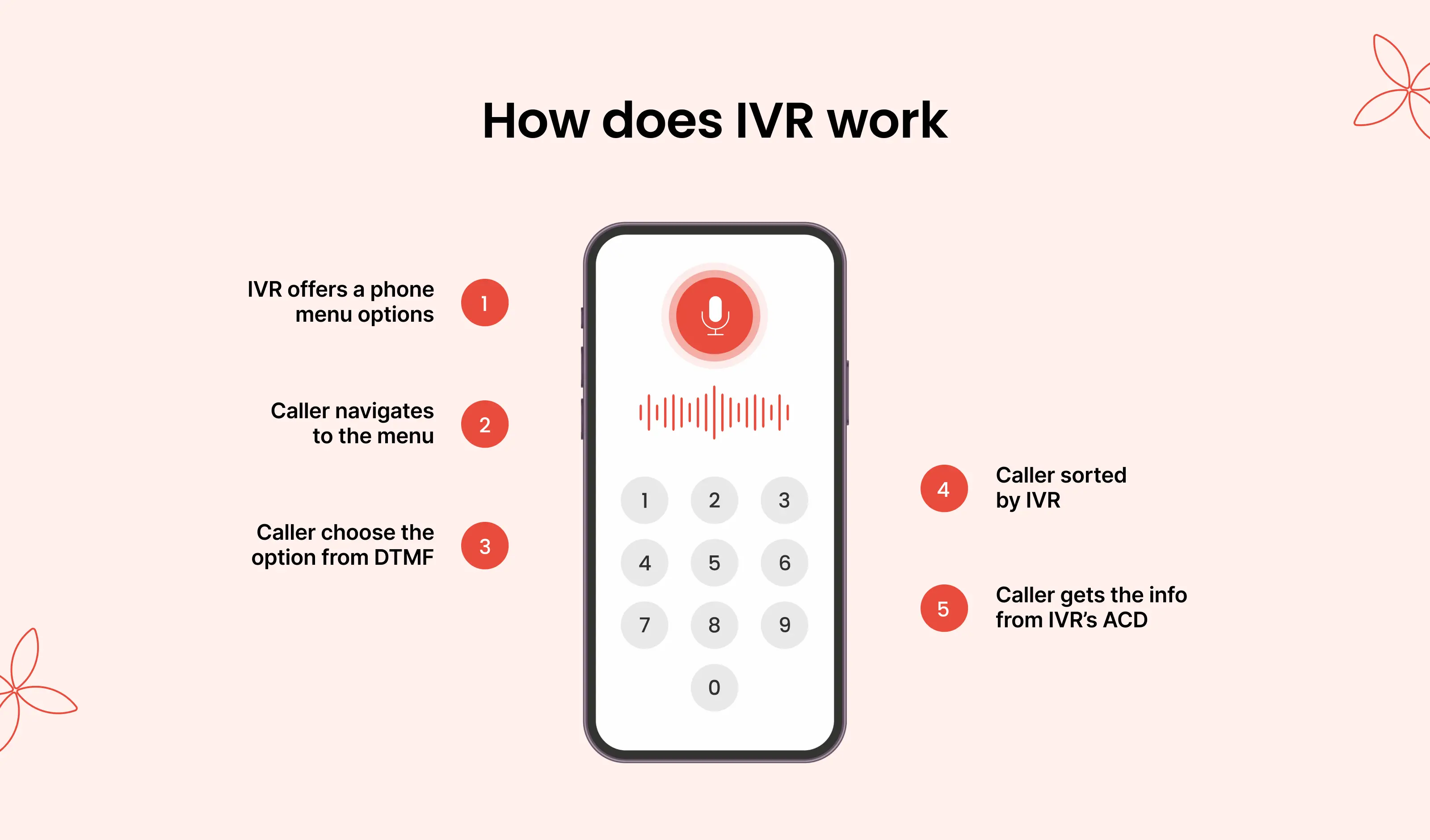 USE CASES OF IVR SYSTEM
Checking account balance
Checking order status
Setting/Changing PINs
Answering surveys
Knowing the bills
IVR solutions come with multiple menus so that the user can choose their own regarding their concerns. Also, the agent will be able to know the exact query and can provide a solution respectively. The agent can also route the calls to the desired team based on their questions. IVR is a standard phone menu that emits DMTF tones or words that speech recognition detects.
To put it simply, here is how IVR works:
The customer calls, and IVR offers a phone menu of options.
The caller must choose the required option that emits a DTMF.
The caller navigates the menu and responds by pressing the number.
The caller is sorted by IVR with a skill-based routing when self-service doesn't help.
The caller gets an agent to address their needs through the IVR system's ACD (Automatic Call Distribution) technology.
IVR menus come with a top-level menu for incoming calls and other submenus. All IVR systems let users select a number from their phone's touch-tone keypad. It comes with nine options, and users should choose from them. If self-service fails, the calls are routed automatically to the corresponding agents. Also, it will help users to speak their issue correctly and get the desired response, making them comfortable.
How to set up an IVR system?
To initiate the setup process, you need a IVR service provider like us, the TeleCMI. We offer an IVR system, and you can start your setup process. Once you get your setup installed, log in to the app, go to the dashboard, and you can edit the IVR settings there.
You can also configure the way you need the call flow. Most commonly, IVR flows will look like a welcome message followed by an explanation of menu options, wait for input, and move forward. Some platforms will let businesses choose between recording an audio message or writing a note that will be read by the caller using text-to-speech AI.
Also, you can program the menu options depending on the key pressed. Here are a few options: IVR submenu, an extension, call queue, voicemail, etc.
Why do companies need an IVR solution?
Companies can make use of IVR since it cost-effectively offers high-end voice quality. Also, when customers initially interact with the computer, they resolve their queries quickly and efficiently. IVR can be great for any business that looks to reduce waiting times, enhance the brand image, and offload tasks from agents to focus on.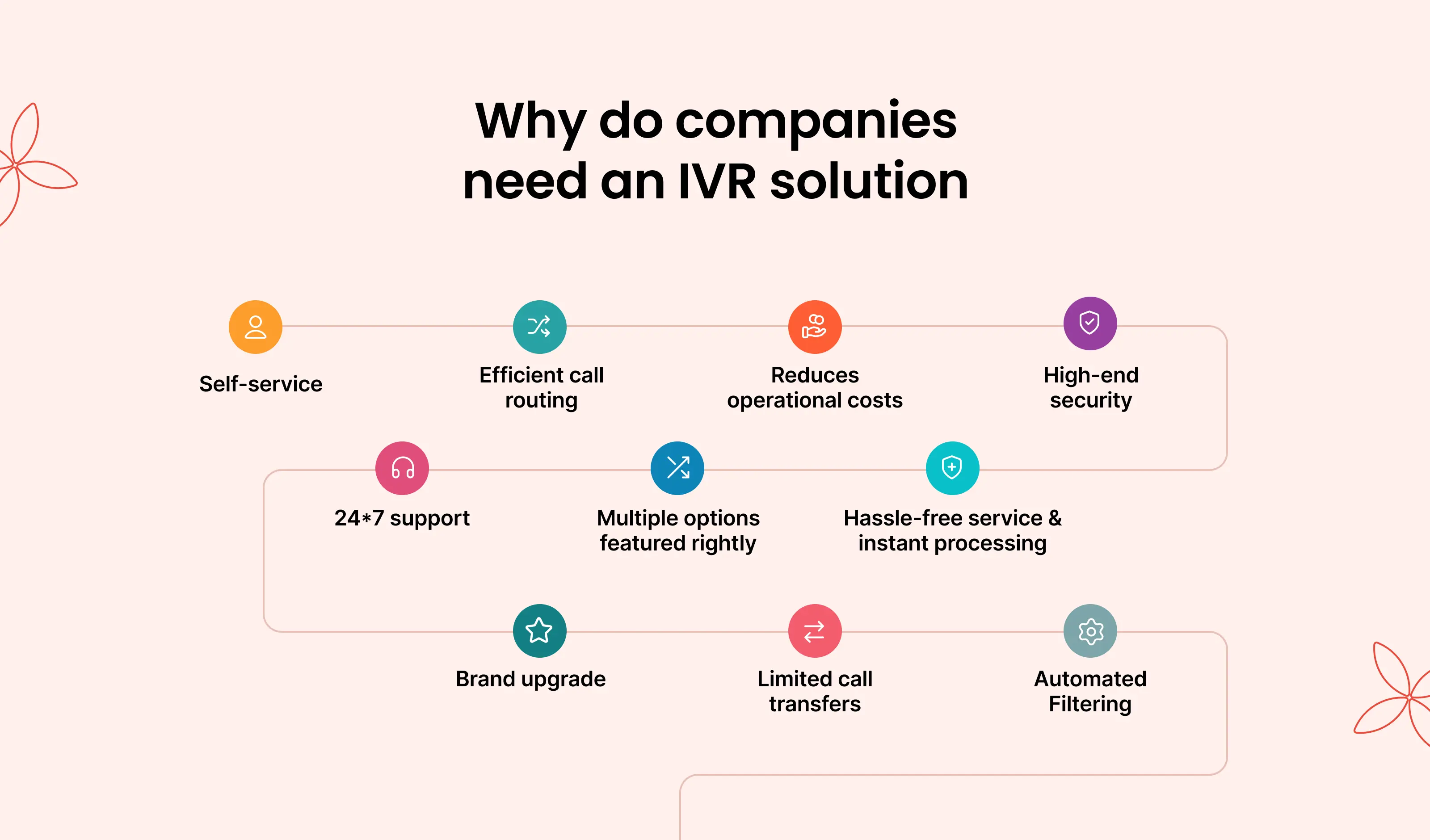 Here are the reasons why a company should go for IVR software:
Self-Service
Sometimes, customers would come up with some basic questions, such as "When will my order get delivered?", "When can I expect my payment to happen?" etc. In such cases, this Interactive Voice Response technology enables businesses to answer these questions in a fraction of the time without the need for an agent. Instead, those agents can finish their work in busy call centers where multiple customers await the call pickup.
Additionally, the IVR phone system allows customers to perform the actions traditionally, which replaces human intervention. For instance, customers who want to change a PIN can do so directly with a robust IVR phone system.
Efficient Call Routing
With the relevant information obtained from the caller, the IVR solution routes the call to the desired call center agent, reducing the customer's waiting time and increasing customer satisfaction.
Reduces operational costs:
The IVR phone system is relatively cheap and cost-effective. They not only reduce the load of call volumes for customer representatives but can also extend access to information during off-peak hours, such as nights, holidays, weekends, and the absence of the agent.
High-end security
Most IVR phone systems incorporate Voice recognition technology to verify the identity of the individual, which adds an extra layer of security. This security strategy can help protect highly sensitive information, such as social security, phone numbers, bank details, etc.
Hassle-free service & Instant Processing
Many customers prefer to resolve their queries independently without help from a customer service representative. In this case, thanks to cloud-based IVR, which works per the customer's perspective. Since the customer can solve the query on their own, it also reduces the ample amount of time.
Multiple options featured rightly
IVR systems present all the options clearly using the pre-recorded voice prompts. If you don't get proper solutions for all 1-9 options, you will always have the choice of speaking to a real-time expert to help you rectify queries.
24*7 Support
As the IVR Service is available around the clock, it helps businesses to speak with their customers day or night. Even in unavailability, there are other options like "drop a message, drop a voice mail, or an email" to reach the customers again. This feature can retain customers without any loss.
Brand Upgrade
Small businesses can appear to have a larger workforce by adopting a cloud-based IVR system. Although you have limited people working for you, an IVR system can be the best advantage to quickly treat your customer's queries and help you build the brand image.
Limited call transfers
Traditional landline phones will result in multiple call transfers between departments. With an Interactive Voice Response system, the possibility of transferring the calls is low. This can increase customer experience. Added, it will also automatically sort customers based on their queries. In both cases, the time consumption is less by avoiding the hefty costs of long volume calls.
Automated Filtering
IVR system comes with the significant advantage of automatic filtering. Instead of reaching the agent for every single query, agents can understand the queries when they get them automatically.
Real-time industries using IVR Software:
Most industries utilize IVR phone systems in the present scenario. Here are a few real-time examples of industries using cloud-based IVR systems:
Healthcare
IVR solutions are most commonly used in the Healthcare industry for things such as pre-treatment questionaries, patient satisfaction surveys, lab and appointment surveys, test results, post-discharge follow-up, patient monitoring, etc. It also increases overall patient satisfaction by alerting them about the medication schedule.
Education
It also shows that Educational institutions can implement IVR to help parents extract a status update on their child's performance and attendance in school. Parents can register to the system login by providing their username and password as inputs to access crucial information on future calls.
Financial institutions
IVR is doing a lot of positive tasks for the Banking and Finance industry. These cloud-based IVR systems can offer information such as account details like account balance, loan application statuses, etc.
Customer Service
Customer Service call centers are applicable across multiple industries. These centers have emerged with a motto of handling a high volume of customer inbound calls using automated menus and pre-recorded calls to handle customer queries.
How does TeleCMI act as the best IVR software provider?
Interactive Voice Response technology is businesses' most efficient strategy to lower costs, lighten staff and company load, and offer a good customer experience. Although it comes with great features and advantages for businesses, there are challenges in deciding which IVR provider will suit you the best.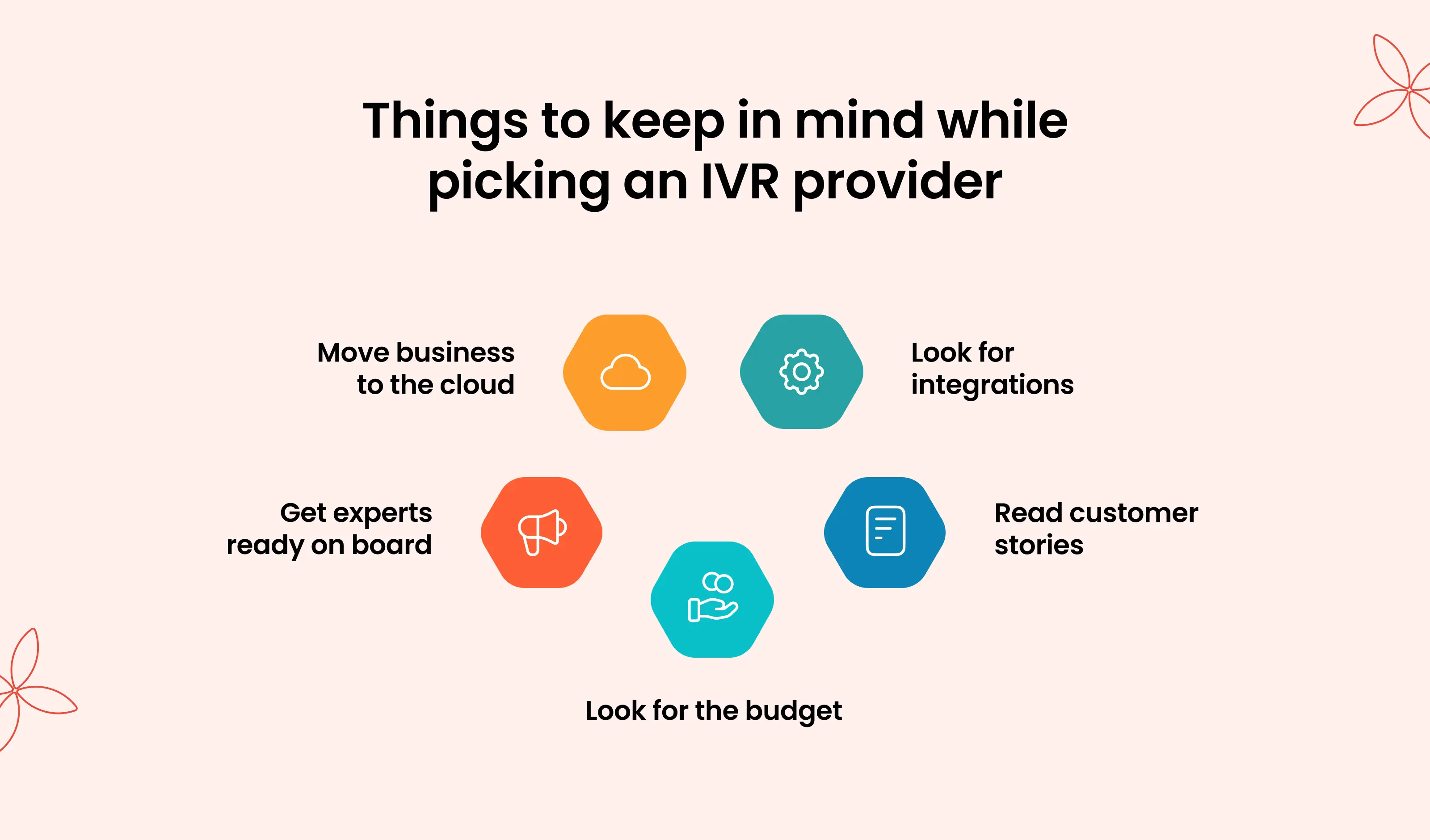 Here are a few things you can consider while picking an IVR solution provider:
Moving your business to the cloud.
Moving your business to the cloud internally and externally is difficult, as it involves many procedures. If you have an on-premises PBX, consider moving it to a cloud, which will help you to get advanced features.
Look for integrations.
Choose an IVR solution that integrates with your existing software, such as ERP, CRM, eCommerce platform, or other vital components.
Get experts ready on board
Nothing offers a worse experience than the agents' unavailability or lack of knowledge. Additionally, they may sometimes get struck with the phone menus, too. In such a case, an agent will look helpful who can resolve this. Hence, have well-trained experts to engage the customers.
Read Customer Stories
Knowing how previous customers feel about the IVR software provider you want to choose is essential. You can get the customer ratings and read customer stories to ensure they fit your requirements.
Look for the budget
Choosing a cost-effective pricing plan is more important. When selecting an Interactive Voice Response provider who can offer you software at a reasonable price, make sure the software is also of good quality.
How can TeleCMI help you provide a superfine Interactive Protocol Response system setup?
We at TeleCMI have rich experience in offering VoIP services, specifically with IVR call center systems. We have an expert team who can provide you with a free demo so that you can get to know our product well.
TeleCMI has served a range of industries and has clients all over the globe. Our software comes with packed features that help businesses achieve proficiency and efficiency at a budget-friendly price.
Bottom Line
Interactive Voice Response (IVR) Technology is here to make profitable changes for businesses globally. Small businesses can get faster outputs, improve cost efficiency, and increase the brand image.
Check with TeleCMI to get your customized software hassle-free. We use advanced and future-proof technologies for building the software, take care of security practices, and offer you the desired solution.
FAQ for Interactive Voice Response (IVR) Solution:
Interactive Voice Response manages inbound calls effectively, which is handled by agents. It also lowers the cost compared to the traditional phones. It also enhances the customer experience.
---
IVR software comprises various features such as voicemail, voice response technology, touch-tone response, messages, and authentication facilities.