1. Keep the navigation Menu short and simple
When designing a multi-level IVR system, keep the number of menus short and avoid long instructions. This helps customers get answers to their queries as quickly as possible. And assists Call Center teams in avoiding angry and frustrated customers.
Commonly, you can use up to 3-4 menus in your menu hierarchy, like Menu 1 for language preference, Menu 2 for queries types (eg, sales, support, account), and Menu 3 for answers like recharge plan, plan validity, and blocking a credit card. thus, keeping the IVR levels less than 3 might promote a positive experience among your customers.
2. Place an engaging on-hold music
When routing customer calls to the next available agent, use on-hold music that engages them, it helps to keep customers on track without letting them hang up. You can experiment with different IVR music to discover the one that increases engagement regardless of long wait times. You can also provide a callback option to callers who hate long waiting hours.
3. Use skill-based and advanced call routing methods
Set up your IVR system with appropriate Call Routing Methods that connect customers with the right agent and department. You can use skill-based call routing with different priority options like round robin, high priority agent, ring teams, business hours, and other routing options.
4. Try a sticky agent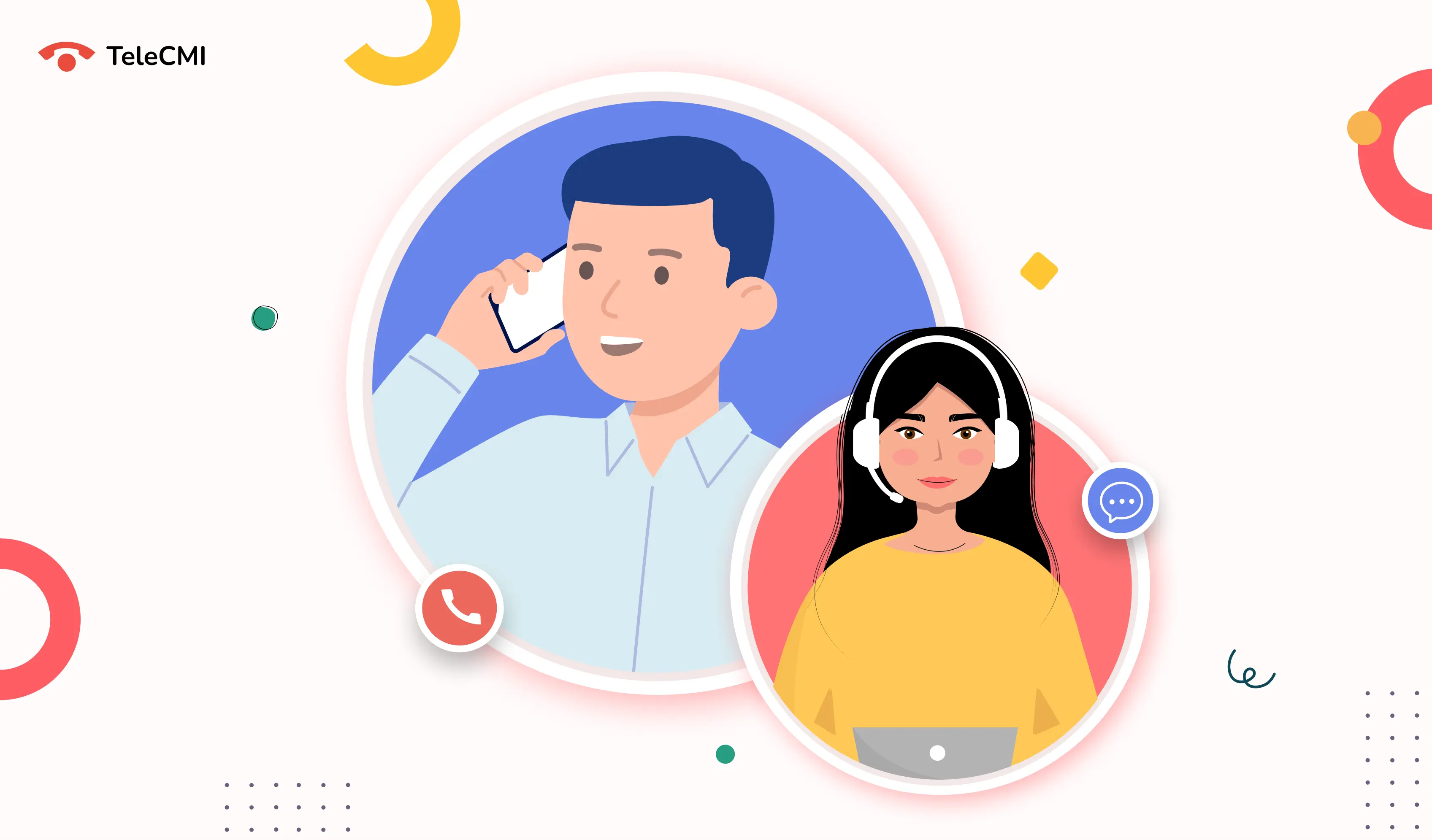 IVR service providers like TeleCMI have a built-in Sticky Agent Feature that makes it possible for contact centers to allow customers to connect with the same agent with whom they had conversations previously. As a result, callers don't need to repeat the queries and avoid unnecessary call transfers.
5. Self-service using conversational AI
Automate answering frequently asked questions by adopting AI-enabled Hosted IVR Software that guides users to the correct answers. AI technology in IVR uses conversational AI and natural language processing technology to detect audience intent and provide answers to their questions through text-to-speech features.
This can be possible by connecting the FAQ database with IVR. for example, when customers want to know their bank balance, AI voice bots ask for the account number first and after validation, it conveys the bank balance of saving or current account to account holders.
6. Use wait time for engaging callers, reducing hang up
Call center team managers can reduce hang-ups by utilizing wait times for promoting other products, offers, and interest-building promotional messages and advice.
7. Add a language preference option first
If your customers are from different regions, then giving the option in the menu to choose their native language enhances customer experience and speeds up the resolution process.
> Especially, it's encouraged for businesses whose customers are based out in India as the languages they speak differ by city. Eg, Hindi, Tamil, Telugu, and English, etc. this is true for retail brands with consumers who are not familiar with English. > This is one of the best IVR design practices we recommend for organizations and startups.
8. Welcome callers with a greeting message
Blasting greeting message with respect to customers' native language build a strong touch point and fosters customer relationships. Most IVR providers like TeleCMI allow users to upload custom greeting messages that businesses can implement in the IVR menu.
9. Always give the option to connect with a live agent at the end
Even though self-service reduces call center workload, giving customers an option to connect with the live agent improves brand trust by redirecting callers to real human agents. As some complex queries require the attention of live agents to resolve.
10. Redirect to an app or website to find common information
Design an IVR with an option to ask callers to visit the knowledge base section in your app or website to get answers to common questions. This takes the burden off agents and gives them more time to focus on solving complex complaints.
11. Allow customers to get back to previous menus
At the end of playing all IVR menus, give customers to select an option to get back to a particular stage of the menus. For example, press 1 to get back to menu 1 or press 2 to get back to menu 2, and so on.
12. Send post-call SMS for customer feedback
While setting up IVR, add an SMS feature to the menu to automatically send post-call SMS to gather feedback from customers. You can use this SMS template to discover how satisfied your customers are and the pain points they are facing during customer support. You can create this IVR and SMS automation in the TeleCMI dashboard.
13. Make your IVR number easy to find
Display your IVR or Toll-Free Number in the area where it can be easily accessible. For example, place it on the header and footer of your website, product dashboard, or product labels. As it's necessary to build a lifetime customer base and increase client satisfaction.
14. Product wise IVR menu to reduce menu options
Creating separate IVR menus for different products helps both businesses and customers simplify their customer service process. For example, you can have a specific toll-free number and IVR for product A and others for product B, product C, and so on, which cuts down the number of menu options.
15. CRM integration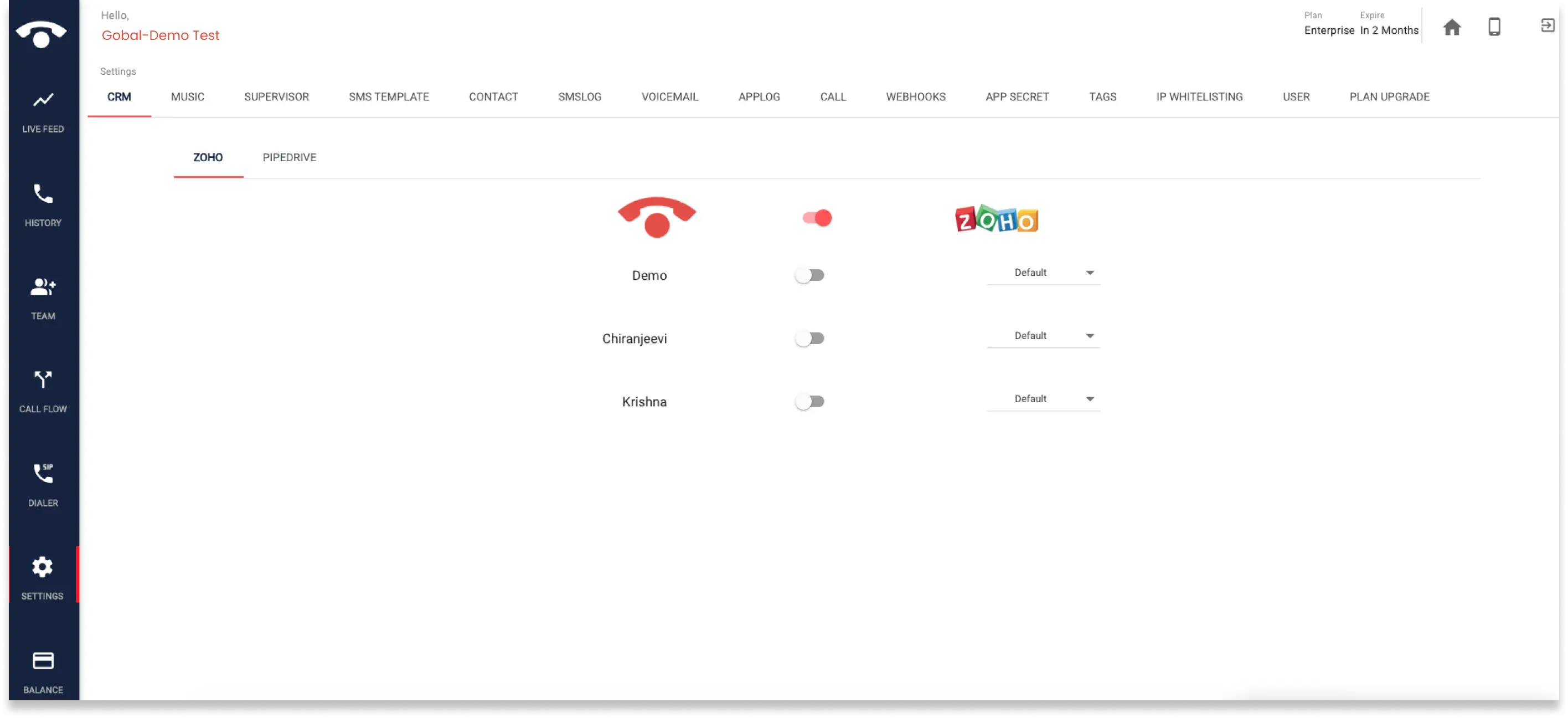 Cloud telephony providers like TeleCMI give users an option to integrate IVR systems into CRM and helpdesk tools like Zoho, Salesforce, Zendesk, and Freshdesk for unifying customer interactions. This helps agents understand the caller's profile through pre-call information gathering.
So, whenever an incoming call arrives, support agents are get notified with a call pop up displaying customer information and Caller ID.
16. Experiment, analyze, and improve
Analyzing IVR/call analytics, customer conversations, and feedback unlocks new opportunities for call center leaders to introduce a well-optimized IVR system than before. This can be done with constant experimentation and call reports analysis. As a result, you can improve call center KPIs and retain more customers through data-driven adjustments.
17. Use DTMF and voice recognition inputs
Offering users multiple input options enhances the IVR experience and allows them to communicate via their preferred mediums. You can provide DTMF (Dual-tone Multi-frequency), touch-tone input, and voice recognition prompts for callers to navigate your IVR system conveniently.
18. Apply error prevention techniques
When designing an IVR (Interactive Voice Response) system, it's essential to implement error prevention techniques to minimize user frustration and ensure smooth interactions.
Some techniques to prevent errors in the IVR system are offering clear and concise prompts, validating user inputs to identify incorrect information, testing and iterating the system based on real user feedback and error-prone areas, and training the system for contextual awareness based on previous interactions.
19. Send proactive notifications
These are automated notifications and alerts sent to customers regarding updates, reminders, and suspicious activities in the account. This not only improves customer engagement and also minimizes the necessity to contact the customer care team.
Some examples include,
Banking: Sending real-time SMS alerts to account holders regarding suspicious activities like large transactions and multiple login attempts.
E-commerce: Notifying shoppers about updates on delivery delays and product availability.
Healthcare: Sending appointment reminders to patients via SMS or email with date, time, and location details.
Travel: Alerting passengers about flight delays, gate changes, or baggage claim updates through mobile apps or text messages.
The reason why we included sending proactive notifications in IVR best practices is it helps to reduce the overall incoming calls indirectly and minimizes call center agents' workload so that they can focus on resolving complex queries.
Conclusion
By following the above IVR design best practices, businesses and CX leaders can provide top-notch customer service like other leading brands in the industry. As IVR act as a bridge between customer care reps and customers, it's highly recommended to design a customer-friendly IVR system to reduce churn rates and maximize customer lifetime value.
Try TeleCMI's Cloud Call Center Software for Setting Up an Intelligent IVR System
✓ Use visual call flow designer
✓ Onboard unlimited users
✓ WebRTC and VoIP-based calling
✓ Get toll-free numbers for 57+ countries
✓ And access 60+ call center features