1. It's cost-effective, and every business can afford it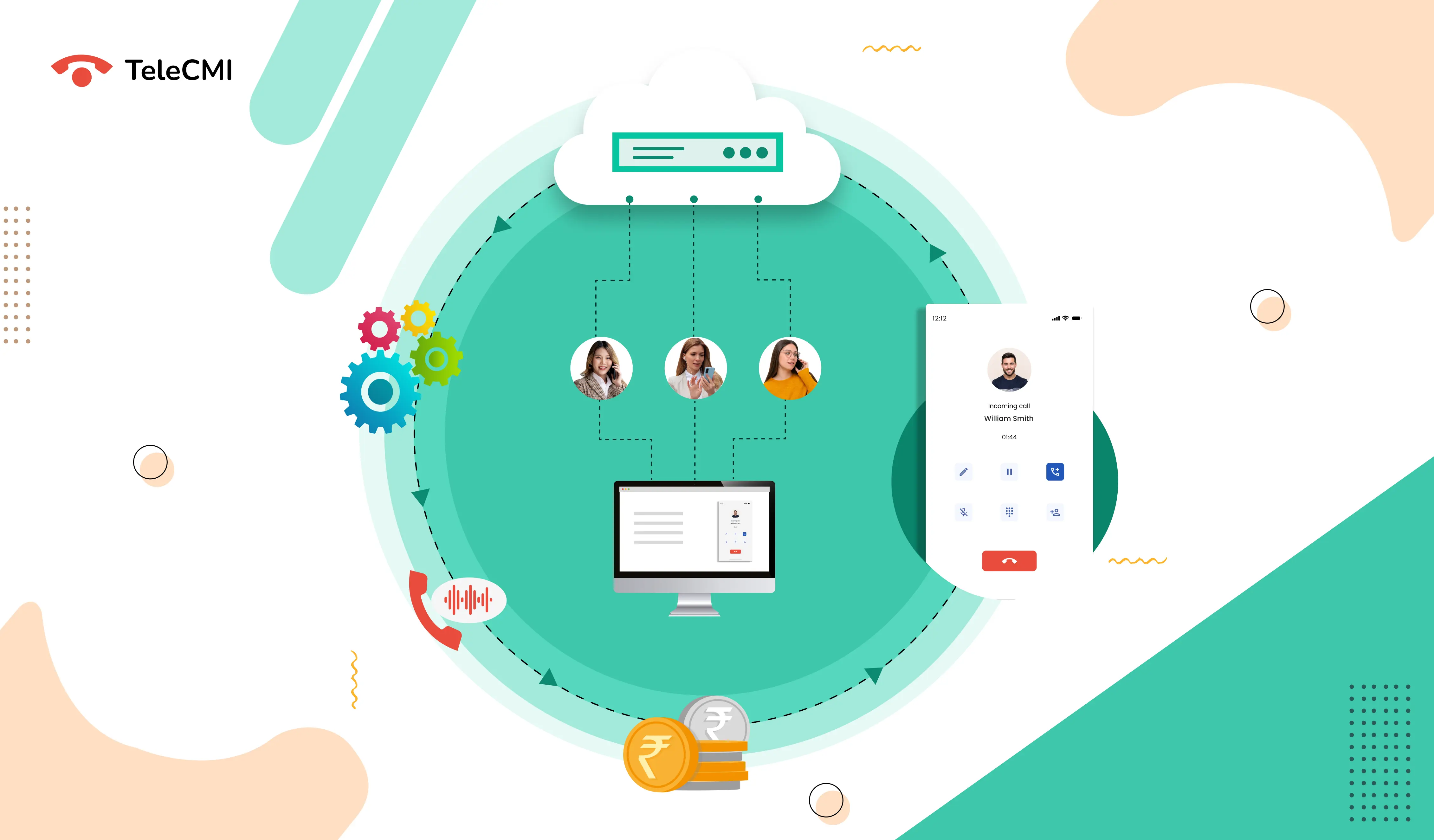 If your company is small or just starting up, it's important to keep operational costs low. A traditional landline phone system can be a big financial burden because of the expensive hardware required to make it work.
With cloud telephony, you only pay for the service, without having to invest in expensive physical hardware or infrastructures. Cloud Telephony service providers like TeleCMI hosts and maintains your business phone lines so you don't have to worry about the technical details. As a result, your company can lower the cost of physical phones and infrastructure for a better ROI.
Additionally, VoIP-based solutions have the advantage of routing calls over the data line, which means they are considered local calls even if they are technically international. This makes cloud solutions more attractive to businesses, as some VoIP providers like TeleCMI offer unlimited calling plans to major countries like the USA, UK, Canada and cloud phone system Australia and many other countries for a flat monthly fee.
2. Advanced features for modern communication
A cloud-based communication system gives businesses an edge over their competitors by offering modern features that a traditional phone system cannot. Each feature is designed to give your customers or clients a new experience and keep your company ahead of the curve.
All of the modern features that cloud telephony offers are valuable for businesses, no matter how big or small their workforce may be. In addition, cloud telephony can make businesses more professional by integrating features such as intelligent Call Routing, Advanced Call Analytics, Conversational AI, CRM Integrations. By offering these high-level services to your customers and callers, your business will appear larger and more professional than it actually is.
3. Easy maintenance and troubleshooting
Though some people may think hosted phone systems are complicated, they are actually much simpler to use than traditional phone systems - no technical expertise required. All you need is a desktop or laptop with a stable internet connection and you're good to go.
Cloud phone systems don't require any extra wiring and they're easy to scale. You can add or reduce phone lines as your business grows without any complications.
TeleCMI offers a secure and reliable way to manage your business communications, so you don't have to worry about maintenance or repairs. All you need to do is make sure your office computer and internet connection are working properly.
4. Ensures mobility work can be performed anywhere
Cloud PBX systems are key for businesses whose employees are frequently out in the field. If some of your employees work remotely, it's important that they have a reliable way to stay in touch no matter where they are or what the circumstances of their job might be. Traditional phone systems can't provide the same level of flexibility as cloud phone systems can.
To complete the task, all your employees need is an internet connection and a laptop or mobile device. With a VoIP solution, they can use their business number to connect with customers even when they're working from home. They can make and receive calls on business numbers using TeleCMI's soft phone app from any location with an internet connection.
With the VoIP "follow me" feature, your employees can remain productive even when they're away from the office. If some of them face poor internet connectivity at home, they can still take calls from clients without worry. This mobility makes it easy for them to stay connected and get work done, no matter where they are.
5. Globalize Your Business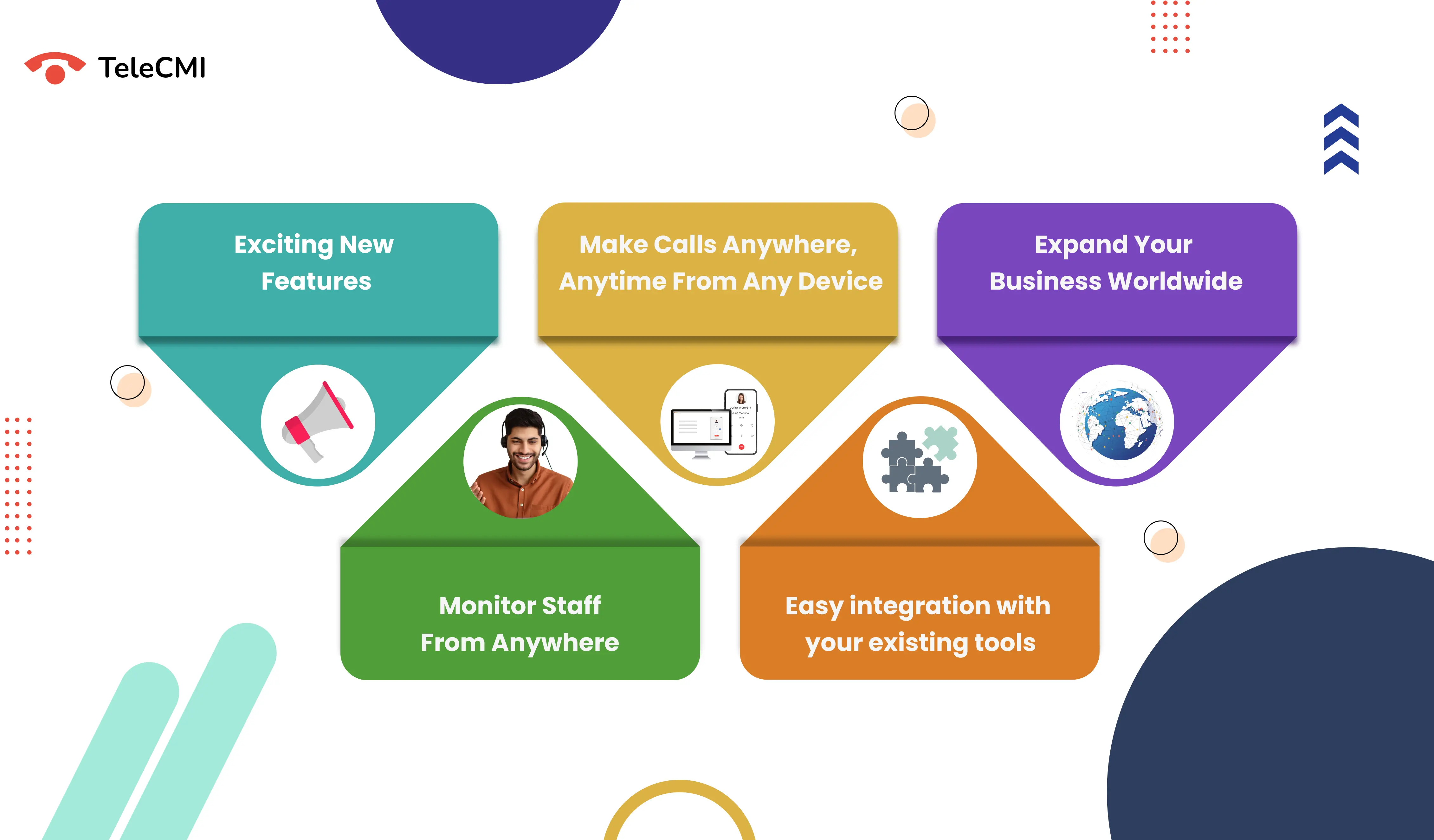 The virtual phone system not only has numerous advanced features but also supports remote working, which helps your business grow in many aspects. Hosted phone systems are a cost-effective way of scaling up your phone system as your business expands globally. With a hosted phone system, you can add or remove users as needed, so you always have the right number of lines for your business. Plus, you can manage all your phone numbers from one central location, making it easy to keep track of your calls and messages.
This allows you to hire as many employees as you need to keep up with customer demand and sales, so that your business is never caught off-guard or understaffed during busier periods.
A hosted cloud system is more efficient than a traditional phone system because it doesn't require a lot of work to add and remove lines. You can start monitoring the flow of calls through your business immediately through the dashboard from anywhere, which gives you more control over your business communications.
6. Conclusion
A cloud-based phone system can provide your business with many advantages, including mobile and scalable features, as well as the ability only to pay for the services you use with no installation costs. If you're interested in learning more about how your business could benefit from cloud telephony, TeleCMI would be happy to explain things in more detail and help get you started.