Table Of Contents:
1. What is a VoIP phone system?
2. Requirements for implementing VoIP phone system
3. How to set up your VoIP phone system
4. VoIP phone system use cases
5. FAQs in VoIP phone system
1. What is a VoIP phone system?
A VoIP Phone System is a type of telephone system that uses the Internet Protocol (IP) to transmit voice and multimedia communication over the internet.
VoIP stands for Voice over Internet Protocol, and it enables users to make phone calls, send and receive text messages, and participate in video conferences using an internet connection.
VoIP or cloud phone systems can be used as an alternative to traditional landline phone systems and offer several benefits, including lower costs, better flexibility, and modern features.
Requirements for implementing VoIP phone system
When buying a VoIP phone system for your business make sure you have below basic requirements in place.

Internet Connection: A stable and fast internet connection is crucial for business VoIP service as it uses the internet to transmit voice data. A minimum bandwidth of 100 kbps per call is recommended, but higher bandwidth may be required for high-quality audio or multiple concurrent calls.
Hardware components: A VoIP software typically requires the following hardware components such as IP Telephones specifically designed to work with a VoIP system, which has Ethernet ports for connecting to the network and a headset for hands-free communication.
Hint: If you use a softphone app provided by your VoIP vendor, then you can eliminate the need for separate IP phones and hardware.
VoIP Service Provider: VoIP providers offer a range of packages and plans for small businesses and enterprises. Some providers offer hosted PBX or Cloud Telephony Solutions, which can be more cost effective for businesses of all sizes.
Firewall and Network Security: To protect against potential security threats, such as hacking and eavesdropping, it is important to have a firewall in place and to configure network security settings.
Analog Telephone Adapter (ATA): An ATA is used to connect traditional analog phones to a VoIP system. This allows you to use existing phones with your VoIP system without purchasing new ones.
Emergency backup: it's important to have backup measures in place to keep your communication flowing smoothly, even during unexpected disruptions. So consider investing in an Uninterruptible Power Supply (UPS) to keep your VoIP system running during power outages. Have multiple Internet Service Providers (ISPs) as backup, so your system stays accessible even if one connection fails.
How to set up your VoIP phone system
Below are the steps to follow for setting up a VoIP phone system for your small business or enterprise.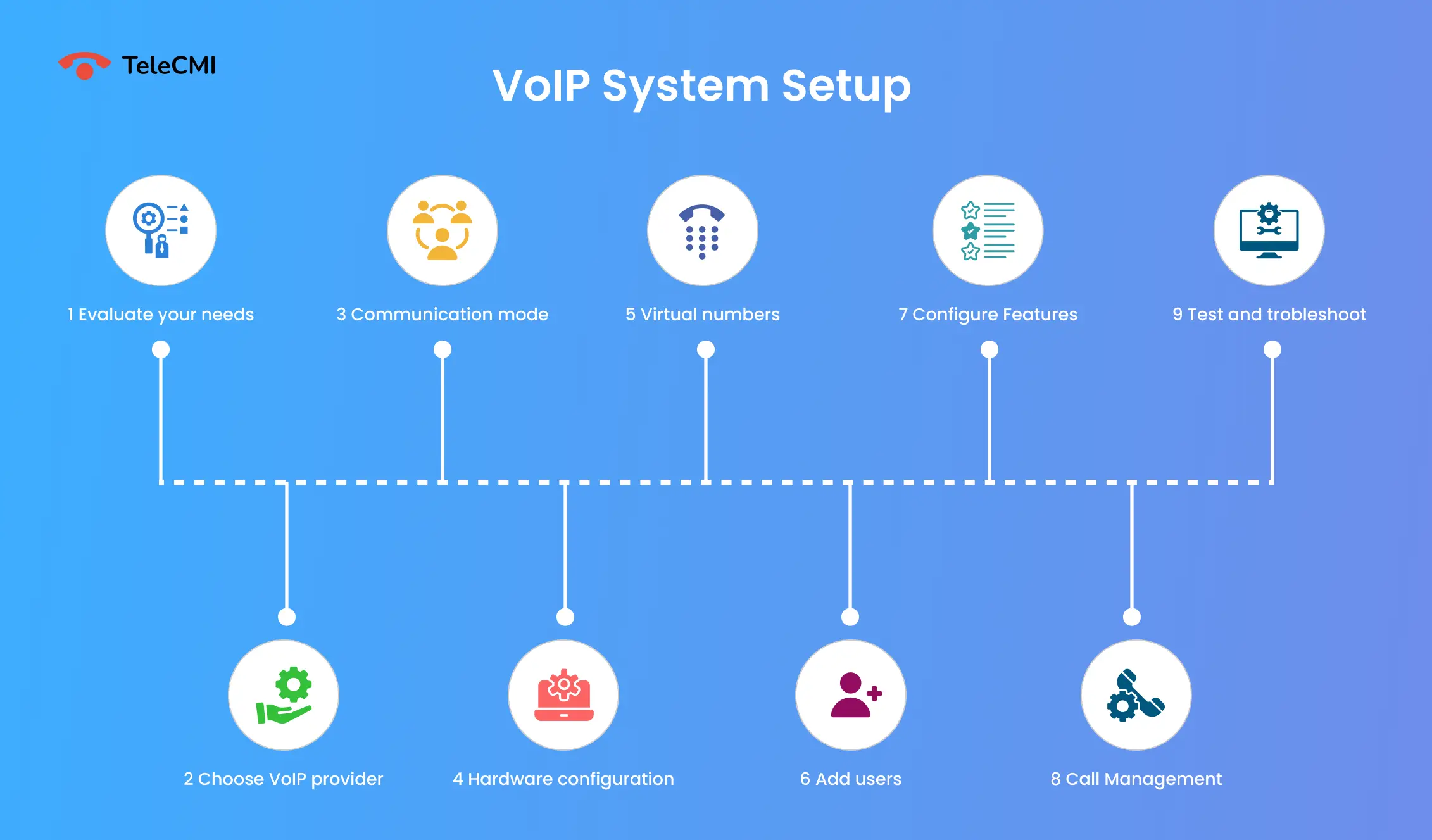 Step 1: Evaluate your needs
Before setting up a VoIP phone system, it's important to determine your specific needs, such as the number of users, the types of devices you need to support, and the features you require, such as call forwarding, Voicemail, and video conferencing. Apart from these look into the below factors for choosing the right VoIP partner.
Reliability: Choose a provider with a proven track record of delivering reliable and high-quality voice and data services. Look for a provider that offers service level agreements (SLAs) that guarantee a minimum level of service.
Features: Consider the features offered by different providers, including call routing, call forwarding, call waiting, Call Recording, and voicemail. Choose a provider that offers the features that are most important to your organization.
Scalability: Choose a provider that can accommodate the growth of your organization. This includes the ability to add new users, expand your network, and support new technologies as they become available.
Cost: Consider the cost of the VoIP service, including monthly charges, setup fees, and any other costs associated with the service. Choose a provider that offers competitive pricing and a flexible pricing structure that can be adjusted as your needs change. Check our VoIP phone system monthly Plans and Pricing here.
Customer support: Choose a provider that offers excellent customer support, including 24/7 technical support, a help desk, and online resources such as user guides and FAQs.
Interoperability: Consider the interoperability of the VoIP service with other communication systems and devices, including PBX systems, telephones, and mobile devices. Choose a provider that supports the devices and systems that are used by your organization.
Security: Choose a provider that implements robust security measures to protect your communication network and data from cyber threats.
Step 2: Sign up with the VoIP provider
Once you have determined your needs and done your research online, Sign Up for business VoIP service with the VoIP providers that you have shortlisted.
Visit VoIP provider's website: To sign up, Go to the website of the VoIP service provider you have chosen and click the signup or start free trial button to create your VoIP account using your username, email address, and password.
Buy a VoIP plan: Choose from the different monthly or pay-as-you-go VoIP plans provided by your VoIP partner and follow the next steps to finish your sign up process.
Step 3: Register business numbers
Here is a step-by-step guide to buying a Virtual Number after signing up for a VoIP phone system:
Log in to your VoIP account: Go to the website of the VoIP service provider you signed up with and log in to your account using your username and password.
Navigate to the virtual number section: Look for a menu or section on the dashboard that is labeled Virtual Numbers, Phone Numbers, or something similar.
Choose a virtual number: Select a local or international virtual number from the list of available numbers. Some providers may allow you to choose the area code, while others may assign a number to you.
Configure the virtual number: Once you have chosen a virtual number, you may need to configure it to route calls to your VoIP phone system. This may involve designing IVR and incoming call flow routing.
Pay for the virtual number: Enter your payment information and complete the purchase process. Most VoIP providers accept credit cards or PayPal.
Start using your virtual number: Once your virtual number is set up, you can start using it to make and receive calls. Calls to your virtual number will be routed to your VoIP phone system.
Step 4: Choose the mode of VoIP communication (IP phone or softphone)
Depending on the service provider, you can communicate using a VoIP desk phone or a VoIP softphone application installed on your computer or mobile device. Here is how both modules work in real life.

Softphone: Softphone is software-enabled which means you can make and receive calls by installing a VoIP softphone application on your existing PC, tablet, smartphone, or computer devices. The advantages of softphone-based VoIP communication are, you can make calls on the go without bounding to desks, you can work remotely, and you can avoid buying IP desk phones and additional external hardware.
IP telephony (hardphone): This mode of VoIP communication requires users to buy and set up IP desk phones or VoIP phones in their office or home and hence it consumes unnecessary costs. By using a softphone, you can communicate flexibly from any location inside or outside the office.
Note: You can also use your old phone systems or existing desk phones for VoIP communication which can be achieved with the use of an Analog Telephone Adapter (ATA).
Step 5: Configure the hardware
This step is recommended if you plan to use IP telephones or desk phones for VoIP communications rather than or along with a softphone.
Once you have a VoIP Service Provider and purchased VoIP hardware from the seller, try the below guide to configure VoIP desk phones in your organization or home.
Connect the phone to your network: Most VoIP phones use Ethernet cables to connect to the internet. Connect one end of the Ethernet cable to the phone and the other end to a switch or router.
Obtain the IP address: You can obtain the IP address of your VoIP phone through the phone's menu or by using a network scanning tool.
Log in to the phone's web interface: Once you have the IP address, open a web browser and enter the IP address in the address bar. You will be prompted to enter a username and password to access the phone's web interface.
Configure basic settings: In the web interface, you can configure basic settings such as the time and date, the phone's display name, and the network settings.
Configure SIP account settings: Most VoIP phones use the Session Initiation Protocol (SIP) to make and receive calls. To use SIP, you need to configure SIP account settings, including the SIP server address, username, and password.
Save and apply the settings: Once you have configured all the settings, save and apply them. The phone may restart after applying the settings.
Note: The specific steps and options may vary depending on the brand and model of your VoIP phone. Consult the manufacturer's manual or your VoIP service partner for detailed instructions.
Step 6: Add users and teams
On the web interface of your VoIP software, admins can add team members and assign unique login IDs and passwords for each member. To do this, follow the below steps,
Log in to the VoIP app: sign in to the mobile, desktop, or web app of your VoIP service provider using your smartphone or computer device.
Navigate to dashboard menu: Click the dashboard menu and navigate to User or team settings or something similar in the menu.
Add users and teams: Click Users in the menu to add new users and configure basic settings like User Extensions, assigning numbers, login credentials, and permissions. For creating teams, click the team icon and set team names like sales, billing, marketing, HR, etc, and assign saved users to any team you wish.
Step 7: Configure VoIP features
VoIP phone system comes with numerous cloud communication features like auto attendant, automatic call routing, Call Queuing, call conferencing, admin dashboard, and real-time call analytics. You can use and test all these features and setting within your web-based VoIP software provided by your service provider.
All these features are easy to use and don't requires IT skills to configure. Here are some of the common VoIP features for your knowledge.
Auto attendant/IVR: An auto attendant (also known as an automated receptionist or virtual receptionist) allows callers to be automatically greeted and directed to the appropriate recipient or department. The system typically uses pre-recorded messages and touch-tone options (e.g. "press 1 for sales, press 2 for support") to route calls.
Visual call flow designer: used to create and manage the Call Routing and interactive voice response (IVR) system. It provides a graphical user interface that allows administrators to visually design and configure the call flow, including the order of prompts and touch-tone options.
Video conferencing: Allows users to conduct virtual meetings with audio, video, and screen sharing capabilities over the internet. This feature is often integrated into the overall VoIP phone system and can be accessed through a web browser or a dedicated video conferencing application.
Team chatting: Help users to communicate and collaborate in real-time through instant messaging and other forms of text-based communication. Can be used for various purposes, such as discussing work-related tasks, sharing files, and asking questions.
Call Recording: Allows users to record incoming and outgoing calls for later reference. This feature is particularly useful for businesses that need to keep a record of customer calls for training, compliance, or quality control purposes.
Call barging & whispering: Call Barging allows a supervisor to "barge in" on a call between two other parties, effectively becoming a participant in the call. Call whispering allows a supervisor to listen in on a call without the other parties being aware.
Custom Caller ID: allows users to display a custom or personalized Caller ID instead of their actual phone number when making calls. Useful for businesses that want to maintain a professional image and protect their privacy.
Call reports: Call reports allow admins to monitor Real-Time Call Analytics of each user like the number of answered calls, missed calls, outgoing calls, queued calls, call durations, call history, and more.
Auto Dialer: Automates the process of dialing phone numbers and making calls. This feature is often used in call centers, telemarketing, and other customer outreach scenarios. The Auto Dialer can be configured to dial a list of numbers in sequence or randomly.
Integrations: You can connect the VoIP phone system to your other business tools like CRM, ERP software, help desk, email marketing, and collaboration software. This unlocks the productivity of your sales, customer support, and recruiting teams working with different tools.
Step 8: Managing and monitoring calls
After the initial setup process is done, now start using your VoIP phone system to make, receive, and route calls. Here is how to perform VoIP calling,
Voice calling: You can make and receive nationwide and global calls using the softphone app installed on your existing mobile or laptop devices. A softphone looks like a regular dialer of your smartphone with attributes like dialing numbers and recording options.
Video calling: It's similar to any other video meeting apps in the market like Zoom and Google meetings. You can access this feature in your VoIP phone app which is integrated with a video calling feature.
Step 9: Test and troubleshoot the system
Once your VoIP phone system is up and running, test it right away to find whether call performance is good and whether all features offered are working properly. Here are some common VoIP errors to test,
Network connectivity issues: Testing the connectivity between the VoIP phone system and the internet, and checking for any potential issues with routers, switches, or firewalls.
Audio quality issues: Testing the quality of audio transmission and reception, including issues with jitter, latency, and echo.
Call quality issues: Testing the quality of calls, including issues with call drops, voice clarity, and call connectivity
Integration issues: Testing the integration of the VoIP phone system with other supported business tools, such as Zoho, Microsoft Teams, Salesforce, Freshdesk, Zendesk, and Mailchimp.
Emergency calling: Testing the ability to make emergency calls using the VoIP phone system, and verifying that the correct emergency services are contacted.
Security issues: Testing the security of the VoIP phone system, including encryption, authentication, and firewalls, to ensure that confidential data is protected.
Call routing and forwarding: Testing the ability to route and forward calls, including call hunting, call transfer, and call parking, to ensure that calls are handled efficiently and effectively.
VoIP phone system use cases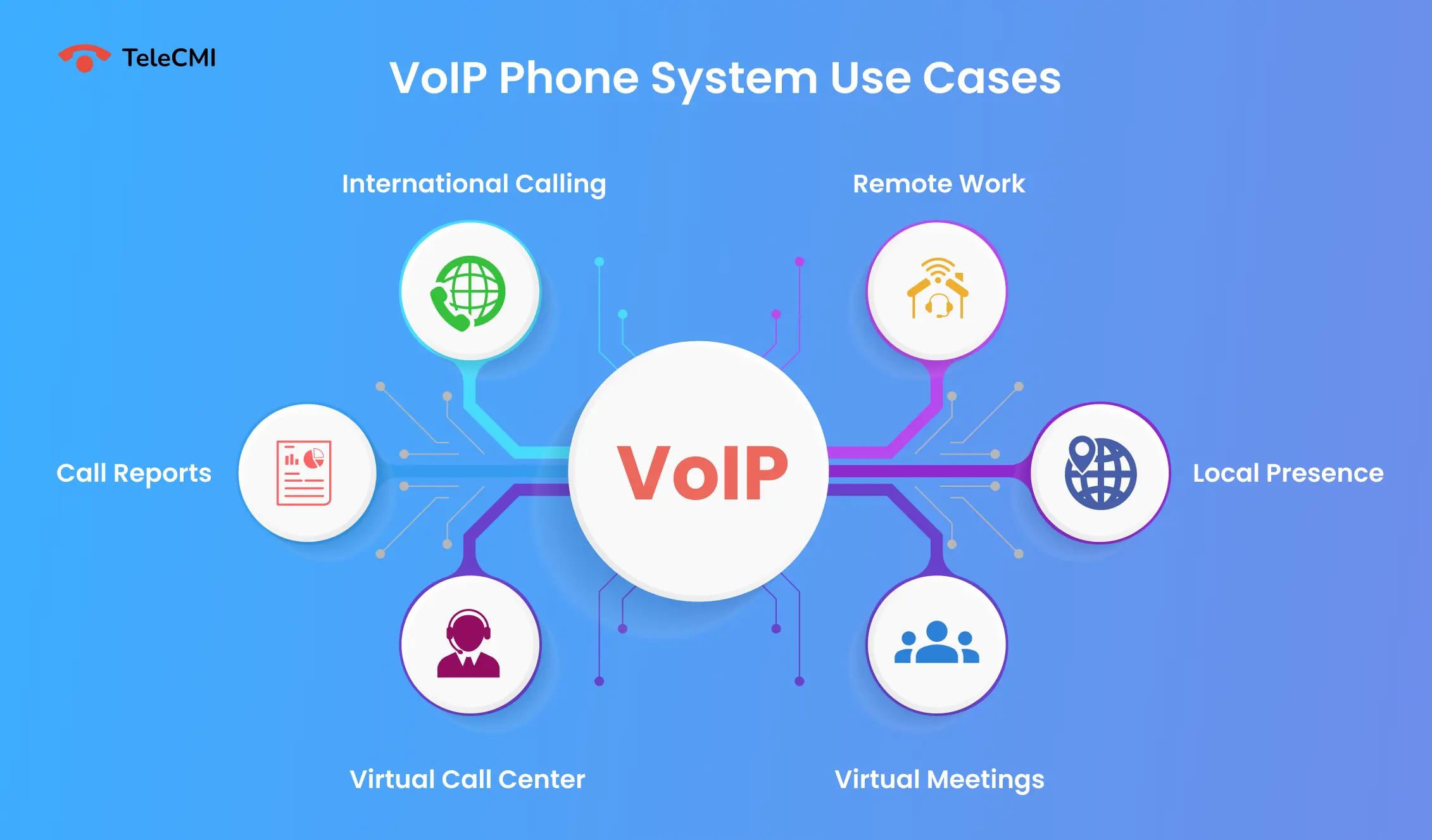 Remote work
Remote workers can use a VoIP app on their computer, tablet, or smartphone to make and receive calls as long as they have an internet connection. This technology provides cost-effective, flexible, and scalable communication options for businesses, making it an ideal solution for remote work.
Virtual meetings
Many VoIP providers offer integrated video conferencing solutions, allowing for seamless and efficient virtual meetings. In addition, the use of VoIP in virtual meetings eliminates the need for expensive hardware and long-distance call charges, making it a cost-effective solution for businesses.
Virtual call center
With a VoIP-based Virtual Call Center, you can manage outbound sales and customer service operations on the cloud without the need to open offices in multiple locations. And you can operate using remote agents instead of having all employees located in a physical location.
Local presence
Virtual numbers in the VoIP system can be used to provide a local presence for businesses, even if the company is located in a different geographical area. For example, a business can purchase virtual Toll-Free Numbers in a specific city or country to serve customers in that area. When customers call the local number, the call is redirected to the business's main phone line, which can be located in a different area.
International calling
VoIP phone systems can be used for global calling by making voice and video calls over the internet instead of traditional telephone lines. This technology provides a cost-effective and flexible solution for businesses and individuals who need to make international calls.
Call tracking
With a VoIP system, call tracking information is collected and stored in real time, allowing businesses to monitor call volume, average call duration, call source, and call destination, among other metrics. This information can be used to improve customer service, optimize marketing campaigns, and monitor employee performance.
Try TeleCMI VoIP Phone System with a 10-day free trial.
Frequently asked questions about VoIP phone system
VoIP (Voice over Internet Protocol) works by converting analog audio signals (such as voice) into digital data packets and transmitting them over the internet. The process of converting audio signals into digital data packets is called encoding, and the process of decoding the digital data packets back into audio signals is called decoding.
---
For small businesses, startups, or businesses with small team sizes, VoIP systems could be recommended over landlines or PBX phone systems. Because it's flexible to use, call charges are low, and remote-friendly.
---
The cost of a VoIP (Voice over Internet Protocol) system can vary widely depending on several factors, including the number of users, the features required, and the type of equipment used. Here are a few common pricing models for VoIP services:
Monthly Subscription: Many VoIP providers offer monthly subscription plans, with costs ranging from $10 to $50 per user per month, depending on the features included.
Pay-As-You-Go: Some providers offer a pay-as-you-go pricing model, where you only pay for the minutes you use. This can be more cost effective for businesses with low call volumes.
Hardware: If you choose to use your own hardware, such as IP phones or ATAs (Analog Telephone Adapters), you may need to make an initial investment in equipment. IP phones can range from $50 to $500 or more.
---
VoIP can be accessed either through a softphone or hardphone. If you prefer software-based, you can use VoIP services by installing VoIP app on your personal devices like mobile, tablets, and PCs. Or you can set up VoIP supported IP phones and desk phones on your premises to enjoy VoIP services, which are hardware-based.
---
To set up a small business phone system, determine your needs, choose a VoIP provider, purchase necessary hardware (don't require if you prefer VoIP softphone), set it up, test it, train employees on how to use it, and regularly maintain and upgrade it.
---
The number of phone lines a business should have depends on several factors, including the size of the business, the number of employees, and the type of work they do. A general rule of thumb is one line per employee, but this may vary based on the specific needs of the business. Some businesses may require additional lines for customer service or technical support.
Tip: If you use VoIP phone systems, then you don't need separate phones for each line as you can buy virtual-based business numbers.
Try TeleCMI VoIP Phone System with a 10-day free trial.