8 Reasons Why TeleCMI is the better alternative to Knowlarity
Reason 1. No add-on and overage fees
TeleCMI: TeleCMI has full feature contact center plans, where you can access all our call management and cloud communication features for a flat fee.
Knowlarity: Using some features like softphone calling and missed call solutions require users to pay additional charges.
Reason 2. Customer support is quick and friendly
TeleCMI: Accessing our support team is easier than any other competitor and our teammates respond within minutes to technical queries coming via the phone, email, or chat.
Knowlarity: The average time it takes to get answers to your queries might be longer than TeleCMI.
Did you know? TeleCMI's average response time for support queries is less than 3 minutes.
Reason 3. Call quality is unmatchable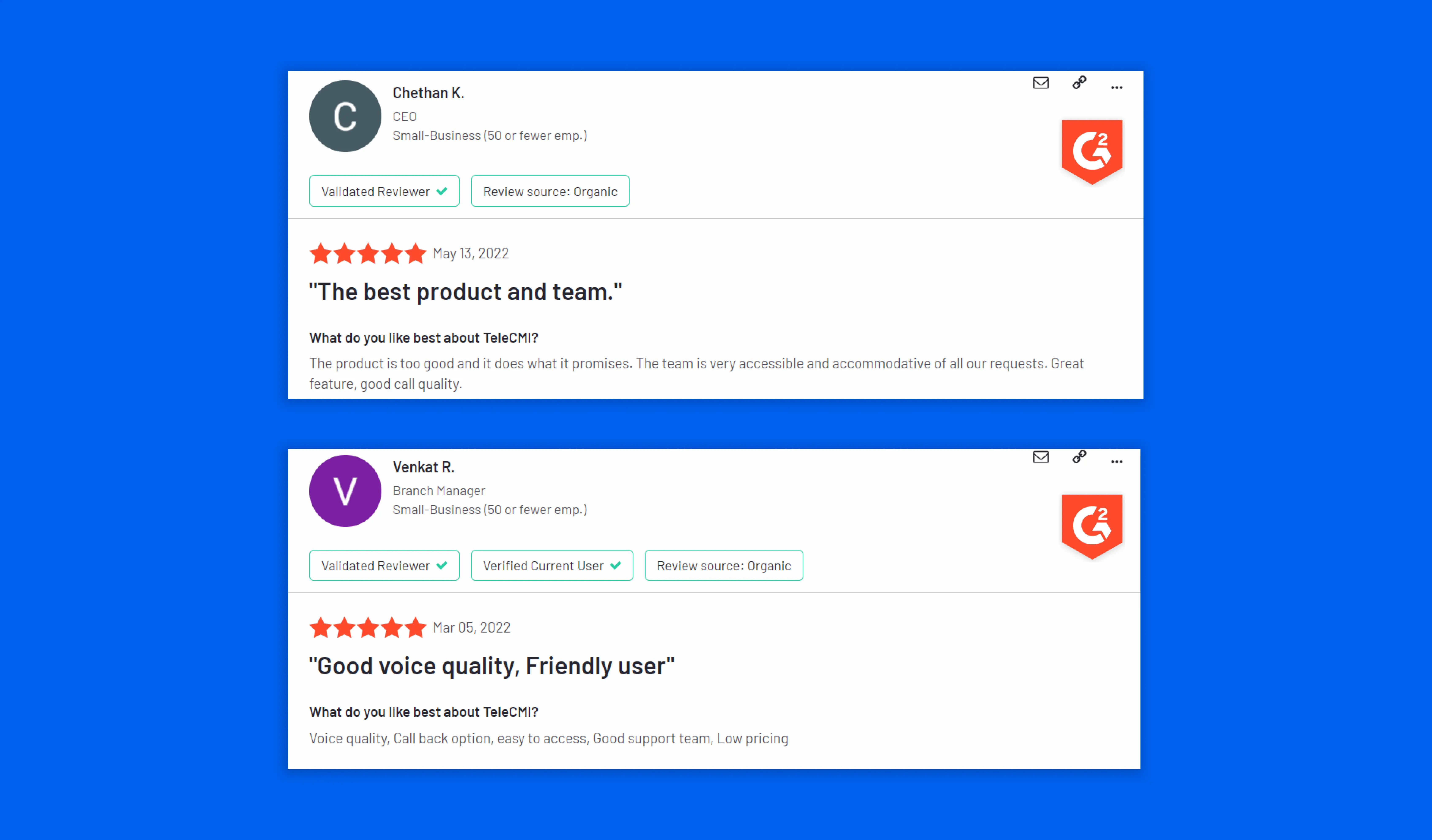 TeleCMI: Our customers often appreciate our high-quality audio, clear voice calls, echo-free calls, zero jitters, and instant call connections.
Knowlarity: Sometimes, connecting the call with the receiver takes a few seconds, affecting the agent's productivity.
Reason 4. Unlimited calling to USA, UK, and other major countries
TeleCMI: TeleCMI has state of the art private cloud infrastructure, 5+ global data centers, and partnerships with local telecom carriers, which allows us to offer unlimited nationwide and international calling perks for our clients.
Knowlarity: Inbound and outbound calling perks are relatively lower compared to TeleCMI and are also associated with higher call rates for global calling.
Reason 5. TeleCMI is a VNO-licensed operator
TeleCMI: TeleCMI is an authorized cloud telephony operator with a UL VNO license. This allows us to offer affordable virtual voice communication solutions to our valuable customers with top-notch security.
Knowlarity: It's unauthorized by VNO (Virtual Network Operator), and the users of Knowlarity enjoy fewer benefits compared to TeleCMI.
Reason 6. The dashboard is very responsive and bug-free
TeleCMI: Our dashboard is built with users in mind and eases user navigation, delivering a smooth and outstanding user experience.
Knowlarity: Navigating through the dashboard is quite complex for absolute beginners and non-techies. Sometimes the platform is filled with glitches that take some time to resolve.
Reason 7: Reporting is accurate and diverse
TeleCMI: The application comes with useful call center analytics with live and periodical reporting on call queues, concurrent calls, ongoing calls, agent status, agents' performance KPIs, and IVR performance reports.
Knowlarity: The reporting section of the Knowlarity dashboard requires a lot more improvement to get clear and in-depth insights on agent and call center performance.
Reason 8: Instant resolution to bugs
TeleCMI: Any issues and bugs reported by the clients can be resolved immediately on the backend.
Knowlarity: Clients need to provide login credentials to the technical team to resolve dashboard bugs. This can be affecting security and privacy due to sharing of admin login credentials.
Detailed Comparison between TeleCMI and Knowlarity
| Features | TeleCMI | Knowlarity |
| --- | --- | --- |
| Plans starts at | Rs. 1,500/user/month | Rs. 2,500/user/month |
| Unlimited User or Extension | ✓ | ✕ |
| Unlimited calling to India, US and UK | ✓ | ✕ |
| Instant customer support | ✓ | ✕ |
| Call recording history | Up to 12 months | Up to 6 months |
| WebRTC and VoIP-enabled | ✓ | ✓ |
| DeskPhone/IP Phone support | ✓ | ✕ |
| Click2Call API and Webhooks | ✓ | ✓ |
| WebRTC SDK | ✓ | ✕ |
| CTI & CRM Integration | ✓ | ✓ |
TeleCMI features overview
Contact center features,
Call barge
Call whisper
Call masking
Call analytics
Click2call
Custom caller ID
Multi-level IVR
Skill-based routing
Time-based routing
Sticky agent
SMS
Call monitoring
Call queue management
Concurrent calls
Agent app
Supervisor app
CRM integration and more

Call management features,
Call transfer
Call conferencing
Call forwarding
Voicemail
Call recording

Other Features,
4-digit user extensiom
App-to-app calling
Intercom
API and webhooks
Mobile and web SDK
Live call feeds
Who is TeleCMI for?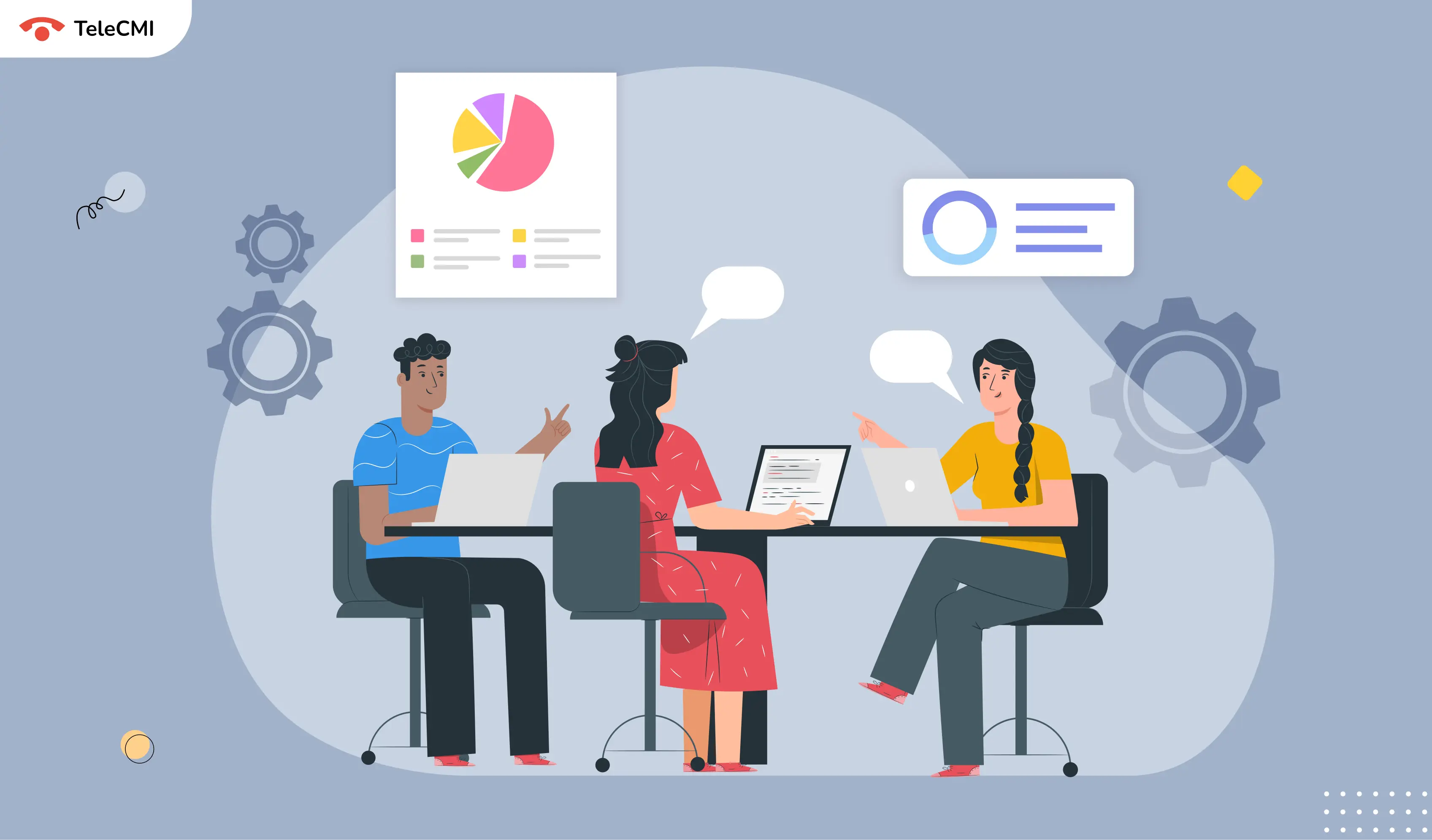 Sales teams
Accelerate telesales and telemarketing campaigns with TeleCMI's outbound dialer, click-to-call, and sales tools integration features. Close more leads, improve agent talk time with prospects, and witness high conversion rates.
Support teams
Enhance CX, customer satisfaction, and first call resolution (FCR) by migrating to TeleCMI VoIP call center software. Handle support calls with ease using our dynamic IVR, intelligent call routing, call flow designer, and toll-free number features.
Internal teams
Need a flexible solution that allows your employees to communicate with each other anytime, from anywhere without desk phones, try the TeleCMI cloud PBX system. Our cloud PBX eliminates the need to install on-premise telephone hardware and allows users to perform calls using their existing devices like smartphones, tablets, and PCs.
FYI: You can also integrate TeleCMI with desk phones and IP phones apart from managing calls via TeleCMI mobile, desktop, and web apps.
Developers
TeleCMI is a developer-friendly platform with developer resources such as robust voice API, webRTC SDK, and webhooks. It gives complete freedom to developers to build custom applications powered by VoIP calling facilities.
Distributed workforce
TeleCMI is a perfect gift for organizations with a global workforce that need to streamline team communications. Our platform has all-in-one virtual communication capabilities that allow colleagues to interact with each other on any device. Also, businesses can access features like global calling, extension dialing, and a softphone app by choosing TeleCMI's virtual business phone system.
Small businesses and enterprises
TeleCMI has modern cloud calling features and flexible pricing plans that meet the requirements of brands with small and large team sizes.
Switch to TeleCMI confidently
100% Data Protection
All your calls are encrypted with our end-to-end call encryption technology. This way, you can keep your conversations more private and secure.
Most Trusted VoIP brand
Day by day, TeleCMI is getting popular among Indian and global businesses for its all-inclusive VoIP phone system and contact center platform.
Low-cost VoIP calling
TeleCMI significantly reduces the call charges for businesses through VoIP-based calling, which allows users to make and receive calls over an internet connection rather than relying on PSTN.
No hidden charges
Our pricing plans are simple and transparent and best structured in the market. You can choose among 3 different plans or start with a custom plan.
99.99% Uptime guarantee
All our infrastructure and servers are monitored continuously by our IT team and we have auto-backup technology with redundant servers to ensure continued service 24/7.
Global Data centers
We have distributed data centers in regions such as the USA, India, UK, Australia, Singapore, and Brazil. This ensures our customers can communicate without interruption with low latency.
To conclude…
TeleCMI is the best IVR and cloud telephony platform for those who are looking for a better alternative to Knowlarity. You can try TeleCMI with a free trial or book a free demo to get complete knowledge about our product.
Frequently asked questions
Yes, you can use VoIP in India as it's now legal in the country and authorized by TRAI (Telecom Regulatory Authority of India). Read more about VoIP legal in India.
---
TeleCMI is packed with advanced features that Knowlarity doesn't have, which include a 4-digit user extension, multi-region softphone termination, desk phone/IP phone integration, IVR performance reports, Click2call chrome extension, and more.
---
Yes, all our plans come with free outgoing minutes, which range from 2000 to 8000 minutes, depending on the plan. Also, you can sign up for an unlimited outbound calling plan if you want unmetered calling minutes.
---
Yes, you can port your existing phone number to TeleCMI effortlessly in a few steps. Our number porting process is simple and you can reach our support team (1800 890 3305) for the number porting procedure.
---
Yes, TeleCMI also has a pay as you go plans without monthly or yearly subscriptions, including custom plans that are tailored to your unique business needs.
Author bio
Yuvaraj Murugan
Full-time content marketer with 4 years of experience in B2B content creation. He covers topics around VoIP, cloud telephony, contact center, and business communications at TeleCMI. Passionate in crafting content that entices the readers.