What is a Business Phone Line?
A business phone line is a telephone line that is used for business communication purposes. A business phone line usually comes with a network that is either hardware- or software-based and has different features and services that are designed to meet the needs of businesses. Business phone lines are typically used by all kinds of businesses, especially call centers, telemarketers, and financial services firms, etc., to make outgoing calls to customers or clients.
Types of Phone Lines to Consider
There are several types of phone lines you can choose from for your business, each with its own set of features and benefits. Here are some of the most popular options to consider:
Traditional landline
A traditional phone line, also known as a landline, was popular once but not now due to the expensive and outdated technology it uses. Landlines require underground copper wires and bulky hardware to be installed in your work space, which is a huge investment. Plus, each employee requires a separate line, which leads to even more maintenance costs.
PBX phone
A PBX phone line is a private branch exchange, which is a telephone system used within a company or organization. It allows for internal communication between employees as well as external communication with customers and clients. PBX-based phone systems are best for businesses, but there are some drawbacks that you should consider before purchasing.
PBX phones are that they can be complex to set up and use. If you don't have someone who is familiar with the system, it can take some time to learn how to use it effectively. Additionally, if you make changes or updates to the system, it can be difficult to implement those changes without causing disruptions in service.
PBX phones are not as portable as other types of phones. If you have employees who work remotely or frequently travel, they may not be able to take their PBX phone with them. This can limit their ability to stay connected while away from the office. Some of these drawbacks also include the need for extra equipment, or the monthly fees associated with using a PBX system.
VoIP (Voice over Internet Protocol)
VoIP (Voice-over-Internet Protocol) is a relatively new technology that allows businesses to make and receive phone calls using their existing internet connection instead of a landline or a PBX setup. Businesses use their existing devices, like a desktop, laptop, or mobile phone, to make calls.
VoIP technology is becoming increasingly popular for businesses as it offers a suite of modern features at a fraction of the cost of a traditional phone system. With VoIP, businesses can save money while still getting the latest and great features for their communication needs.
In addition, VoIP is much more flexible than a traditional phone system and PBX phone lines, making it easy to add or remove features as your business needs change. VoIP is much more mobile than a traditional phone system, making it easy to take your business calls with you wherever you go.
VoIP calls are routed over the data line, so they are treated as local calls even though they are technically international. This makes VoIP an attractive option for businesses since few VoIP providers from India, like TeleCMI, offer unlimited calling solutions to major countries like the USA, UK, and Canada for a flat monthly fee.
The Benefits of a Business Phone Line
Cost savings
VoIP is a great option for those looking to save money on their phone bill. Since VoIP uses a data line to deliver audio instead of physical lines, it is typically much less expensive than a traditional phone line. Long-distance and international calling can be very affordable with VoIP.
Flexibility
When it comes to flexibility, VoIP is a more versatile telephone service in comparison to PBX lines because it can be used anywhere that has an internet connection. This is extremely beneficial for businesses whose employees often travel or work remotely. With a traditional phone line, the hardware is installed at your office, which means that it cannot be taken with you on business trips or to work from home, whereas VoIP allows for that type of flexibility.
Scalability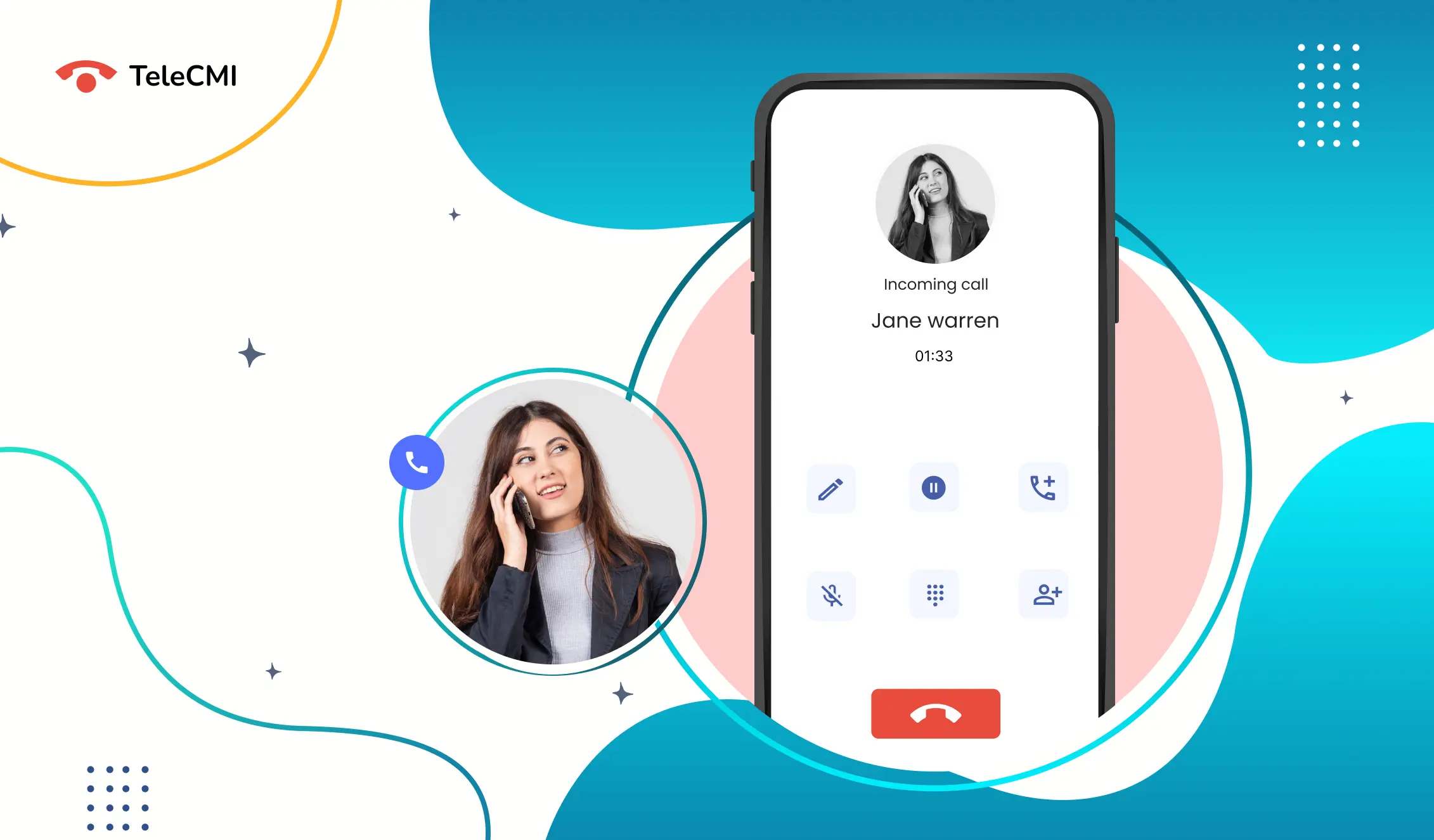 Businesses are in an initial stage cannot stay the same size. Every business will see growth, and based on that, they will need to expand their tools in order to provide the best services to clients or customers and be more successful. VoIP is a great way to save on costs while still providing high-quality service and features to your customers. Adding additional lines or features to a VoIP system is usually much easier and less expensive than adding them to a traditional phone system.
Enhanced features
In order to stay ahead of the competition, every business needs to utilize modern features. VoIP phone systems come with advanced features based on businesses' current needs and trends that are not available on traditional phone systems. These features include intelligent call routing, advanced call analysis, conversational AI, auto dialer, international numbers for more than 70 countries, APIs, and CRM integration - all of which help increase business productivity. By using a VoIP system, businesses can ensure that they're using the most up-to-date technology available in order to stay ahead of the curve.
Call Forwarding
With VoIP business phone lines, you can forward all your calls to any number, making it easy to stay connected whether you're in or out of the office. Your coworkers' extensions or your number can be set as the forwarded number, so the caller will never know they're speaking with someone via a forwarded call - they'll only see the number they've dialed on their phone.
Professional Image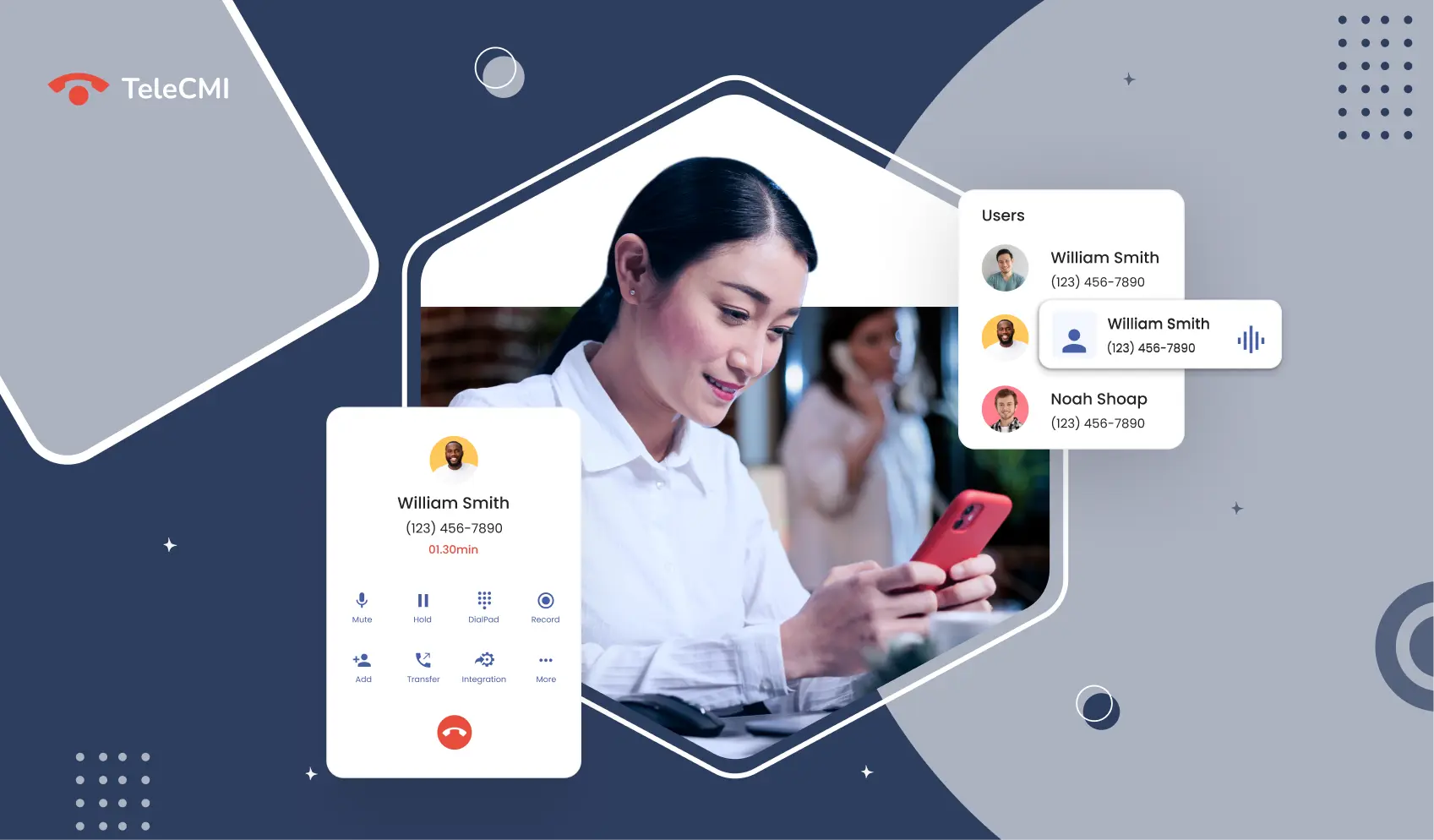 A business phone line gives your company a professional image. By providing a professional appearance and ensuring that calls are handled efficiently, a business phone line can give your company a big boost. First impressions count, and your business phone system is often the first point of contact between you and your customers.
Having a well-designed and user-friendly phone system conveys that you are a professional and reliable organization. This makes it more likely that customers will do business with you and recommend you to others. Also creating a positive impression, a business phone system can also help improve efficiency.
By Utilizing TeleCMI's automated features such as intelligent call routing and voice mail can take care of many routine tasks, freeing up your staff to focus on more important tasks. By making it easy for customers to reach the right person and get the information they need, you can improve customer satisfaction and build loyalty. A VoIP phone system is an important part of any company's branding strategy. By investing in a quality system, you can create a positive impression that will reflect well on your business
To wrap things up
Your company's success relies heavily on the lines of communication between your employees and your clients. By implementing VoIP phone lines, you can significantly improve communication within your organization. Choosing the right business phone system is essential to taking your business to the next level. But don't forget the key factors that we have discussed in this blog before selecting a provider. With the right information, you can be confident that you'll be able to find the best business phone line for your needs.
We hope our blog has given you some valuable information on business phone lines, and we'd love to hear from you. Please don't hesitate to contact us and try our VoIP phone system, we're always happy to help!