BLOG » Business Phone Number: How to get it in 3 easy steps
Business Phone Number: How to get it in 3 easy steps
Despite the tremendous increase in Social Media, Video-calling and conferencing, Chatbots & AI, phone calls remain the king for communication. A report says 80% of all business communication occurs over the phone. Also, 75% of customers believe that phone calls can help them get an instant response.
In this case, enterprises of all sizes can get a business phone number to get started. They can engage their customers efficiently and streamline business operations. This article will discuss the importance and the steps to get a Business Phone Number to take your brand to the next level.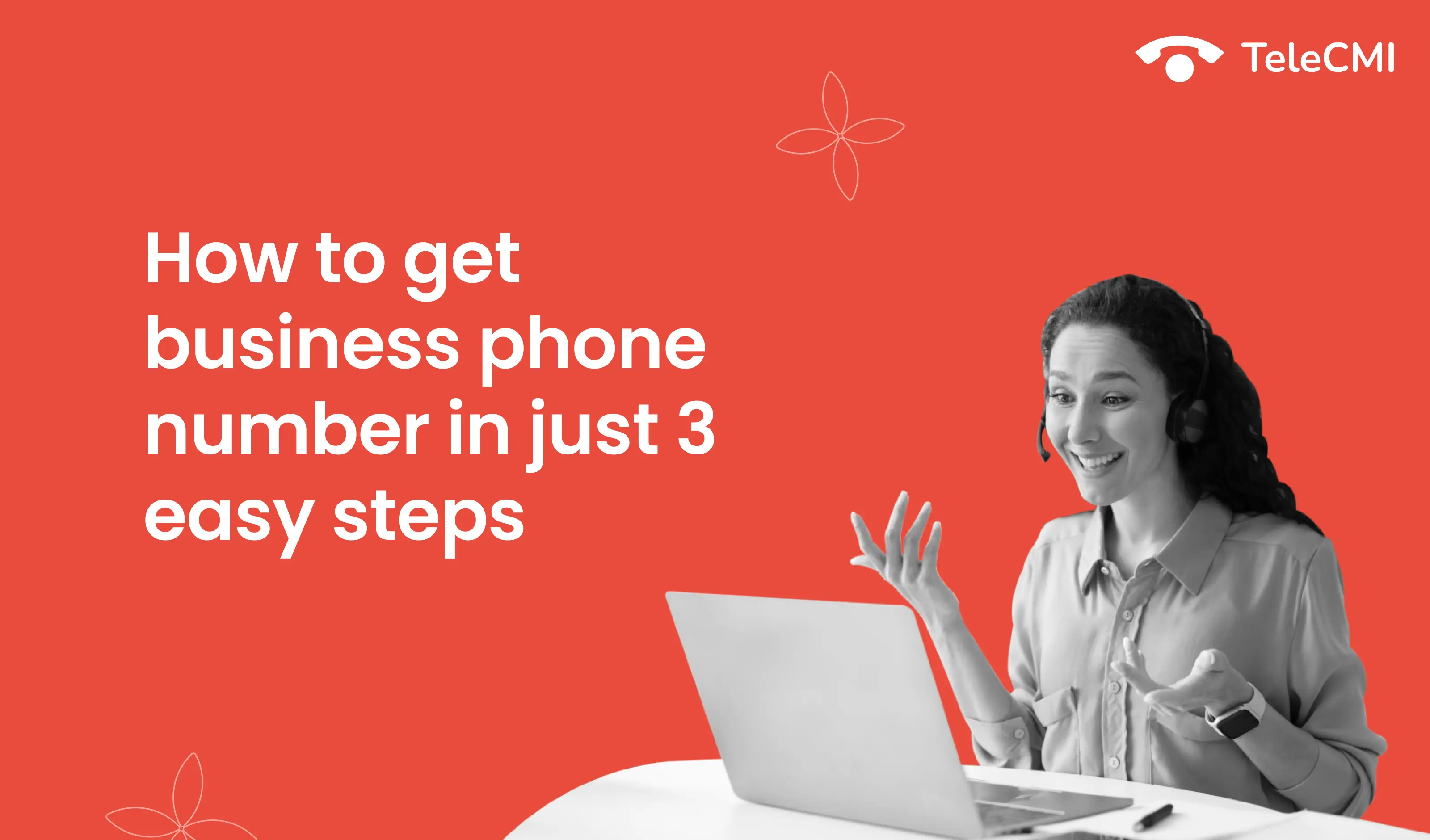 What is a Business Phone Number?
A Business Phone Number is nothing but a virtual telephone number. This Business Phone Number differs from the local phone numbers tied to PSTN (Public Switched Telephone Network).
These numbers can be easily accessed from multiple devices, such as desktops, laptops, smartphones, tablets, etc. All you need is the application installed and a proper internet connection to utilize it. It works through VoIP (Voice Over Internet Protocol) services.
Why are Business Phone Numbers promising?
A Business Number can be beneficial for the following reasons:
Helps in building a brand image
You can start building a brand image with a Business Phone Number. This number helps maintain your brand's trust and offers a professional experience. If you are a small or medium-sized business, these numbers will make you look like a giant in the market with complex-free steps.
Enhances Privacy
With a Business Phone Number, you can maintain privacy by having a number separately for business and another for private purposes. This can help you to avoid calls when you are away from work.
Custom Greetings
You can greet your customers professionally as you know you maintain an individual Business Phone Number. This can increase the reliability among your customers. (Example: You can initiate calls like, "Hey George, Hope your day is going well, how can we help you?")
Easy-peasy number to remember
Business Phone Numbers are designed with a motto to be remembered easily by the customers. Some numbers are easier to remember and recognize. It can be anything like 1800-122-3333. Advertising through channels like TV, Radio, Social Media, etc., will also be effective with an easy-to-remember number.
Customize your caller ID
You can project as a prominent brand by customizing your caller ID when you call customers. Instead of appearing as an Unknown number as a caller ID, you can have your business name appear to your customers.
Easily scalable
You can get multiple Business Phone Numbers per your team's needs for various locations. Since Business Phone Numbers use VoIP services, your team can work from anywhere but work together consistently.
Work Together
For instance, you have a team of 10 members who are looking to work on an inbox. This is possible with a Business Phone Number. A single Business Phone Number can be shared with a group of team agents to ensure the work gets done effectively.
Time-saving
Business Phone Numbers can save your as well as your customer's time. They come with various features, such as Auto Attendants and Auto replies, ensuring your customers get an instant response.
Schedule Messages
You can now schedule and send messages to your customers at a desired time. With your contact's local time zone based on the area code, you can select a time and send them a message.
Provides rich experience
At TeleCMI, we have advanced features in the application. Call Recording helps enterprises to save and replay the calls whenever needed to improve the brand. At the same time, Live Feed allows you to listen to the call between the customer and the agent when you log in as an Admin.
Types of Business Phone Numbers: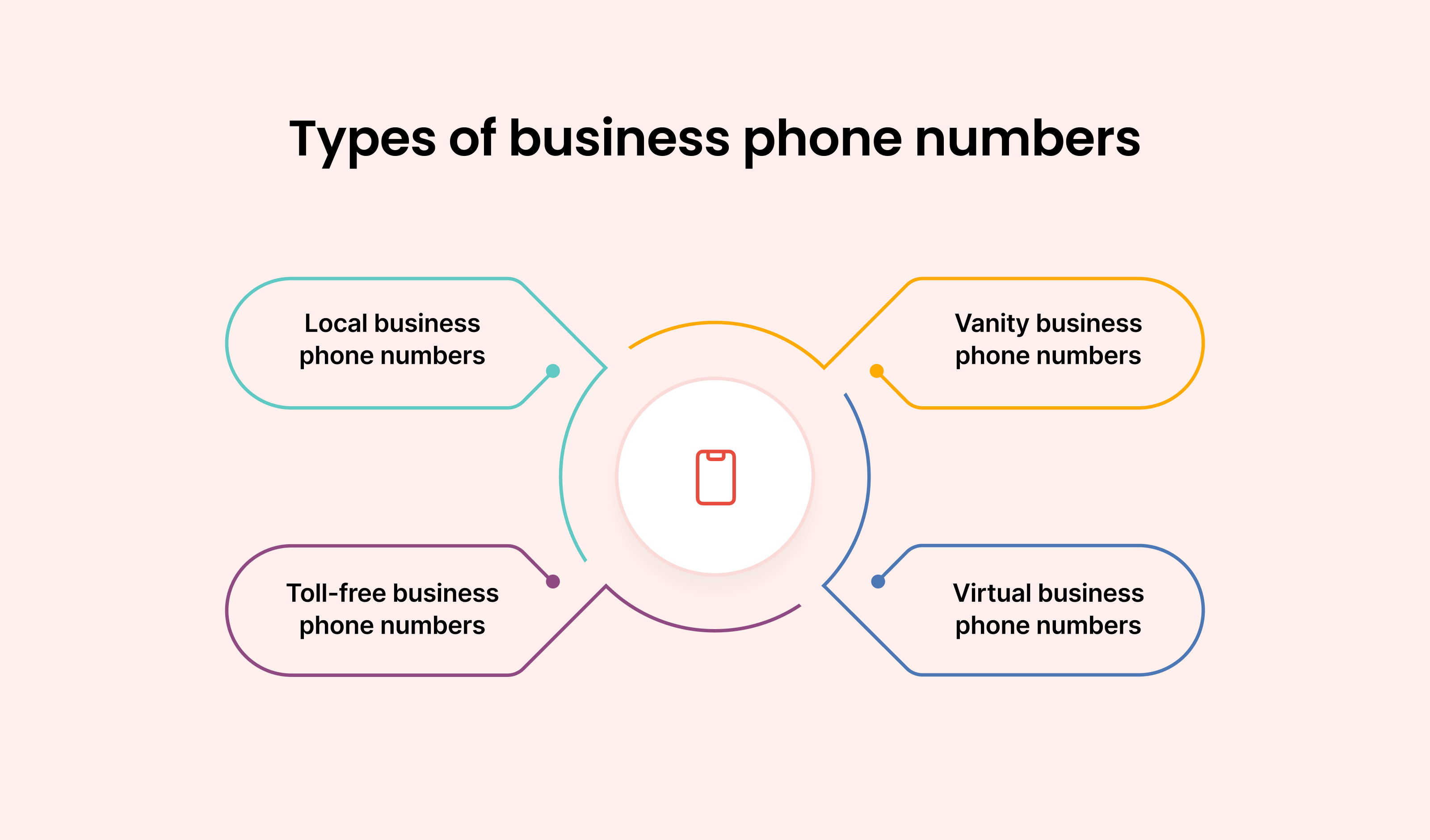 A Business Phone Number is divided into four major types to support different business needs:
Local Business Phone Numbers
Local Business Phone Numbers are the ones that are tied to specific area codes or regions. With these numbers, you can establish a local presence in the specific markets in which you offer the service. In instances when your customers did not save your number, they can likely pick up your call as it shows them as a local Business Phone Number.
Toll-Free Business Phone Numbers
Toll-Free Business Phone Numbers help you build a global presence and attract customers overseas. Usually, a toll-free number appears to provide a professional image, and the same applies here. Toll-Free Business Numbers can be highly beneficial if you are a small or medium-sized business looking to enlarge your market.
Vanity Business Phone Numbers
Vanity Business Phone Numbers are a combination of numbers and letters. For instance, a vanity business phone number can be 1800-CLA-UHM. Customers can reach you by dialing 1800-473-986.
Virtual Business Phone Numbers
They are otherwise called VoIP Phone Numbers operated with an internet connection to set up customer calls. The most significant advantage is using any of the above Business Phone Numbers. It can easily be a Toll-Free Virtual Phone Number or a Local Virtual Phone Number based on the business needs.
How do you get a Business Phone Number?
Here are the simple three steps needed to get a Business Phone Number:
1. Get in touch with a Business Phone Number Provider
Right off the bat, you need a Business Phone Provider that understands your business needs and unique requirements. We at TeleCMI help businesses regardless of size and offer them a fully scalable solution that suits them. We provide customizable VoIP services that assist you to get your Business Phone Number hassle-free.
2. Select the country and extension
The next step is to choose the country you want to get the Business Phone Number. Also, get your phone extensions where you can direct the incoming calls to the respective departments or the agents. This can save time for the customers and agents and help serve better.
3. Get a Business Phone Number of your choice
Now you will be given the option of choosing the Business Phone Number. As we discussed, a local business phone number will help you to establish a local presence with the customers if you don't have one already. Or you can focus on global customers from different countries by clicking on the respective country.
Remarkable features of Business Phone Numbers: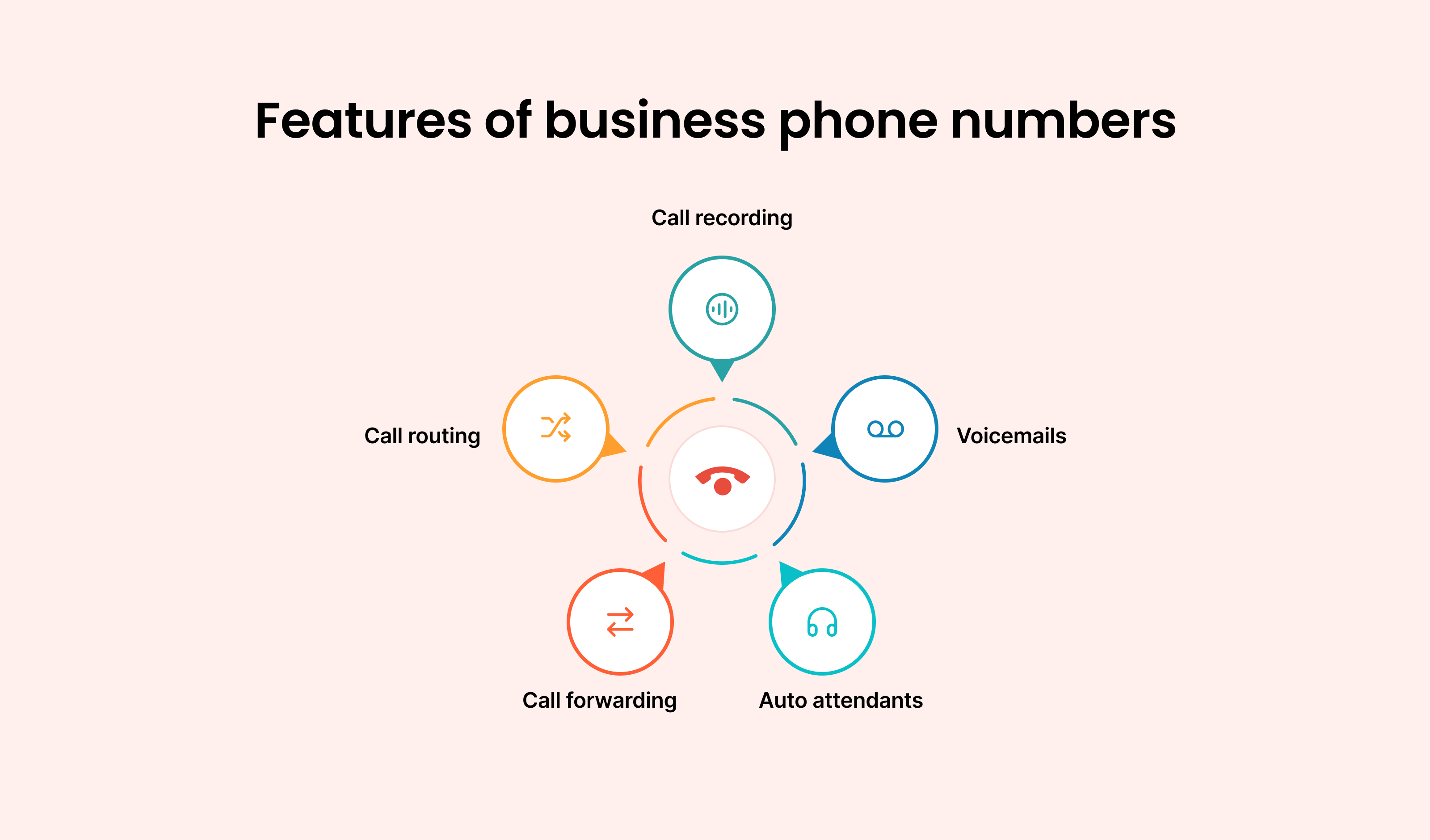 The top-end part of these Business Phone Numbers is they come with attractive features which is helpful for both businesses and customers. Here are a few of those:
Call Forwarding
Business Phone Numbers help you forward your calls to the desired agent or team if other agents cannot address the query. This will be highly likely if the agent or the team is unavailable at that time. As a business owner, you can direct the call to any destination to anyone, such as other agents, voicemail service (if no agent is available or it is a holiday), or auto answering service. This will be updated automatically based on the team's availability.
Call Recording
You also have the privilege to record the calls of the agents and customers, which can be saved and played anytime. With this feature, you can keep track of the conversations, monitor customer queries and complaints, and make the required enhancements.
Call Routing
Call Routing enables businesses to route the calls to their respective department or teams. This phone system feature allows callers to the specific departments based on the criteria. Automatic call distribution happens based on the information they provide to IVR.
Auto Attendants
Business Phone Numbers let your customers choose an auto attendant to whom they want to speak with. This feature provides incoming callers with a menu of departments or instructions. Businesses can use the Auto Attendants feature to increase their customer experience. Added, as an Admin, you can also connect them together with the Multi-level Auto Attendant feature.
Voicemails
Voicemail transcription allows you to receive voicemail messages in your email or text. In this way, you can listen to your customer's queries. This Voicemail feature saves time, increases efficiency, and manages your messages productively.
Get your Business Phone Number right away with TeleCMI
A professional Business Phone Number will help you build a successful brand and team while maintaining privacy. If your question is, 'How to choose the best business phone number provider? we are here to help you out! VoIP services are cost-efficient compared to landlines, where you can work from anywhere, anytime.
We at TeleCMI have rich industry experience and can help you by offering a solution that fits your business requirements. TeleCMI has served multiple industries, such as Healthcare, Hotel & Tourism, Finance, Manufacturing, etc.
Check with us today and get your free demo! You can unlock and explore all our features that benefit your business and take it to the next level.
FAQ
Here are the steps:
1. Get in touch with the Business Phone Number provider.
2. Select the country and the extension where you want to offer the service.
3. Choose your Business Phone Number.
---
Business Phone Numbers are of four types. It includes Local, Toll-free, Vanity and VoIP Phone Numbers.
---
The total budget depends on the type of Business Phone Number you are looking for. Altogether, the pricing will differ depending on the type and the features.
---
Yes, with a VoIP number you can establish a presence at a specific location and attract your audience.