Table Of Contents:
1. What is a business phone system?
2. Cloud Vs. On-Premise Phone Systems: Which is Best for Your Business?
3. Choosing a business phone system should be based on its features
4. How does a business phone system benefit your business?
1. What is a business phone system?
A business phone system is a communications platform that enables businesses to manage their voice communications. It includes a variety of features and capabilities that help businesses to streamline their operations and improve their customer service.
Business phone systems can be either on-premises or cloud-based phone systems. On-premises systems are installed and managed on the business premises, while cloud-based phone systems are managed by cloud based service providers.
Business phone systems offer many benefits, including the ability to make and receive calls, manage call flow, route calls to the right people or departments, set up conference calls and more.
The right business phone system can help to improve efficiency and productivity, while also providing a better experience for customers and clients.
2. Cloud Vs. On-Premise Phone Systems: Which is Best for Your Business?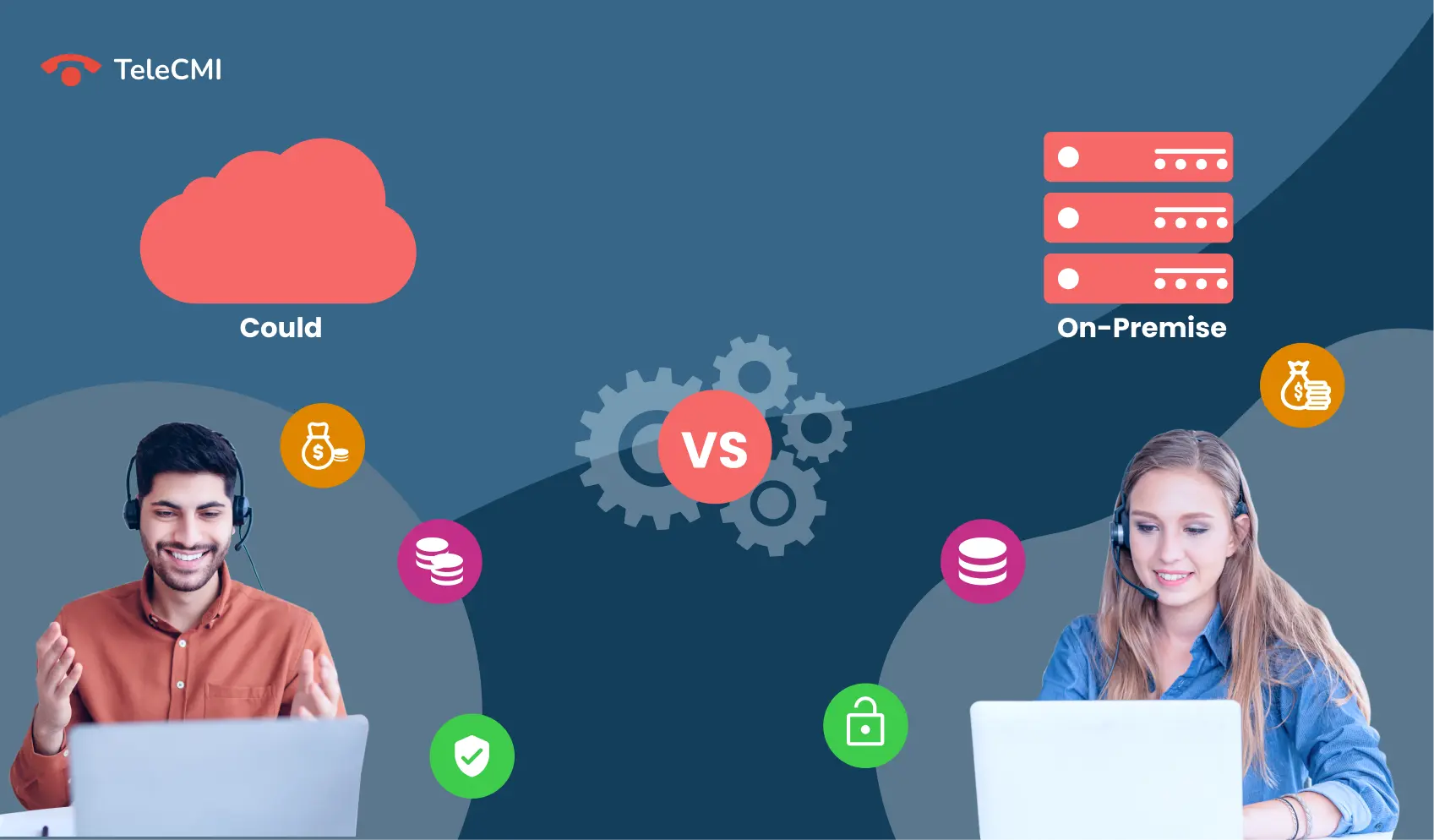 The first step to finding the best business phone system for your company is to decide whether an on-premise or cloud-based system would be more beneficial for your business. On-premise systems are usually more expensive and complex to install and maintain. Cloud-based systems are less expensive and easier to set up and maintain, and they offer as much control and flexibility.
Cloud-based phone systems are becoming increasingly popular, due in part to their flexibility and scalability. With a cloud system, you can add or remove users as needed, and there's no need to worry about maintaining expensive hardware. Cloud systems also tend to be more affordable than on-premise systems, since you only pay for what you use.
There are many advantages of cloud phone system compared to traditional phone system. The biggest advantage is the cost savings. With a cloud phone system, you only need to pay for the calls you make, rather than paying for a separate landline. In addition, a cloud phone system is much more scalable than a traditional phone system. You can easily add or remove users as your business needs change.
Another advantage of cloud phone systems is that they are often more reliable than traditional phone systems. This is because the cloud telephony provider manages all the hardware and software for you. Finally, cloud phone service providers like TeleCMI offer many advanced features that are not available with traditional phone systems, such as intelligent Call Routing, Advanced Call Analysis, Conversational AI, Auto Dialer, International Number of 70+ countries, API, CRM Integrations and voicemail-to-email.
3. Choosing a business phone system should be based on its features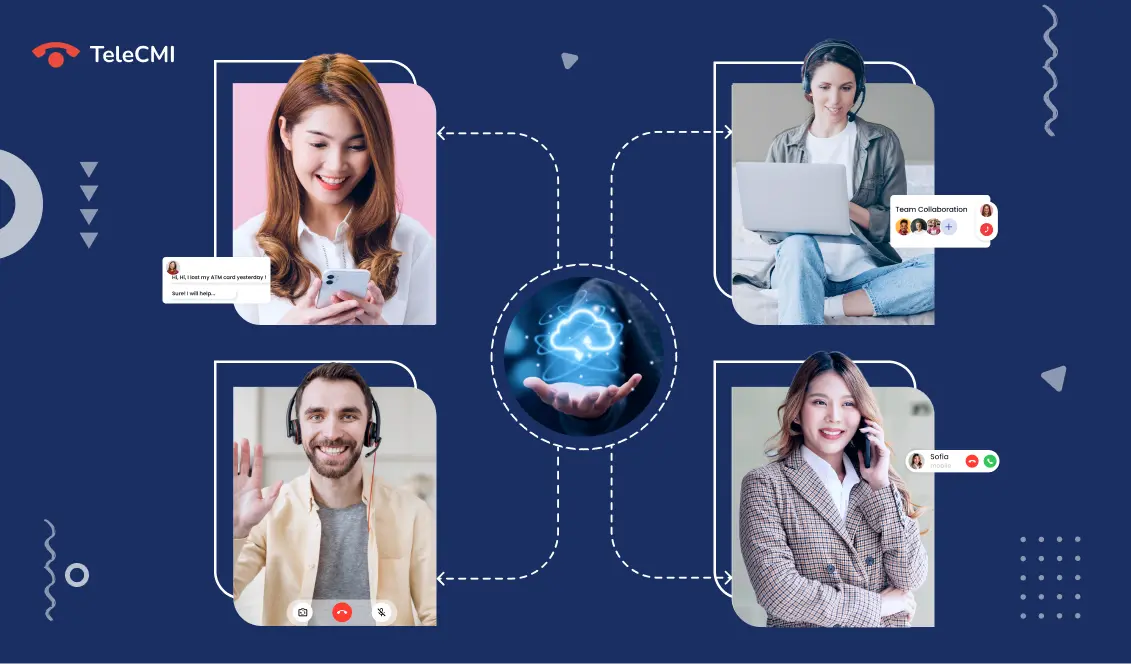 A cloud-based business phone system offers many features that can be very beneficial to businesses, whereas a traditional phone system cannot. It is important to consider the features each type of system offers before making a decision for your business.
Intelligent Call Routing
Intelligent call routing is a powerful call management tool that can help businesses improve their customer service. By automatically routing calls to the right team or individual, businesses can reduce the number of dropped calls and improve the overall customer experience. This will help your business save time and money, and improve customer satisfaction.
Call Recording
Call recording is a key feature, often used to train employees by allowing managers to listen in on past customer interactions. TeleCMI provides unlimited call recordings that are stored on a secure server for easy access. This way, you can listen to past calls at anytime and identify areas that need improvement in your business. By listening to agent and customer conversations, you can make the changes necessary to help your business run more smoothly and efficiently.
Text Messaging (SMS)
Text messaging is a commonly used service that helps people communicate with one another without having to make more lengthy phone calls. You can use text messages to reach a wider audience by sending them over a data line; this is known as "cloud SMS." This way, you can send and receive text messages from anywhere around the globe.
Conversational AI
Conversational AI is so fascinating because it can help businesses in so many ways, from increasing productivity to improving customer satisfaction to increasing engagement. All of this is done by eliminating the need for customers to speak with agents directly, as conversational AI is equipped to handle most questions and queries without needing to transfer the call. In other words, it's a real win-win for both customers and businesses alike!
Advanced Call Analysis
The advanced call analytics feature is very beneficial because it allows you to see the number of calls being made and received in real time, as well as managing the call queue more effectively. If you notice that one employee has a long queue, you can easily divert the calls to another coworker - this will reduce the employees' workload without compromising the quality of their work.
Auto Dialer
An auto-dialer is a great time-saving tool for call center agents. With an auto-dialer, they can eliminate time-wasting tasks like manual dialing, busy signals, and wrong numbers. This way, they can focus on being productive and connecting with customers.
Integrations
A cloud-based phone solution enables you to consolidate numerous resources on a single platform. You can integrate your CRM tool into TeleCMI's cloud telephony for easy access and use. Employees can work on a single platform; they don't need to jump into multiple tabs to store customer data. This makes it easier and more efficient for employees to do their jobs, and it helps ensure that customer data is properly stored and accessed.
Mobile and desktop app
Cloud phone providers like TeleCMI offer softphone apps that let you use your desk phone or mobile phone to make and receive calls from anywhere. This can be a great advantage for a hybrid working culture, which lets you reach customers using a business number even when you are away from the office.
4. How does a business phone system benefit your business?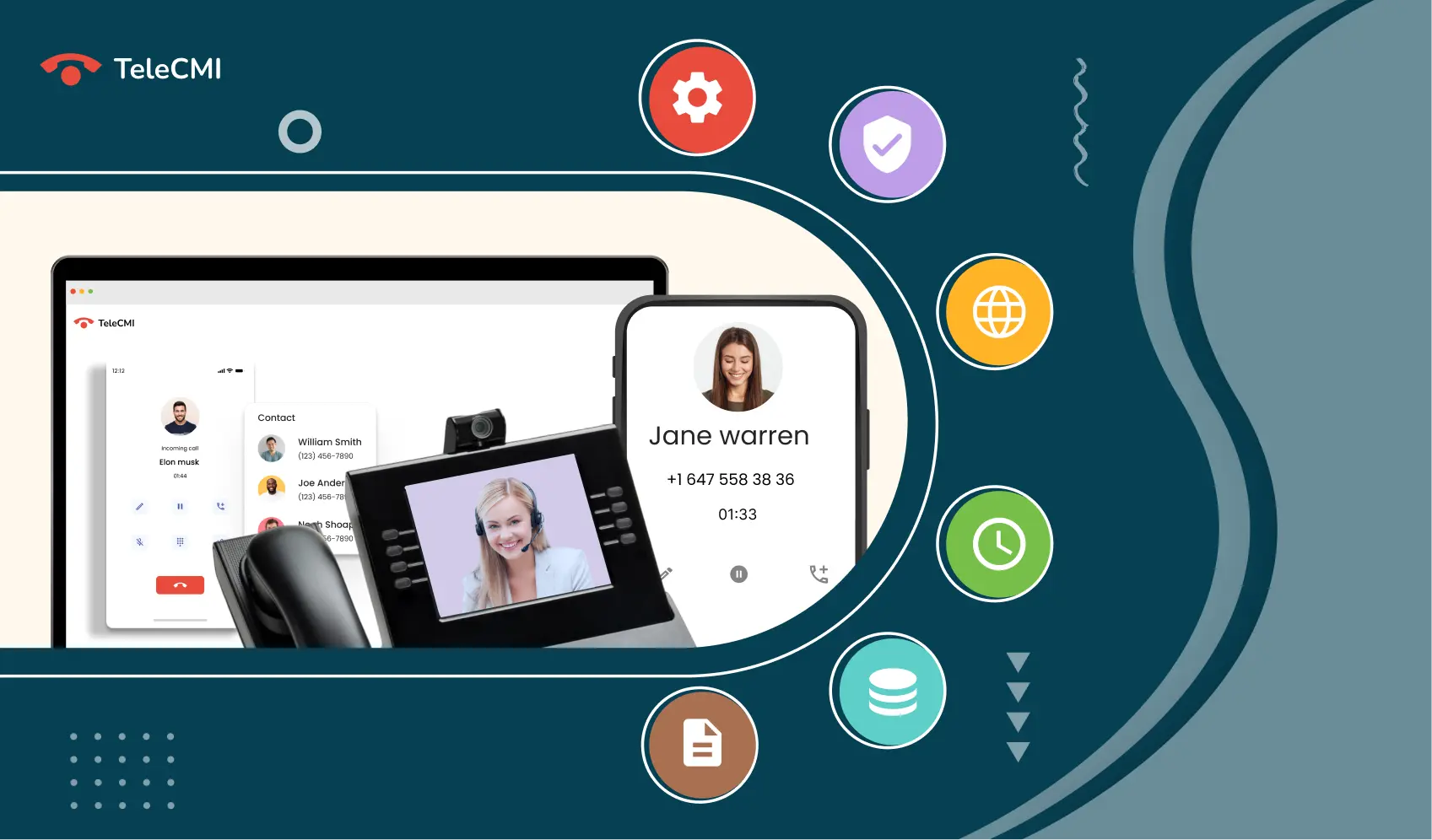 A business phone system can save your company money in more ways than one. In addition to the most obvious benefit of reducing your monthly phone bill, a business phone system can also help to increase employee productivity and customer satisfaction. With a cloud-based system, there is no need to invest in expensive on-premise hardware. All you need is a reliable internet connection you can have extraordinary benefits like:
Say good bye to bulky hardware
A cloud-based phone system is easy to install and doesn't require a lot of equipment, making it a more cost-effective option for businesses than a traditional landline phone system. With a cloud-based phone system, businesses can reduce their costs for physical phones and infrastructure since it works like a plug-and-play device.
It is scalable (capable of scaling up and down)
As your business grows, you need to hire new employees, open new offices, and onboard new customers to communicate effectively. A cloud phone system allows you to do this by scaling up or down your phone lines based on your current needs. With a traditional phone system, adding or removing phone lines is a time-consuming and difficult process. With a cloud system, you can easily add or remove lines as needed without any hassle.
Work from anywhere
If your business depends on field work, then a cloud-based phone system can offer some great advantages. For example, if you have employees who work remotely, they need to be able to stay in touch no matter what the circumstances of their job are. Traditional phone systems cannot offer the same freedom as cloud telephony .
A computer or mobile device with internet access is all that's needed for your employees to be able to do their work. With a cloud phone system, they can use their business number to connect with customers from anywhere they have internet access, whether they're at the office or working from home. The TeleCMI softphone app lets them make and receive calls on business numbers wherever they are.
Stable Uptime
If a traditional business telephone system goes down, it can cripple an organization's ability to communicate with customers. Cloud telephony providers like TeleCMI offer multiple servers with 99.5% uptime, so organizations don't have to worry about downtime.
Data security and storage
For businesses that rely on telephone services, it is important to keep track of call logs and recordings. A cloud-based phone system is an excellent backup system in case of data loss, as all your data is stored safely on the cloud server. This way, you can always access it when you need to and from the dashboard.
Conclusion
If you're looking to choose a business phone system, there are a few things you'll need to keep in mind. You'll need to choose between on-premises and cloud-based systems first. As we said earlier, cloud-based systems are also generally much easier to manage and maintain than on-premise systems. With everything being hosted in the cloud, there's no need for complex on-site installations or repairs. And because cloud service providers handle all the updates and upgrades for you, you can be sure that your system is always up-to-date with the latest features.
Overall, switching to a cloud phone system can be a great way to improve your business communications while saving your business expenses.
Ultimately, the best phone system for your business will depend on your specific needs and budget. If you're not sure which type of system is right for you, our team of experts can help you make the best decision for your business. You can sign up here to try our cloud phone system with our free trial or schedule a product demo with our sales rep.