BLOG » Cloud Call Center: What we can expect for the future
Cloud Call Center: What we can expect for the future
A good customer service experience will help businesses to retain existing customers and bring in new ones. Call centers play a crucial role in engaging customers and help in offering tremendous growth.
Over a few years, Cloud Call Centers have been the hottest talk of the town. Previously, most of the companies made use of on-premise call centers to engage customers. But presently, with cloud computing, enterprises can now host their call centers at a third-party data center from any place without needing any on-premise hardware infrastructure.
Small and medium enterprises are shifting from on-premise to cloud-based systems because they are cost-effective and improve productivity. Moreover, the transition to cloud systems is simple, and upgradation is easy. It is also expected that the global Cloud Call Center market will reach $496 billion by 2027.
This blog discusses the importance of the Cloud Call Center and how it will impact the future.
What is a Cloud Call Center?
A Cloud-based Call Center utilizes a third-party provider for hosting in the cloud. This technology commonly uses an Interactive Response System (IVR) and an Automated Call Distributor (ACD), which streamlines the operation of businesses.
An IVR is nothing but greeting music you hear when calling a business. IVR systems enable users to choose the required option by providing a menu of choices. ACD works on the routing operations by connecting the user to the right agent based on their choice.
Unlike on-premise systems, a cloud call center does not depend on a specific server or a physical location. Instead, anyone from the team can access it anywhere through the cloud technology.
These Cloud-based call centers promote remote engagement with customers from all over the world. It works on a pricing plan and subscription basis. A survey report says 36% of call centers use Cloud technology.
If you are a business, you need Cloud Call Center software for the following reasons:
A Cloud Call Center Solution lets you track your business performance lively. The software offers detailed analytics; you can extract the report to make business decisions.
The Cloud-based Call Center Software increases your brand value since you may get a local presence in a country where your customers are. The local presence can thereby increase customer reliability.
It performs effective routing based on the customer's needs. Based on the customer query, calls will be directed to the respective team/agents. This can, in turn, enhance customer satisfaction.
A Cloud Call Center provides the flexibility to the agents to work anywhere. They can install their software on desktops, laptops, or mobile phones and instantly engage customers.
Compared to traditional call centers, these Cloud-based software are a cost-effective solution. Unlike traditional call centers, Cloud-based call centers don't charge you for additional pricing for calls from overseas or call volume. It works based on a pricing plan. Moreover, it also reduces the total call volume time as the customers resolve their queries immediately.
The Cloud call center software gets upgraded with rich features frequently. Enterprises can enjoy using them.
How do Cloud Call Centers work?
A Cloud Call Center handles operations for inbound calls and outbound calls. These calls happen over a stable Internet connection.
Cloud-based call centers do not require any hardware setup. Instead, this software uses Voice Over Internet Protocol (VoIP) technology to manage calls. Additionally, it offers a CRM Integration feature where you can instantly connect to other platforms. In this way, all your data is integrated into your business seamlessly.
As the cloud call center works with a stable internet connection, you can get started by getting a few headsets and workstations. There is no need to worry about the physical hardware, as your team can begin working with devices in their hand.
High-end features and Benefits of Cloud Call Centers: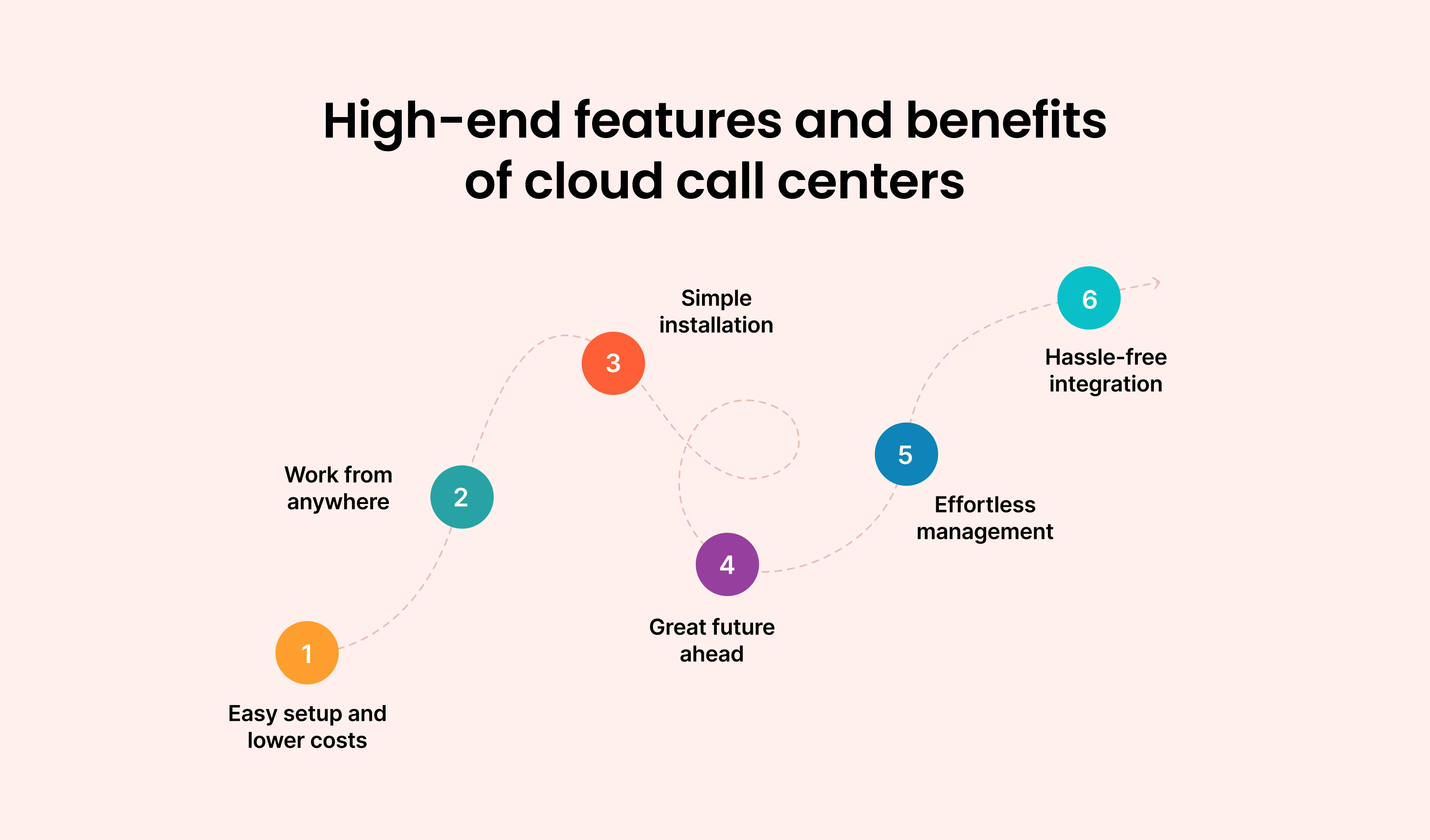 1. Easy Setup and Lower Costs
A report says VoIP saves 32 minutes of business time everyday. In addition to time, it also saves costs for businesses. Companies that go with Cloud-based Call Center services will not need to invest in things such as real estate, power, security audits, or staff for troubleshooting, as the cloud software can handle everything end-to-end. Cloud systems are more affordable as they do not have a hard hardware cost or an expansive IT workforce.
2. Work from anywhere
The Cloud Call Center software is designed to offer remote work where the team can work from the office, home, or anywhere. The only thing they need is a proper internet connection. Everyone will remain connected no matter where they are, regardless of the location.
This software is also compatible with various devices and operating systems. The team can keep track of the real-time data and analyze the existing data, which provides complete transparency to information. Cloud call centers also have full-length security features essential for a remote setup. Cloud solutions are regularly monitored for any data leaks or breaches.
3. Simple Installation
Installation of Cloud call center software is simple and fast. You can set up everything in minutes because the software has no equipment. Onboarding employees will hardly take a few minutes, and you don't need an IT support team for this.
Moreover, suppose someone requests you for a complete report of the inbound and outbound calls, incoming and outgoing messages, and employee productivity. In that case, all can instantly be done in a user-friendly dashboard. There is no need to deal with complex SQL queries and terminal access.
4. Great Future ahead
Cloud-based call centers have superior features and allow you to add multiple users from different locations. VoIP services can increase your brand visibility and image if you are a small or medium enterprise. You can use one virtual phone numbers which can be used for various locations. This can enhance the credibility among your customers.
5. Effortless Management
You can adjust end-to-end activities and modules in a single click. This provides complete freedom to handle the application effectively. Admins have complete control to modify every setting in the application. With Cloud call center software, no more emergencies require taking the system offline at night.
6. Hassle-free Integration
Call centers offer simple integration features to eliminate the gap between critical applications and information. It can provide you with consistency by syncing data across multiple applications.
For instance, a customer makes a call to a support hotline. In this case, as a Supervisor or Admin of the application, you can identify their details based on the information saved on their phone number, ticket history, surveys, etc. This can also help enterprises get a detailed insight into the customer.
7. Enhanced Agent Productivity
Many enterprises use several tools to track their agent's productivity and know their performance. With Cloud Call Center solution, you can get end-to-end features and a detailed report of your agents' performance.
You can filter agents, get a report based on specific dates, and know the number of inbound/outbound calls made and received, incoming/outgoing messages, live call feeds, etc. With these filters, you can get to know the agent's performance.
Role of TeleCMI in scaling your business
If you are looking for a top Cloud Call Center Software provider, TeleCMI is here to help you. We have extensive experience in the industry and can customize the software based on your requirements.
Our experts can provide you with a free demo where you can rule out different queries. We also have a reasonable pricing plan for businesses to assist you. You can sign up and explore our advanced features that will fit your business needs.
To Close
Cloud Call Centers are here to help businesses reap benefits in multiple ways. With increased agent productivity, simplified setup, cost-efficient strategy, and future proof technology, Cloud call centers can bring a positive impact.
FAQs
Absolutely, yes. Cloud Call Center software is compatible with various industries such as Healthcare, eCommerce, Real Estate, Manufacturing, Hospitality, Tourism, etc.
---
Cloud Call Center software comes with multiple layers of security and encryption. We at TeleCMI have an in-built software developed with the motto of hard-core security practices and ISO-certified platform.
---
Yes, you can add multiple users with a single click as your company grows. You can also assign the virtual phone number to them quickly.
---
Almost all kinds of CRM can be connected complex-free. It can be anything like Zoho CRM, Freshdesk, and much more.