BLOG » Cloud Contact Center as a Service: How can it change your business perspective?
Cloud Contact Center as a Service: How can it change your business perspective?
Nowadays, businesses strive to enhance customer satisfaction and increase their user experience. It includes various factors such as the cost, the time involved in resolving their queries, quick and instant customer support help with installation and setup, etc.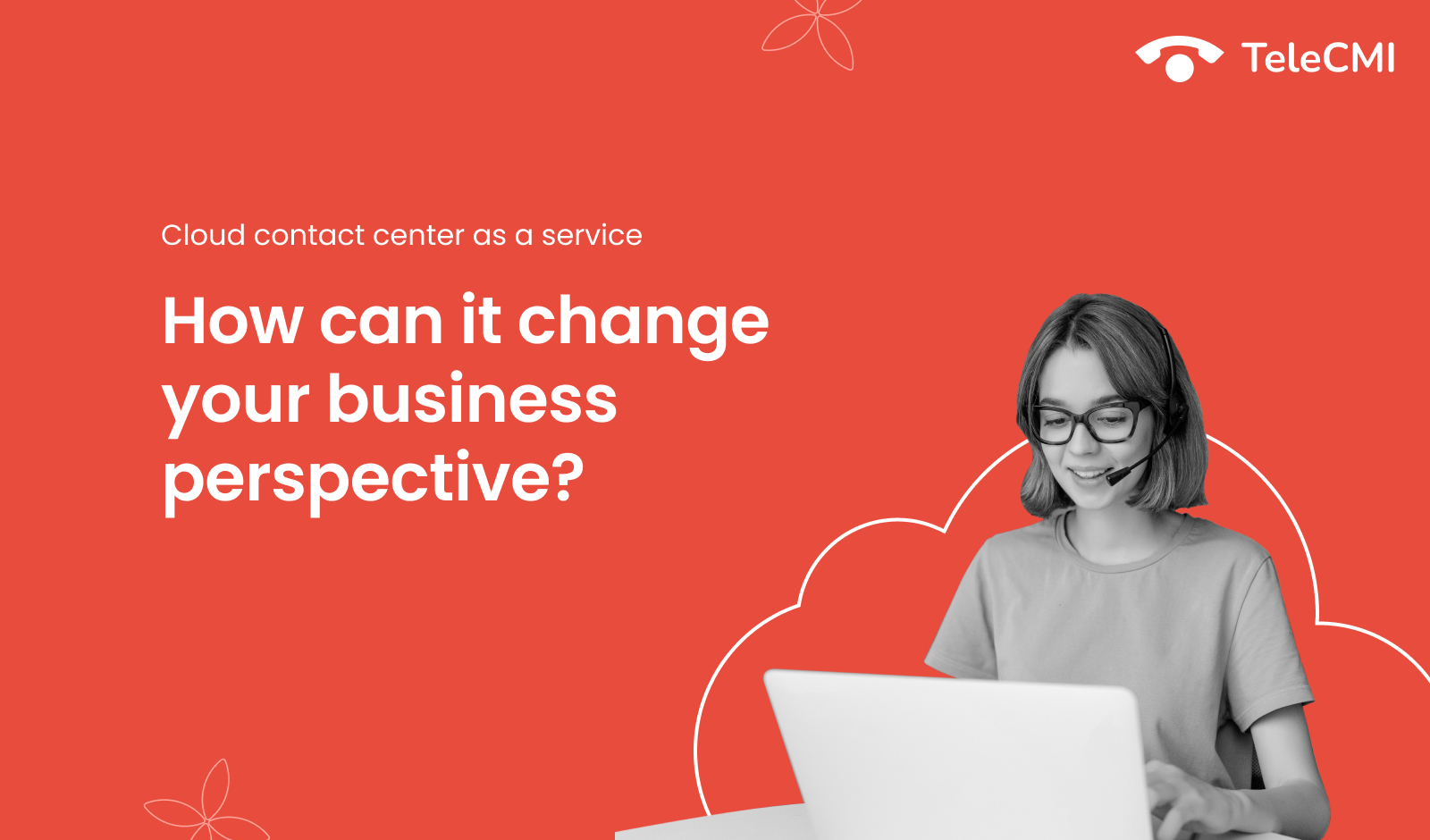 In this case, VoIP (Voice Over Internet Protocol) is taking businesses to the next stage and can be the future. This platform is responsible for helping businesses handle calls effectively with a stable internet connection, unlike regular telephones. VoIP uses Cloud technology where the data is stored and can be accessed effectively.
This blog deals with Cloud Contact Center as a Service (CCaaS) and how it can benefit many businesses.
What is Cloud Contact Center as a Service (CCaaS)?
Cloud Contact Center as a Service is a cloud-based platform that offers customer communication functionality without using traditional call center software. CCaaS is entirely flexible, budget-friendly, and customizable.
Like other SaaS software, CCaaS has monthly or annual subscription pricing plans. These Cloud-based Contact Center Solutions can streamline every business operation, such as handling inbound/outbound calls, incoming/outgoing messages, website chats, emails, social media handles, support tickets, etc.
By integrating customer interactions in a single feature-packed platform, companies can start focusing on other delivery points to enhance productivity. A survey report says the CCaaS market will expand at a CAGR of 19.1% between 2023 and 2030.
How does CCaaS work?
CCaaS software allows customer service agents to communicate with customers through various channels incorporated in a single platform. Additionally, to make communication more accessible, it offers AI suggestions, 360-degree customer query view, etc, to help its customers effectively.
In addition to the agents handling customers, CCaaS is a boon for the higher officials or supervisors who can gain complete visibility of the advanced functionality and detailed reporting. This means that the CCaaS platform allows the Admin to monitor the agent's performance, track their productivity, know about customer service processes, etc. With this data, one can streamline business operations effortlessly. Also, they are responsible for designing workflows and intelligent call-routing systems.
Also, to save these agents from time-consuming tasks, other automation functionalities such as conversational chatbots and AI-powered Interactive Voice Response (IVR) software can handle them. This enables quick self-service options and allows easy query resolution.
How does CCaaS differ from UCaaS?
Although both these have similar functionalities, organizations use them for different purposes, and different teams purchase them. To put it simply, enterprises use CCaaS to communicate with customers, while UCaaS is used for internal communication purposes.
CCaaS comes with loaded features to resolve customer queries in minutes. This helps the customer support and sales team to communicate with customers across various channels in a single cloud platform. It has features such as Automatic Call Distribution (ACD), IVR, self-service options, etc. While UCaaS is also a cloud platform, organizations use it as an enterprise communication app. UCaaS has features such as video conferencing, messaging, voice calls, email, etc.
How does CCaaS differ from other contact centers?
As the name suggests, CCaaS comes under the Cloud-based contact centers list. While other contact centers include the following setups:
Hardware: Which organization sets and maintains on-premises.

Hosted: Where the enterprise outsources infrastructure management to another enterprise.

Virtual: This allows employees to work remotely.
CCaaS combines the features of Hosted and Virtual contact centers, as companies can outsource CCaaS. It is also a cloud-based infrastructure that enables employees/agents to work from anywhere.
Hardware contact centers differ from CCaaS, although all these contact centers emerge for the same purpose. Companies should figure out which fits their requirement and select it.
Features of CCaaS: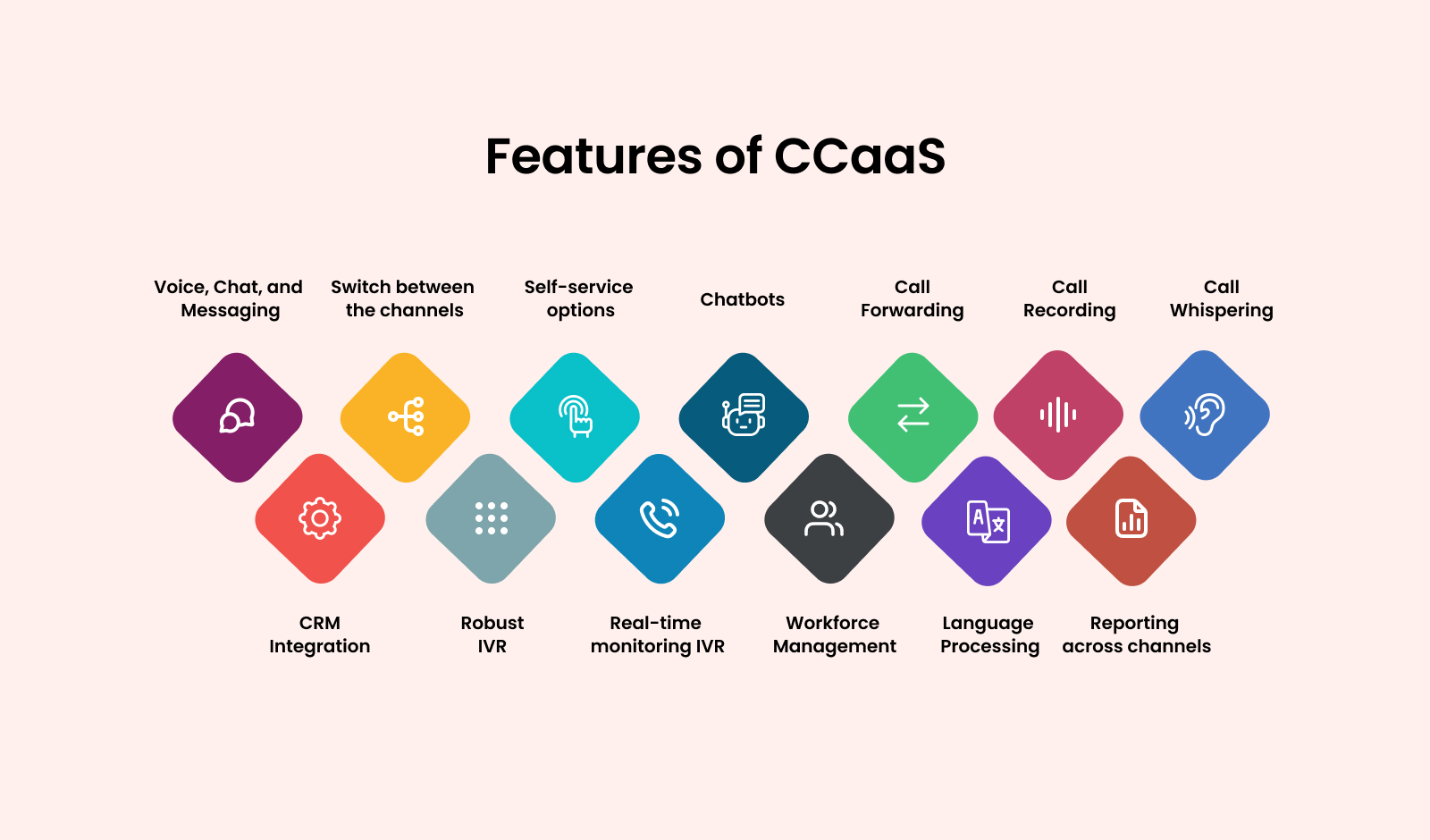 CCaaS allows agents and supervisors to access multiple features that enhance the company's productivity and improve customer experience. Here are a few mind-blowing features of CCaaS that you should know:
1. Voice, Chat, and Messaging
Agents can communicate with customers hassle-free. Be it a voice call, website/ social media chats, or text messaging, CCaaS makes it practical and straightforward to communicate with customers in a single click.
2. Switch between the channels
One can quickly switch between any channels without any challenges. You can transition from one channel to another in the middle of anything without disrupting the conversation flow.
3. Self-service options
When speaking from a customer point of view, they will be given a set of self-service options that they can select on their keypads without needing an agent in the middle to resolve their query.
4. Chatbots
Chatbots are available round the clock to assist customers worldwide. They can send their queries, and these automated Chatbots will answer them. You can view them on your website lively.
5. Call Forwarding
The Call Forwarding feature allows businesses to redirect the call to the respective team/agent without dealing with other team members. Users can save their time, and this increases customer satisfaction. It also offers Call Queuing functionality, which helps in handling calls one by one.
6. Call Recording
Call Recording can be a great way to enhance a business. You can get to know the good and bad points which can help your business. As an Admin of the platform, you can record the calls and know the customer queries, record them for future purposes.
7. Call Whispering
Call Whispering helps the agent where the Admin can direct the agents with suggestions and advice that agents can only hear.
8. CRM Integration
You can integrate multiple CRMs into the application instantly. It can be any application, such as Whatsapp, Facebook, Linkedin, Zoho CRM, Freshdesk, etc. This feature helps agents to seamlessly integrate the apps and use the data quickly without missing out on any information.
9. Robust IVR
A powerful IVR is responsible for providing self-service options and effectively routing the calls to the desired team. It comes with verbal command suggestions to interact with customers quickly.
10. Workforce Management
With the detailed reporting feature, supervisors can determine different modes to increase the agent's productivity and the business features with the existing data. This can double the revenue and productivity of the agents.
11. Natural Language Processing (NLP)
Natural Language Processing (NLP) is responsible for analyzing conversations in real time and knowing the respective meanings, which can be helpful to the team members in handling the customers.
12. Informative Reporting across channels
As switching between the channels is an easier task, you can go and extract different reports from various channels without any interruption. All are integrated into a single cloud platform effectively.
13. Contact Center real-time monitoring
As the platform supervisor, you have complete access to lively monitor the calls, agents' performance, customer queries, and reports in the specified data about the customer inbound/outbound calls and incoming/outgoing messages and handle CRM apps in a single go.
What benefits can I expect from CCaaS for my business?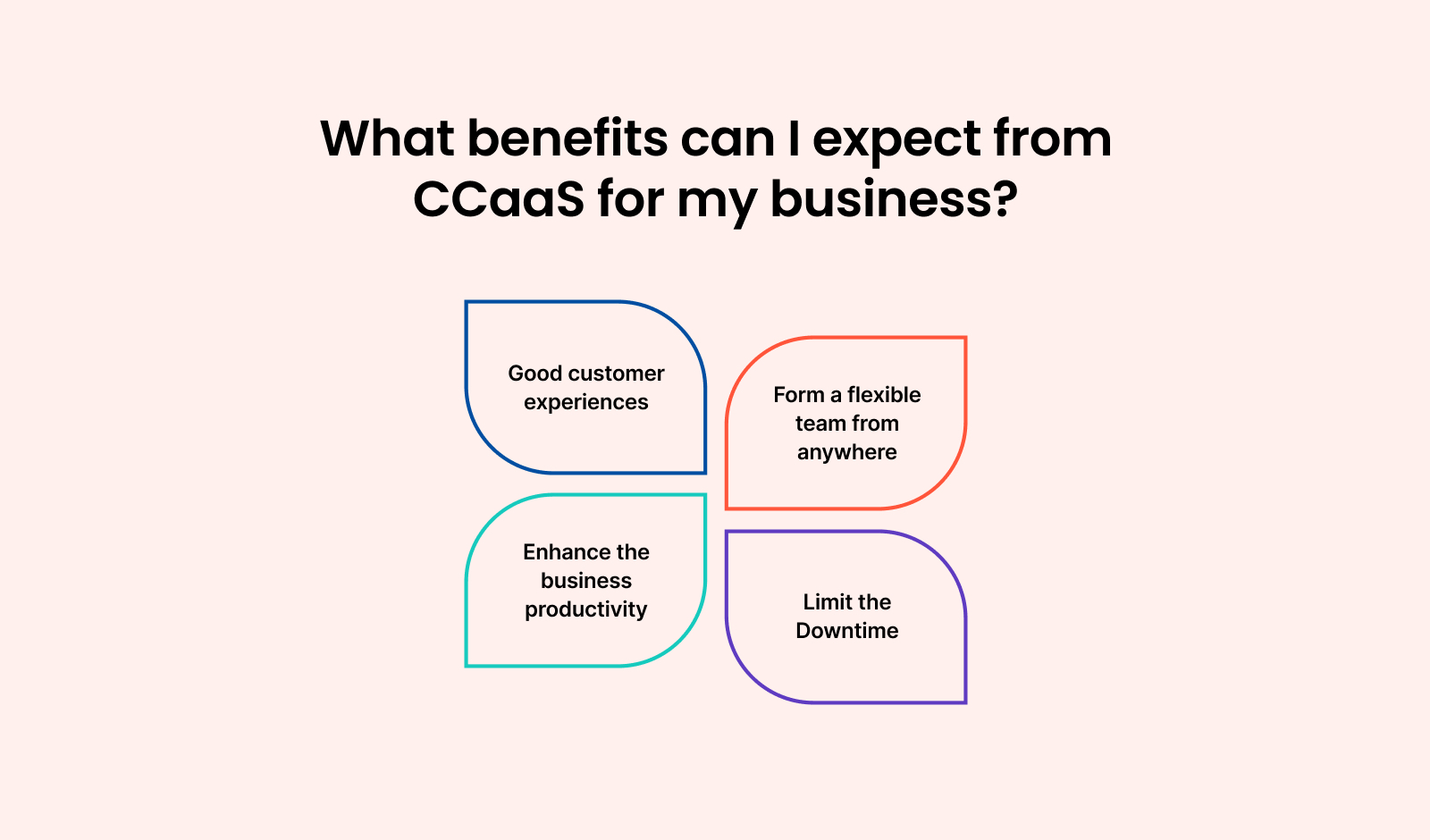 1. Offers feature-rich Omnichannel Customer Experiences
Customers expect enterprises to support them in any channel based on their flexibility. The last option can be the contact form on the website, which allows customers to submit their queries. With CCaaS, agents and other members can have access to customer queries in the same platform without the need to switch between multiple channels. This can provide a good customer experience through CCaaS with limited time for dealing with queries.
2. Enhance the business productivity and lower the cost
As the CCaaS platform offers the flexibility to go through detailed analytics of every single process happening over the software, you will be able to track end-to-end things easily by filtering them. For instance, to know about the agent's productivity, one can filter the name/ID of that particular agent, select the time frame, and get to know the details.
It will display the agent's total incoming/outgoing messages, inbound/outbound calls, etc. With the Sticky Agent and Live Call feed features, you can also provide suggestions to agents in the live call to enhance their solutions to customers. Additionally, the cost is comparatively cheap, and you get all these features at a budget-friendly rate.
3. Form a flexible team from anywhere
CCaaS gives you the opportunity for remote collaboration. This means employees can connect from anywhere at any time and start working. This means that it is easily accessible across different time zones and is compatible with various devices, including mobiles, desktops, laptops, and tablets. This is a positive balance to reduce employee turnover and provide talent access in multiple markets. In parallel, customers will also be satisfied as the agents are available round the clock for support.
4. Limit the Downtime
The next best benefit of CCaaS is that it increases the scalability and reduces the downtime. Cloud-based Contact Centers offer you high uptime, and hence, you can stay operational 24/7. We at TeleCMI have cloud contact centers to stay connected and help businesses care for their customers efficiently.
Conclusion:
Simply put, Cloud Contact Centers can be a game-changer for most businesses worldwide. As enterprises deal with complex issues over cost, customer satisfaction, and round-the-clock support, Cloud Contact Centers ends these challenges by providing future-proof functionalities.
TeleCMI delivers world-class Cloud Contact Center software that can change your business brand and perspective among your customers. You can try our free trial and get to know the integrated features in the application to get started. Check with us right away for a free demo!
FAQ's:
When choosing a Cloud Contact Center software solution provider, it is essential to look for the following factors:
What are your business goals?

What about your target audience, and how will your customers be benefited?

Do they support API and CRM integrations?

How about the support facilities?

What is the total pricing?

Is there any specific feature that you need?
Get answers to these questions and proceed with a solution provider who fits these requirements.
---
Yes, it is. Regardless of the business size, CCaaS is suitable and can be utilized by any business for maximum profits.
---
CCaaS meets all the security measures along with data regulation guidelines. TeleCMI is a certified ISO platform, and hence, you don't need to worry about security with us.
---
CCaaS implementation can be done in four easy steps. You should define the business requirement, check for internet connectivity, configure workflow automation, and start adding agents and admins for the software.