BLOG » 7 cutting-edge features in the Best VoIP software for customer support
7 cutting-edge features in the Best VoIP software for customer support
Customer communication is an essential part of any business. Traditional phone systems in call centers were responsible for handling calls and interacting with customers. However, there were challenges in the old phone system, and VoIP (Voice Over Internet Protocol) software came as a savior to manage the complexities.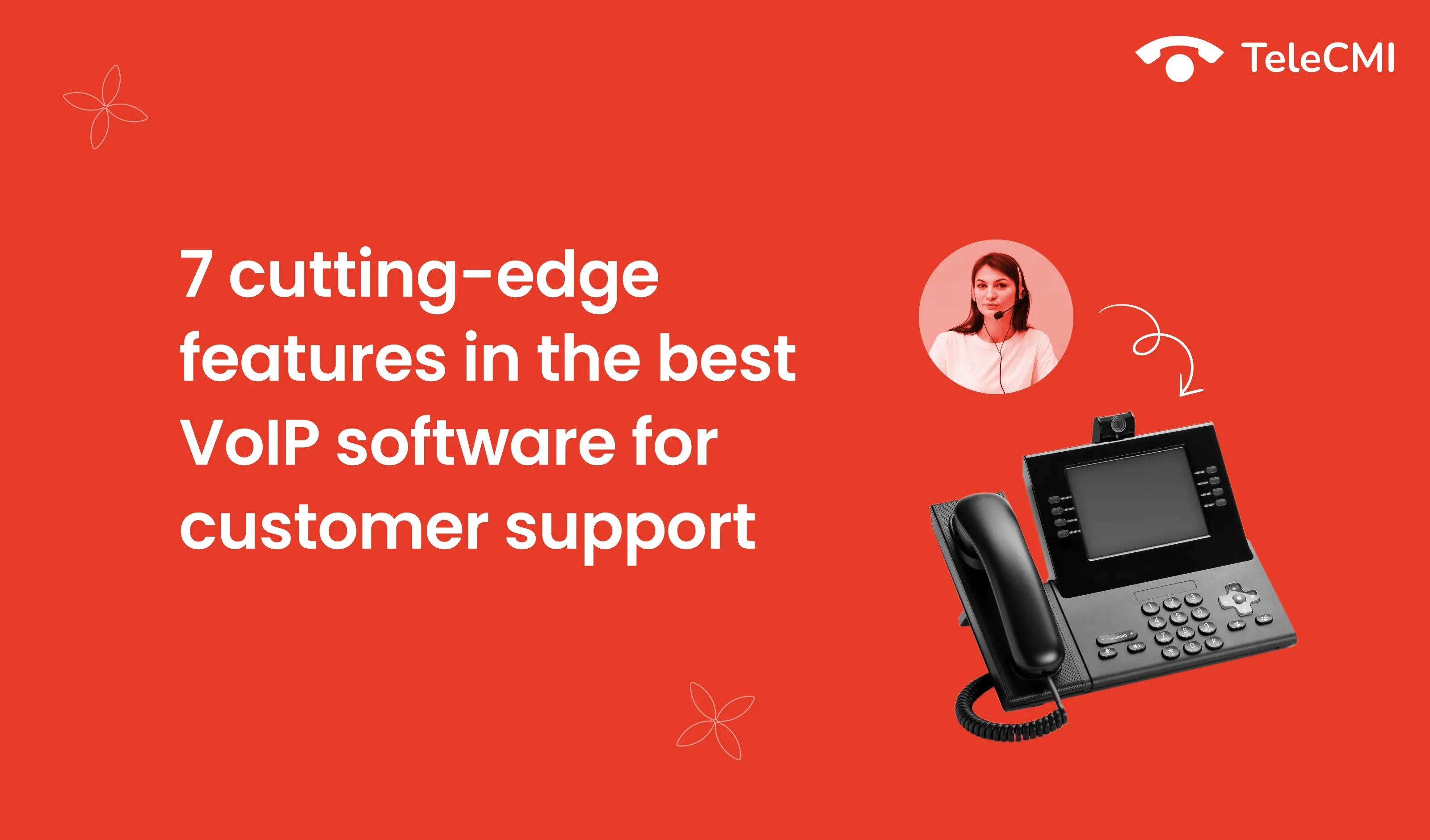 VoIP software is the best replacement for traditional phone systems as it has dozens of benefits. They are the game-changer for most businesses across the globe. In this blog, let us learn about the importance of VoIP and its eight top features to benefit your business.
Increased usage of VoIP Technology
VoIP technology has been here for some time, helping businesses improve operations. Unlike traditional phone systems, which handle customer calls, VoIP phone systems have the same functionality but manage calls over the Internet. The data is stored in the cloud and can be accessed from anywhere at any time. It doesn't deal with wires and cables. Instead, it is free from hardware and other equipment setups.
VoIP users can make calls through VoIP phones, web apps, desktop apps, etc. During the pandemic and post-pandemic, VoIP became the savior for most businesses. VoIP replaces Traditional Phone Systems for scalability, cost-effectiveness, advanced features, hassle-free installation and setup, remote-friendly environment, mobility, reliability, etc.
A report says the VoIP market is expected to grow at 15% CAGR from 2021 to 2027. Also, the Asia-Pacific region is expected to lead the VoIP market growth through 2024, reaching $60 billion in global market share.
How does VoIP work?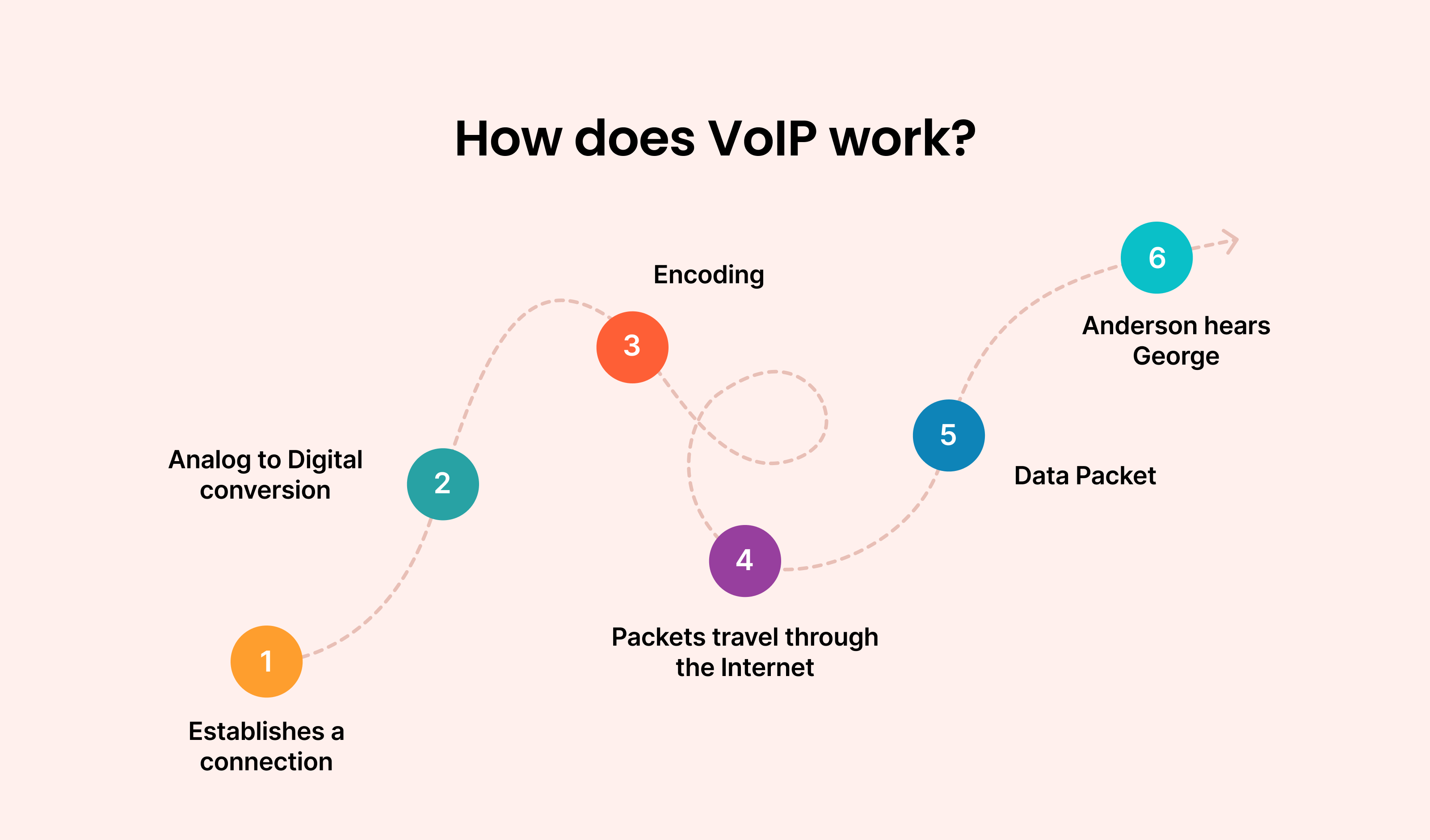 VoIP technology breaks up the voice audio from a call into digital data packets and then sends these packets to the recipient over the internet connection. Once these data packets reach the other end, it is again converted to words and phrases.
Let us consider a real-time example for a clear understanding:
Suppose George makes a call to Anderson through a VoIP line. George picks up the phone connected with a VoIP-enabled handset, dials the number, and says, "Hi, Anderson." So, how does this VoIP work here?
Establishes a connection: The VoIP service establishes a digital connection between George's handset and Anderson's. Networking protocols take care of this.

Analog to Digital conversion: George's handset converts the sound of his voice into digital information.

Encoding: This digital information is encoded and compressed to travel over the Internet.

Data Packets: The encoded digital information is divided into packets with a header attached by networking protocols.

Packets travel through the Internet: The packets are forwarded, initially by George's LAN (Local Area Network), followed by other routers to the VoIP server within the VoIP service provider's PBX (Private Branch Exchange). The server routes the packets to Anderson's phone. The packets are forwarded through different networks until they reach Anderson's network. This is finally sent to Anderson's handset.

Anderson hears George: Now, steps 2 and 4 are reversed. This means the packets are reconverted to compressed digital sounds of Grorge's voice and then recompressed and played as a voice on Anderson's handset.
Although there are six steps involved, they happen in milliseconds. Additionally, there is no human intervention to cause a delay. Delays usually occur because of unstable internet, causing latency issues.
7 mind-blowing features of the Best VoIP Software for Customer Support: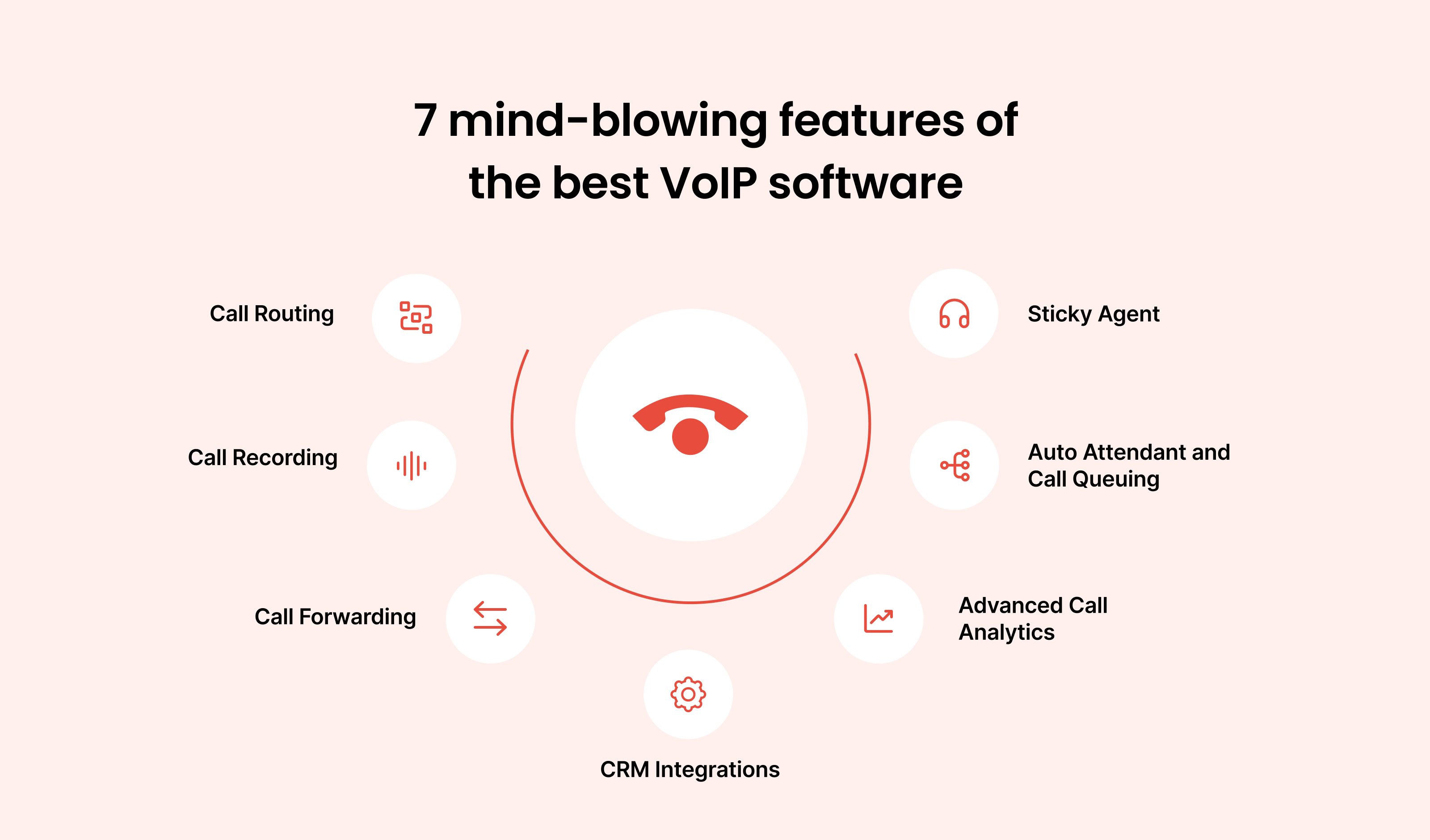 1. Call Routing
The call routing feature will allow businesses to build a list of numbers of the appropriate team or agents before the customer call gets connected. For instance, if you call a service provider or other offices, within a few minutes or seconds, you will get connected to the concerned department or the agent to resolve queries. It speeds up waiting time to ensure the customer resolves their query instantly. It can also optimize the workflow, improve business operations, and enhance agent's productivity and customer satisfaction.
Call Routing works in three steps. The initial step is the Qualifying phase, where the routing process sends the call to IVR (Interactive Voice Response). With IVR Systems, businesses can determine the customer query. The second step is the Call Queuing phase, where the caller responds to IVR with their desired option, which is forwarded to ACD (Automatic Call Distribution), which queues the inbound calls based on customer queries. The last step is the Call Distribution phase, where calls are routed to agents based on the call queue.
2. Call Recording
The call recording feature enables businesses to automatically record the calls between agents and callers on a frequent basis. They are stored in the cloud to access it easily. With Call Recordings, businesses can get a deeper insight, agent & department evaluation, and quality assurance, and perform other evaluation activities.
VoIP Call Recording is a secure way to record and store audio conversations between an agent and a customer. Both incoming and outgoing calls are recorded. Once the call is recorded, one can play it multiple times. Call Recording provides benefits such as improving customer support quality, enhancing employee performance, determining the problematic areas, and resolving them.
3. Call Forwarding
The call-forwarding feature transfers incoming calls to different telephone numbers associated with the same agent or department in a specific order. Forwarding calls allows for higher flexibility and is an exceptional solution for businesses that work remotely. This means that it eliminates the need for employees to work from a physical location to pick up calls. Additionally, it prevents callers from having to hang up and dial multiple phone numbers to reach the desired agent.
For instance, if an agent receives a customer call and fails to pick it up, it automatically gets forwarded to their own smartphone with a set of rings. If the agent does not answer the call on their smartphone, it gets forwarded to the home phone. As a final chance, if the home phone number is also not picked up, the call is forwarded to the agent's voicemailbox or another agent.
4. CRM Integrations
CRM Integration is yet another feature that every business gets benefited from. With CRM, companies can connect with anyone in a single click without installing, downloading, and switching between different applications. It also follows sales through the pipeline process and keeps track of results, monitoring them effectively. It includes other apps such as Salesforce, Hubspot, Zoho CRM, Freshdesk, Zendesk, etc.
By integrating CRM, businesses can sync the data between the applications, access call recordings, make calls directly from CRM, get caller information, call customers from the customer's profile in the CRM, get call center statistics, create workflow automation, etc.
5. Advanced Call Analytics
VoIP software provides more profound call and business analytics. Call Analytics provides detailed information about inbound call volume, call time, hold time, waiting time, agent's details, and many more metrics. In addition to tracking phone calls, call analytics are applied to performance marketing campaigns.
With Call Analytics, businesses can enjoy various benefits, such as doubling their sales, measuring performance, creating customized reports, getting real-time logs, etc. Added supervisors and leaders can track how well the system and the team respond to customer calls. You can understand your business and customers well by knowing who is calling, when they are calling, from where they are calling, how long the call lasts, tracking the results, and resolving queries.
6. Auto Attendant and Call Queuing
Auto Attendant is a gem feature of Cloud Business Phone Systems. You can customize the welcome music or audio, offer different languages for callers, and set up various departments to pick up the calls depending on the time of the day. Auto Attendant functionality provides full automation. For instance, callers can report problems, make payments, know their balance, update PINs, etc, without speaking with a real-time agent.
If you own a small business, this will be less investment with a highly engaging customer experience. Poor customer experience will help you lose your existing customers and not get new ones. With a modern AI-empowered queuing system, VoIP Phone Systems can help businesses streamline their operations and manage their resources better.
7. Sticky Agent
Sticky Agent is one of the features in VoIP software that allows customers to speak with an agent they have previously spoken with. As a result, it will reduce the call volume instead of explaining the same concept to a new agent. This feature aims to enhance the customer experience.
Sticky Agent is of two types: Basic and Advanced Sticky Agent. The Basic Sticky Agent is general, which transfers the customer call to the previously spoken agent. On the other hand, in Advanced Sticky Agent, the call gets transferred to a new agent if the previously spoken agent cannot pick up the call.
Get VoIP Software for your business right away
TeleCMI offers a superfine and best VoIP software with these top-end features. We have tailor-made VoIP Calling Software for businesses that help them profit. In addition to the above-discussed features, we provide other such features such as:
Separate Agent and Supervisor logins.

Virtual Numbers

Call Conferencing

Call Masking

Setting up Business Hours

Call Flow

Easy-peasy modifications

Call Back

Call Transfer

Live Call Feed

Call Barging

Call Whispering
All these features can be customized completely based on the business needs. We have multiple clients all over the globe and industry verticals such as Hospitality, Tourism, Education, etc. If you are one such business looking to simplify your operations, we are here to make it true! Check with us for a free demo and explore these features lively!
FAQs
Be it a small, medium, or enterprise business, these cloud-based business phone systems are here to cut off additional costs, optimize their business operations, and enhance customer experience.
---
To set up VoIP Software, you need to choose the right VoIP Solution Provider.
As VoIP can be operated through cloud systems, it can be accessed through smartphones, web apps, desktops, etc.
You need to download, register, and log in to the application.
Select the country of your choice and get a phone number.
Onboard your team of agents and supervisors.
You are good to go.
---
The pricing depends upon the features chosen in the VoIP Software. It may be the number of agents, selected countries and numbers, and other features.
---
A Cloud-based business phone system comes with end-to-end security with multiple layers of encryption. TeleCMI is a certified ISO Platform where high-end security is implemented on our software.