What Is The Best Way To Get A US Virtual Phone Number?
Choosing a VoIP phone system provider that offers the best local and toll-free numbers for the countries you want to call while supporting international calls is extremely important.
TeleCMI offers a wide range of virtual numbers to suit different business requirements. It includes a local phone number and toll-free numbers for the USA.
For example, if your business presents in the UK, you can avail of a USA virtual phone number or toll-free number to make and receive US calls.
And if your business operates in multiple countries, you can get multiple virtual numbers on a single plan. Our custom caller ID feature also allows you to display a local number.
For more than 70 countries, including India, the USA, the UK, Singapore, and Australia, you can obtain local and toll-free numbers with TeleCMI.
You can easily get them activated by choosing a monthly or yearly plan from the best VoIP service provider like TeleCMI. After completing your sign up process, you can make international calls to the USA from Europe, Asia, and other regions worldwide.
Setting up VoIP phone system to make international US calls
To set up the best VoIP calling solution for international calls, follow these steps:
Choose a VoIP service provider that offers advanced features and stable uptime in their service and that fits within your budget.
Look for free trials offered by the VoIP service providers you're considering, and sign up to test the quality of their service. This will help you determine whether the system suits your demands and how it functions.
Once you've preferred a VoIP service provider, pick a plan that works best for your business. You can select monthly, annual, or Pay as you go options depending on your usage.
Activate your service and start making international calls. With cloud-based VoIP phone systems, the deployment process is quick and efficient, taking less than 5 minutes.
You'll have access to a web-based dashboard after your service is activated, which you can use to control your calling operations from any location.
You will also get access to a softphone application to place and receive calls on your current device; with an internet connection, you can make and receive business calls/SMS from anywhere.
Also, you can use the web-based dashboard to manage voicemails, keep track of call logs, and modify call settings.
The maintenance and service of your VoIP phone system are provided by the cloud telephony providers like TeleCMI, eliminating the need for you to handle installations and maintenance.
Following these steps will ensure you have the best VoIP calling solution for international calls that fits your business requirements and budget and offers stable uptime and advanced features.
Making an international call to the USA: How To Do It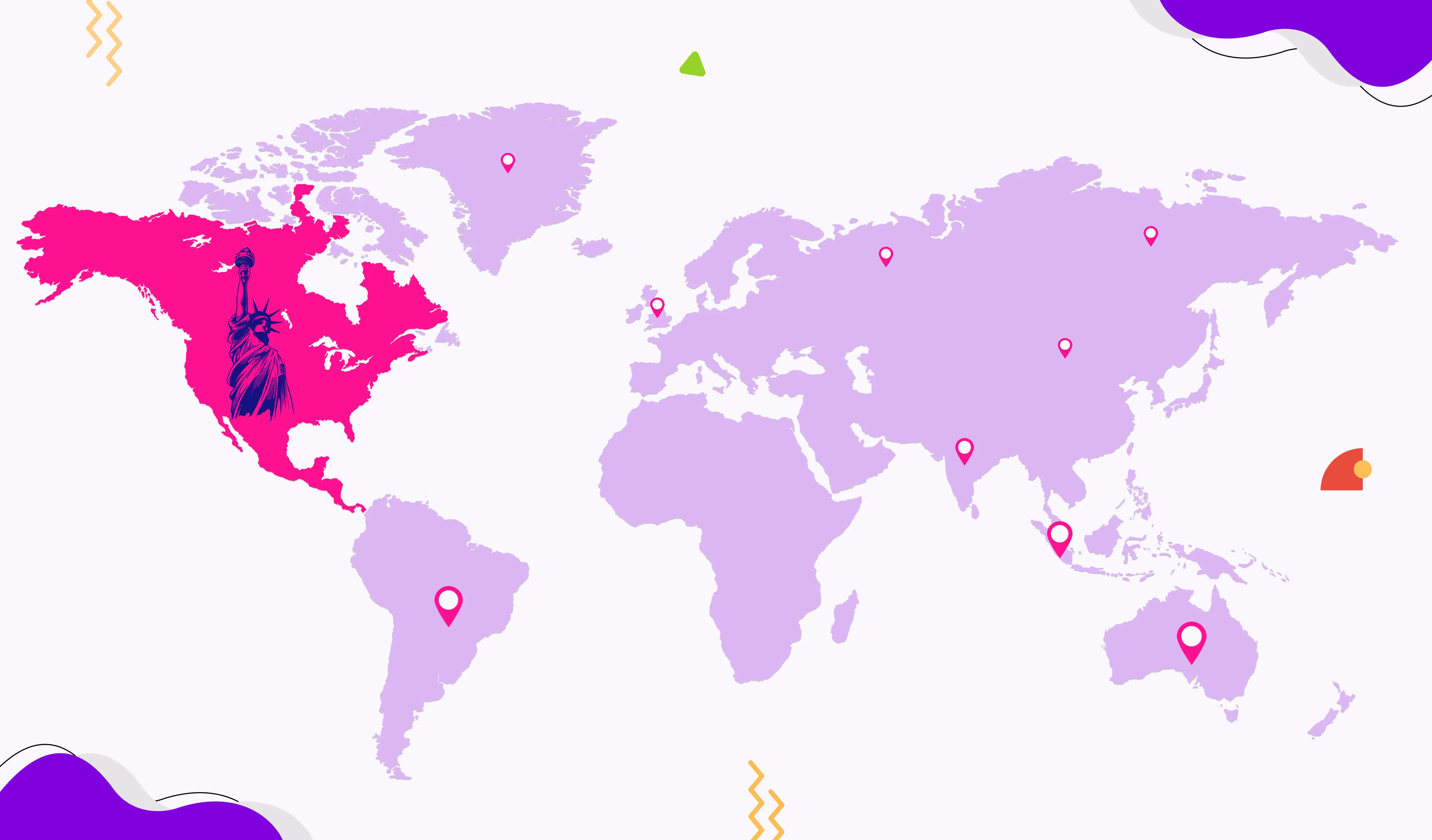 Every country has a unique country code, and the USA follows the same protocol. Understanding international calling codes is essential when placing an international call to the USA.
Country codes and international calling codes are numerical prefixes that let you call a phone number in a different country. Every country has a distinctive calling code, which usually consists of two to four digits. For instance, the United States' calling code is "+1," while the United Kingdom's is "+44."
You must know your country's exact dialing code to call the USA from abroad. You must enter the calling code before the US phone number on your dial pad to initiate the call.
As an example, if you are calling a US phone number from India, you need to dial the following set of numbers:
Step 1: Type "+1" for the US country code.
Step 2: Type a local area code in the US such as 213, 310, 323, etc.
Step 3: Then dial the local US phone number.
You must be familiar with the proper dialing format in order to place an international call to the USA. The following is the format for dialing an international call to the United States:
+1 [Area Code] [Local Phone Number]
You can call internationally from your country by using the "+" symbol, which stands for the international access code. The "1" stands for the USA's country code.
The area code is a three-digit number assigned to a specific geographic area in the USA,
And while the local phone number is the seven-digit number, you want to dial.
When dialing a number in the USA or any other nation, you must always include the area code, even using a mobile phone.
If you're unsure, you can look up the area code for the phone number on the web or ask the person who already knows before attempting to reach the prospect.
Here are the most common area codes for calling the USA
Boston, MA - 508, 617
Chicago, IL - 312, 773, 872
Detroit, MI - 313
Dallas/ Fort Worth, TX - 972, 214, 469
Los Angeles, CA - 213, 310, 323, 424, 661
Miami, FL - 786, 305
New York, NY - 212, 347, 718, 917, 929
Philadelphia, PA - 267, 215
San Francisco, CA - 628, 415
Seattle, WA - 206
Washington, DC - 202
What does an American mobile number look like?
A typical American mobile phone number has ten digits and is formatted as follows:
(123) 456-7890
The first three digits are the area code, which indicates the country's geographic region. The remaining digits are the unique identifier for each phone line.
Is the US country code 001 or 1?
Speaking practically, the United States shares the +1 country code along with other countries in North America, such as Canada and the Caribbean. Despite some sources calling it "001," this international prefix is used to dial from one country into another.
Instead of the international prefix, the plus sign (+) is frequently used to alert callers that they must provide the proper international country code, which for the United States is 1.