Why does your business need VoIP?
As the name suggests, VoIP communication is a system where call transmission happens over the Internet. The VoIP system extracts the voice data and converts it into a digital file. The digital file is encoded and transmitted, which is received at the other end.
If you are a business looking to expand and double your growth with high-end customer satisfaction, VoIP is a chance you should not miss out!
A VoIP is more than a technology that provides an infrastructure for businesses by catering to their demands. This technology offers internet-based communication, which can happen anywhere with a stable internet connection. It also helps with easy collaboration for remote teams.
There are a couple of ways for VoIP implementation in industries:
1. It is used as an internal communication tool where employees all over the globe can speak instantly, making the meetings smooth.
2. VoIP is a boon for telemarketing agents. As VoIP supports integration with CRMs, they find this handy, resulting in customer satisfaction.
In both ways, a VoIP system provides more significant data insights, offering detailed reporting features.
VoIP Systems Vs. Traditional Phone Systems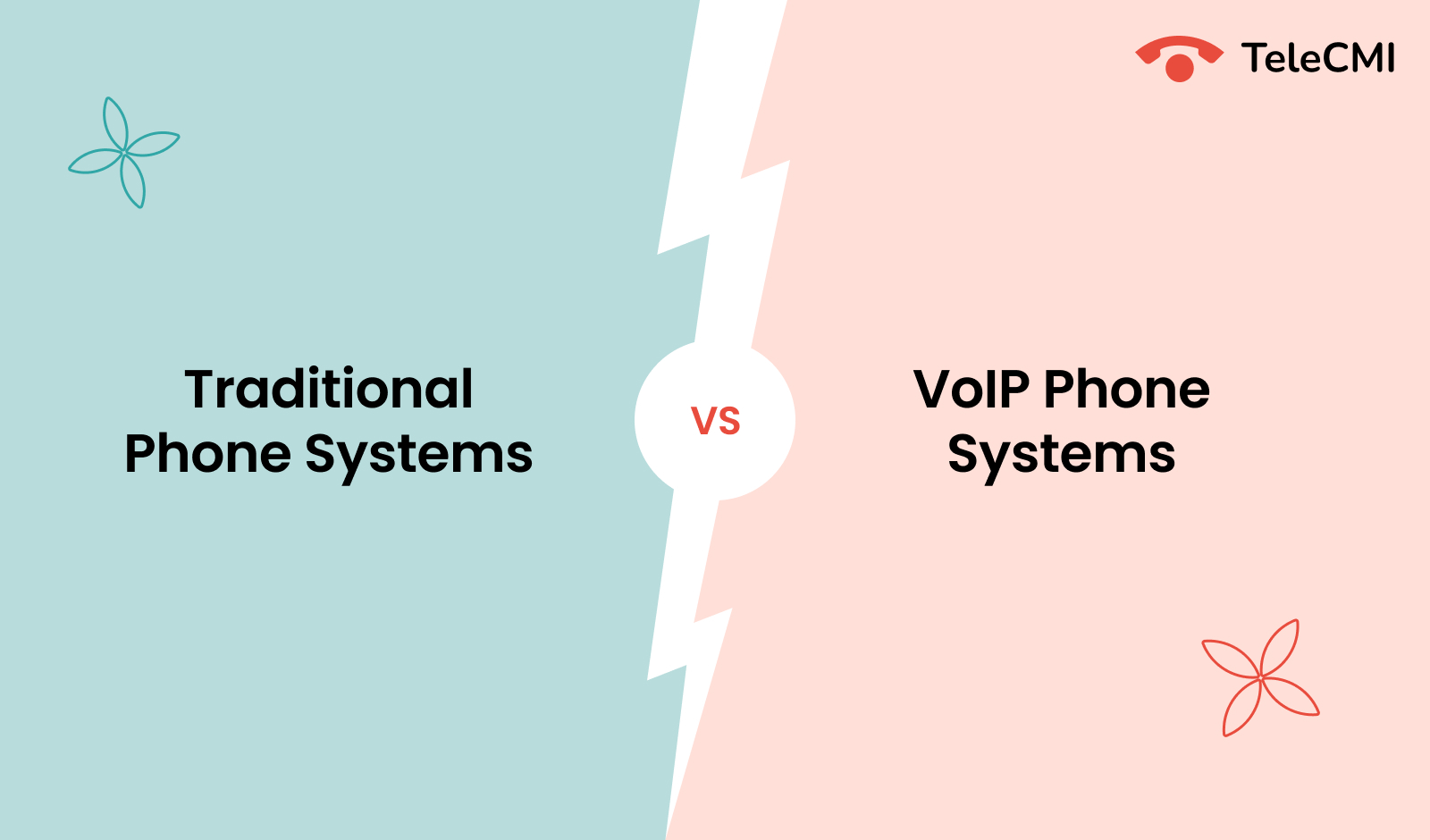 VoIP Services are the ones that use the Internet to make and receive calls. Whereas in the case of Traditional Phone systems, it involves wires and cables directly connected to the public switched telephone network (PSTN).
Here is how VoIP systems are efficient when compared with conventional phone systems:
Lower call rates and significant savings
Portable anywhere
Higher scalability
Hands-on experience with attractive points
Great voice quality
Advantages of VoIP solutions for businesses: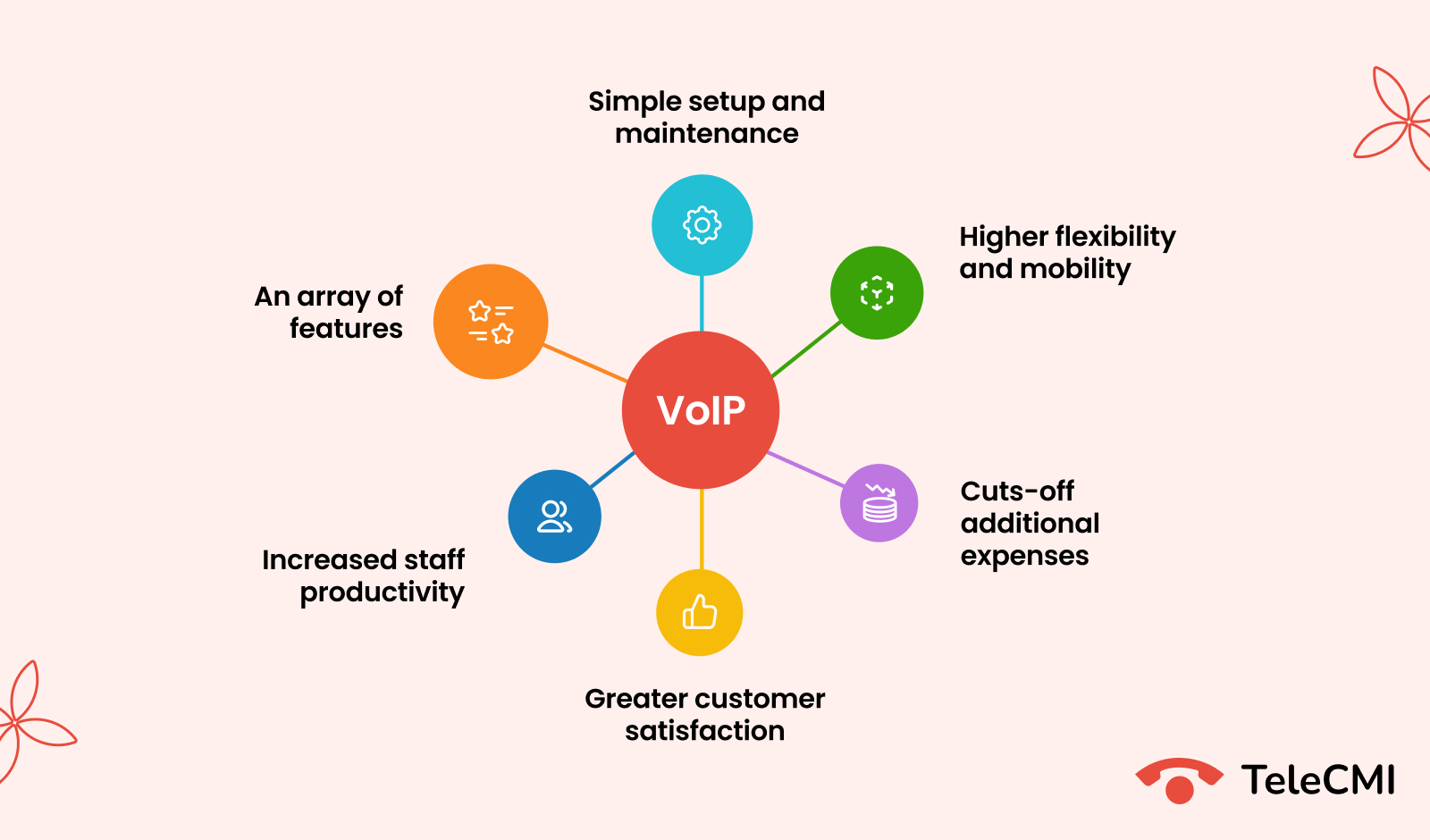 Regardless of your business size, one can enjoy the following advantages:
Simple setup and maintenance process
Regarding traditional phones, you have multiple steps in the installation and setup process. On the other hand, with a VoIP service, it is a simple process that you can do without even getting help from the IT service.
If you check with the application form TeleCMI, you need a few minutes for the setup process to be done, where you have to download, register, and log in to get started.
Higher flexibility and mobility
Yet another benefit is that this virtual phone service helps users integrate phone hardware and wireless headsets from different devices, such as remote conferencing, file sharing, emails, etc.
Flexibility and mobility is an excellent advantage for people who frequently travel. Moreover, compared with traditional phone systems, VoIP solutions are relatively cheaper for long-distance communications and hence can be termed a money-saver.
Cuts-off additional expenses
In addition to overseas telephone expenses, setting up VoIP service is also much cheaper compared to conventional phone systems, which are expensive.
Moreover, Internet and video calls between the devices are cost-free with VoIP solutions. In addition, communication between the employees of different departments in an organization through VoIP or PC will not cost any money, which is the best benefit.
However, you will be charged a small amount for calls between a PC and a landline, which is comparatively lower than traditional phone systems. With VoIP solutions, you can pay for the number of monthly users and, at most, that.
Greater customer satisfaction
Customer satisfaction is a must for any business. VoIP services are the best option for prompt and immediate assistance, which can increase customer satisfaction.
In addition, if the business is looking to switch to a new place, it does not require additional expenses. Also, adding new users will cost nothing. Similarly, when a user leaves, the company can assign it to the rest of the users without obliterating the line. This is one of the best features when considering VoIP for small businesses.
Increased staff productivity
The best advantage of VoIP is that it enables companies to work remotely, helps employees host business meetings, conducts phone conferences, sends documents across emails, and makes both audio & video calls.
Added to the list, it also renders quality voice, which is comparatively better than the traditional phone systems. Hence, VoIP services can remain a consistent and reliable mode of communication.
An array of features
Not to forget, VoIP system comes with great features compared to traditional phone systems. The mind-blowing features include Call Hold, Call Status, Call Forwarding, Sticky Agent, etc. We have explained them in detail in the upcoming sections.
MIND-BLOWING STATISTICS ON VoIP WHICH YOU SHOULD NOT MISS
The VoIP technology market is expected to grow $102.5 billion by 2026 and around $17 billion by 2023.
A report from CISCO states small businesses has achieved 77% improved productivity with VoIP implementation.
The VoIP market will raise approximately 10% CAGR between 2023 and 2032.
How are VoIP providers the game-changers for businesses?
VoIP providers sell products and services that help businesses make and receive calls. Presently, there are a plethora of VoIP providers across the globe. VoIP providers provide sophisticated communication with robust features such as instant messaging, hassle-free calling options, one-click integrations, call management, etc.
How to get started with the VoIP service?
Implementing VoIP service can be a beneficial option with dozens of positive impacts on the business. Here are the steps to get moving:
Hosted Vs. On-Premise VoIP solutions
Right off the bat, choose between the two. Onsite VoIP solutions include hardware, software, and infrastructure located & operated within the business space. Hence, the organization is responsible for the installation and maintenance of.
On the other hand, VoIP providers will take care of end-end right from installation to maintenance. Businesses need to install the app to get started. They can choose the required option based on the budget and flexibility constraints.
Selecting a top-notch VoIP provider
Secondly, one must choose a VoIP Provider who can bring your business ideas into reality. We at TeleCMI have a readily built application for the world with loaded features that businesses love to use.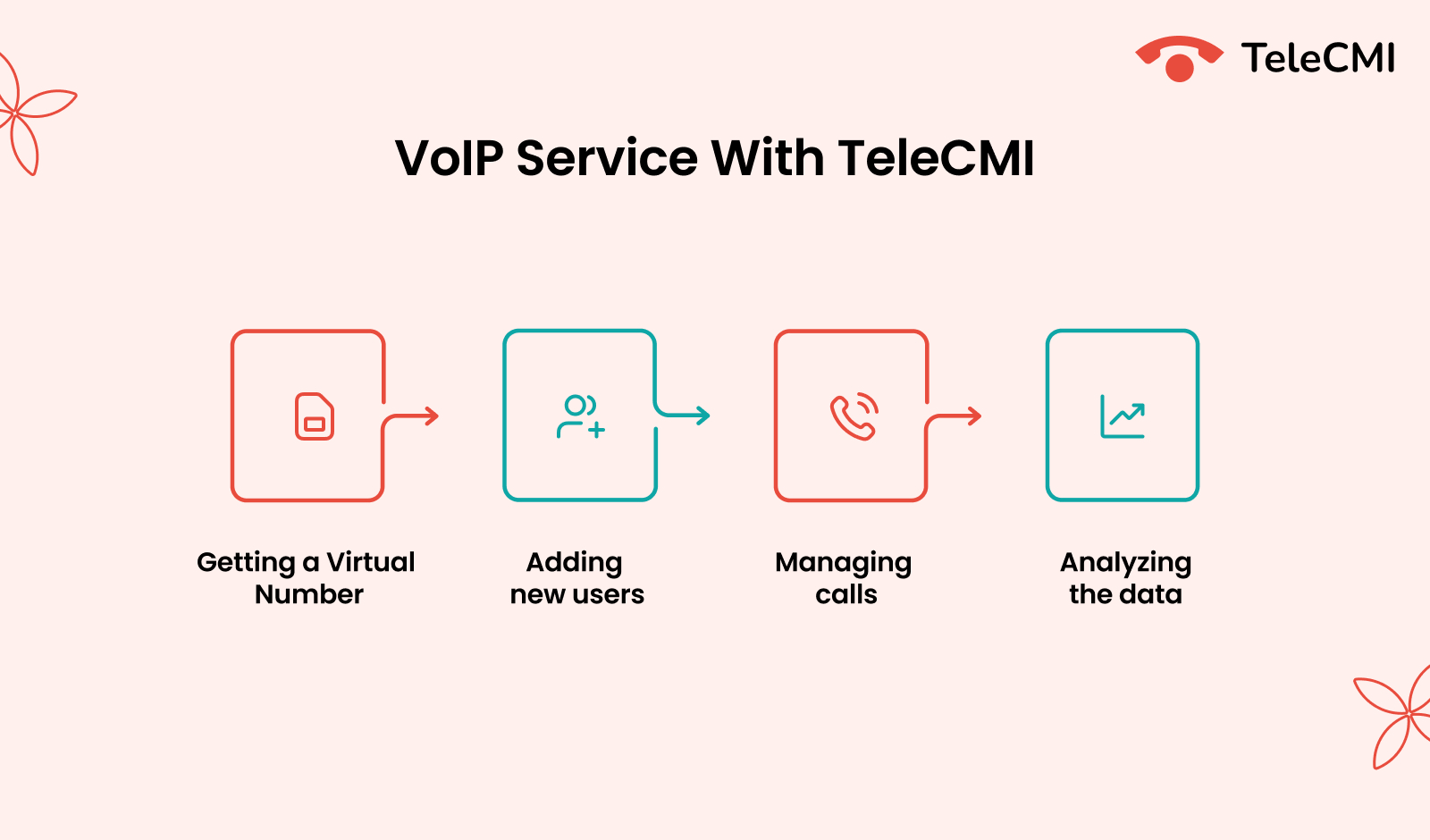 Also, when choosing a VoIP provider, make sure you consider the following factors:
1. Reliability
2. Hearing the customer stories & reviews
3. Pricing
4. Plans and Features offered
5. Third-party apps integration
6. Customer support
7. Friendly UI
8. Stability
9. Backups
10. Security
Creating a business phone number
Once you have your setup done, a business phone number is all you need. Make sure you get an easy-to-remember phone number for your brand. We at TeleCMI help businesses set good numbers for customer engagement.
Purchasing VoIP equipment
if you have chosen a hosted solution, 90% of the setup process is done from the end of VoIP providers. However, here are a few things that businesses have to consider installing:
1. VoIP Phones: Although VoIP providers such as TeleCMI offer feature-built apps for VoIP solutions, VoIP phones are the physical phones that connect to the VoIP system via the Internet.
2. VoIP Headsets: To ensure your agents speak hands-free, remember to get VoIP Headsets.
Analog Telephone Adapters: If you have traditional analog phones in bulk, upgrade them to make VoIP calls.
Initiating with VoIP
Now you have all the setup ready. It's time to get started with VoIP calls. Try to collect the data, analyze it, and make the changes to improve the brand. TeleCMI comes with various features, such as a live call feed, the productivity of the team & individual users, reports of missed & answered calls, call flow, etc.
Why Choose TeleCMI as your VoIP provider?
We have rich experience in the industry and came up with an application that satisfies the businesses and enhances their customer. As the best VoIP provider for business worldwide, we have 100+ happy customers using our VoIP solutions.
At TeleCMI, we make sure your business requirements are considered and implement the same. Also, the process will be simple, smooth, and transparent so that our clients reap the complete profits in the VoIP service industry.
Moreover, we have clients from various businesses, such as Real Estate, Travel & Tourism, Construction, e-commerce, Financial Institutions, Cybersecurity, etc.
Explore our futuristic features in the TeleCMI application:
Agent & Supervisor Logins
TeleCMI application enables businesses to have separate logins for Agents and Supervisors. In this case, the Supervisor will have an Admin login where the person can keep track of the complete activity of the agents and the customers instantly.
Virtual Numbers
With Virtual Numbers, you can enhance real-time customer engagement. Use this cloud-based telephone number for routing the calls to the respective agents. With a Virtual number, you can make international calls targeting overseas customers, leading to higher conversion rates.
Call Conferencing
The conference calling feature will allow users to merge the call with other users/teams simultaneously without latency issues. Hence, anyone from anywhere can join the call instantly without any problems.
Call Masking
This feature enhances security by protecting customer numbers by masking solutions where customer and agent details are hidden during the live call, leading to zero data leakage.
Business Hours
Businesses can set up their business hours to engage the customers in odd hours, which helps customers understand the actual work timings. Companies can customize the timings for receiving calls quickly in our TeleCMI application.
Sticky Agent
Sticky Agent is an exciting feature that allows customers to speak with the agent they had their previous conversation with. With this, there are higher chances of retaining a customer, and it also saves the agent's time rather than forwarding to another user.
Multiple Call Flow
Multiple Call Flow helps businesses track the call flow details from different virtual numbers in a single business account hassle-free.
Call Routing
TeleCMI application comes with three ways of Call Routing: Equal Distribution, One by One, and Simultaneously. Equal Distribution refers to the strategy of equally distributing calls between agents. In the case of One by One, calls are answered one after the other. While simultaneously refers to the process where all agents can speak to different customers at the same time. Based on your preference, choose the one which suits you.
One-click modifications
With an easy-to-use and customizable dashboard, supervisors can drag and drop the users smoothly without facing issues. Similarly, they can add/remove users and get a detailed report on their productivity, etc.
Detailed Analytics
In addition to the agent productivity, one can also retrieve a detailed report on the incoming calls, outbound calls, missed calls, answered calls, number of customers speaking lively, etc. Businesses/ Supervisors can also download the report on an hourly/weekly basis based on their preference.
Missed Call Analytics & Call Back
The Missed Call Analytics feature lets one know the missed count of incoming and outgoing calls during business hours. As it displays the customer's phone number, agents/supervisors can give a callback without losing the customer.
Call Transfer
To engage the customer queries within minutes, TeleCMI offers a Call Transfer feature where agents can transfer the call to other team agents to help them answer correctly.
Concurrent Calls
To maximize the agent's efficiency, we developed a feature of Concurrent calls where unlimited calls can be received or dialed based on the requirement.
Live Call Feeds
As a business, you can enjoy this Live Calls Feed feature, where you can instantly listen to the live calls between the agents and customers.
Call Recordings
You also have an option of Call Recordings if you want to rewind the conversation between the agents and the customers. This feature can help you offer a better customer experience and improve agent productivity.
Call Barging
With the Live Feed feature, supervisors can also direct their agents to speak with customers based on their questions. This feature can increase the reliability among the customers and improve the quality.
CRM Integrations
TeleCMI provides you with the feature of integrating with your favorite CRM applications easily, increasing productivity.
Web & Mobile SDK
In addition to the CRM integration, we also support Mobile and Web SDK integrations to handle the calling features smoothly.
Getting Started with TeleCMI
VoIP solutions can change the perspective of customer engagements of businesses. At TeleCMI, we make sure you speak with your customers in a desired way, be it any mode of communication. Let us know your requirements; we are here to transform them into VoIP solutions.
Our application comes with a free trial. You can download, sign up, log in to the app, and check out the free trial. You can get into the application, get a virtual number, set up your business by adding users, align the team, explore various features, etc.
You can upgrade to the pricing plan once you are satisfied using the app. The charges are cost-effective, too. If you need help understanding the application, our team will explain it by showcasing various modules and features.
VoIP Service with TeleCMI
You can download, register, and log in to the application. Once you have started with the app, you can follow this process:
1. Getting a Virtual Number
Initially, you need to buy a virtual number for your business. This number can be local, international, or Toll-free, which you can choose based on your requirements. We have a wide range of unique and easy-to-remember numbers, which can produce a high percentage of attending the calls. This option can also establish a local presence among your customers.
2. Adding new users
Start adding users (agents and supervisors) who will be handling the calls. You can define their respective roles in the team. Our easy-to-use and handy UI facilitates you to manage the team effortlessly. You can also track and get a detailed report on the users and improve productivity.
3. Managing calls
Now, the team is ready to make calls and handle the customers. Being a top-notch VoIP Operator in the industry, we ensure you can easily access our VoIP Services through a mobile app, web app, and desktop software. Our software is highly enhanced to provide excellent quality voice seamlessly.
4. Analyzing the data
ou can track everything at your fingertips by filtering the required data. We have a user-friendly dashboard to track the data and perform call analytics. With the extracted data, you can enhance the productivity and improve the customer experience.
Put together
To conclude, VoIP Services can be a game-changer if you want to grab new customers effectively. This never-ending technology can rule the world with its upcoming advanced features that no one imagined!
TeleCMI provides a virtual phone service that can take your business to the next level and help you stand out of the crowd. Get in touch with our experts for a live demo and explore our cutting-edge features.
Here are a few questions which you may still have in your mind:
FAQ's
A VoIP Service will help your business to grow in a cost-efficient manner. With the best VoIP Provider for business, you can make external calls and receive inbound calls with high quality. You can additionally unlock multiple features with the application.
---
Absolutely! When compared to traditional phone systems, VoIP Providers and their services are highly trustable with advanced features that are ruled out frequently. Most giant brands have started adopting VoIP Providers for their services and reaping benefits.
---
The best VoIP Provider for business will improve and enhance the company, their productivity, and their revenues. The right VoIP Provider will have a simple yet effective application with timely support that includes attractive features. Along with that, customer satisfaction is the key. A business can move to great heights with a positive note from its previous clients.
---
As the VoIP Service ultimately depends on the internet connection, ensure you have a stable network connection with good bandwidth at your place. Added, you may also use integrations feature with CRM, which will require a seamless internet. Hence, depending on the business and setup, have a reliable network.