To understand how a softphone works, you need to know what VoIP is. VoIP is a technology that allows voice calls to be transmitted over the data line instead of a telephone network. A VoIP softphone is an application that enables you to use your computer to make one-to-one or one-to-many telephone calls. It does this by routing the audio from your computer through your broadband connection. VoIP softphones are also known as Internet Telephony Terminals (ITTs). They operate similarly to a Hybrid IP PBX. That is, they can act as a VoIP gateway (translating between IP and the PSTN) and as a VoIP switch. That means that they can receive and transmit VoIP calls and make and receive PSTN calls through VoIP.
3. Advantages of Using a Softphone in Your Business
There are many advantages of using a softphone for your business. A softphone can be used on any computer or mobile device that has a microphone and speakers, and it doesn't require any expensive equipment or additional software like on-premise PBX.
The following are some of the advantages of using a softphone for business communications:
You don't need to buy a separate device for making or receiving calls
The call quality is usually excellent
You can use it from any device with a microphone and speakers
Using a softphone means that you can make and receive telephone calls from any device. This means that you'll be able to make calls from any location, whether you're at home, in the office, or on the go using stable internet connection.
You can use a softphone to make calls to people who are using a variety of telephone devices: desk phones, mobile phones, VOIP services, and more.
Using a softphone means that you can use the telephone hands-free. That means that you can multitask while you're on a call and be more productive while you're on the phone.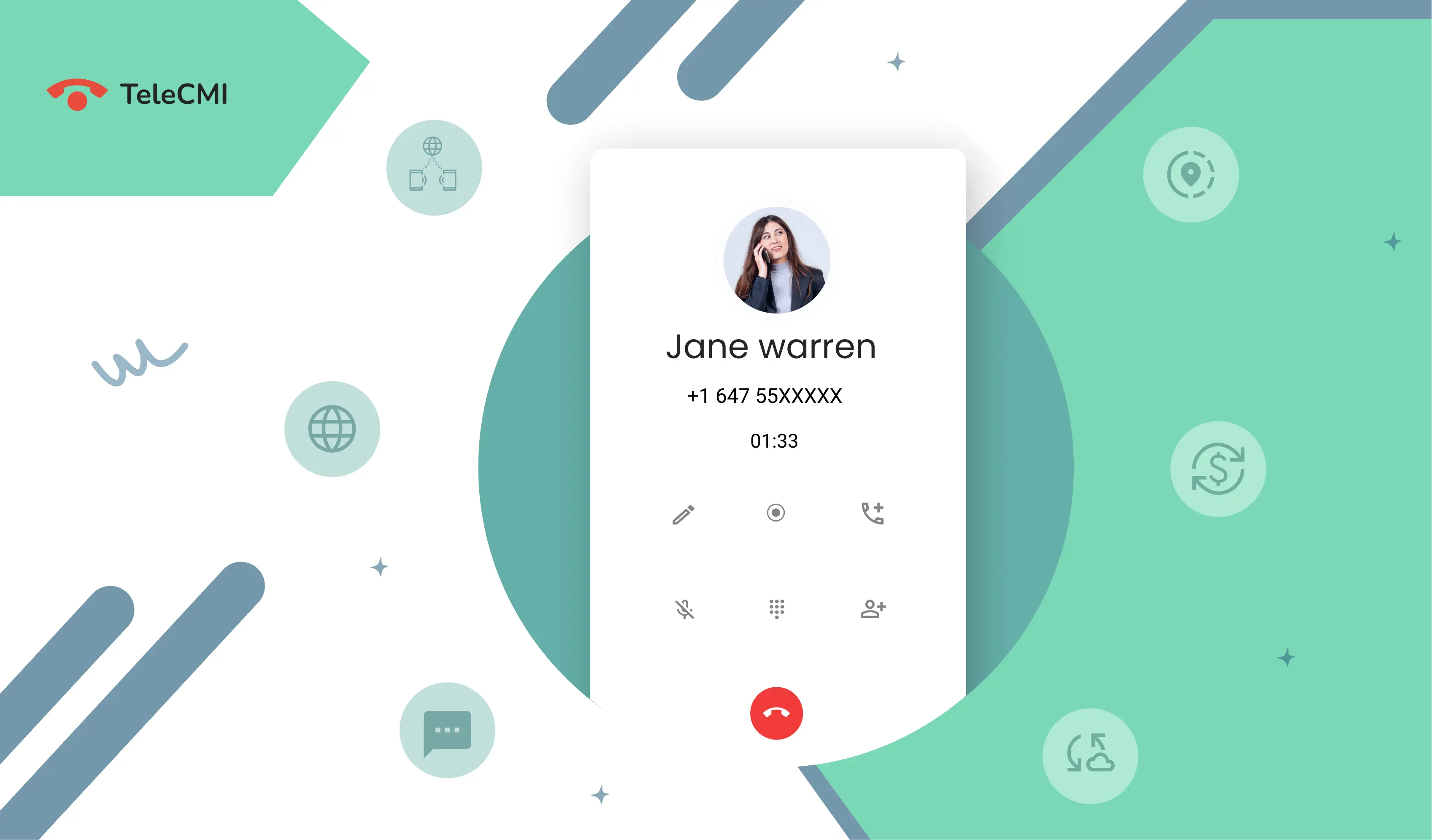 4. Softphone Features You Should Know
Usually, the features of a softphone app outweigh those of traditional phone systems, which is why businesses prefer them. With a softphone, you can connect desk phones, laptops, and even smartphones to boost your business productivity.
Custom caller ID: TeleCMI's Caller ID feature allows you to use a local number when making business calls in order to increase the call pick-up rate. For example, when calling UK numbers, use a UK caller ID. This helps you to appear more familiar to your target customers and allows you to reach a larger global market while having a local presence.
Text Messaging (SMS): Text messaging, or SMS (short message service), is a great way to reach your customers and promote your brand. Using a softphone, you can send text messages over a data line, known as "cloud SMS," including post-call survey messages. This way, you can reach more people and promote your products or services to a wider audience.
Follow Me: The "Follow Me" feature is most helpful for remote teams and field workers who need to receive calls on their mobile phones instead of the softphone app when they're in an area with no internet access so they can communicate with their coworkers without compromising the quality of their work.
Region based server selection: The quality of your business calls will have a direct impact on your bottom line. That's why it's important to choose a VoIP service provider that offers servers in different countries. This way, you can always choose the server that is closest to your current location for the best possible call quality. For example, if you are making a call from India to the USA or another long-distance destination, then choose a service provider that has data centers in those regions. At TeleCMI, we have datacenters in all major continents and allows businesses enjoy clear and uninterrupted voice calls with customers and employees using our VoIP or softphone.
Quick Add Note: This feature would be beneficial for sales reps when they're trying to follow up with potential customers. If they have the softphone app, they can add the user's information to it while they're on the call with them and review it later. This would make data collection a lot more efficient.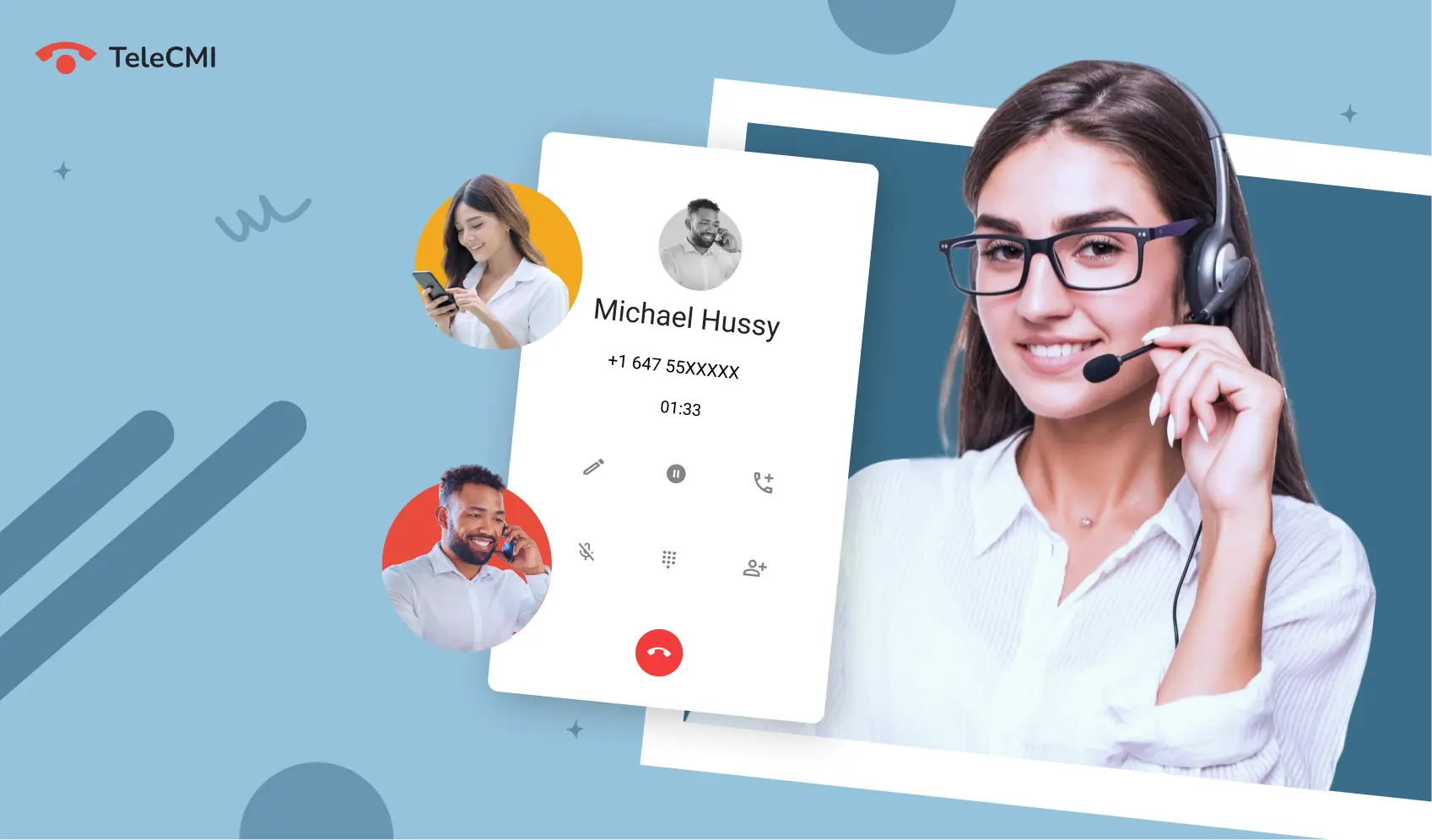 5. 6 Tips for Choosing the Best Softphone for Your Business
When choosing a softphone for your business, keep in mind the following: -
Call Quality: Call quality is the most important factor in choosing a softphone provider. Some providers, like TeleCMI, offer a free trial and a money-back guarantee, so you can try it out. Also, most softphone providers have a local number, so you can call them for free.
Cost savings: In order to succeed and maximize profits, every company must use the best money management practices and cost-saving practices. Compared to traditional phones, VoIP phone systems are less expensive and generally available. VoIP providers like TeleCMI offer a wide range of plans, like pay-as-you-go and budget-friendly ones, to help you save money while enjoying its many benefits.
Look at Reviews and Testimonials: It is not a good idea to ask a potential provider about their own reputation. There are a lot of softphone providers out there, but not all of them have the same features. The best way to choose one is by looking at reviews and testimonials on trusted software product review platforms, like G2 and Trust-pilot, from other users. They will give you an idea of what the provider offers, how easy it is to use, and if it meets your needs.
Functionality: You want to make sure the softphone you choose is up to the task of running your business. It should be integrated with your existing business phone system (if you have one), and also be able to handle the call volume coming into your business.
Uninterrupted Support: Choosing the right softphone provider for your business is crucial for your success. You need to make sure that you are getting the best service, because it will have a direct impact on your productivity and efficiency.There are many providers that offer 24/7 support. The way they provide their support will also depend on what you need from them. You should take into account your specific needs before deciding which provider to choose.
Security: Security is the most important factor to consider when choosing a softphone provider. Few providers, like TeleCMI, offer two-layer security and end-to-end encryption to secure your conversations and data. As a result, ensure that your VoIP phone service providers meet those standards.
6. Conclusion
In this article, we explored what a softphone is and how it works. We also looked at 6 tips for choosing the best softphone for your business, and the advantages of using a softphone in your business. Softphones are software applications you can use to make and receive phone calls. They are similar to internet telephones in that they are software applications that let you communicate with others over the internet, but they can also make and receive regular telephone calls. Whether you prefer to use a softphone or an internet telephone is up to you and your preferences as a user. No matter which one you choose, you'll be able to communicate with others more effectively and efficiently.