1. What is a VoIP number?
VoIP, or Voice over Internet Protocol, is a virtual phone number that's not linked to a physical phone line and can make or receive calls using an internet connection. VoIP phone numbers can be used to route calls to your mobile phone, IP phone, or business line that are assigned to a specific user or team. They can also be used to set up call forwarding and voice mail, and they can be used to make and receive calls from anywhere in the world.
VoIP phone numbers are becoming more popular as more businesses adopt a hybrid working culture. They offer a convenient and cost-effective way for employees to keep in touch with clients, customers, and business associates, whether they're onsite or offsite. By using VoIP phone numbers, businesses can help their employees communicate both internally and externally.
2. Why does your business need a VoIP number?
There are a lot more advantages for businesses with IP phone numbers compared to traditional hardware phones. Traditional phones are not only more expensive, but they also necessitate a maintenance infrastructure that is incapable of supporting any type of mobility. VoIP numbers offer many benefits, such as the capability to route calls to any location, having multiple numbers for different departments or employees, and being able to set up voice mail and call forwarding.
VoIP numbers from providers like TeleCMI can be less expensive than traditional phone numbers, and they offer a number of features that can be beneficial for businesses. Customizable caller ID, call queuing, "follow me," and intelligent call routing are some features that VoIP offers.
IP phone numbers can be a great asset for businesses of all sizes, but especially for startups. If your company is just getting off the ground, you may not have a physical office space yet. This means that your business can make and receive calls from anywhere, at a low cost. This can be a great advantage for startups who are trying to save on overhead costs.
VoIP is not only for start-ups; it can also be extremely beneficial for larger enterprises that require multiple phones and numbers. By assigning virtual phone numbers to any device or by installing TeleCMI's softphone, businesses can make calls from any device, such as a desktop, mobile phone, or tablet. This increases the mobility of employees and gives them the freedom to work from anywhere.
Additionally, TeleCMI's centralized dashboard makes it easy for supervisors to manage, monitor, and analyze employee performance by getting the data they need instantly and effectively.
3. The steps for getting a VoIP number in a few minutes
The first step is to identify what your company needs and which areas of your business need improvement. You should also be considering the pricing, features, security level, support, and quality of the service based on the fact that you will be choosing the VoIP service provider. This will help you ensure that you are getting the best possible VoIP service for your company.
Now that you've found the perfect provider that meets your business' needs, it's time to select a plan. For example, TeleCMI offers four different types of plans - basic, premium, enterprise, and custom - so that you can find the one that best fits your company. If you're feeling unsure or confused about which plan to choose, don't worry! Our team of experts will help you identify the best solution for your business so that you can get exactly what you need.
Finally, after choosing the plan that fits your business, you can choose the VoIP number that your business requires at the time of purchasing the plan. At TeleCMI, we understand that any consumer wants to be able to test the quality of a product before making a purchase, especially when it comes to choosing a VoIP number for business use.
That's why we offer all of our potential customers a free trial period. This way, you can get a VoIP number for your business, test out the quality of the product, and see if it's the right fit for you before committing to anything. Plus, if you have any questions or concerns during the trial period, our team of experts is always available to help guide you through everything.
4. Exciting features you get with VoIP numbers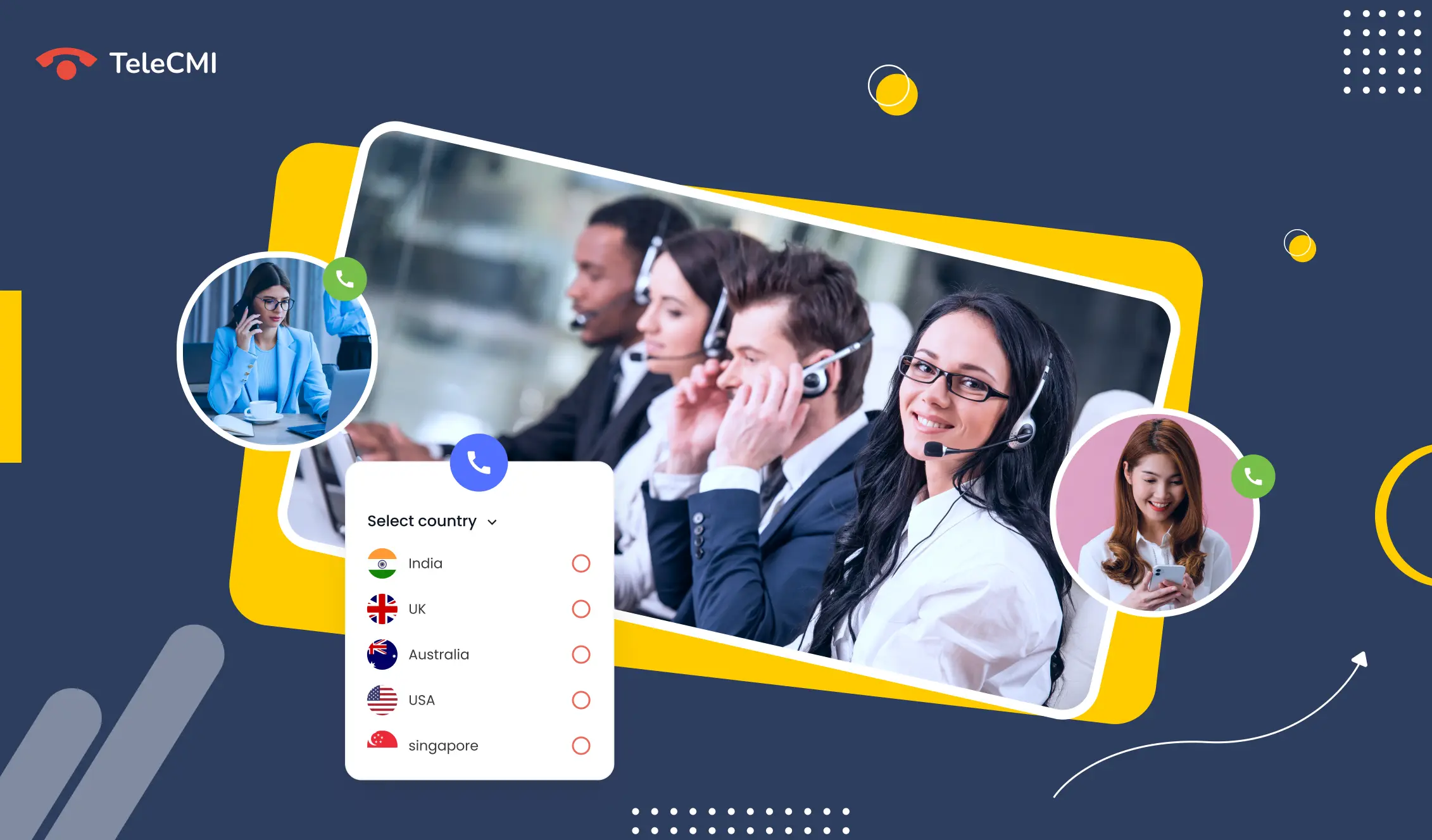 Intelligent call routing
This efficient distribution of inbound calls ensures that callers are always directed to the most qualified agent or group, based on all available data. This can be a great advantage for businesses, as it helps to route calls intelligently and efficiently. By distributing the incoming calls in this way, businesses can ensure that callers are always directed to the most qualified agent or team.
Conversational AI
Conversational AI has the potential to drastically improve customer service in your business by reducing or even eliminating the need for customers to interact with agents. By helping customers solve their queries on their own, conversational AI can improve productivity, satisfaction, and engagement.
Custom Caller ID
When people see an unfamiliar caller ID, they are much less likely to answer the call. But with TeleCMI, you can choose to display your personal caller ID or a local number when making business calls - meaning you're more likely to reach your target customers. This can be especially useful when calling customers in other countries, as they are more likely to answer if they see a local number. So if you're looking to increase your call pick-up rate and reach more customers globally, TeleCMI's customizable caller ID feature is a great option for you.
Mobile and desktop applications
VoIP service providers like TeleCMI offer softphone apps to make and receive calls using your desk phone or mobile phone from anywhere. This can be a great advantage to a hybrid working culture, which lets you reach customers using a business number even when you are away from the office. With VoIP, there's no need for costly hardware or installation because the service uses your existing broadband internet connection.
Text Messaging (SMS)
Text messaging is a great way to reach your customers and promote your brand. Cloud SMS allows you to send and receive text messages internationally, so you can reach a global audience.
Auto Dialer
An auto-dialer is a tool that can save your agents a lot of time by automatically dialing a list of numbers. Once the call is answered, the customer will either be connected to a prerecorded message or an agent using this tool. With an auto-dialer, you can eliminate the traditional manual dialing process, which can be very time-consuming and unproductive. By using an auto-dialer, you can increase your agent's productivity and efficiency.
Voice mail
If your team or agent is unavailable to answer a customer call, you can have a repository of all unanswered calls. You can use the voice mail feature to allow your customers to leave a voice mail describing the reason for the call. Your agent or team can then listen to the voice notes and call them back as needed.
5. Conclusion
Having a VoIP number for your business offers many benefits. By using a VoIP number, you can have a more professional image and easily manage all incoming calls. We hope this blog post has inspired you to explore the benefits of VoIP numbers and how they can make managing your business easier. If you have any other questions or concerns, please contact us anytime ; we will be happy to assist!