1. Not checking uptime and Reliability
No one likes communication interruption during important calls. The poor uptime affects not only the customer experience but also business credibility. Checking the maximum uptime that your VoIP partner can able to provide is a must for any business that wants to harness reliable VoIP service around the clock.
The uptime performance of VoIP service is mostly affected by software failures, hardware failures, natural disasters, power outages, and network issues. Thus, ensure your provider maintains a sophisticated infrastructure that facilitates minimal downtime. Review the SLA, uptime guarantee, and customer feedback when signing up for the global VoIP phone system.
2. Not checking the provider's security features
As we all know, VoIP (Voice over internet protocol) completely relies on the internet connection to transfer calls, this creates a chance for security risks such as hacking, eavesdropping, and malware attacks.
But technologically advanced VoIP phone systems like TeleCMI follow modern security measures like end-to-end call encryption, firewalls, IP whitelisting, IPS, and frequent software updates to eliminate these risks.
As VoIP calling solutions are used in fast-paced business environments like call centers, it's your responsibility to choose a secure VoIP business phone system like TeleCMI.
3. Not reviewing the contract terms
Not reviewing the contract terms can lead to misunderstandings, unexpected fees, and other issues that can affect your business operations and budget. Hence, reviewing terms like Service Level Agreements (SLA), call rates, data handling policies, cancellation fees, call routing procedures, and network coverage is important for VoIP resellers and buyers.
4. Not considering the provider's capacity for high call volume
It's essential to choose a VoIP provider that can handle your business's call volume without compromising call quality or experiencing service disruptions. Not considering the provider's capacity for high call volume can lead to service degradation, poor call quality, and lost productivity, which can have a significant impact on your business operations.
Ensure your VoIP vendor has enough bandwidth to scale up to your business' voice traffic needs.
5. Not checking for compliance with regulations
Check if the VoIP vendor complies with local and international telecommunications regulations related to VoIP services, such as emergency call routing, lawful interception, and business number portability. Including data protection laws such as GDPR. HIPAA and CCPA.
Checking the above guidelines help your business perform secure VoIP calls and eliminate the risks of data breaches.
6. Not checking for hidden fees
Not checking for hidden fees is another critical mistake to avoid when choosing an international VoIP phone system. Hidden fees can impact the total cost of the VoIP service and make it difficult to budget and forecast costs accurately. Hidden fees can include charges for setup, activation, cancellation, number porting, call termination, and more.
7. Not checking the VoIP provider's network coverage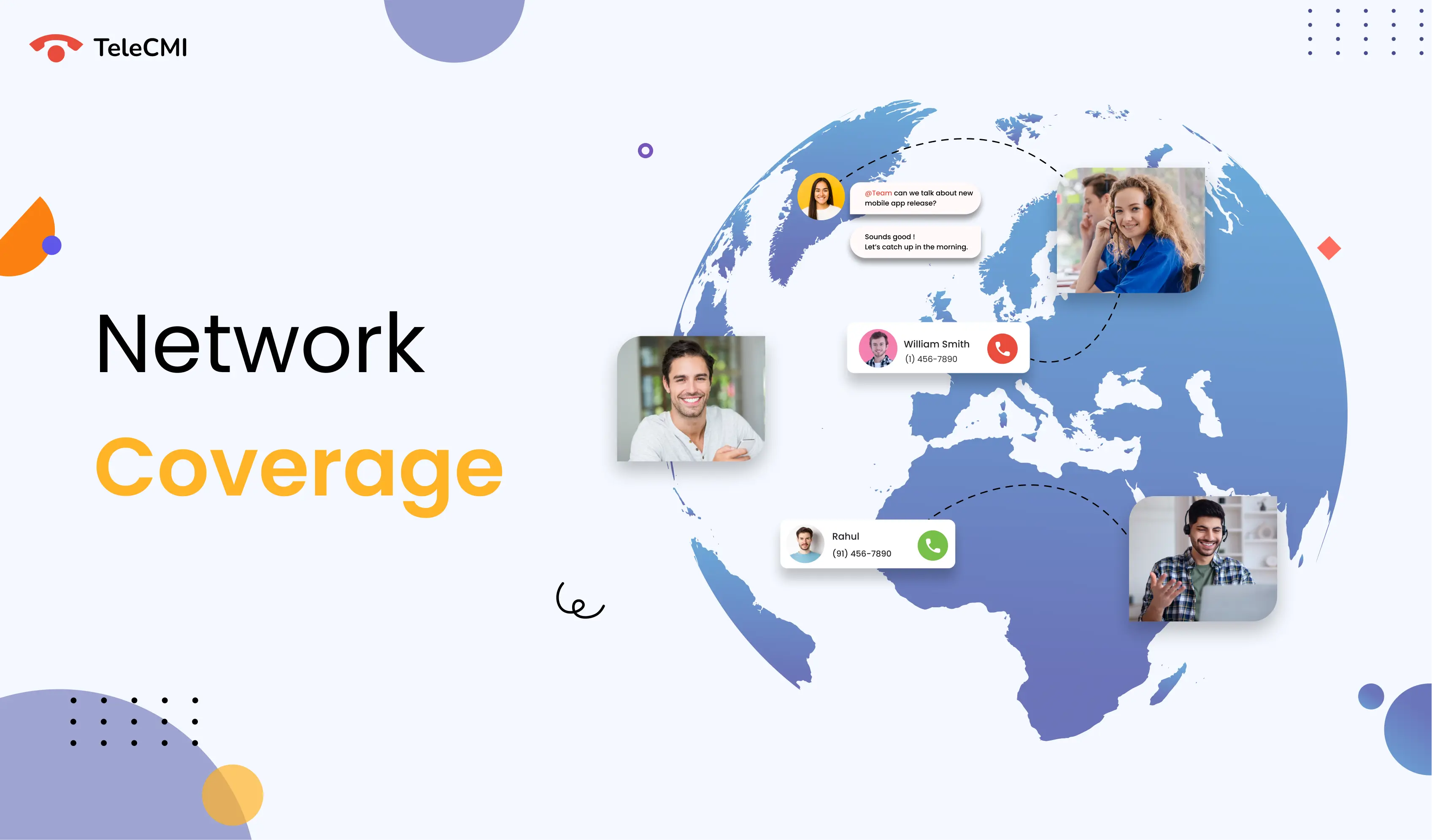 Network coverage is where your teams can make and receive calls without limitations. Some VoIP phone systems support only nationwide calls, and some offer worldwide VoIP calling services. And some providers offer service to specific countries and territories. As you're looking for an international VoIP phone system, make sure your vendor has global coverage so that your business can make and receive calls to/within any country.
At the same time, it's essential to check the call rates of each country. We recommend you try TeleCMI as your VoIP partner, which has global data centers, soft switches, and associations with local telecom operators which reduces call costs significantly.
Why choose TeleCMI's International VoIP Phone System
Developer tools
TeleCMI has powerful voice API, webhooks, and mobile and web SDK solutions for businesses who want to build custom VoIP powered applications. This ensures you can have a faster go to market strategy without friction.
Lowest call rates
As TeleCMI runs on its own technology, there's no need to pay for third-party fees. Private cloud infrastructure and globally distributed data networks ensure lower international call rates, as well as crystal-clear voice calls.
Enterprise-grade platform
TeleCMI's cloud communication platform is trusted and used by 1,500+ enterprise customers to handle their day-to-day business conversations on the cloud. The platform is built with 120+ features such as IVR, call recording, call flow manager, call center features, business phone numbers, extension dialing, and click to call.
Intelligent routing system
All calls are terminated with smart routing protocols, i.e., when international calls are performed, TeleCMI's advanced algorithm connects with the local switch and carriers, which saves hefty call charges and also results in top-most call quality.
Book your free demo with TeleCMI now to test our VoIP phone system on first-hand. From consultation to implementation, we will be with you on every step.