BLOG » How are IVR Solutions serving different industries worldwide?
How are IVR Solutions serving different industries worldwide?
Enterprises across the globe are looking for a reliable and cost-effective solution to enhance their business. Customer engagement and satisfaction are the significant components that will help businesses reach the next level. In the internet era, seamless conversation with customers is vital. VoIP (Voice Over Internet Protocol) services can replace traditional phones to communicate with customers.
VoIP solutions help businesses manage calls and messages with a stable internet connection. To set up a traditional landline phone, you would require help from a service provider connected with wires and cables.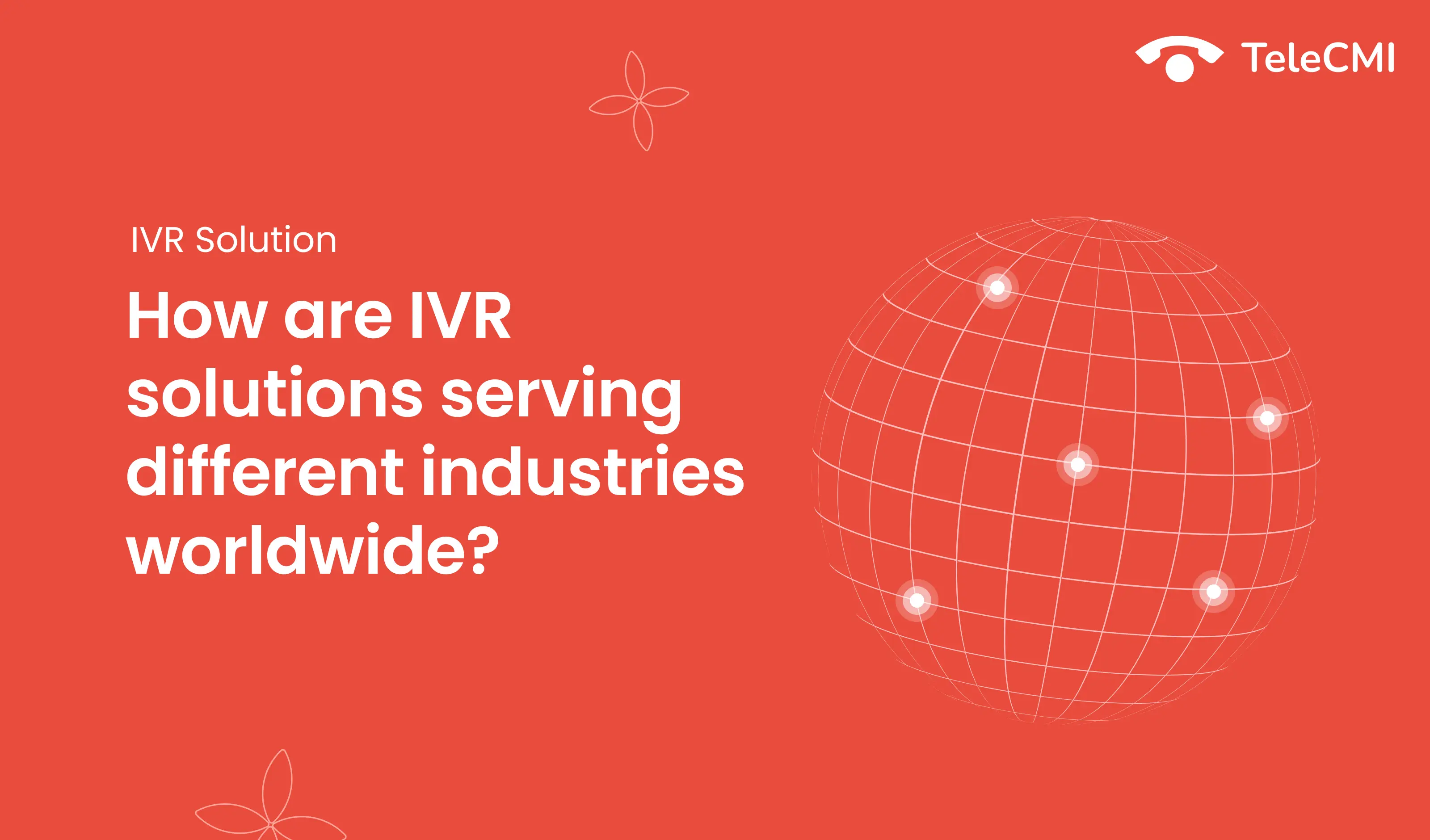 In this blog, let us discuss IVR and its importance in various industries across the globe.
What is IVR?
IVR stands for Interactive Voice Response, which enables the callers to get the prompt and desired response they are looking for. It automatically welcomes the customers with greeting music. It initiates conversation through DTMF (Dual Tone Multi Frequency), where customers can select an option on the keypad based on the voice-over.
Most enterprises worldwide use IVR features to utilize its benefits by capturing and interacting with customers fully and hassle-free.
Eye-catching IVR Stats that you should not miss
Global IVR Systems will reach around $6.7 billion by 2026.
Here are the significant use cases of IVR: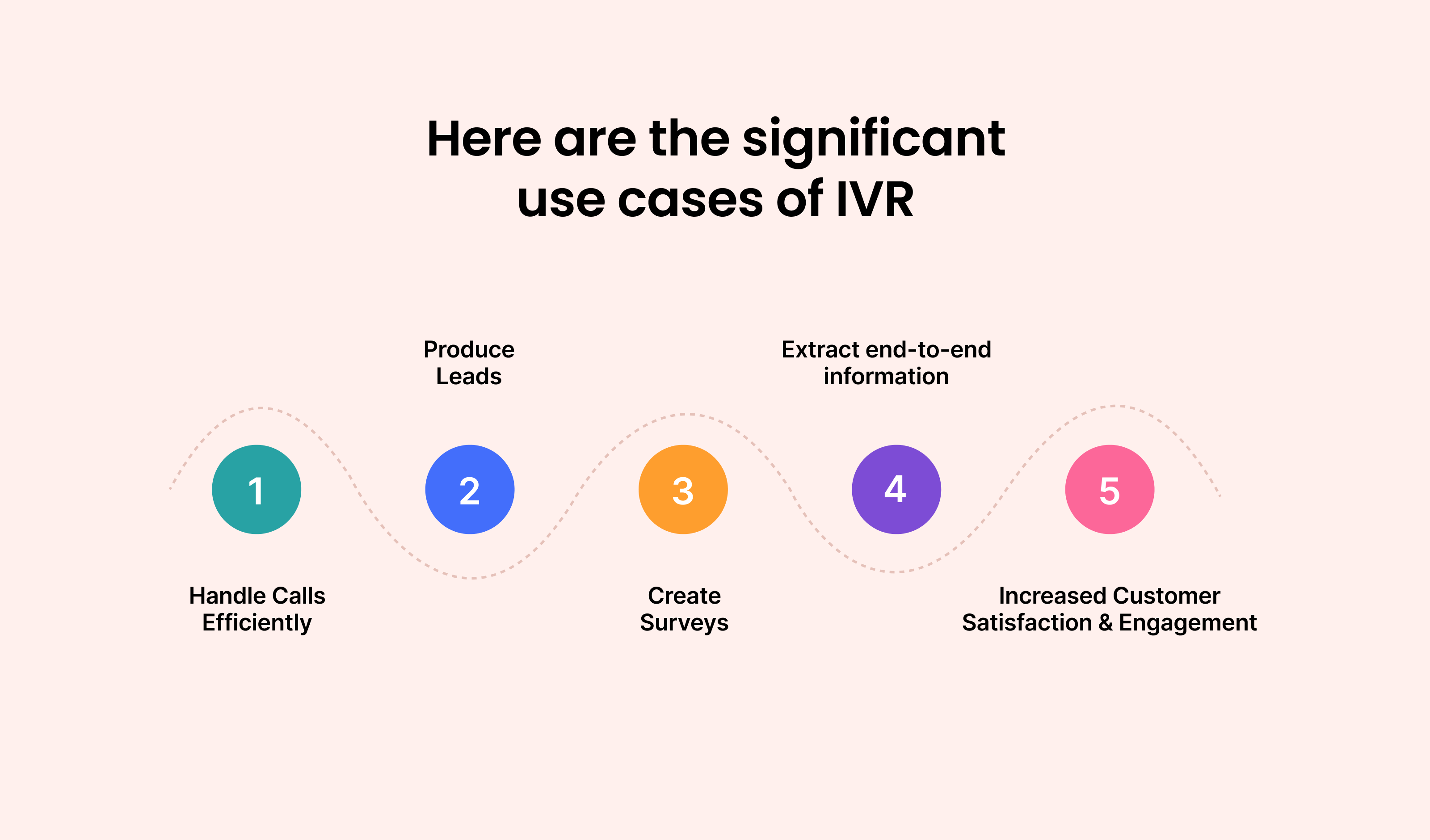 1. Handle Calls Efficiently
Companies can make use of IVR to manage calls effortlessly. IVR focuses on routing the call to the desired agent/team and helps resolve queries in minutes. IVR also eliminates the need for a human to offer a solution.
Simply put, IVR replaces a human receptionist with a virtual receptionist and greets them with welcome music. It redirects them to choose a specific keypad option and answers them with the help of the text-to-speech feature. IVR systems can reduce the time of the call and act effectively.
2. Produce Leads
IVR acts as an excellent tool for generating leads. Instead of conducting online ads and sending emails to collect additional customer information, these IVR services can grab multiple leads with their information.
Consider a real-time example: "Participate in our survey to avail of an 80% discount today". Once the caller records their answer, a customer representative will engage with the respective customer shortly.
3. Create Surveys
It is easy to conduct surveys with IVR. Surveys are of two types: Inbound and Outbound Surveys.
Inbound Surveys:
Inbound Surveys are where a customer calls the business and speaks to the agent. Once the query is resolved, it directs to a quick survey, which determines the level of user satisfaction.
Outbound Surveys:
Similar to the previous one, Outbound surveys aim to increase customer satisfaction. The customer will receive an automated call with questions and options, and the caller will pick from it.
4. Extract end-to-end information
With IVR, customers get the full-length opportunity to access complete information. It includes capturing information such as account balance, tracking order, claim status, filtering the last six-month transaction, etc.
For instance, customers can simply call if they want to know their account balance, and IVR is responsible for fetching the details. Callers need to follow the options listed by IVR and pick the one that suits them. This helps customers to know the answers quickly without human intervention.
5. Increased Customer Satisfaction & Engagement
With limited time to resolve queries, customers are delighted. Businesses can also get Customer feedback from them with Yes/No questions to know about their satisfaction in the call. You can easily customize the app/team with these answers for a better solution.
How Interactive Voice Response (IVR) has disrupted various industries?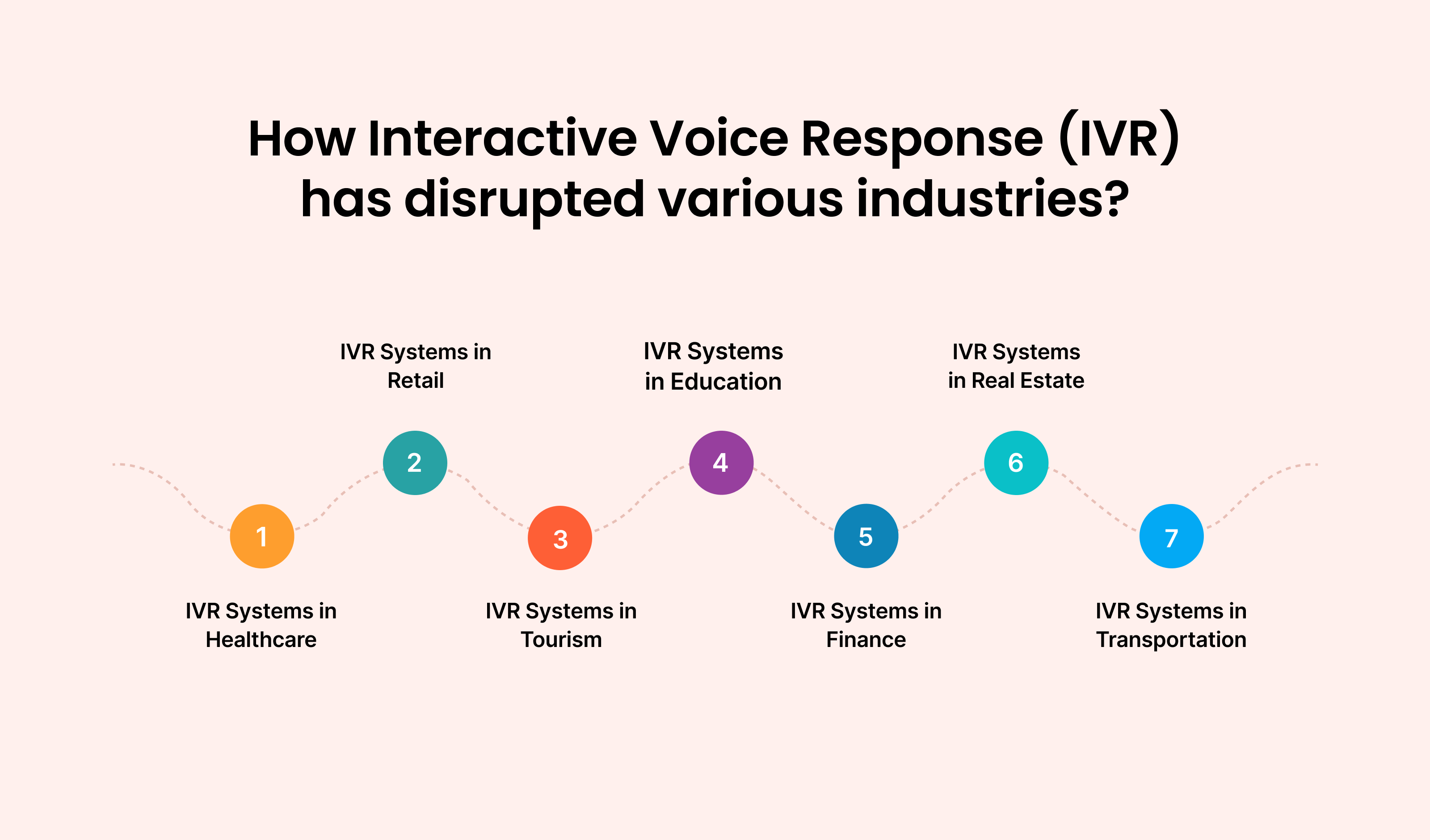 1. IVR Systems in Healthcare
IVR Systems are majorly used in the Healthcare industry nowadays. As Healthcare is a significant field that deals with patients 24/7, it is crucial to engage customers instantly. Cloud IVR systems help callers book appointments, know about the claim status, learn about the doctor's arrival, renew subscriptions, payment notifications, remainders, etc, through the phone. IVR eliminates the effort for the callers to go in person and know the details, thereby saving time.
Offices can provide 24/7 emergency access to doctors without waiting for hours. The IVR is designed to screen after-hours emergency calls and route them to the available doctors and nurses to attend them immediately.
2. IVR Systems in Retail
When it comes to the Retail industry, IVR systems enable enterprises to offer superfine customer service. Let us consider an example: A retail store can use an IVR system to assist customers in finding the closest store location, checking for the products, or placing an order. Customers can call the IVR system to learn the required information without speaking to a store representative.
You don't need someone to help you with ordering a product and placing the order; instead, IVR software will take care of it. The customer needs to follow the instructions that provide a pleasant experience. It also boosts sales. When you call, they can purchase by comparing the discounts and offers to make the shopping experience more enjoyable.
3. IVR Systems in Tourism
VR Systems are taking a turn with the Travel and Tourism industry. Considering you are a tourist guest looking to have some food, you can do it easily by ordering the food via the IVR system. Not just food, you can ask for additional pillows, soaps, etc, as per your need. This will be a favorable situation for the hotel and the guests, where hotel chefs/other employees can concentrate on their work to provide excellent service.
At the same time, customers can order anything in minutes without going in person and waiting for a long time. It improves the travel and lodging experience for customers. Similarly, instead of approaching a customer desk to learn the flight information, you can reach the IVR system, which will provide you with the desired details. You will also be informed about the payment status and notified about the flight timings changes, if any.
4. IVR Systems in Education
With the help of the IVR system, you can easily access information in the educational industry. Getting all your child's educational details, such as attendance, marks obtained, and payment status, is simple with a single click. You don't need to go to school in person for a parent-teacher meeting. Instead, you have an option of video conferencing, where you can speak to teachers from anywhere at any time.
IVR Systems also provides the flexibility to conduct surveys when needed. It makes the life of teachers hassle-free, where they can focus on the rest of things, and IVR will focus on the polls and results. This can eliminate the time-consuming process and offer a desirable experience.  
5. IVR Systems in Finance
If you want to know your account balance, track your claims, transfer money, and know the refund status, you can learn about it in minutes with an IVR system. You don't need to visit the branch and waste your time there. Also, there are dozens of benefits associated with IVR systems for the Finance and Banking sector.
Outbound IVR can alert customers to detect fraudulent transactions detected in their accounts. Although SMS has the same option, IVR will help customers immediately contact agents. In addition to this, IVR systems have made it possible to pay their credit card bills and EMIs over the phone within seconds.
6. IVR Systems in Real Estate
IVR Systems will help Real Estate businesses process more leads quickly. Unfortunately, most Real Estate businesses lack skilled agents to engage customers and convert them into leads. With IVR, the process is simple and effective.
Here is a scenario: The customer will hear your voicemail and be interested to know more about the offers and discounts for buying a home. They would further make a call, which is greeted with welcome music. IVR will process questions and wait for the customer to record the answers. It proceeds further depending on the answer chosen by the customer. Finally, it will route the call to the desired manager/agent for further connection.
7. IVR Systems in Transportation
The Transportation industry is a significant sector that purely depends on timing and customer engagement. With the increased usage of technologies and advancement in software, IVR systems can be a game-changer for the Transportation industry.
Customers will be notified about their parcels, location, payment status, etc, through the IVR system; automatic surveys will also be conducted to know the customers' needs. The companies can further implement this feedback.
To Close
IVR Systems can enhance all types of businesses regardless of size. We at TeleCMI have extensive experience in handling IVR software and have helped multiple industry clients from various parts of the world. We combine future-proof and top-notch technologies to ensure you benefit from us entirely. You can check our free demo; our experts are here to help you with it; explore our cutting-edge features to learn more about us. Get started with IVR Systems instantly!
FAQs
IVR has different features such as Callback, Voice Recognition, Call Filtering, Call Queuing, Call Recording, Cloud-based hosting, Skilled call routing, etc. All these features can be customized based on the customer requirements in the IVR software.
---
The pricing usually depends on the features you choose. We have different budget plans, and you can choose the feasible one for your business.
---
IVR can benefit all businesses as it enhances customer satisfaction and increases the team's productivity.
---