There are different types of business phone systems available on the market.
A VoIP system uses your business's existing data line to make and receive calls, either through a softphone or a mobile phone can be used anywhere. A PBX system, on the other hand, uses a landline - the traditional choice for business phone service.
PBX phone system
PBX phone systems are private branch exchanges that are used by businesses for internal and external communication. Although they have many advantages, there are some things you should consider before buying a PBX-based phone system.
PBX phones are business telecommunication systems that have many features and can be complex to set up and use. If you don't have someone who is familiar with the system, it can take some time to learn how to use it effectively. Additionally, if you make changes or updates to the system, it can be difficult to implement those changes without causing disruptions in service.
Although PBX phones systems have their advantages, they are not as portable as other types of phones. If you have employees who work remotely or frequently travel, they may not be able to take their PBX phone with them. This can limit their ability to stay connected while away from the office. Some of these drawbacks also include the need for extra equipment, or the monthly fees associated with using a PBX system.
VoIP phone system
VoIP is a technology that allows businesses to make and receive phone calls using their existing internet connection instead of a landline or a PBX setup. Businesses use their existing devices, like a desktop, laptop, or mobile phone, to make calls. This can be a great way for businesses to save money on their phone bill each month.
VoIP phone systems are perfect for businesses that are rapidly expanding or have employees who are frequently out of the office because they are much more flexible than PBX systems. With VoIP, you can add or remove features as your business needs change, and VoIP calls can be made from any location with an internet connection.
A small business phone system should have the following features
Call forwarding
It can be tough for your employees to constantly have their desks available to take calls, but the call forwarding feature is an absolute necessity. Cloud telephony providers like TeleCMI allow you to add mobile numbers with just a few clicks, and the call will be forwarded to those teams or mobile numbers. For example, if one of the employees is out of the office for several days or weeks and he is handling the calls, there is no need to change the call flow settings. The call will be automatically forwarded to someone who is available.
Simple Call Transfer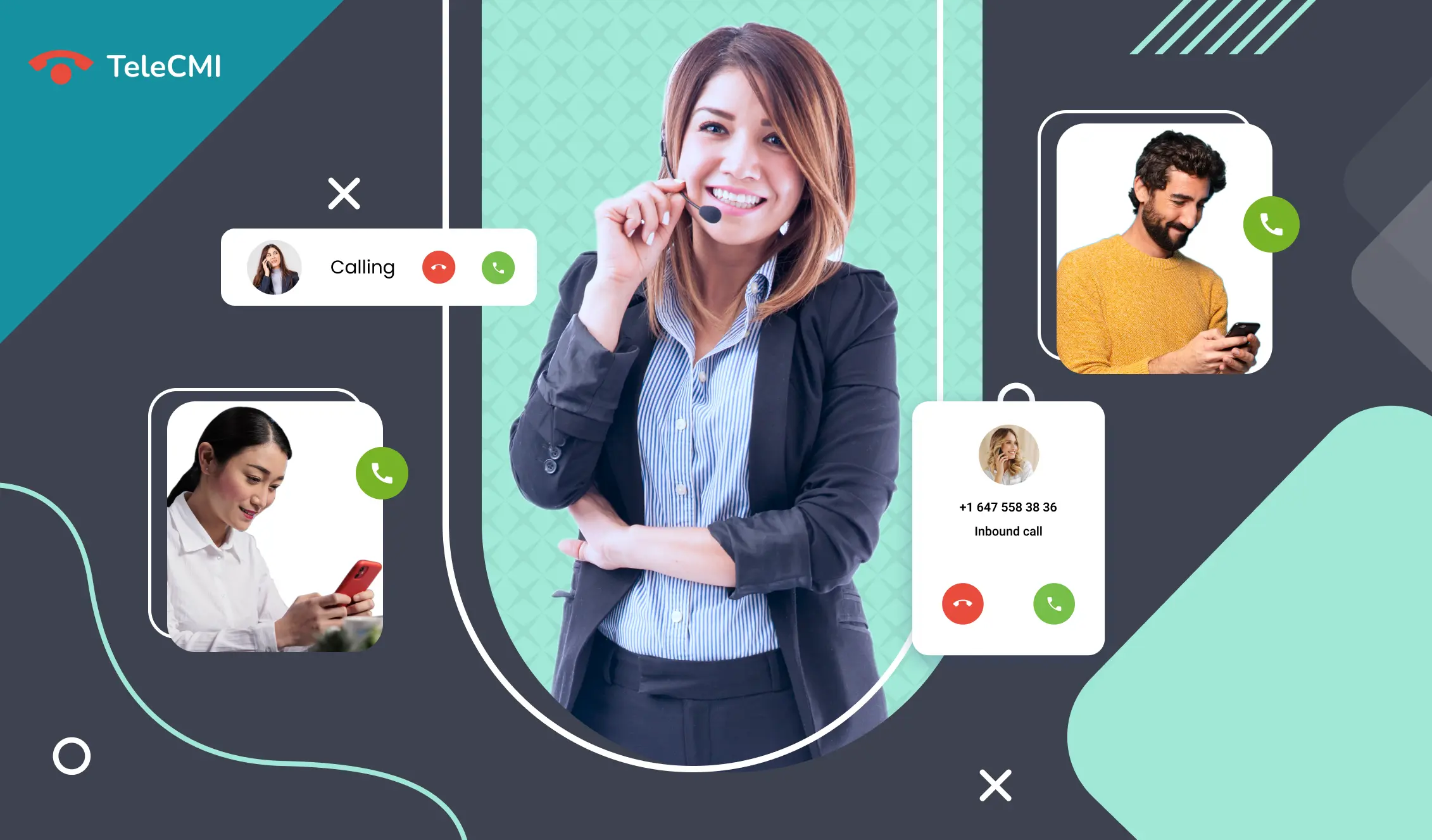 In the early stages of business, it's essential that every potential customer call is answered. Unfortunately, this can't be done if only one employee is handling calls, as they can't answer multiple calls at the same time. This is where the call transfer feature comes in handy - by transferring calls to the right person, you can make sure that every call is answered without having to worry about missing any.
Skill Based call Routing
We mentioned earlier that it's important to answer every potential customer call. But it's also crucial to think about how the call is handled, as this can have a big impact on improving your business. The skill-based call routing feature lets you route calls to the most skilled person on your team, so you can convert more leads efficiently.
Retaining your existing business telephone number
When you're starting a new business from scratch, there's no problem. But if you already have a company and clients to maintain, your provider should be able to port your existing business phone number so you can keep the same number for continuity. This way, your existing customers can always contact you. And by simplifying the number porting process, you won't have to update your website or send out new numbers to your customers when you switch providers.
Mobile compatibility and cloud-based capabilities
A cloud-based business phone system is a type of telephone system that is not installed or maintained at your location or office. With this type of system, you can make and receive calls from anywhere by simply installing a softphone on your desktop, mobile phone, or tablet. Any software that requires updating can be updated automatically without the assistance of IT personnel, giving employees great flexibility and mobility without affecting the quality of their work.
Custom caller ID
When people see an unfamiliar number or a telemarketer's call, they are much less likely to answer the call. But with the caller ID feature, you can choose to display your personal caller ID or a local number when making business calls, meaning you're more likely to reach your target customers. This can be especially useful when calling customers in other countries, as they are more likely to answer if they see a local number. By increasing your call pickup rate, you'll be able to reach more customers globally.
Voicemail
If your team or customer service agent is unavailable to take a customer call, you can have a repository of all unanswered calls. You can use the voice mail feature to allow your customers to leave a voice mail describing the reason for the call. Your team or agent can then listen to the voice notes and call the customer back as needed. This way, you can make sure that every customer query or concern is addressed even if someone isn't available to take the call at that moment.
Text messaging for clients and internal teams (SMS)
Find a cloud telephony provider that also provides business texting capabilities so you can stay in touch with your clients who prefer text-based communication. TeleCMI offers text messaging from the softphone itself; you can send and receive messages individually or as part of a team. Text messaging is a great way to reach your customers and promote your brand. Cloud SMS allows you to send and receive text messages internationally, so you can reach a global audience.
Stable Uptime
It's important for businesses to have backup servers to ensure uninterrupted customer service. If one server fails in a traditional business telephone system, the whole framework goes down, causing customer communication to cease. TeleCMI provides multiple servers with 99.5% uptime, so organizations can have peace of mind knowing that their customer communication will not be interrupted.
Secure data storage and protection
If your business relies heavily on telephone services, it is important to keep call logs and recordings. Always confirm with the provider that they have an excellent backup system in place in case of data loss. This is an essential step to take to ensure that your business can continue to operate smoothly even if there is a technical issue with the telephone service provider.
What makes TeleCMI the best cloud telephony provider?
TeleCMI offers the best bang for your buck in comparison to other companies - you can check the prices against our competitors to see for yourself! Plus, we never cut corners when it comes to quality or customer service because we know that would be a disservice to you.
At our company, we offer a "pay as you go" plan that is unique than other providers. This means that businesses can use our services for an unlimited amount of time as long as they have a balance in their account. Essentially, you can keep using our services until you have no money left in your account - and there is no limit to how long this can go on for!
Unlike other providers, we don't have any hidden charges or one-time fees - you only pay for the service you use with TeleCMI.
TeleCMI is the complete package when it comes to cloud telephony providers. We have everything you could want or need from a provider, and we're always here to help you get the most out of your service. Contact us today to learn more about what we can do for you!