BLOG » How can VoIP Call Centers advance your business communication?
How can VoIP Call Centers advance your business communication?
For ages, we have been using regular landline telephones and mobile phones as modes of communication in homes and businesses. However, there are challenges, such as cost, lack of features, latency issues, difficulty in setup and installation, etc.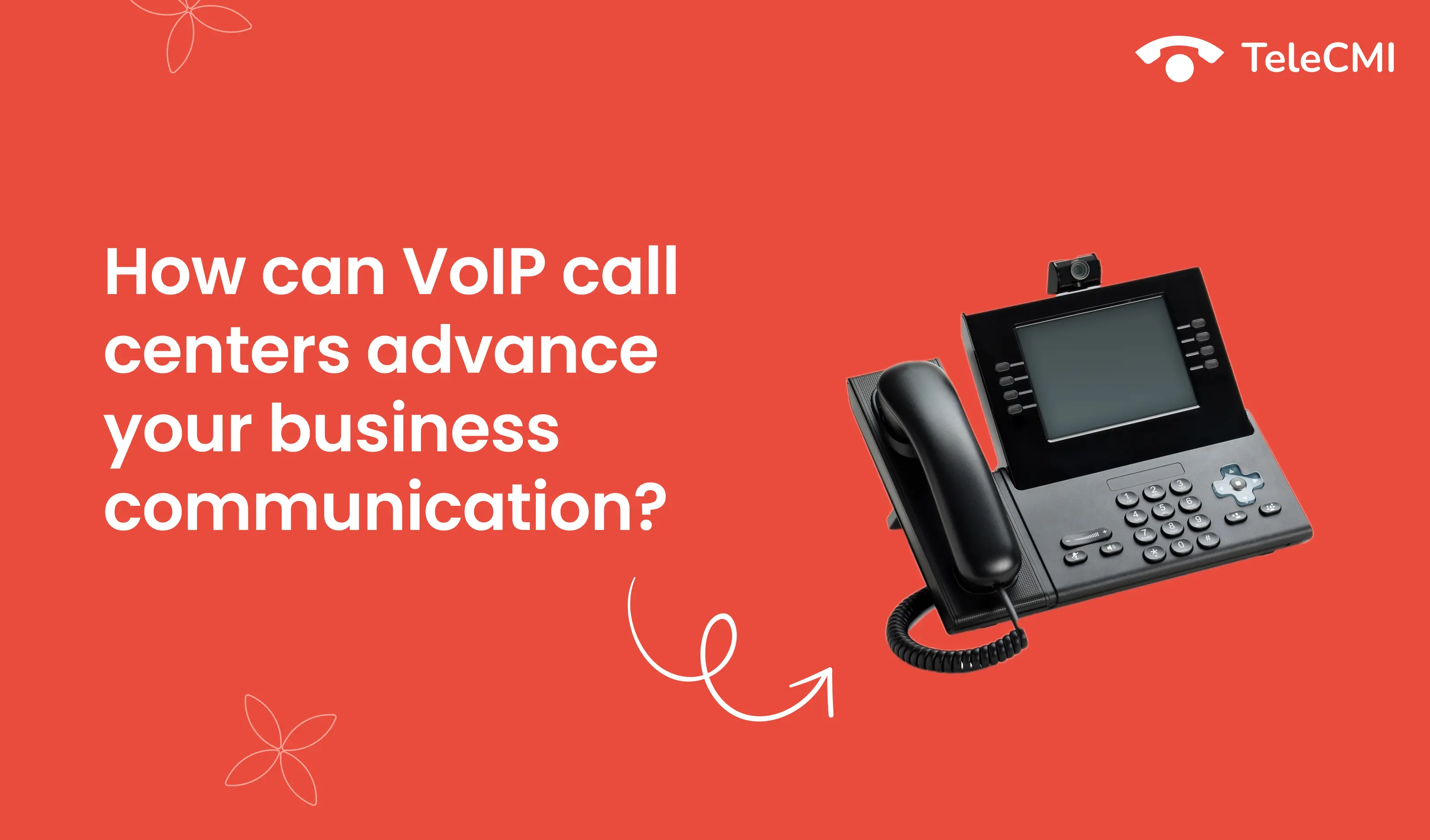 To rule out these complexities, VoIP (Voice Over Internet Protocol) can now effectively replace traditional phones. It comes with numerous benefits for businesses who are dealing with customers every day.
This blog discusses the importance and significant reasons why enterprises should switch to VoIP call centers and how they can be profitable for their business.
VoIP Call Centers: What exactly is it?
A VoIP Call Center is a cloud-based platform that enables businesses to communicate with their customers by making and receiving calls through the Internet. Unlike traditional phones, which are connected to a PSTN(Public Switched Telephone Network), which deals with wires and cables, VoIP is functioning with a stable internet connection.
For instance, apps like Skype, Messenger, Zoom, and Teams use VoIP technology for communication. In addition to personal use, VoIP apps can also be used for business purposes. More businesses have adopted VoIP to support their customers. Enterprises with Customer service as a priority will find VoIP an excellent way to interact with customers.
They have rich benefits when compared to traditional landline phone systems. Here are the significant elements that you require for setting up VoIP:
A proper internet connection.

A good device. It can be a mobile, desktop, laptop, or tablet.

A microphone.

A VoIP system.
This makes it more comfortable for businesses to use VoIP-based systems rather than regular landline phone systems, which are expensive and require complex hardware & workstation setups.
Many call centers use VoIP to get benefits. As it offers rapid deployment, easy scaling, and reasonable pricing, VoIP systems are a savior for small businesses with limited resources. Also, you will get one extension for multiple devices, which allows you to remain connected anywhere. Also, you can get local, toll-free, or global virtual numbers of any location with a VoIP system where you can onboard multiple agents effectively.
These VoIP systems cost-effectively handle inbound and outbound calls. It also has excellent features such as Call Forwarding, Call Recording, Voicemail, Sticky Agent, Call Queuing, Smart Call Routing, etc.
Why can VoIP Call Centers streamline your business?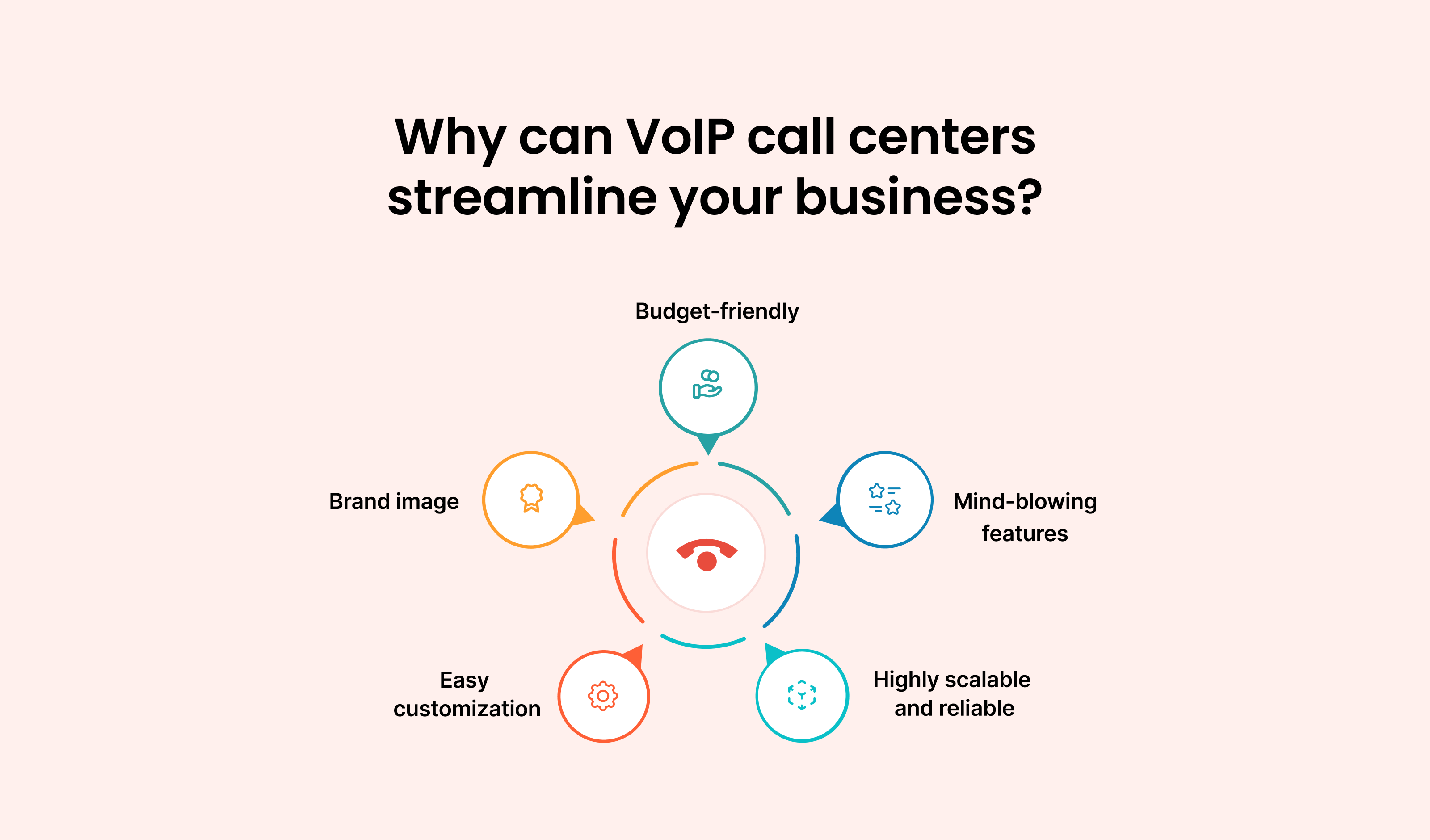 As customers are the company's pillars, it is essential to consider their conversation as the primary factor. Here are the top ways in which VoIP Call Centers stand out from other businesses:
Budget-friendly
Compared to regular telephone systems, you don't need to deal with wires and cables. Instead, you need to download or browse the application on a mobile, desktop, laptop, or tablet with a steady internet connection. You can save hard-earned money as there is no need for complex hardware installations, workstation setup, pricing based on the call volume, and location-based charges.
Brand image
You can also have a global reach among your customers and increase your brand image worldwide. For instance, you have your target audience from the UK. In that case, you can get a virtual number with a UK extension and add agents to attend to the customers and call them. Once customers receive a business call from that number, there are higher chances of picking up the call. This can enhance your brand image, too.
Mind-blowing features
Undoubtedly, VoIP systems are incorporated with advanced features. Compared with traditional phone systems, you can get all your features in a single platform at no additional price. Interactive Voice Response (IVR) is here to route the calls to the specific department instead of making the customers wait longer. Additionally, VoIP call center software also comes with an intuitive and informative dashboard, which helps businesses to have transparency of deep analysis and reporting. With a detailed report, enterprises can analyze and implement the necessary measures to improve performance.
Easy customization
If you want to customize any features in the application, it can be done hassle-free. Since it is software, you can add or remove any features based on your business requirements. Also, VoIP systems are fully flexible. You can use it on any device, and it can be accessed from any location. Your agents can make and receive calls from anywhere as long as there is a stable internet connection. This will provide an opportunity to work remotely and remain flexible.
Highly scalable and reliable
VoIP solutions are highly secure as it is encrypted with multiple layers of encryption and comes with security practices. At TeleCMI, we are a certified ISO platform and deliver exceptional service concerning security, and we have incorporated numerous safety methods in our application.
Top-end features of VoIP Call Centers: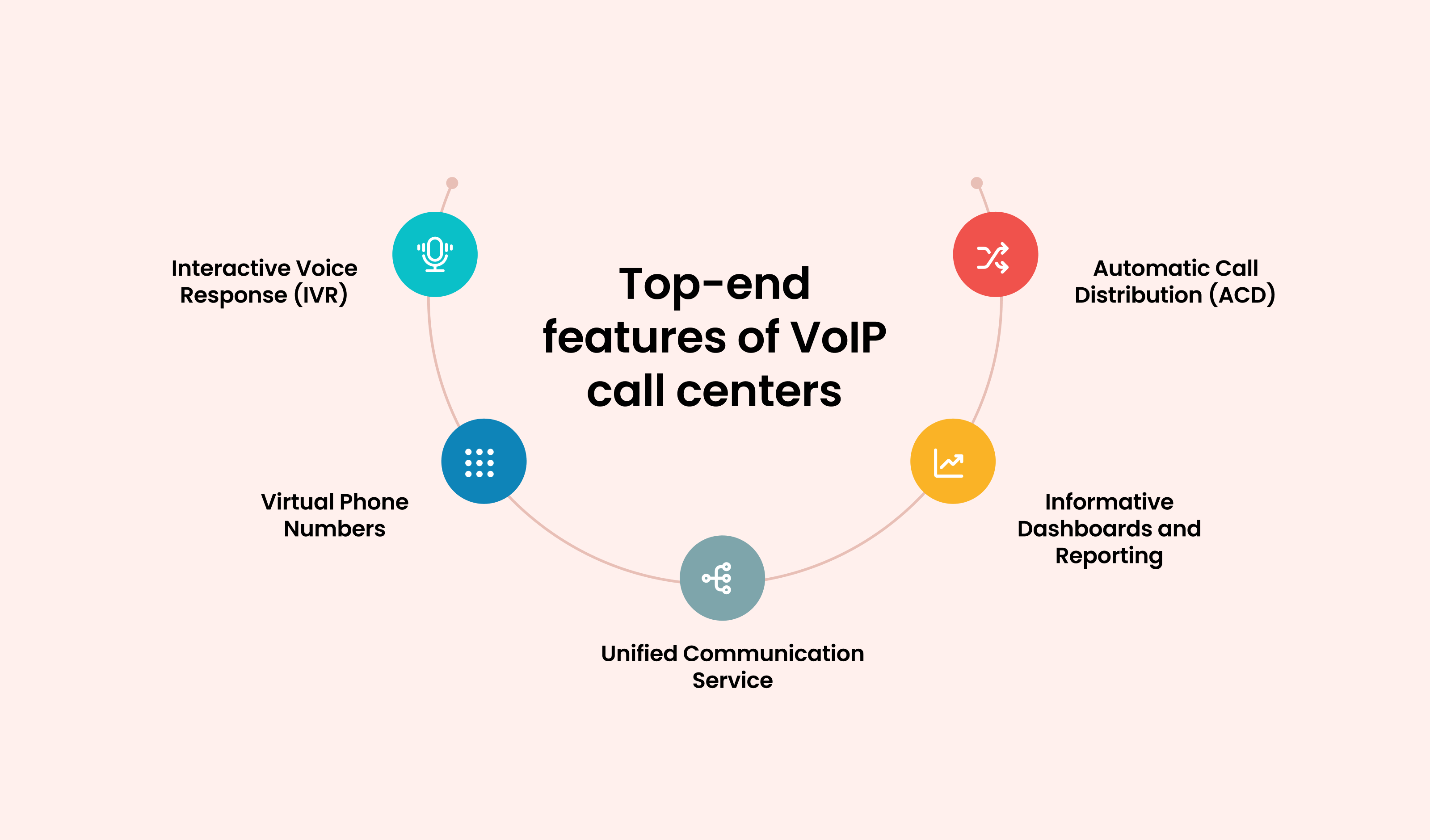 As VoIP call centers have countless advantages, it also has attractive features that become more appealing for businesses. Here are a few such features that make it stand out:
Interactive Voice Response (IVR)
With IVR, businesses can manage inbound and outbound calls effectively. You can onboard your agents and other team members to handle the calls. IVR helps customers to navigate options using voice or touch-tone keypad.
Automatic Call Distribution (ACD)
ACD is responsible for routing the call to the respective or available call center agents by eliminating call queues. You can distribute calls based on business hours, technical support level, IVR options, etc.
Virtual Phone Numbers
You can set up VoIP Phone Numbers based on your target audience and business requirements. You have toll-free, local, or global Virtual Phone Numbers quickly. You can also port your existing phone numbers.
Informative Dashboards and Reporting
VoIP Call Centers offer feature-rich dashboards that help businesses keep track of their agent and customer management. The AI Call Center software has features like Auto Attendant, Call Recording, Call Routing, Live Call Feed, Call Whispering, Sticky Agent, etc, which helps agents and supervisors provide an enhanced customer experience. Additionally, you can also filter, extract, and download various reports such as the agent's productivity, number of inbound/outbound calls, incoming/outgoing messages, etc.
Unified Communication Service
VoIP solution is a platform that offers unified communication where it integrates voice, messaging, and video into a single medium to streamline the business operation. Hence, agents don't need to switch between the applications for customer queries.
7 Easy Steps to Setup VoIP Call Center: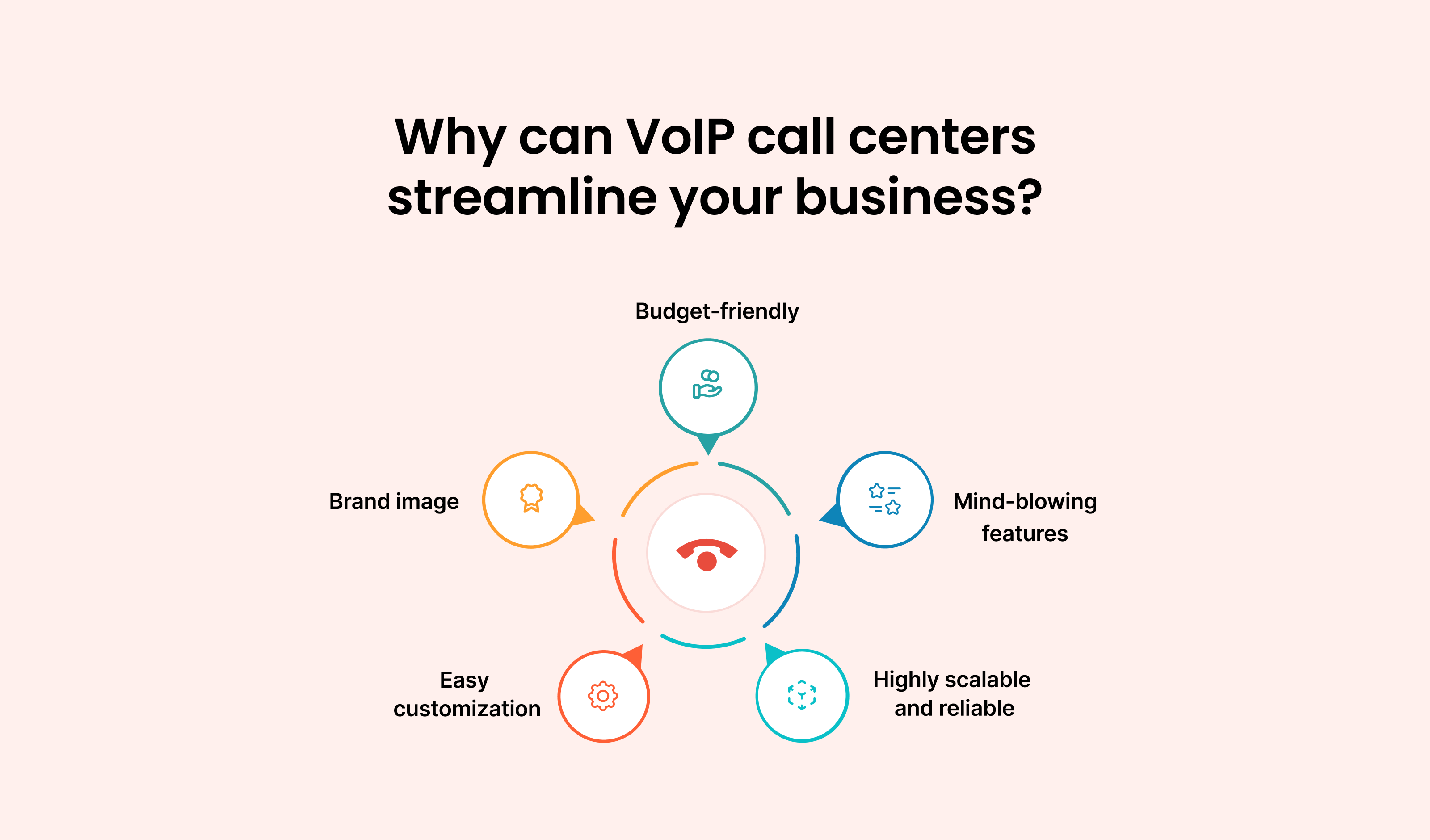 To get started, you can set up a VoIP Call Center from anywhere. Here are the significant 7 steps you need:
1. Check if your Internet is working steadily
Right off the bat, you need a proper internet connection to set up a VoIP Call Center. You should know how much bandwidth VoIP consumes and check if it suits your internet. Most internet providers offer gigabit speed, which will be helpful for VoIP business plans. Additionally, check for the stability of the internet, as it plays a vital role in VoIP call quality. Take a VoIP speed test to know the speed and quality of your internet connection.
2. Get the right VoIP hardware
Unlike traditional phone systems, you won't require complex hardware and a workstation for setting up. As VoIP systems can be accessed through mobile phones, desktops, laptops, and tablets, you can quickly set up the hardware. In addition to that, you can invest in cutting-edge VoIP headsets and VoIP desk phones for better quality.  
3. Find a VoIP Provider
This is the most critical step for any business. Select a VoIP Provider that fits your business needs and budget. You can check for their demo, features, previous customer stories and reviews, etc.
4. Buy a Virtual Phone Number
Once you have your software, the next step is to get a virtual phone number following your business requirements. As we spoke earlier, you can get a VoIP Phone Number from any of the three types. Select the country extension and further select a phone number of your choice.
5. Onboard your agents
You can now onboard your agents and other team members to handle the calls. They can manage the calls and other top-end features effectively. You can also train them to use the application.
6. Setup your VoIP Call Center
You can set up your VoIP call center by connecting different hardware such as VoIP desk phones, headsets, power outlets, etc.
7. Test your New VoIP lines
The final step is to test your newly set up VoIP lines. Check for any defects, such as audio quality, latency, connection stability, and other features in the app.
Get started with TeleCMI's VoIP Call Center solutions
With extensive experience in the market, TeleCMI is here to deliver top-notch VoIP Call Center software to meet your business demands. Regardless of any country, we help you in enhancing your customer experience and making your business stand out from the crowd. With our AI experts, our AI Call Center software can be a game-changer and assist you in making business profits.
You can check out our free demo and learn about various features we have incorporated into our software. We also customize the software based on your business requirements and needs. If in case you love our application, you can upgrade it at a reasonable price. Check with us right away for a unique solution that your business needs!
FAQs
The pricing depends upon the customer's requirements. Based on the customization, the budget differs.
---
Although both aim to resolve customer queries, the way they operate is different. A VoIP Call Center is responsible for handling inbound/outbound calls alone. In the case of VoIP Contact Center, you can manage everything on a single platform. It includes inbound/outbound calls, incoming/outgoing messages, CRM, social media integration, etc.
---
A Virtual Call Center will help one to set up their businesses remotely where their agents can work from anywhere at any time. Hence, companies don't need to spend much on setting up workstations and challenging hardware.
---
One example of UCaaS is a cloud-based platform that offers voice and video calling, instant messaging, screen sharing, and file sharing for businesses. It allows employees to communicate and collaborate from various locations, making it ideal for remote work and team collaboration. An example of such a service is TeleCMI's UCaaS platform, which empowers businesses with communication solutions.