BLOG » VoIP Phone System: 7 Significant Industry Use Cases
VoIP Phone System: 7 Significant Industry Use Cases
VoIP Phone Systems are the present technology that most businesses are using. VoIP services offer high-end benefits such as cost efficiency, improved customer satisfaction, rich technology with packed features, and device and location-independent. Numerous businesses switch daily from regular telephones to VoIP Phone Systems to enjoy these benefits.
At TeleCMI, we craft futuristic software by customizing it per business requirements. You can sign up for a free trial to explore our advanced features.
This blog discusses the top 7 industries utilizing VoIP Phone Systems for their daily activity and how they are beneficial.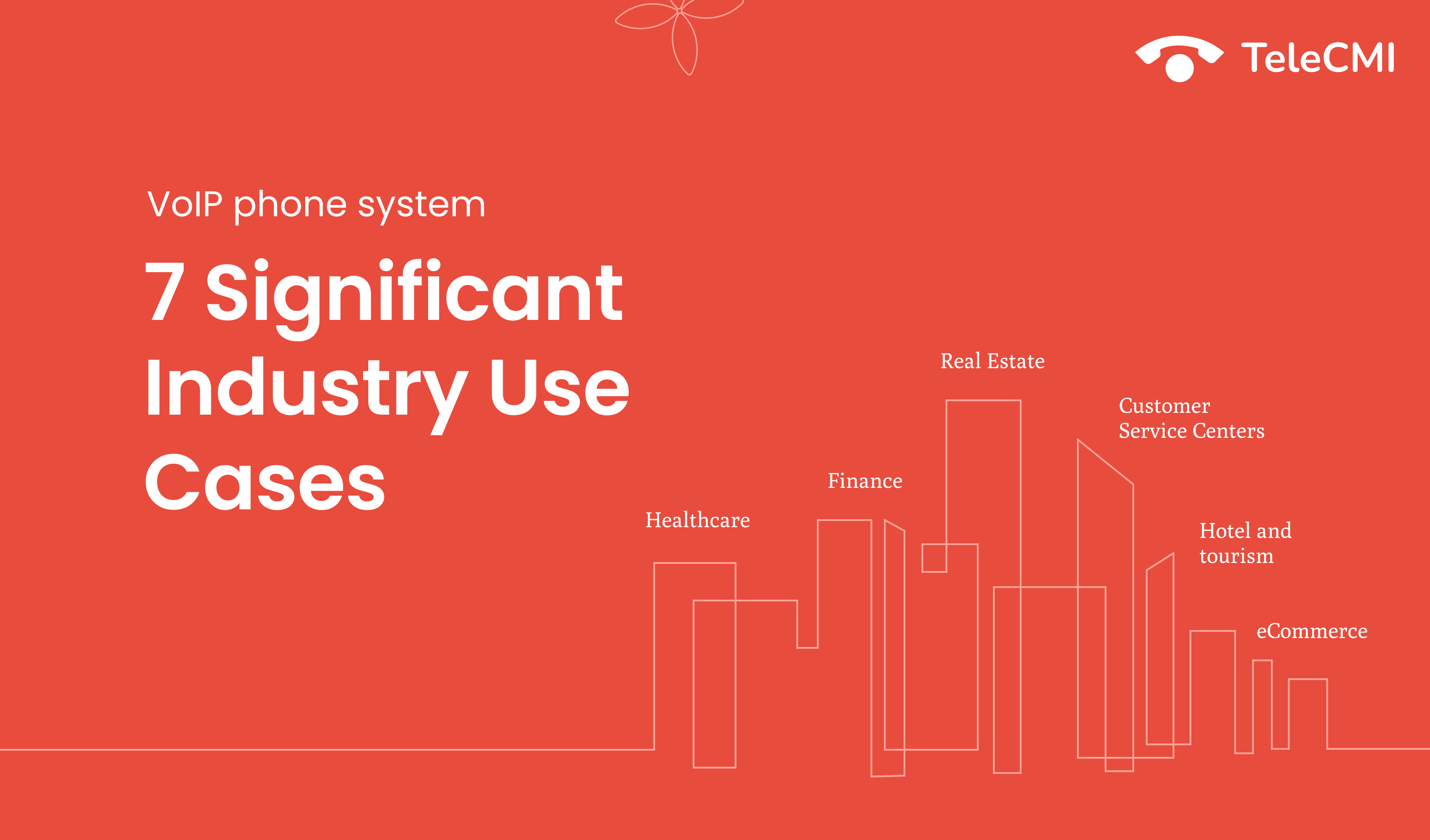 What is a VoIP Phone System?
A VoIP Phone System is a device that provides telephone services by connecting to the Internet instead of using a regular telephone, which comprises a set of copper wires and cables. This VoIP system can be accessed through multiple devices, such as mobiles, desktops, laptops, and tablets, as compatible with the VoIP software.
Moreover, VoIP Phone for business has enormous benefits compared to traditional phones. Here are a few of them:
In conventional phones, the phones will be connected to PSTN, so you must stay at the same place while on call. On the other hand, VoIP systems are accessible regardless of location, as you can connect on any device as you go.
Regular landline phones charge bulk when a call is placed outside the country. VoIP pricing plans are fixed, and you can enjoy the features as per the plan without any dependency on location or the total time of the call.
In the VoIP phone system, you can access extensive features such as Live Call Feed, Sticky Agent, Call Barging, Call Routing, Call Forwarding, Call Recording, etc. Standard phones will charge you an additional amount to get these features. However, you can access only limited features here.
VoIP systems offer you high-quality voice twice the times better than regular phones.
With these advantages, businesses are moving towards VoIP services and reaping numerous profits. Let's discuss how VoIP systems have transformed different industries.
7 Industry Use Cases for VoIP Phone System:
1. VoIP Phone Systems in Healthcare
Regardless of any kind of industry, proper response and 24*7 support service are the pillars. The Hospital industry deals with round-the-clock services for emergency cases and whenever they are in need.
For instance, a customer may look for an appointment for any service from the hospital. In that case, questions like "When is the doctor's timing? When is the appointment available?" are answered instantly with a VoIP call instead of a live agent. Additionally, there are expert agents available who can answer advanced and complex queries.
Moreover, hospitals will be located across the globe. In addition to customer queries, internal communication can also happen effectively. Employees from various hospital branches can communicate as VoIP provides the option of Call Conferencing.
A report from IBM states that the average US data breach cost is $8.64 million. With a cloud phone system, we can protect sensitive data from data breaches as it comes with multiple layers of encryption. The support for the hospital industry with VoIP phone systems can unlock new opportunities for utilizing the features.
2. VoIP Phone Systems in Customer Service Centers
Customer service is the primary thing that every industry gives importance to. As customers come with several queries, businesses should be ready to resolve them. In traditional systems, agents are fine-trained and can answer everything with finger-tips.
But in the case of Cloud VoIP Phone Service, the application takes care of this by offering efficient resolution for the queries. It also finely integrates any kind of CRM app for a seamless experience.
Also, with a VoIP Phone Solution, businesses can track customer details and know agent's performance. With these details, you can also make further improvements to the application, enhancing customer experience.
VoIP phone systems increase the company's reliability, making the process more efficient. 61% of customers have stopped doing business with a brand due to poor customer service. Call centers are the industries that will enjoy the benefits fully.
3. VoIP Phone Systems in Hotel & Tourism
Virtual Phone Systems can transform the Hotel and Tourism industry to the next level.  It helps them to engage with their customers 24/7 as the industry deals with customers worldwide. The VoIP services help companies manage the call flow and remove the lack of using a single line.
The front desk is the place where people stick on and attend calls continuously, right from consultation to booking rooms. Additionally, VoIP Phone Systems come with various features, such as Call Forwarding, Call Recording, Auto-Attendant, etc., which will be more helpful.
Here is how VoIP Phone solutions can operate efficiently:
Sending text messages to promote services or provide regular clients with a good discount/coupon.
Respond instantly with a single click from the customers without any delay.
Forward the calls to the respective departments when in need or when the agent is unavailable.
Determining an available agent when a queue of clients are pacified with a greeting music.
4. VoIP Phone Systems in Finance
The primary motto of the Finance industry is to save and operate on money. As VoIP calls enhance & improve productivity and save operational costs, most finance industries prefer to move to VoIP Phone systems.
A report says that 40% of customers are willing to consider the banks that offer them more personalized experiences. VoIP Phone Systems have numerous benefits in this case, and financial companies are leaning toward this technology.
For instance, we can see real-time examples of Bank sectors where customers and agents would call each other. VoIP becomes beneficial as it does not need to revert the calls to the respective department. With IVR, customers can simply be directed to the department by clicking on the desired option.
5. VoIP Phone Systems in Real Estate
Real Estate is an industry that works with a factor of communication. Agents have to speak effectively to attract customers and convert them into leads. The Real Estate system uses some of the most specific features, from voice mail to Emails.
Moreover, a VoIP system can help real estate agents to be successful with the following factors:
VoIP systems offer cloud-based platforms to help them in getting touch with their clients.
Offers multiple virtual phone numbers, which they can use for various purposes. If it is a small business, it would add credibility to the brand as it promises a local presence.
It also acts as a platform to share images with clients, as the industry depends on it without switching to other texting apps.
6. VoIP Phone Systems in Manufacturing
The Manufacturing industry is one of the highly challenging and competitive ones. VoIP systems provide immense benefits by privileging and implementing the latest technology in a complex business.
As the industry deals with multiple departments such as Accounting, Sales, Warehouse, etc, VoIP software can streamline and make the process effective. Additionally, it also removes the gap between different departments in various locations with a single line.
Installation in the manufacturing sector can differ across locations and departments, and Cloud VoIP Phone Services can act as a bridge and offer a feasible solution with maximum benefits.
7. VoIP Phone Systems in eCommerce
With the increase in the internet era, eCommerce is the largest industry facing a recent disruption. Agents can hear common questions such as  " When can I get my claim? When can I expect my refund? When will I receive my order? Can I exchange the product?" etc. These questions can simply be answered in a single click instead of a human intervention.
A customized eCommerce VoIP system will enjoy the following features:
Call Recording feature to verify claims.
Auto attendant feature to route the call effectively.
CRM integration enables customer service agents to extract the data instantly. This data can be anything like recently placed orders, shipping status, payment method, etc.
VoIP Phone System: A Full-Scale Solution which you should not miss
VoIP technology can be an easy-to-move solution as it comes with dozens of benefits. As we live in an internet-based life, a VoIP solution can be a simple adoption change to make your brand stand out.
At TeleCMI, we help businesses, regardless of their size, build a brand their customers would love to speak with! We have been in this industry for multiple years and can work on customized solutions in which your business will fit in.
Our experts are here to offer you a free demo; you can post them with any queries. We also offer a free trial to explore various features and learn how they benefit your business! Get in touch with us for a free trial right away!
FAQ
When you use a VoIP service provider, you can choose a pricing plan that works for you. You will be able to purchase multiple virtual phone numbers from different locations. Your agents will also be able to speak with customers from various parts of the world without any time limit. On the other hand, traditional phones will charge a hefty amount for overseas calls, whereas VoIP systems are cost-effective.
---
Yes. With a VoIP Phone System, you can expect best safety practices where data is fully encrypted and comes with multiple layers of encryption. 
---
Yes, you can. We at TeleCMI offer you a fully-customized solution as per your business requirement.