1. What is an alternate phone number?
2. How do I get an alternate phone number?
3. Scenarios where alternate phone numbers would be helpful
4. Alternate phone number buying guide: 6 Checklist
5. Benefits of alternate numbers for individuals and businesses
6. Best Alternate Phone Number Provider
What is an alternate phone number?
An alternate phone number is a second phone number a business or an individual can use to separate personal and professional calls. Alternative phone numbers don't require a SIM from the telecom carriers, instead, you can purchase them from a virtual phone number provider like TeleCMI. This way, you can use multiple phone numbers in a single telephone device apart from the primary phone number.
These alternate phone numbers can cost $10 to $50 monthly, including talk time and free minutes.
As an alternative number is a virtual number, you can use it on any device like mobile, PC, or tablet to manage incoming and outgoing calls. To use them, you must install Android, iOS, Windows, or Linux apps provided by your virtual phone system vendor (virtual phone number).
A virtual phone system is a cloud-based telephone application used by small businesses and enterprises to handle internal communications and call center operations. It comes with advanced features like IVR, toll-free numbers, virtual phone numbers, call analytics, call routing, and other basic call management features.
By purchasing a virtual phone system, you can register multiple alternative phone numbers to make and receive business calls and send/receive SMS messages.
How do I get an alternate phone number?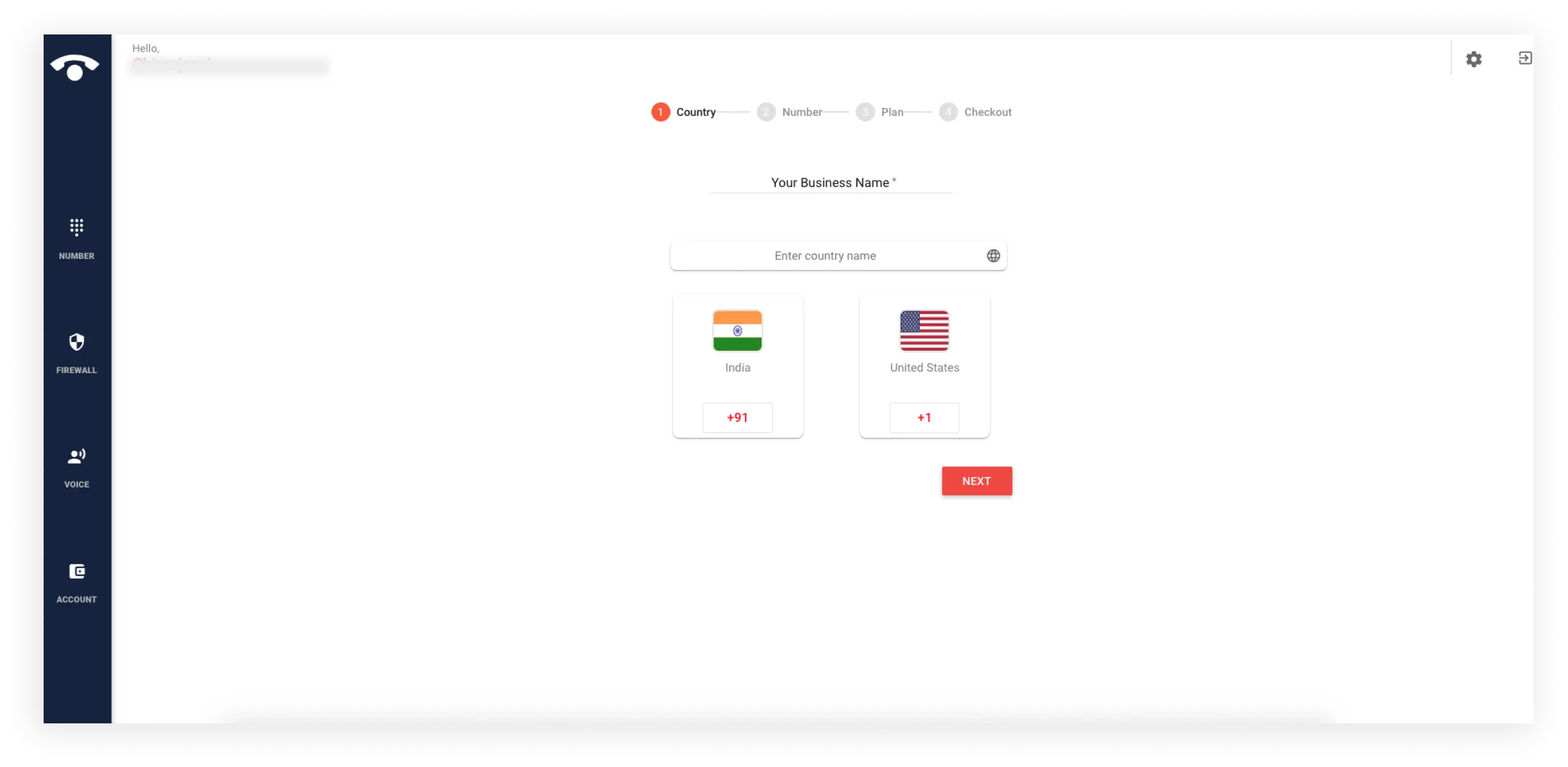 Step 1: Sign up with the TeleCMI virtual phone system
Step 2: Search and select the alternate phone number (local number, international number, or toll-free number)
Step 3: Choose a monthly or yearly subscription plan ( free trial available)
Step 4: Download TeleCMI mobile or desktop apps to start making and receiving calls using the softphone.
Did you know? The TeleCMI web app for admins consists of features like call tracking, call monitoring, IVR system, voicemail, unlimited talktime, and flexible validity, including an agent login feature, which allows business owners to assign a staff to handle calls.
Scenarios where alternate phone numbers would be helpful
Toll-free numbers for handling customer support
Toll-free or alternate business numbers help businesses allow customers to contact the organization without incurring call charges. These numbers can be used for customer support, sales inquiries, and other general information inquiries. You can place toll-free numbers on your website, product labels, or marketing materials, which enhances the professional image and improves customer engagement.
Expert Tip: The virtual phone system is also a call center software, and you can use it to handle a large number of sales, support, and other business calls professionally.
Dedicated lines for each department and business unit
Say you're a large organization with multiple departments such as IT, marketing, sales, support, and billing, then you can use dedicated business lines for each department without needing to set up a separate landline or hardware. The same applies to businesses with more business units example, a parent company has multiple subsidiaries targeting different sectors like financial, retail, technology services, and telecommunication.
International presence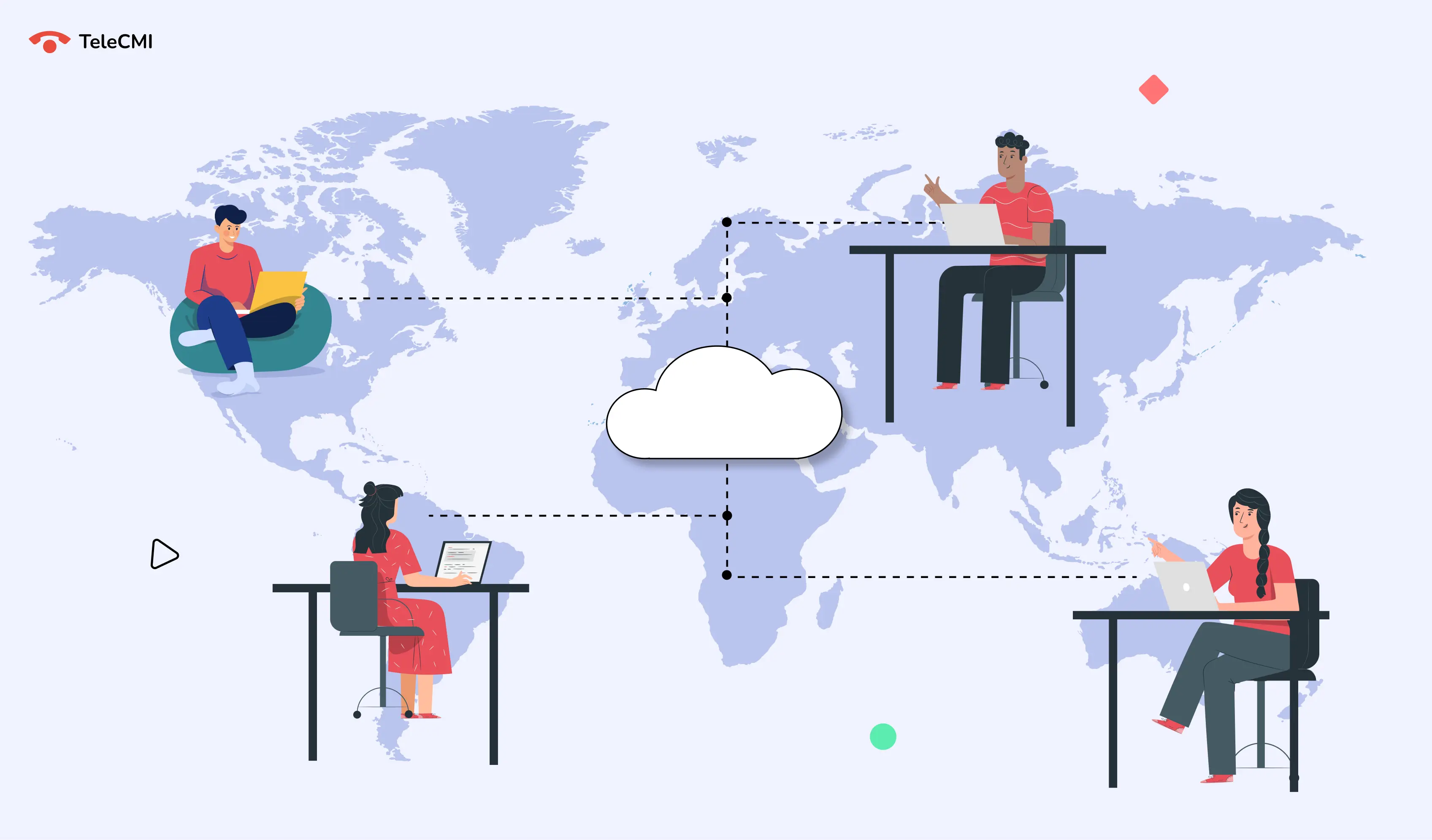 If your brand has branches in other countries or planning to expand business globally, having a local or international number (alternate number) for that country provides you with a local presence and builds trust with customers. Another big advantage is it eliminates the international call charges for your clients.
Telesales and telemarketing
Alternate phone numbers assist outbound call center teams in increasing call answer rates drastically by reaching the prospect with different phone numbers that have not been used previously. This way, recipients can pick up a phone more often as they see a unique caller ID. Also, if you want to reach prospects in a specific country, you can reach them with a local number with the relevant country code, this improves call pick up rates.
For entrepreneurs/personal use,
Privacy and security
Having alternate phone numbers keeps your personal number protected from annoying spam calls. And also help you escape from privacy breaches and identity theft.
You can mention your alternate cell phone number on your website, brochures, and brand collaterals. This way, you can hide your personal number from third-party individuals. Another advantage is you can delete or keep your alternative number in the future when not required.
Traveling
When you're traveling internationally, you can purchase a temporary alternate phone number to avoid expensive roaming charges. Instead of buying a local SIM card after reaching the destination country, you can buy an alternate virtual number of that country to make/receive calls and send messages.
Freelancing
If you work as a freelancer or consultant, having an alternate phone number helps you separate personal and professional communications. As a result, you can maintain a professional image among your clients.
Online marketplace transactions
If you conduct frequent trades in online marketplaces like Craiglist or Alibaba, you can use alternate phone numbers in your contact information. This adds an extra layer of security and protects from receiving unwanted calls during non-working hours.
Alternate phone number buying guide: 6 Checklist
1. Check the types of numbers available
Consider alternate phone number options you need for business communications eg, toll-free numbers, vanity numbers, international numbers, and local numbers. Make sure your provider can offer these numbers to meet your requirements, i.e., personal use, client meetings, and local presence.
2. Look for SMS support
Some apps only support phone numbers which you can use to make and receive calls. But most platforms don't have built-in SMS features, which you can use to send and receive messages, OTPs, and alerts. Thus, ensure the app have an SMS functionality if it's important for you.
3. Test the call quality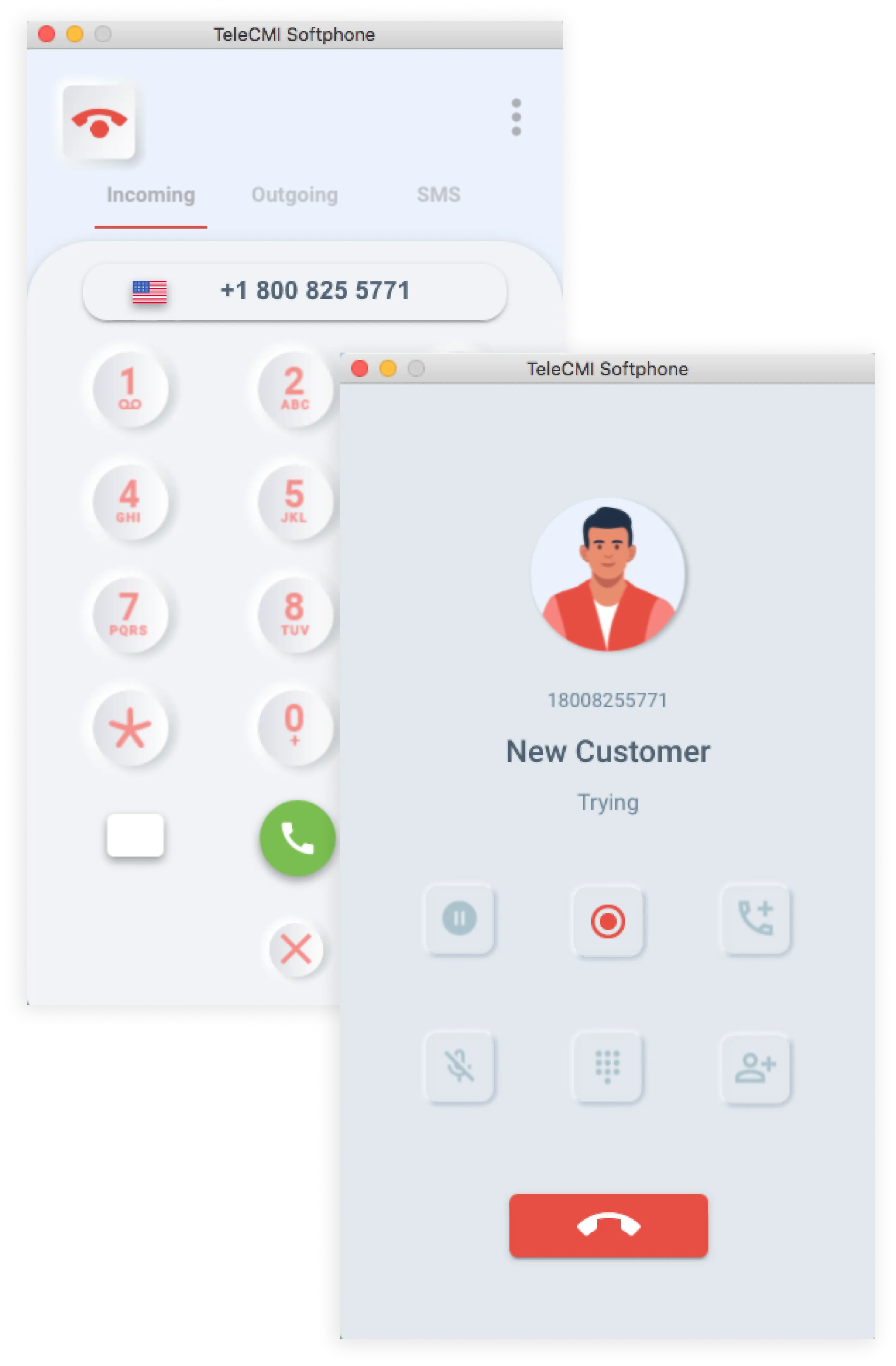 Check the audio quality of calls, including common calling issues like call echoes, call disconnections, and jitters. As most vendors offer a free trial, you can test it without committing to monthly or annual subscriptions.
4. Look for call features you need
When buying an alternate phone number, check the features available in the app that are most important for you. You can check features like call recording, call conferencing, call transfer, IVR, VoIP calling, and CRM integration.
5. Check plans, pricing, and hidden charges
Check the number of plans available and how they are priced when choosing an alternate phone number provider. Practically speaking, basic voice plans come with limited features, and pro plans consist of advanced features. Some providers sell special features as an add-on and some include them in all plans. Hence, choose the plan that is affordable and suits your needs. Also, check the plan renewal options monthly, quarterly, or yearly.
6. Check if number porting is available
If you want to transfer your existing phone number to a new alternate phone number provider, check if they can offer number porting support. And read the guidelines and requirements for moving your old phone number.
Benefits of alternative numbers for individuals and businesses
1. Privacy protection
When you use alternate phone numbers, you can keep your primary number confidential and hidden from third parties. This is particularly useful when dealing with online transactions, classified ads, web sign ups, or any situation where you want to shield personal contact information.
A primary phone number helps you to make your number visible only to your closed networks, like family, friends, and colleagues, whereas alternate phone numbers can be used in situations where you don't want third parties such as clients, online marketplaces, and forums to access your primary contact information.
2. Improved customer service
Say you are receiving hundreds of support calls every day from customers, having alternate phone numbers is helpful for your business to get a professional image and separate business communications. This way, you can also place your toll-free number in your business contact information so that customers would call a business number rather than a personal number.
3. Professional call analytics and insights
You can view detailed call reports like the number of missed calls, incoming calls, and outgoing calls. Including saved call recordings, voicemail, call queues, live calls, and average call duration. To put it more simply, you can run a virtual call center to manage your sales and customer service operations because the application comes with all the call center features you need to operate a productive business. By adopting a virtual call center, you can onboard agents and allow them to work remotely.
4. Cost-effective
Reliable alternate number providers like TeleCMI have affordable pricing plans and low call rates, including free minutes and unlimited calling plans. Also, the providers like TeleCMI use VoIP technology which terminates calls through an internet connection rather than PSTN (Public Switched Telephone Network). As a result, this saves more money for subscribers.
5. Easy call forwarding
The alternate phone number app comes with a call forwarding feature that allows users to redirect incoming calls from one number to another effortlessly. This way, you can avoid calls going unanswered.
Conclusion
Alternate phone numbers bring many advantages for both personal and business use, such as 1. Backup for a primary phone number, 2. Handling customer interactions, 3. Registering international number, and 4. Protecting personal data.
To buy an alternate phone number, you can sign up with a virtual phone system provider that offers virtual phone numbers.
Best Alternate Phone Number Provider - TeleCMI
TeleCMI is a Global virtual phone system used by 1,500+ brands like Hyundai, Zebronics, Porter, and Dr.Reddy's. Our platform has cloud communication features like Virtual phone numbers, SMS, IVR, call routing, call monitoring, and VoIP calling.
You can register SIM-less alternate phone numbers from TeleCMI within 5 minutes. Make and receive nationwide and long-distance calls, Send/receive messages, Manage calls flexibly using mobile or desktop apps, make unlimited calls, and save more with our affordable pricing plans. Sign up now to register your alternate phone number and make/receive calls globally.
Frequently asked questions
The limitation on using the alternate phone number varies based on the app/provider you choose. Some of the limitations are 1. restrictions on the number of alternate numbers you can register under a single account, 2. Some platforms don't support SMS or text messages, and 3. The number of calling minutes might be capped per day or month depending on the plan/provider you choose, and 4. A global calling facility might not be available in the app.
---
Like other cell phone numbers, the location of alternate numbers can also be tracked using the IP address of the device where calls are triggered.
---
Virtual phone numbers are numbers that don't require SIM to register and use. Where alternate phone numbers are numbers anyone can use to separate phone communications. Alternate phone numbers can be purchased from virtual number providers like TeleCMI and you don't need a SIM card or dedicated hardware/landlines.
Have questions on alternate phone numbers? Call 1800 890 3305 to consult with our sales team today or get a free demo to know how it works in real-time.
Author bio
Yuvaraj Murugan
Full-time content marketer with 4 years of experience in B2B content creation. He covers topics around VoIP, cloud telephony, contact center, and business communications at TeleCMI. Passionate in crafting content that entices the readers.