Table Of Contents:
1. Advantages of VOIP
a. Huge cost savings
b. No hardware installation required
c. Work from anywhere
d. Easy to manage, use, and troubleshoot
e. Stable uptime
f. Reliable data security and storage
2. The top features of a VoIP
a. Custom Caller ID
b. Intelligent Call Routing
c. Mobile and desktop app
d. Text Messaging (SMS)
e. Conversational AI
f. Auto Dialer
a. Cost Savings Are Possible With VoIP.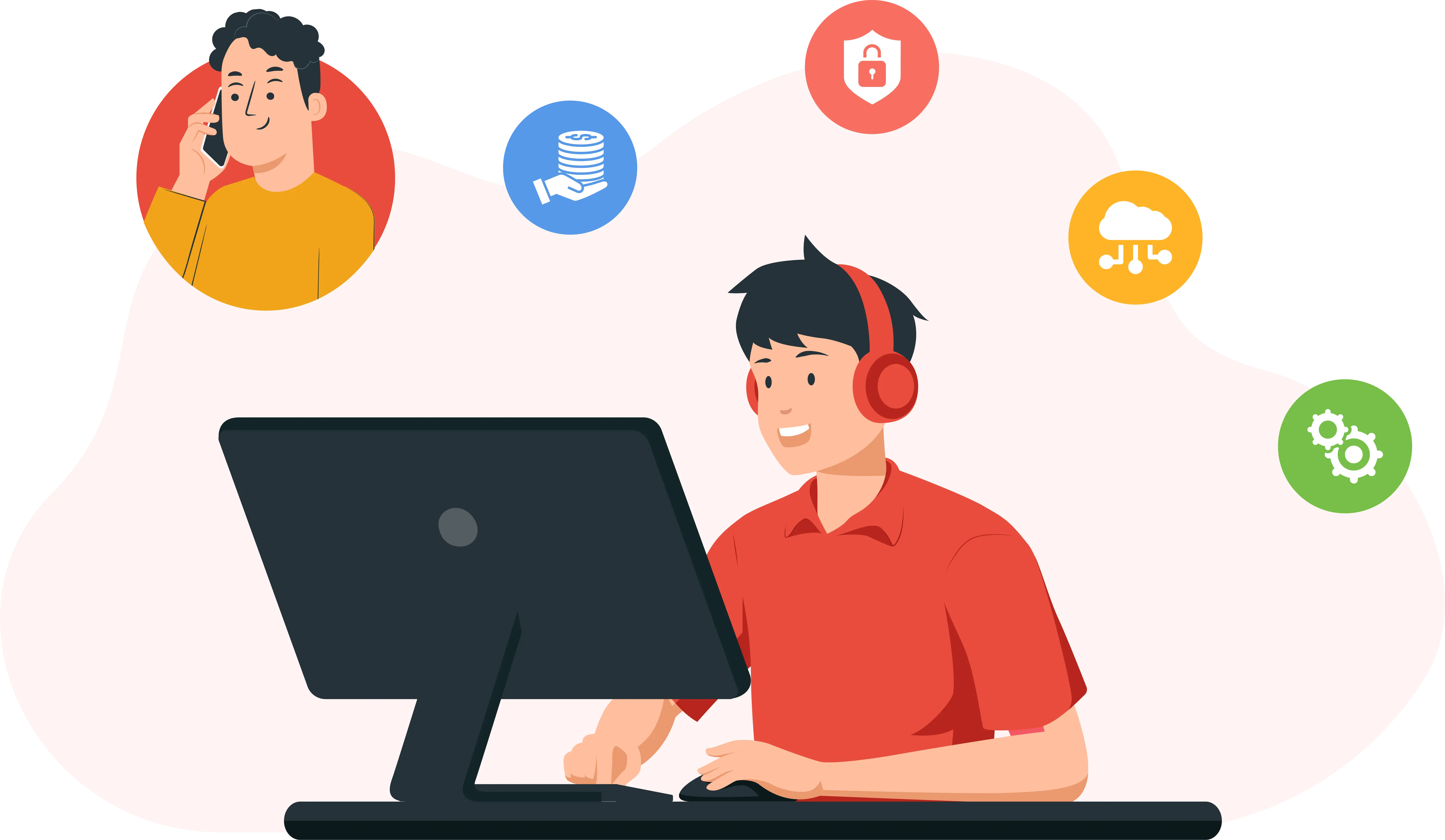 Low-Cost Phone Calls
As an added benefit, VoIP is significantly less expensive than traditional phone lines. It is due to its quality and the technology involved. With VoIP calling, you can call using your internet connection instead of a landline, and the voice data is more affordable. Lower rates always appeal to businesses, so you should consider VoIP if you want lower prices with good service.
Calling Options Are Limitless
In VoIP, calls are routed over the data line, so they are treated as local calls even though they are technically international. Several VoIP providers from India, like TeleCMI, offer unlimited calling solutions to major countries like the USA, UK, and Canada for a flat monthly fee, making them an attractive option for businesses.
b. No Hardware Required
The traditional phone system requires a lot of equipment to function. Installing a landline phone system can be a significant financial undertaking because those costs can add up. A VoIP phone system is easy to install since it works like a plug-and-play device. As a result, businesses can reduce their cost of acquisition of physical phones and infrastructure.
c. Work From Anywhere
VoIP phone systems are important if your business work depends on field work. Some of your employees may work remotely for your company. In this case, no matter what the circumstances of your employee's job are, they must be able to stay in touch reliably. Traditional phone systems cannot offer the same freedom as VoIP.
The internet and a computer or mobile device are all that is needed to make your employee's work possible. With a VoIP phone system, your employees have access to their business number to connect with customers even if they are working from home. From anywhere they have internet access, they can make and receive calls on business numbers using the VoIP service providers soft phone app.
Let's say your employees are away from the office. Some of them might face poor internet connectivity in their home circle. In this case, the VoIP "follow me" feature makes it easy never to miss a call from your clients.With mobility, employees can remain productive without worrying about missing important phone calls.
d. Less Difficult To Manage, Use, And Troubleshoot
Using VoIP systems is easy, even if you aren't technically inclined, because they require little technical expertise. Unlike regular telephone systems, many VoIP systems are plug-and-play ready, so they are a lot easier to use and operate.
It is not necessary to install any extra wiring with a VoIP system. Additionally, these systems are easily scalable. Adding more components to your business is simple as your business grows.
Because all voice-to-digital signal transfers are done via software rather than hardware, VoIP systems are easier to troubleshoot and maintain. In this way, your office can maintain and diagnose the system more easily.
e. Stable Uptime
If one server fails in a traditional business telephone system, the whole framework goes down, causing customer communication to cease. The VoIP phone system providers like TeleCMI provide multiple servers with 99.5% uptime, so organizations don't have to worry about downtime.
f. Reliable Data Security And Storage
If your business is based on telephone services, It is important to keep your data of call logs and recording. A VoIP system is a great backup system to have in case of data loss.
The Top Features Of A VoIP

Businesses prefer VoIP because, in most cases, its features outweigh those of traditional phone systems. With a VoIP phone system, you can connect a wide variety of devices to boost your business productivity.
VoIP Services Typically Include Features Like:
a. Custom Caller ID
b. Intelligent Call Routing
c. Mobile and desktop app
d. Text Messaging (SMS)
e. Conversational AI
f. Auto Dialer
The features we have listed above are all valuable for businesses, no matter the size of the workforce. One of the most important advantages of VoIP is its ability to make businesses more professional by integrating these features. It is possible to make your business appear much larger than it actually is by offering high-level services to your customers and callers.
a. Custom Caller ID
Usually, most people decline a call because they don't know who's calling or they are unfamiliar with that number. Using TeleCMI's customizable caller ID feature, your personal phone number will not be exposed when you make business calls using your personal phone number. Reach your target customers by calling them with their local number. For example, calling USA numbers using USA caller ID and calling UK numbers using UK caller ID. This can increase the call pick-up rate and can help you reach more customers globally.
b. Intelligent Call Routing
The primary objective of any business is to solve customers' problems efficiently. You can reduce customers' wait time by assigning incoming calls to the right person according to their availability. Intelligent call routing is the right tool to solve customer queries effectively.
c. Mobile And Desktop App
VoIP phone providers like TeleCMI offer softphone apps to make and receive calls using your desk phone or mobile phone from anywhere. This can be a great advantage to a hybrid working culture, which lets you reach customers using a business number even when you are away from the office.
d. Text Messaging (SMS)
Text messaging is also known as SMS (short message service). You can increase the reach of your brand to your customers by sending text messages over a data line, which is known as "cloud SMS." so that you can send and receive SMS globally.
e. Conversational AI
Conversational AI can eliminate the interaction between customers and agents. Conversational AI helps in solving most customer queries without the need to transfer the call to the agents. This fascinating capability can increase productivity, improve customer satisfaction, and increase customer engagement in your business.
f. Auto Dialer
An auto-dialer is a tool that automatically dials a list of numbers. Once the call is answered, the customer will either be connected to a prerecorded message or an agent using this tool. Manual dialing causes agents to waste time disconnecting calls, facing busy tones, and dialing numbers manually, which are unproductive tasks. You can eliminate this traditional manual dialing process by using an auto-dialer. It can increase your agent's productivity.
Conclusion
The key to enhanced business productivity lies in consistent and clear communication, regardless of whether you own a corporation, run a small company, or work from home. A missed or dropped call can make the difference between closing a deal and having potential or current customers look elsewhere. It is imperative for businesses of all types, sizes, and industries to have reliable communication. By switching to VoIP platform, you can achieve greater reliability, flexibility, scalability, and productivity in business communication and collaboration. Try TeleCMI feature-rich VoIP phone system for free.