BLOG » Cloud Contact Center: Why does your business need it today?
Cloud Contact Center: Why does your business need it today?
The primary motto of every business is to enhance customer experience and offer services at a cost-effective rate. VoIP services are the present trend that helps businesses to achieve this goal. VoIP solutions operate effectively to engage with customers; you just need a stable internet connection to get started. With the increased internet usage, Cloud-based technologies can streamline business operations to the next level. Cloud Contact Centers are the hot talk of the town among enterprises as it comes with numerous benefits.
This blog discusses the significance, features, pricing, and how to start with Cloud Contact Centers.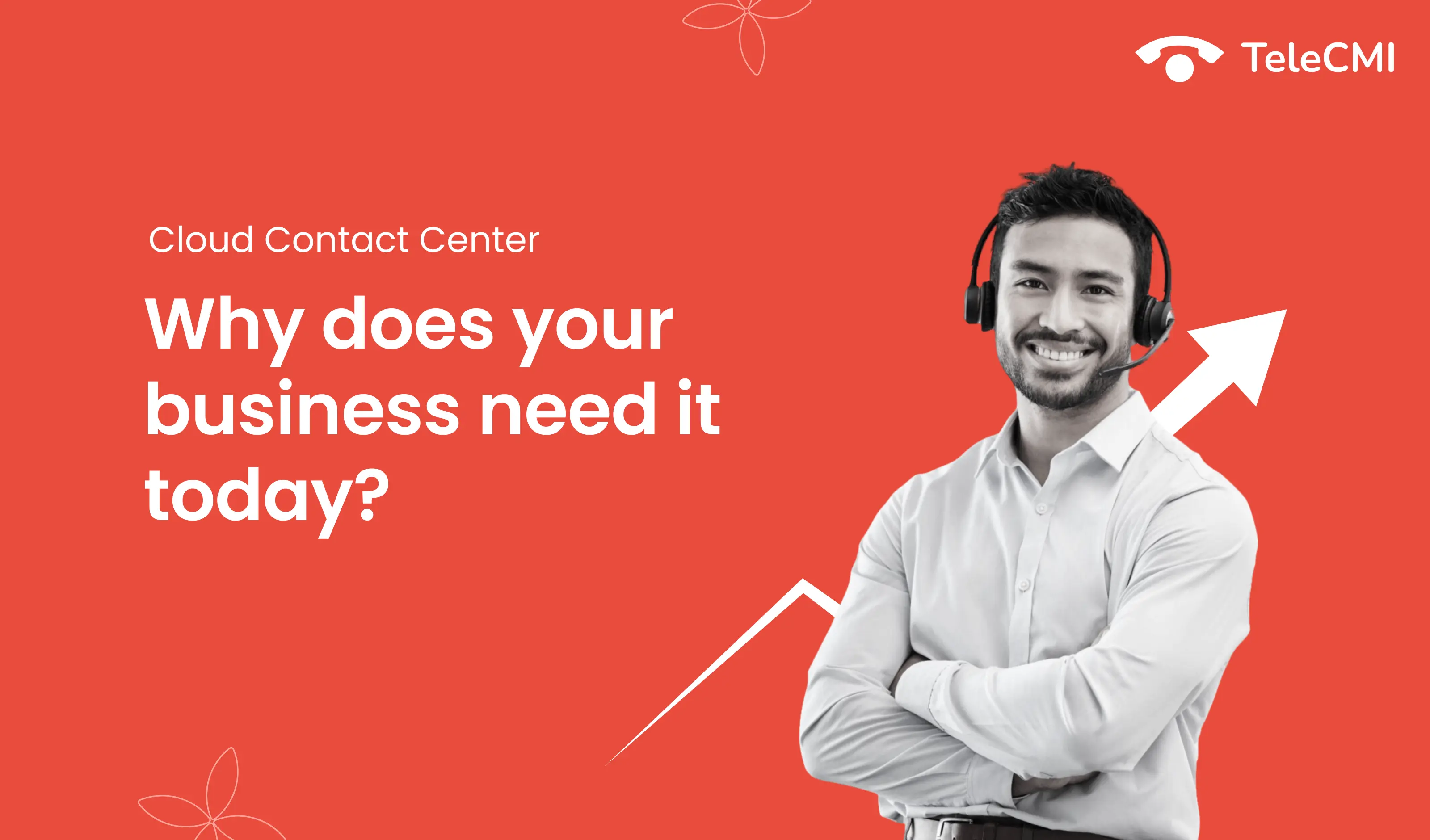 What exactly is a Cloud Contact Center?
A Cloud Contact Center is a call center that uses internet technology to connect with customers. It helps businesses manage inbound/outbound calls, messages, emails, etc, in a single platform by eliminating the need for hardware or software.
Hence, businesses can operate remotely using a proper internet connection instead of maintaining regular telephones connected to PSTN (Public Switched Telephone Network) with the help of wires and cables.
These solutions are at a reasonable price, unlike regular telephones, which charge prices based on location, call volume, internet usage, etc. With a Cloud Contact Center, you just need to download, register, and log in to the application and use it.
How does a Cloud Contact Center work?
As we have discussed, Cloud Contact Centers work with internet-based technology to handle inbound/outbound calls, incoming/outgoing messages, and social media requests end-to-end effectively.
As a business owner, you can add multiple agents and buy several virtual phone numbers for them. TeleCMI's Cloud Contact Center software comes with advanced features and future-proof technology.
When a customer contacts the enterprise for a query, the cloud contact center will handle it. It routes the call to the corresponding agent, who can respond to the query in real-time. The best feature is that it directs the customer to the right agent so that there is increased customer satisfaction as well as decreases the waiting time & call volume.
This customer routing happens automatically with the help of IVR (Internet Voice Response) technology. It also includes features like CRM (Customer Relationship Management) integration to track customer information and interactions, which helps resolve customer queries seamlessly.
Unlike traditional phones, it does not require hardware or complex installation and setup steps. Instead, a business can download, register, and log in to the application to get started. One of the key advantages is that Cloud Contact Center allows companies to handle the calls and help take care of messages, social media requests, etc.
How Cloud Contact Centers are way better than Traditional Call Centers?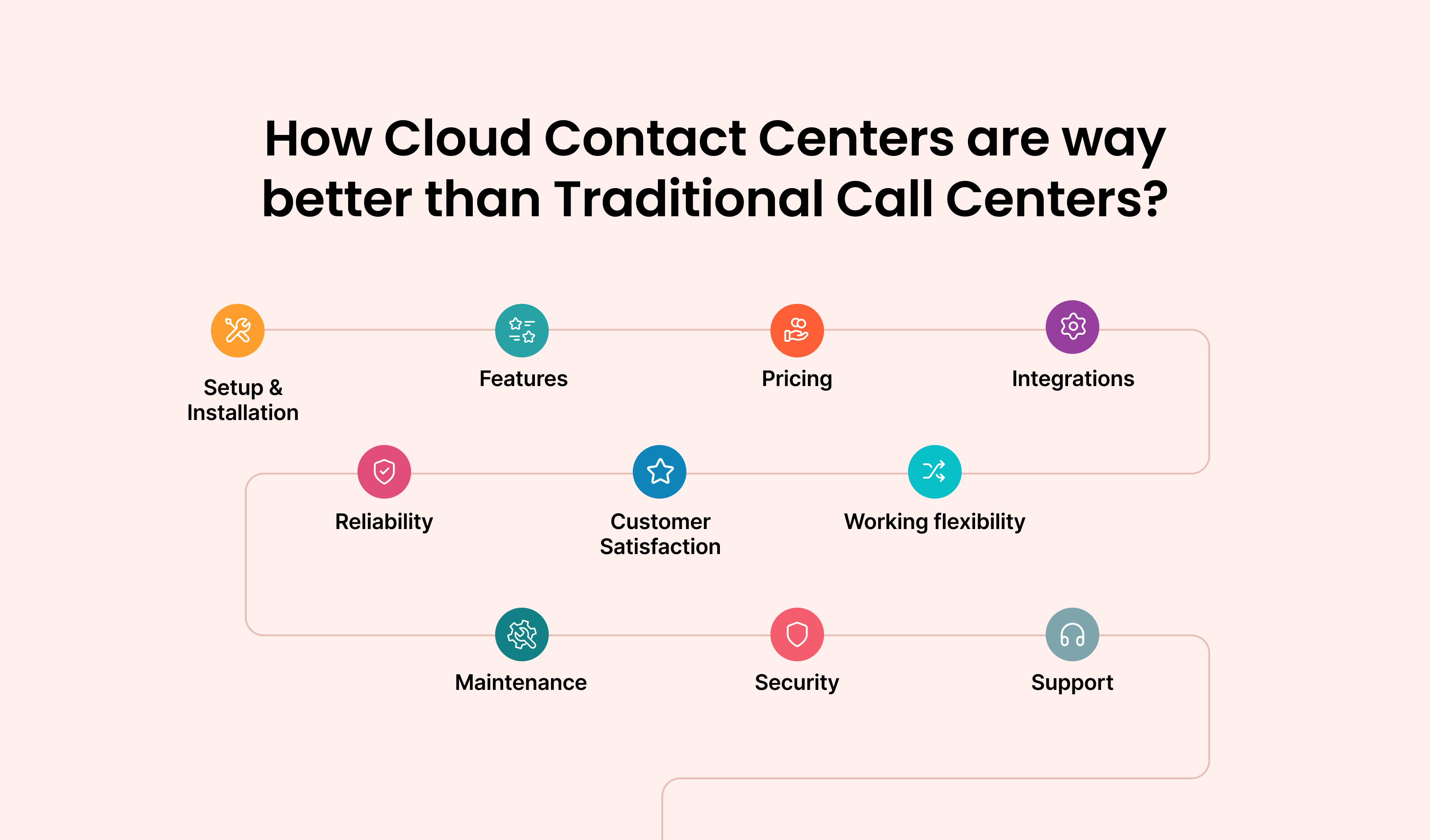 Simply put, Traditional Call Centers seem outdated, and Cloud Contact Centers are taking the stage with the existence of Internet technology. A report states the global contact center is expected to grow around $607.6 billion by 2027.
Regular call centers require employees to be physically available to pick up customer calls. In contrast, with Cloud Contact Centers, agents/employees can be present and work from anywhere with a stable internet connection.
Cloud Contact Center software also provides deep insights and analytics where one can extract the reports for future implementation.
Here are the significant ways in which Cloud Contact Centers are much better than traditional call centers:
1. Setup & Installation
Traditional Call Centers will require multiple processes such as a Workstation, Hardware setup, etc. On the other hand, Cloud Call Centers are accessible with a single click by installing the application on desktops, laptops, mobiles, and tablets.
2. Features
Cloud Contact Centers come with packed IVR & NLP (Natural Language Processing) features such as Skilled Call Routing, Call Recording, Call Forwarding, Call Conferencing, Live Call Feed, Call Barging, etc. But in the case of regular Call Centers, features such as Call Logging, waiting music, and hold are available.
3. Pricing
Regular Call Center charges are high compared to the Cloud Contact Centers. Traditional call centers have high upfront and monthly costs depending on the call volume and the location of the call. Cloud Contact Centers have fixed pricing plans that will vary depending on the features without considering factors such as location, call timings, etc.
4. Integrations
Cloud Contact Centers enable businesses to integrate various existing software without any limitations. It also includes social channels such as Whatsapp Business, Facebook, Instagram, etc. Regular Call Centers have limited integration features, which is also complex.
5. Reliability
Cloud Contact Centers offer high reliability with seamless uptime, continuous software upgrades, and excellent speed. Traditional Call Center's reliability depends on the hardware, which will get damaged in a few years.
6. Customer Satisfaction
Cloud Contact Centers promises increased customer satisfaction as it has multiple features and instant communication with the agents, attracting customers. On the other hand, Traditional Call Centers provides longer waiting time, and every channel is handled separately.
7. Working flexibility
Cloud Contact Centers allow employees/agents to work from anywhere and eliminate the need to work in a physical environment. At the same time, Traditional Call Centers would require all its employees to work from a fixed location.
8. Maintenance
A Traditional Call Center system requires frequent maintenance and always handles the repair services. This can be time-consuming and expensive, too. Added, it also wants businesses to purchase new hardware and software.
Conversely, Cloud Contact Centers are maintained by the corresponding cloud contact center provider like TeleCMI, and hence, businesses don't need to worry about maintenance and repair costs.
9. Security
Cloud Contact Center software is entirely secure as the data is stored in the cloud with robust security measures. It comes with multiple layers of encryption and is complex to access. At TeleCMI, we have tailor-made and feature-rich Cloud Contact Center software, which is an ISO-certified platform. With regular Call Center platforms, security depends upon the quality of the equipment and periodic maintenance.
10. Support
Cloud Contact Centers offers 24/7 customer support. On the other hand, customer support at Traditional Call Centers depends on the company and the team.
Cloud Contact Center Vs. Cloud Call Center
There are a few differences between Contact and Call centers, although they operate through the Cloud platform. Let us know the primary variations between both.
Cloud Contact Centers are the ones that handle the business operations end-to-end. It includes Omnichannel management such as inbound/outbound calls, incoming/outgoing messages, social media queries, emails, chats, etc.
On the contrary, Cloud Call Center handles only the inbound and outbound calls. They also come with a few features but at a higher cost and limited functionality.
Critical factors of Cloud Contact Centers that can enhance your business
Manage everything full-length in a single omnichannel platform
High-end transparency and deep analytics
Intelligent call routing with less waiting time and an automatic callback option
Receive messages from phones, social media, emails, chatbots, etc.
Real-time analysis of your agents and their productivity.
How do I choose the right Cloud Contact Center provider for my enterprise?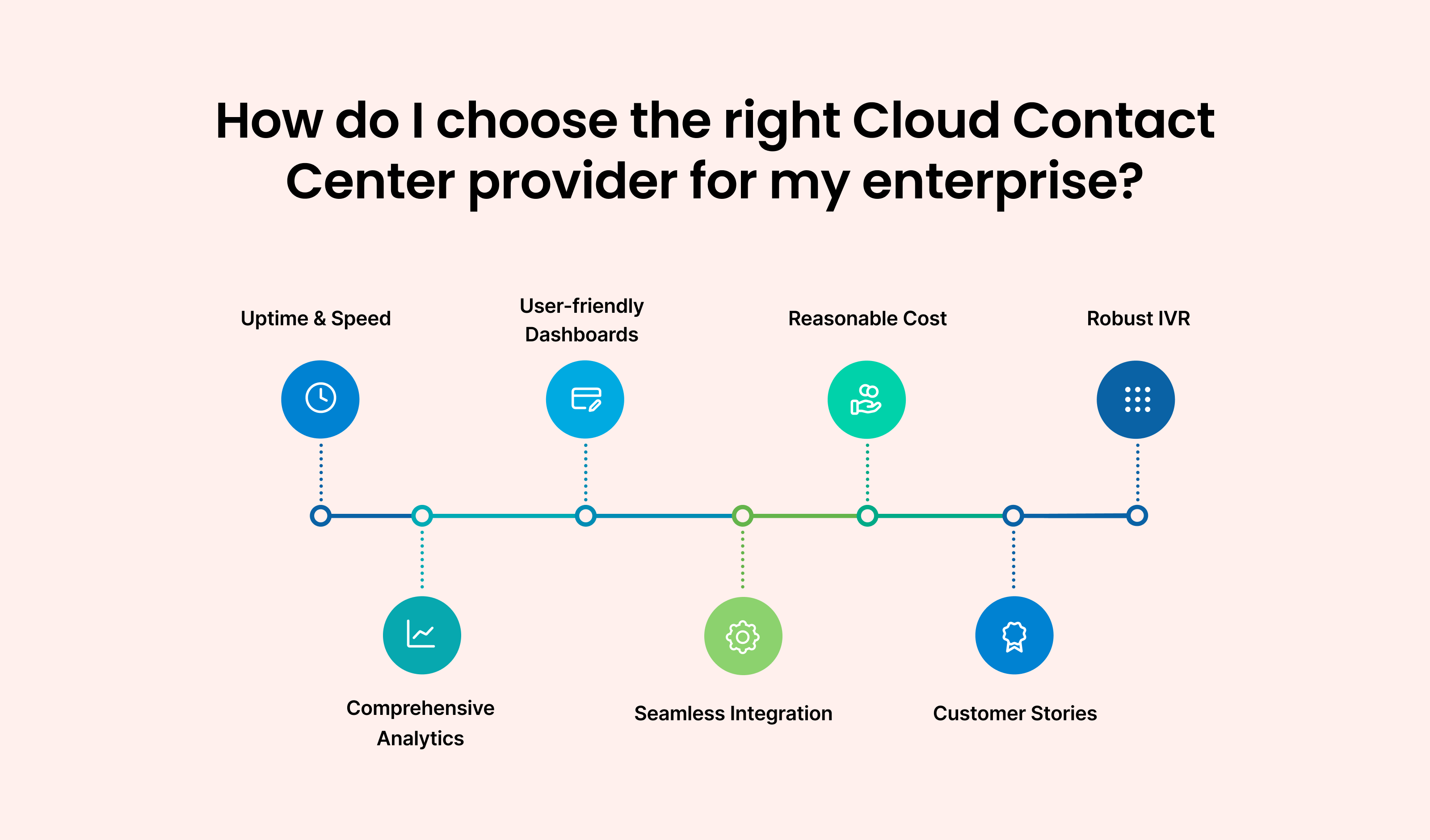 As the industry is growing and growing every day, most enterprises are looking to adopt Cloud Contact Center software for their business. However, finding a reliable solution provider who can fit your business requirements takes time and effort.
Here are a few things you should consider while choosing a Cloud Contact Center software provider:
1. Uptime & Speed
Remember, with proper speed and uptime, you can get rich performance and reliability. Hence, check for this initially.
2. Comprehensive Analytics
A deep and transparent analytics feature will provide great insight into your business and agents' performance. Ensure that this data is accessible across various channels.
3. User-friendly Dashboards
A dashboard is a platform that helps in tracking real-time data. These informative dashboards improve remote-team performance where any agent/supervisor can access and work on the information efficiently.
4. Seamless Integration
Integration with different channels is a crucial factor that every business should look for. Ensure the application allows you to integrate third-party API and apps, such as Whatsapp Business, Facebook, Linkedin, Freshdesk, Zoho apps, Hubspot, etc.
5. Reasonable Cost
Budget plays a vital role for every business. Check for the pricing and the respective feature plans. Also, know about software upgrade costs and select a solution provider accordingly.
6. Robust IVR
IVR is responsible for routing the calls effectively to the corresponding agent. In such cases, look for a provider to help you set up multi-level IVR, sticky agent, proficient routing, and distribution.
7. Customer Stories
Customers are the pillars of any business. Take some time to read the customer stories of the customers and how it made them beneficial. Also, check for the customer ratings of your solution provider to get a clear picture of how they helped the businesses.
Unlocking the Cloud Contact Center benefits with TeleCMI
We at TeleCMI have an experienced team on board and a rich and future-proof application built with powerful technology features. Our Cloud Contact Center software has high-end features that make your business stand out.
Here are a few extensive things that we consider for our software:
1. Multi-channel support
Our application lets businesses interact conveniently and effectively with various channels such as emails, messages, web chats, social media, and calls. In this flexible way, businesses can expect increased customer engagement and offer personalized experiences.
2. Artificial Intelligence
We have integrated exclusive features of Artificial Intelligence, which includes NLP, IVR, Automatic Call Distribution (ACD), etc. This can quickly resolve customer queries, eliminates the need for an agent, and enhances customer satisfaction
3. Extensive Analytics & Reporting
Our super-friendly dashboard will help enterprises look for real-time data and extract it by filtering it in the required time frame. With the live data, you can understand the customer queries and keep track of the agent's performance. With our Call Barging feature, as a supervisor, you can direct your agent to respond to customers accordingly.
4. Easy-peasy Integration
You can integrate with other businesses, such as CRM, ERP systems, and social media platforms, in minutes with our Cloud Contact Center software. These integrations will provide agents with immediate experience
5. Workforce Management
Our software helps businesses manage everything with extensive features such as Call Forwarding, Call Routing, Call Barging, Live Call Feed, Sticky Agent, Call Monitoring, Call Conferencing, Call Masking, etc.
6. Disaster Recovery
Since we store all the data in the cloud, it is recoverable anytime. We also offer un breaking uptime, automated backups, and real-time network monitoring.
7. Secured Storage
We also ensure that our storage is entirely secure, as we have incorporated security practices such as end-to-end encryption, multi-factor authentication, etc. This can eliminate the need for an IT agent to resolve queries, which is a time-consuming and complex task.
If you are looking for Cloud Contact Center software to enrich your business, TeleCMI is the right place. You can get a free demo from our experts and explore our feature-rich application to get started.
FAQs
Regardless of size, all industries, such as Customer service, Hotels and Tourism, Hospitality, Education, etc, are served with a Cloud Contact Center.
---
The pricing depends on the features included in it. You can check out our free trial and learn our features. We make sure all the features are accessible at a cost-effective range.
---
Absolutely, yes. Cloud Contact Center makes it easier to access the data from the intuitive dashboard from anywhere and anytime.
---
Yes, Cloud Contact Center supports you with integrating various channels to access the information immediately.