BLOG » Cloud Contact Center Providers: How to select in 5 easy steps?
Cloud Contact Center Providers: How to select in 5 easy steps?
With the increased internet usage and cloud-based technology, digital transformation is happening in all industries worldwide. One such transformation is VoIP and Cloud Contact Center, which are helping businesses to enhance customer experience. Companies dealing with customers as their top priority find VoIP services as their saviors. There are a lot of Cloud Contact Center Providers who are offering VoIP services.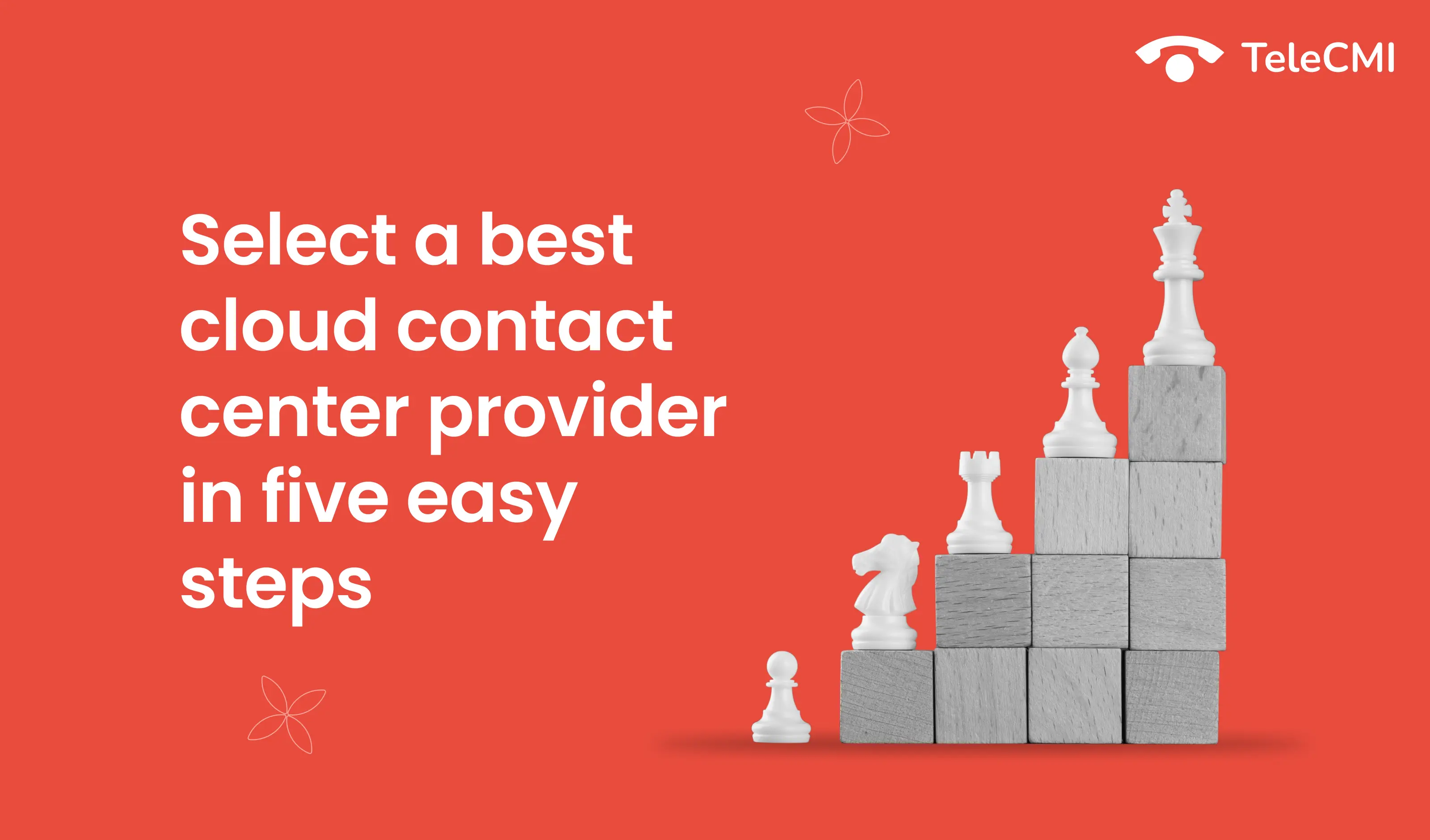 In this blog, let us discuss the importance of it and 7 simple steps to choose a Cloud Contact Center Provider.
What is a Cloud Contact Center?
It is a cloud-based technology companies use to speak with customers. It handles inbound/outbound calls, incoming/outgoing messages, web chats, emails, social media requests, etc. This becomes a unified platform to manage end-to-end communication with the customers.
Similar to a traditional call center, these contact centers will be taking care of all kinds of communication across different channels in addition to calls and storing those data in a cloud that is operating through an internet connection.
With this, businesses profited in numerous ways, which include reasonable pricing, enhanced customer experience, time-saving, deep analytics, transparency, data extraction, remote working, hassle-free setup and installation, etc.
Unlike traditional or on-premise centers, a cloud-based contact center is not restricted to a specific server or a physical location. With a Cloud Contact Center, a team can work from anywhere, as it is integrated with powerful servers distributed worldwide.
It uses two primary futuristic technologies: Automatic Call Distribution (ACD) and Interactive Voice Response (IVR). ACD is responsible for routing the calls skillfully to the desired team or an agent to reduce the waiting time among the customers. At the same time, IVR helps customers choose the options in their keypad with the auto attendant voice. Based on the response from the customer, it directs the call.
How does a Cloud Contact Center work?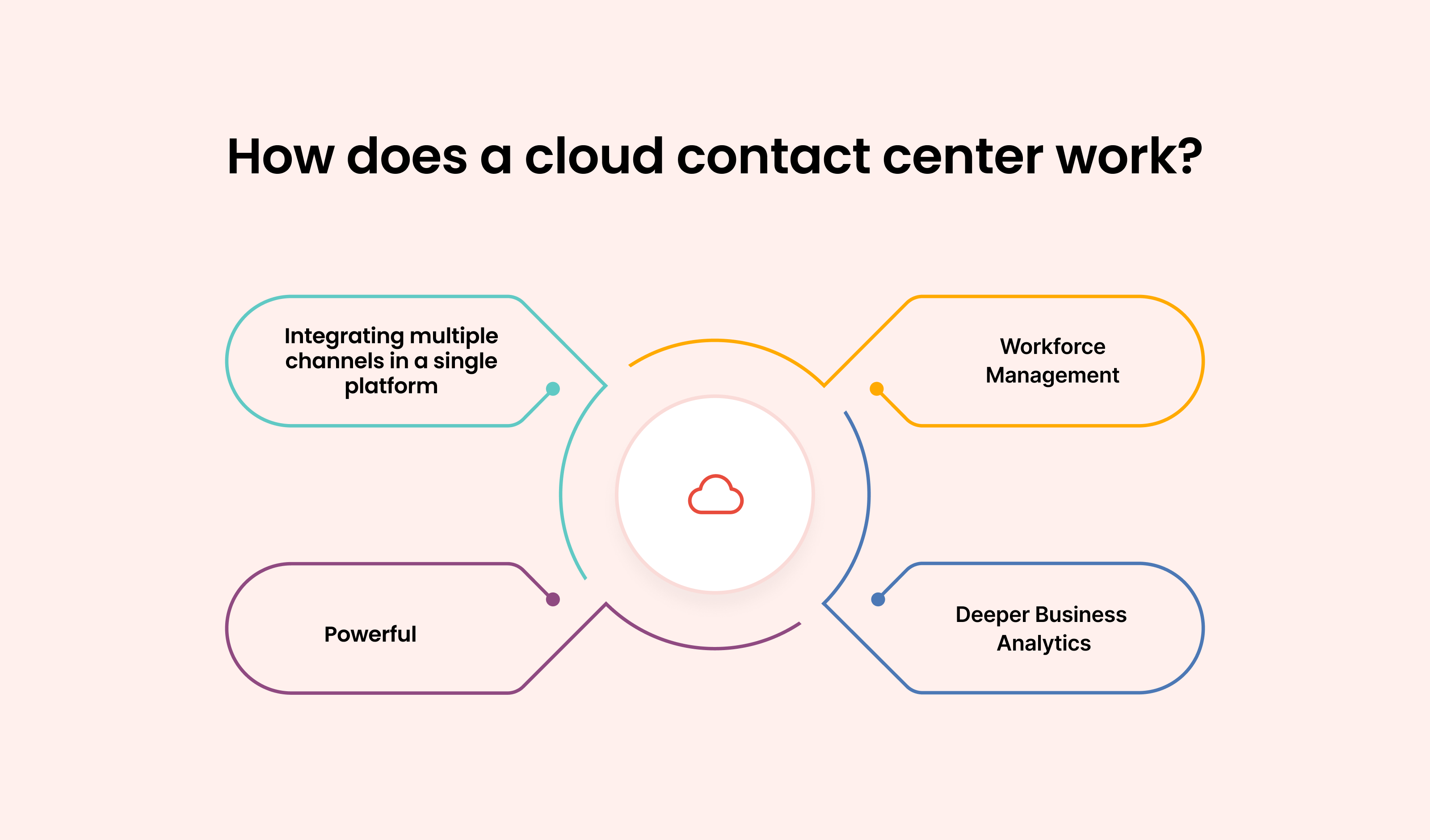 It manages the complete customer communication over an internet connection. Cloud Contact Center providers will be helping businesses to technically set up, connect the hardware, like headsets, VoIP phones, and maintenance factors. It doesn't require any complex and challenging setup processes. It also has numerous features that help businesses achieve their goals and increase customer satisfaction.
Here is how a Cloud Contact Center works:
1. Integrating multiple channels in a single platform
A Cloud-based contact center has the benefit of combining all the communication channels in one platform. It integrates with your Customer Relationship Management (CRM) software to keep all your communication synced in a unified platform. This means that agents can communicate with their customers from various platforms in a single channel effortlessly. Agents/Supervisors of the platform don't need to switch between the applications to resolve the customer queries. This helps them to seamlessly use the cloud contact center effectively.
A Cloud-based contact center has a robust routing feature where customers are connected to the respective agents within a specific time and get their answers quickly.
3. Workforce Management
In addition to helping customers, the Cloud contact center also assists business owners to keep track of their agent's productivity. This means a supervisor can learn about the agent's total inbound/outbound calls addressed, performance, etc. They can also get to know the live calls that are going on and listen to them as well. With the Call Whispering technology, supervisors can speak to the agents and direct them on how they speak with customers in a live call.
4. Deeper Business Analytics
A Cloud contact center streamlines business operations with automation and analytics, which helps businesses make data-driven decisions. This means that businesses can implement further changes with the extracted data received from the contact center software.
Benefits of a Cloud Contact Center: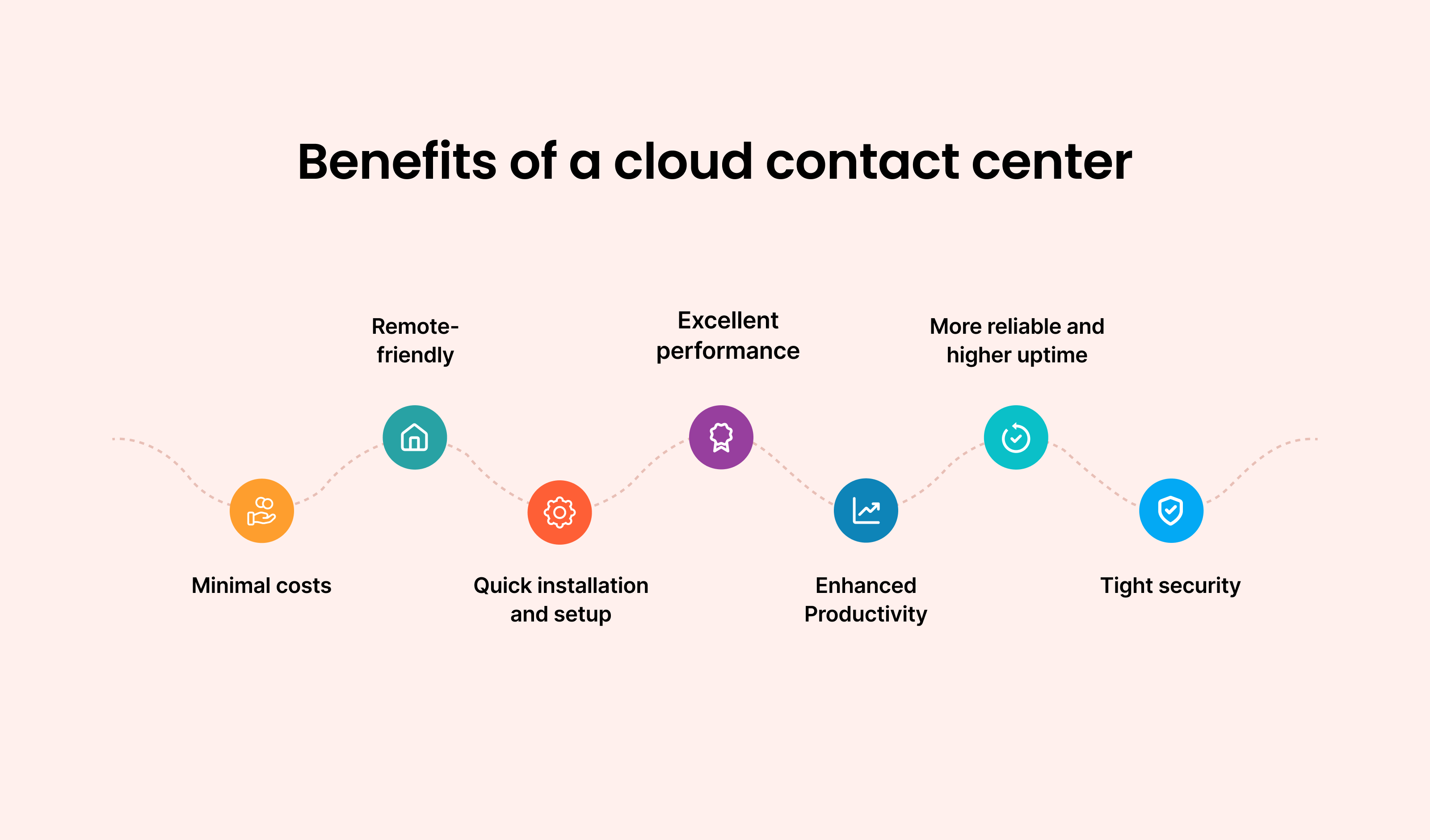 A cutting-edge Cloud Contact Center comes with dozens of benefits concerning business needs. Here are a few of them:
1. Minimal costs
Compared to traditional phones, Cloud Contact Centers help businesses save up to 65% when switching. Companies that choose them won't require a higher budget for spending on real estate, workstations, power, security audits, multiple network carriers, etc. Without the hard costs of hardware or an expert IT team, a cloud contact center can be set up at a reasonable price.
2. Remote-friendly
As most companies work from home and away from offices, Cloud Contact Center provides this flexibility. Regardless of the location, everyone can stay connected. Managers and Supervisors can work with the team from anywhere. Moreover, they are designed to work across various devices and operating systems. For a remote setup, security is vital for both the employee and customers. Cloud contact centers rule out security audits frequently to eliminate data leaks and data breaches.  
3. Quick installation and setup
Cloud Contact Center is easy to set up and install. As there is no hardware involved, you can install everything in minutes. Also, you can onboard multiple employees simultaneously, and you don't need to deal with endless IT support requests. Cloud-based solutions streamline the operations. Hence, your team doesn't need to deal with complex SQL queries, terminal commands, and other admin manuals.
4. Excellent performance
Cloud-based systems will help businesses to get more inquiries and acquire more users. Cloud Contact Centers provide extreme performance even when the internet service goes down, you can deploy messaging to customers and route incoming calls to agent cell phones as a backup feature. Features like click-to-call will help customers speak with an agent directly by reducing the waiting time. Added, they use Artificial Intelligence to handle customer queries and provide them with a solution.
5. Enhanced Productivity
Many companies use different tools to streamline their workflows. However, it doesn't increase the productivity. With an intuitive and informative dashboard, supervisors can keep track of an agent's productivity by learning about various factors, such as the number of inbound/outbound calls, incoming/outgoing messages, social media requests, web chats, emails, etc. In addition to the agent's productivity, it can also enhance business productivity in parallel.
6. More reliable and higher uptime
Cloud-based systems offer fewer outages when compared to traditional phone systems. The only risk here includes severe weather, building hazards, and regional outages. We at TeleCMI offer you a solution that helps you with 99.9% uptime and monitors the network to work smoothly. You can book a demo with us to explore our solution.
7. Tight security
Security is the top priority for any business. They provide high-end security integrated with multiple data security practices such as call encryption, permission management, log management, security audits, etc, to eliminate potential threats, if any. These centers need to undergo various audits to make sure they meet the security guidelines to process credit card payments discuss health issues, and other personal information that are meant to be sensitive.
How to select an exceptional Cloud Contact Center Provider?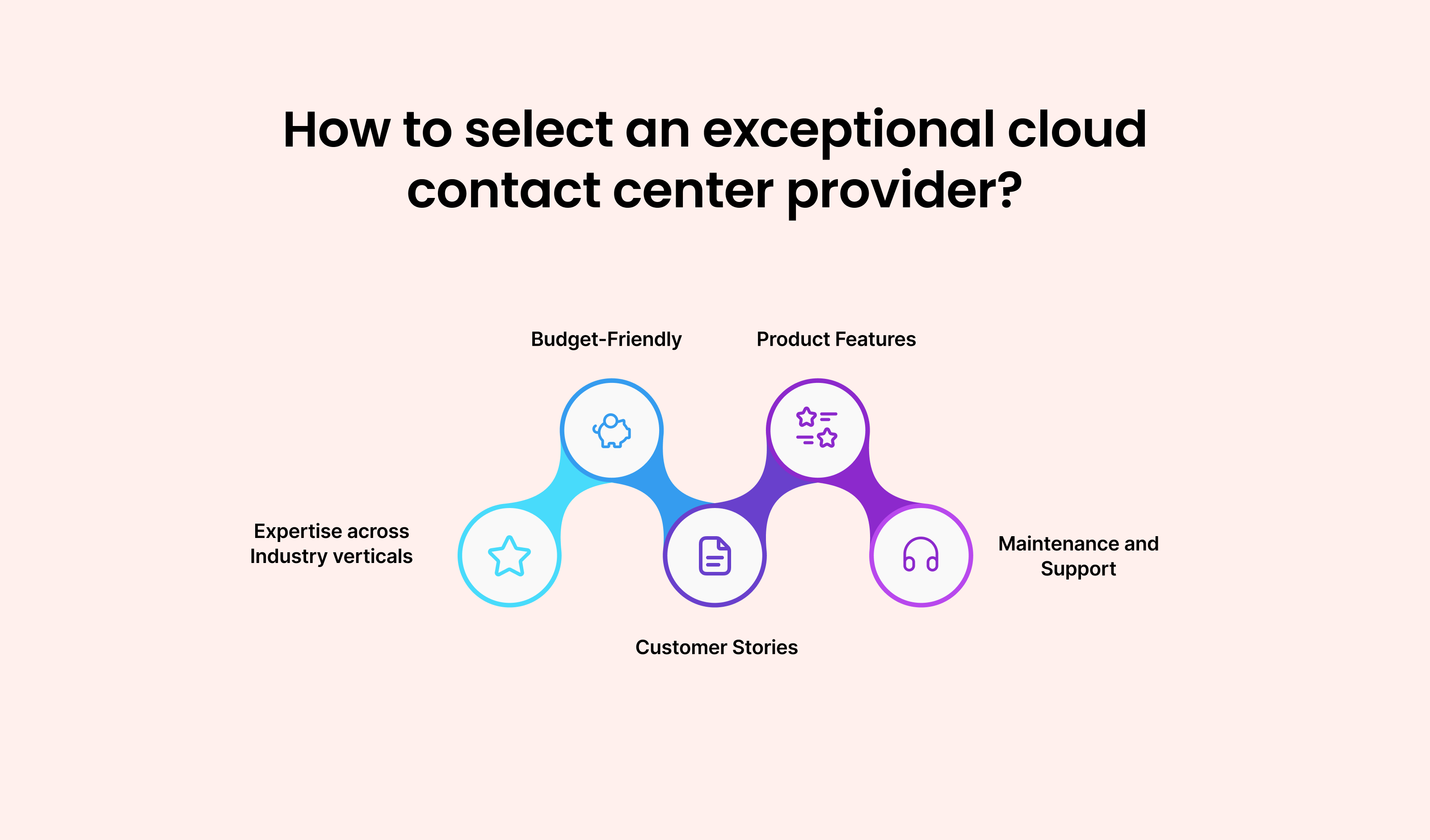 To enjoy the above benefits, it is crucial to choose a Cloud Contact Center Provider who has professional experience in handling various industries. So, here are the essential things you should check before selecting them:
1. Expertise across Industry verticals
As Cloud contact center services cater to multiple industries such as Real Estate, Telecom, Hotel and tourism, and Hospital, the chosen solution provider must have industrial experience. As the requirements vary, all the business needs must be handled effectively. Also, it will help you understand how they have customized it, too.
2. Product Features
Every product comes with various built-in features in it. As a business owner, you want to integrate certain features into the application. Ensure you have those features readily available, or it should be customized. When it comes to TeleCMI, we have a plethora of features to help the clients. Here are a few such features:
Call Routing

Call Forwarding

Call Recording

Call Barging

Sticky Agent

IVR/ Auto Attendant

Concurrent calls

Detailed Reporting & Analytics

Easy Modifications

Call Back

Live Call Feeds

Mobile and web apps compatible

Separate User and Admin logins

Getting a virtual phone number
3. Budget-friendly
The cost comes next when selecting a Cloud Contact Center software from a solution provider. When compared to traditional phones, VoIP phones are cost-effective. In that case, choose a provider that provides you with packed features at a reasonable price.
4. Customer Stories
Customers are the pillars of every business. Hence, check their previous customer ratings and reviews to know more about them. This will provide a clear picture of how they have resolved their challenges, got their requirements, and offered a solution.
5. Maintenance and Support
Finally, it is essential to have a maintenance and support team who can assist you in case of any emergencies. A support team with 24/7 will be helpful to resolve your queries quickly without any disruption.
To Close:
Without any doubt, Cloud Contact Center as a Service (CCaaS) will be the future as the internet is already ruling the world. In this case, if you are one such business facing multiple challenges with managing calls, agent's tracking, etc, don't forget to tryout TeleCMI's solution. You can get a free demo and explore our product to learn about the different features that we offer. Get in touch with us right away for a one-stop solution!
FAQs
This software will enable businesses to manage end-to-end customer conversations. This is a virtual solution that happens through an internet connection.
---
We have rich experience in diverse industries and have catered to all their requirements. We offered them the required solution within the deadline with high-quality software.
---
The budget depends upon the features you want in the application. The extensive features, the cost will also be high.
---
We at TeleCMI provide a feature-rich software that will enable your business to streamline the operations.