How Can I Improve My Outbound Call Center?
TeleCMI is one of the modern age cloud telephony providers which offers cloud telephony solutions for Outbound Call Center Services to focus mainly on Outbound Call Automation for both telecallers and customers to speed up the sales process and close deals regularly without usual difficulties. Outbound Call Center Software In India comes up with a dashboard for admin and telecallers. The Outbound Call can be handled through mobile phones or fixed-line phones through phone to phone calling solution. Outbound Calling Services in cloud telephony improves business telecommunication to a new trend. Outbound Call Center Services have many new added advantages through their powerful Outbound Call Center Features.



Automated outbound call dialer


1. Call Recording
:
Call recording plays a major role in cloud telephony business Outbound Call Center services which records all customer calls and can be retrieved later for future business references from the dashboard. Call recording will be available in the dashboard anytime to improve telecaller's efficiency in the team and for resolving customer queries through analysing the conversation of telecallers and customers. Outbound Call Center Services with a call recording feature will be useful in any business case. Admin can listen to call recordings in the dashboard itself and download the recording in need of reference. Call recordings make us think about what is our customer requirement? what customer thinks of our product? and to know their views on your business competitors to shape your business flow.
2. Call Analytics
:
Outbound Call to a customer can be monitored and analysed to get individual call flow reports based on dates to track the telecaller performance with total call logs and know the team's efficiency in Outbound Call handling. Call analytics also displays the detailed story of the call flow in graph and chart representation which helps the super admin to analyse the overall call flow for the month and day wise can be tracked. Call analysis has the following advantage analysing missed and answered calls, download call reports, telecallerwise report analysis, date based Outbound Call reports. TeleCMI's Outbound Calling Software provides various options for super admin to analyse the call flow for both incoming and outgoing to track the team's performance. Call logs for any business system in Outbound Calling Software provide complete missed calls, answered calls and total calls in both preview and to download as reports.
3. Automated Outbound Call Dialer
:
TeleCMI's Outbound Call Center Services enable admin to launch an Outbound Call campaign to their customers through a modern powerful feature known as an automated Outbound Call dialer. Dialer allows the admin to upload the target customer contact numbers and assign respective telecallers to answer customer business calls one by one instantly. Automated dialer has three major dialling options for customers:
a. Progressive Dialer
:
Progressive dialer dials first call to telecaller and then it connects customer number. progressive dialer Outbound Calling Services engages telecallers with back to back customer calls. A telecaller can make or attend maximum of 100+ calls per day.
b. Predictive Dialer
:
Predictive dialer dials customer number in the first leg. If the customer attends the call then it will connect telecaller in the second leg. The Outbound Call gets routed to telecallers only when the customer attends the call on the first leg. Predictive dialer reduces the waiting time of telecallers to increase productivity.
c. Outbound IVR
:
Outbound IVR feature allows admin to send a voice message to a bulk of customers in a single campaign. The customer will receive a voice message about a particular business activity or promotion on their mobile phone. At the same time, there is an option to receive any customer response for the particular marketing activity calls through a keypress which will be instructed in the voice message.
4. Call Barging
:
Call barging is a technique used in Outbound Call Center Services to monitor and listen to telecaller and customer Outbound Call conversations by the supervisors or admin in the live feed dashboard. The call barging method improves telecaller performance and increases sales growth. Most of the modern-day Outbound Calling service companies are using this feature for the wide view of customer interaction with telecallers.
5. Call Whispering
:
Call whispering allows supervisors to listen and interact with telecallers in live business call with a customer. The supervisor can coach telecaller in a live call to solve customer sales queries instantly. Call whispering is one of the trending Outbound Call Center Features that helps telecallers to close business deals successfully.
A successful Outbound Calling Service also has an affordable to use pricing model for businesses that need to adopt cloud telephony. Revolution in telecommunication can only happened with new-age call center setup and features with adaptable pricing and tariff. TeleCMI's cloud telephony architecture is designed in such a way like it should be easily adaptable and at an affordable cost.
What Software Do Most Call Centers Use?
Call centers across India are adopting Cloud Telephony based Outbound Call Center Services for their business model. TeleCMI provides Outbound Call Center Software In India for all types of business structure scaling from enterprises businesses, mid-sized businesses and early-stage startups with different pricing plans based on their requirement. A high recommendation for any call center is to use a cloud telephony Outbound Calling Software that makes the sales call flow to customers to a new trend. It increases the daily call handling volume of telecallers and close sales deals to a higher extent.
TeleCMI's Outbound Call Center Features help any business to analyze the telecaller performance and update call reports instantly with the ease of collecting reports individually from telecallers. Outbound Call Automation through cloud telephony removes the gap between hardware and physical device connectivity and replaces it with a high-performance cloud-based telephony structure. It replaces the traditional Fixed call wire telephone Outbound Calling model through a landline phone. Also, it disables the wired connectivity and transformed everything into a wireless cloud calling Outbound Calling Services. Many updates have been frequently done to upgrade the quality of Outbound Call Center Services to improve it further which resolves the pain behind investing huge costs behind a traditional telephony set up in India.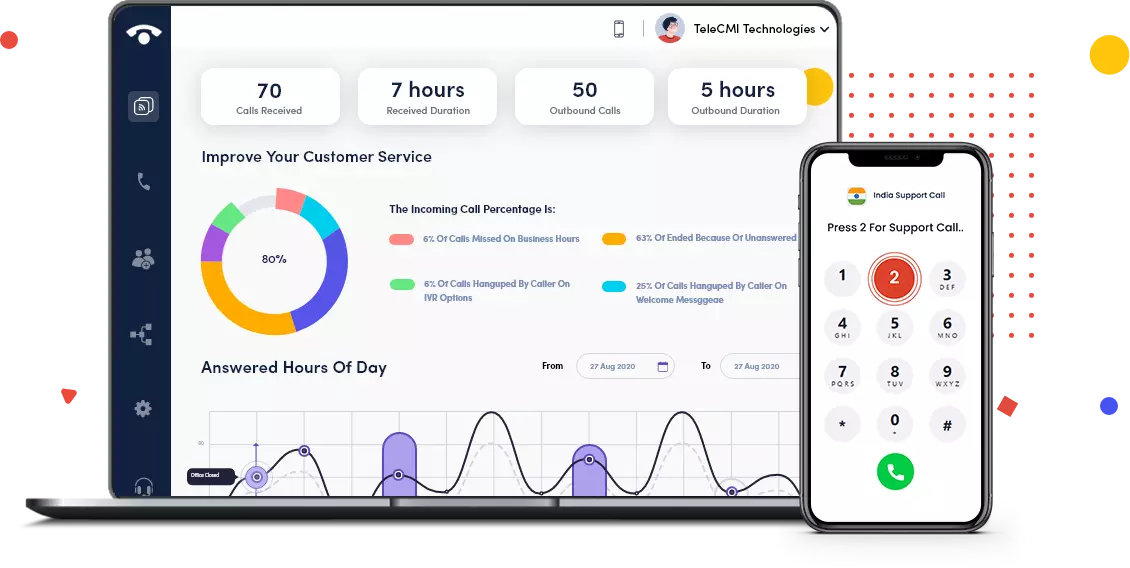 Summary:
Reach, Reach and attain is a new quote for modern businesses that motivates telecallers daily to bring new subscriptions and enterprises customer who are ready to buy a product or service through cloud telephony based Outbound Call center services. Each and every Outbound Call for business activity is important. Outbound calling software in cloud telephony is ready to upgrade its features with artificial intelligence which helps customers and telecallers to close sales deals and increase productivity.